Kamala Harris takes questions at CNN town hall
11:20 p.m. ET, January 28, 2019
Harris gives the green light to the "Green New Deal"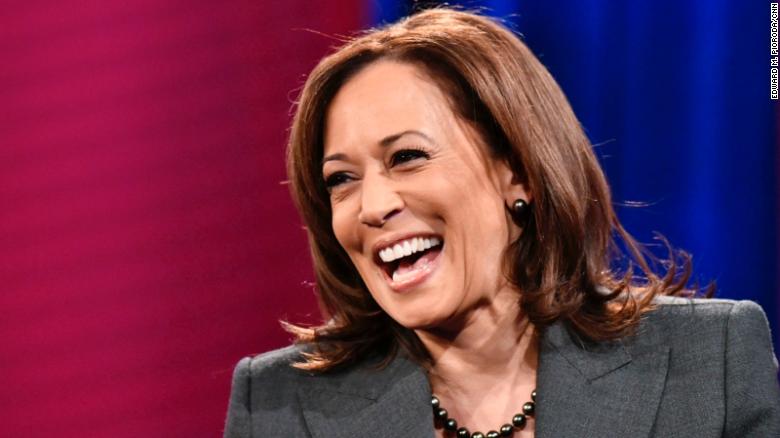 A few months ago, almost no one had heard of it.
But on Monday night, Kamala Harris endorsed a "Green New Deal" -- an ambitious and increasingly popular plan for combating climate change while making massive public investments into the clean energy economy.
"I support a Green New Deal and I will tell you why: climate change is an existential threat and we have got to deal with the reality of it," Harris said, before taking aim at Republicans in power. "We have got to deal with the reality of the fact that there are people trying to peddle some ideas that we should deny it. They are peddling science fiction instead of what we should do, which is rely on science fact."
About an hour before Harris said those words, President Trump, commenting on the freezing weather sweeping across the Midwest, tweeted: "What the hell is going on with Global Wa(r)ming? Please come back fast, we need you!"
New York Rep. Alexandria Ocasio-Cortez and progressive groups led by the Sunrise Movement are agitating for the comprehensive reform package, one that package a swift move toward 100% renewable energy with economic reforms, including a jobs guarantee and heavy taxpayer spending -- perhaps in the hundreds of billions of dollars -- on low or no-carbon infrastructure, like light rail for commuters.
But movement leaders argue that cuts to fossil fuel industry subsidies and military spending, in addition to the stimulative effects of the new public spending, would offset any cost.
"We have policymakers who are in the pockets of big oil and big coal," Harris said on Monday, and they "don't fully appreciate the fact that we are looking at something that is presenting an existential threat to our country and listen, all children should be able to breathe clean air and drink clean water."
Responding to Harris' comments, Sunrise founder Varshini Prakash credited activist pressure for shifting the political landscape.
"Yesterday dozens of Sunrise members in Oakland dropped a banner over the 20,000 person crowd of Kamala Harris' Presidential launch rally asking her to stand with our generation by backing a Green New Deal Today, she backed a Green New Deal," Prakash said. "We'll continue to push the Senator to make sure that the Green New Deal, for her, is more than just a buzzword, because for our generation a Green New Deal is the difference between life or death."
Watch more:
11:25 p.m. ET, January 28, 2019
Harris says Trump is playing "political games" with DACA recipients
Sen. Kamala Harris got up from her chair at CNN's town hall Monday evening to answer a question from a DACA recipient on what solutions she sees for their future, which has been caught in a fierce debate over the President's signature border wall.
For context: Harris has been a fierce defender of the Obama-era program, which shields undocumented immigrants who were brought to the US as children from deportation and allows them to work legally in the US. She's held roundtables with the program's beneficiaries, hosted press conferences, and headlined rallies.
One of the concerns she's raised over time is the sharing of recipient's information with Immigration and Customs Enforcement, the enforcement arm of the Department of Homeland Security. In late 2017, Harris pressed Nielsen on whether she would protect DACA recipients and commit to not sharing information for enforcement purposes. Harris reiterated those concerns Monday night.
"The US government gave these young people DACA status, protection. And we promised them -- and it's in writing -- if you give us this information about who you are we will not share with ICE, we will not use it as a basis for [deportation]," Harris said.
The Trump administration tried to end DACA in September 2017, but was met with a slew of legal challenges. Federal judges have kept the program, which has nearly 700,000 active participants, intact.
But their protections have come into play more than once in negotiations over border wall funding. Most recently, the administration put forth a proposal that would extend protections for recipients in exchange for the border wall.
Harris criticized that process.
"We should not be trading on your life for the sake of the political games that this President is playing in trying to vilify young people like you."
Asked by Jake Tapper if she would support a border wall, Harris answered, "I'm not going to vote for a wall under any circumstances." She added, however, that she supports border security.
Watch: Harris says Trump is playing 'political games' with DACA recipients
11:33 p.m. ET, January 28, 2019
Harris backs "Medicare for all" and eliminating private insurance as we know it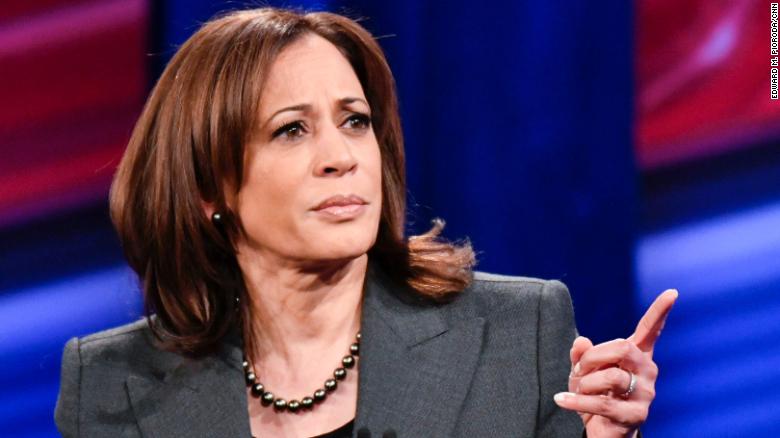 Asked directly how she would manage America's health care system, Kamala Harris fully embraced "Medicare for all" single payer health insurance, saying it's something she feels "very strongly" about.
"We need to have Medicare for all," Harris told a questioner in the audience who also asked if she would be willing to cut private insurers out of the mix.
Harris framed it as a moral question, saying:
"We have to appreciate and understand that access to health care should not be thought of to be a privilege. It should be understood to be a right."
The current system, where insurers are more focused on their bottom lines, is "inhumane," she said.
Harris noted that when her mother was fortunate to have Medicare when she dying of cancer a decade ago. Last month, the candidate wrote an opinion piece in the New York Times saying she will fight for a better health care system in her mother's name.
Pressed by CNN's Jake Tapper on the fate of for-profit insurers, Harris, who co-sponsored Sen. Bernie Sanders' "Medicare for all" bill, didn't hedge.
"Let's eliminate all of that," she said of all the paperwork and approval processes that insurers require. "Let's move on."
The question -- and answer -- are important to "Medicare for all" supporters on the left, who despite being pleased at the policy's growing popularity, worry that it could be watered down in a crowded primary field.
"There's going to be a question if any of those (other potential presidential candidates) take power: Do they actually want to create a single-payer program or is it just a messaging strategy to win people over with big ideas?," Waleed Shahid, a spokesman for the progressive group Justice Democrats, told CNN last year. "Do they support the end of private health insurance in the United States of America. Because that is what the bill is proposing to do. We're going to get way more into the specifics than we did in 2016."
11:01 p.m. ET, January 28, 2019
Harris on criticism of criminal justice record: I've "been consistent my whole career"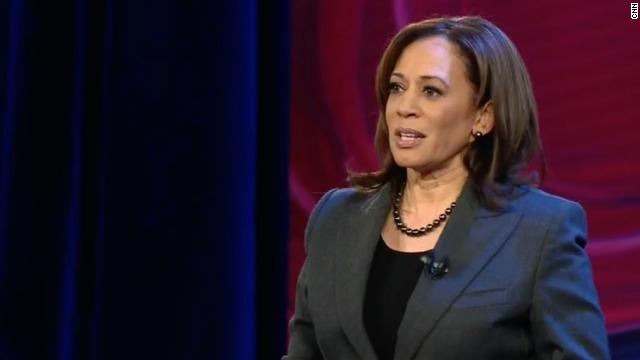 Sen. Kamala Harris defended her criminal justice record during CNN's town hall on Monday, refuting some liberal criticism of her record by arguing that she has "been consistent my whole career."
The answer, which was succinct and direct, showed that Harris is not only aware of the criticism of her time as district attorney of San Francisco and attorney general of California, but is prepared to take it on.
"I've been consistent my whole career," she said response to a question that asked her to address her "contradictory past."
"My career has been based on an understanding that, one, as a prosecutor, my duty was to seek and make sure that the most vulnerable and voiceless among us are protected."
She added: "I have also worked my whole career to reform the criminal justice system, understanding, to your point, that it is deeply flawed."
The liberal pushback to Harris' record on crime was epitomized by a recent op-ed by Lara Bazelon, former director for the Loyola Law School Project for the Innocent in Los Angeles.
"In her career, Ms. Harris did not barter or trade to get the support of more conservative law-and-order types; she gave it all away," Bazelon wrote.
Harris listed a litany of actions she took at attorney general, including:
starting implicit bias and procedural justice training to police officers
starting an open date initiative for her department
requiring agents with her department to wear body cameras
Harris also outlined how she is "personally opposed to the death penalty," adding "that is not going to change." In addition to calling it a "flawed system," Harris said it is "cheaper to let people spend their life and end their life in jail." She did not mention that she defended California's death penalty in court.
Harris went on to say there is still a lot of work to do on criminal justice, namely addressing mass incarceration, bail reform and the disproportionate application of the crime, but stands by what she has done.
But in a nod to some decisions she made in the past to punish criminals, Harris said that those changes need to be balanced with the need to impose penalties on those who commit crimes.
"We all realize it is a deeply flawed system, but we also want to make sure that when a woman is raped, a child is molested, one human being is killed by another human being, there is going to be consequence, and serious consequence, for those crimes," she said.
Pressed by CNN's Jake Tapper on some of the pushback to her record, Harris said she would compare her record to any other elected prosecutor in the country and knows there are some people she can't win over.
"I will also say that there is so much more work to do," she said. "And do I wish I could have done more? Absolutely, I do wish I could have done more."
Watch more:
10:50 p.m. ET, January 28, 2019
Harris: Anyone who wants to be a leader must speak "with integrity"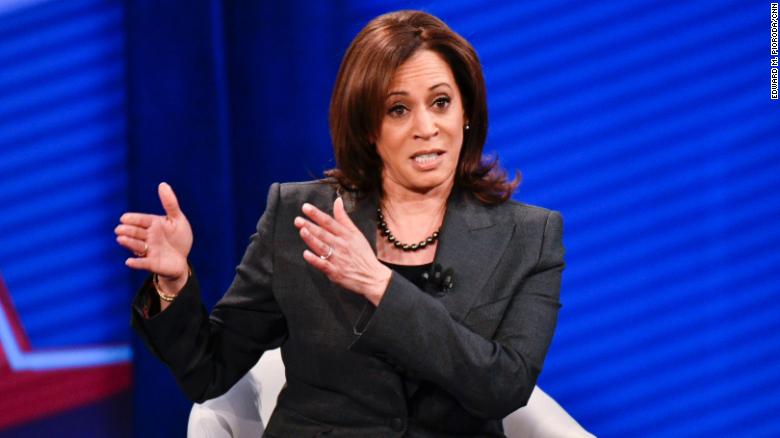 Kamala Harris, answering a woman who wondered how she will avoid getting caught up in President Donald Trump's "crazy," responded:
"It's very important that anyone who presents themselves as a leader and wants to be a leader will speak like a leader. That means speaking with integrity. It means speaking truth. It means speaking in a way that expresses and indicates some level of interest and concern to people other than oneself. And so, right there we will see a great contrast."
Watch below:
10:38 p.m. ET, January 28, 2019
Kamala Harris says she's not voting for a wall "under any circumstances"
Kamala Harris made it clear: She does not plan on voting for any legislation that supports President Trump's long-promised border wall.
"Let me be very clear. I'm not going to vote for a wall under any circumstances," the California senator said. "And I do support border security, and if we want to talk about that, let's do that."
Harris described Trump's wall as a "medieval vanity project" — those words garnered cheers from the crowd inside the Sheslow Auditorium.
Watch the moment:
10:33 p.m. ET, January 28, 2019
Harris quotes mom: "You may be the first to do many things, but make sure you're not the last"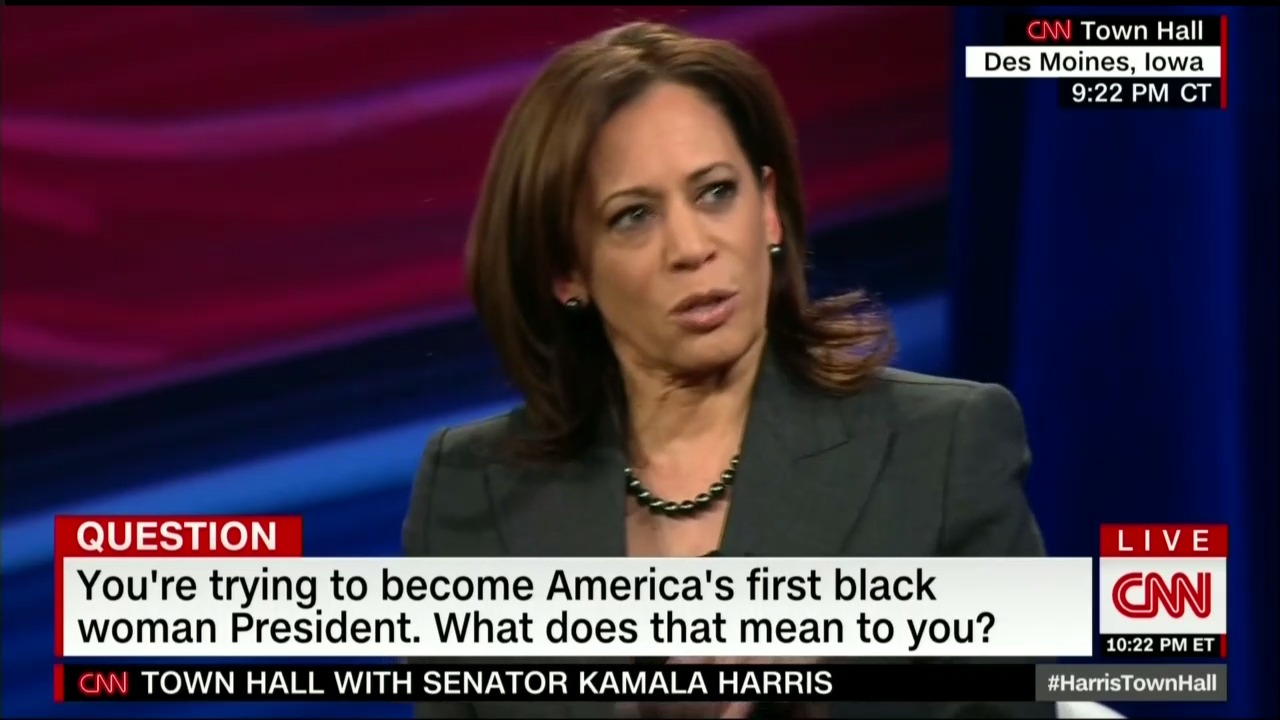 Kamala Harris just told CNN's Jake Tapper of a quote her mother used to say: "You may be the first to do many things, but make sure you're not the last."
Harris was responding to Tapper's question asking what it meant to her that she would be the first black female president in American history, should she win.
"That's how I think about those kinds of things," she said, "and it is about certainly breaking barriers, it is something that is very important.
She added:
"I will also say to you that I have seen fathers bring their sons up to me and say, 'She is the first,' in a way that is to also speak to those sons about the fact they should not ever be burdened by what has been and they should see what can be."
"I think that's really the most important takeaway, which is that with each barrier we break, it is saying to all of us, don't be burdened by what has been. See what can be and strive for that," she said.
CNN's Maeve Reston observed:
Watch below:
10:22 p.m. ET, January 28, 2019
Harris on health care: "We need to have Medicare-for-all"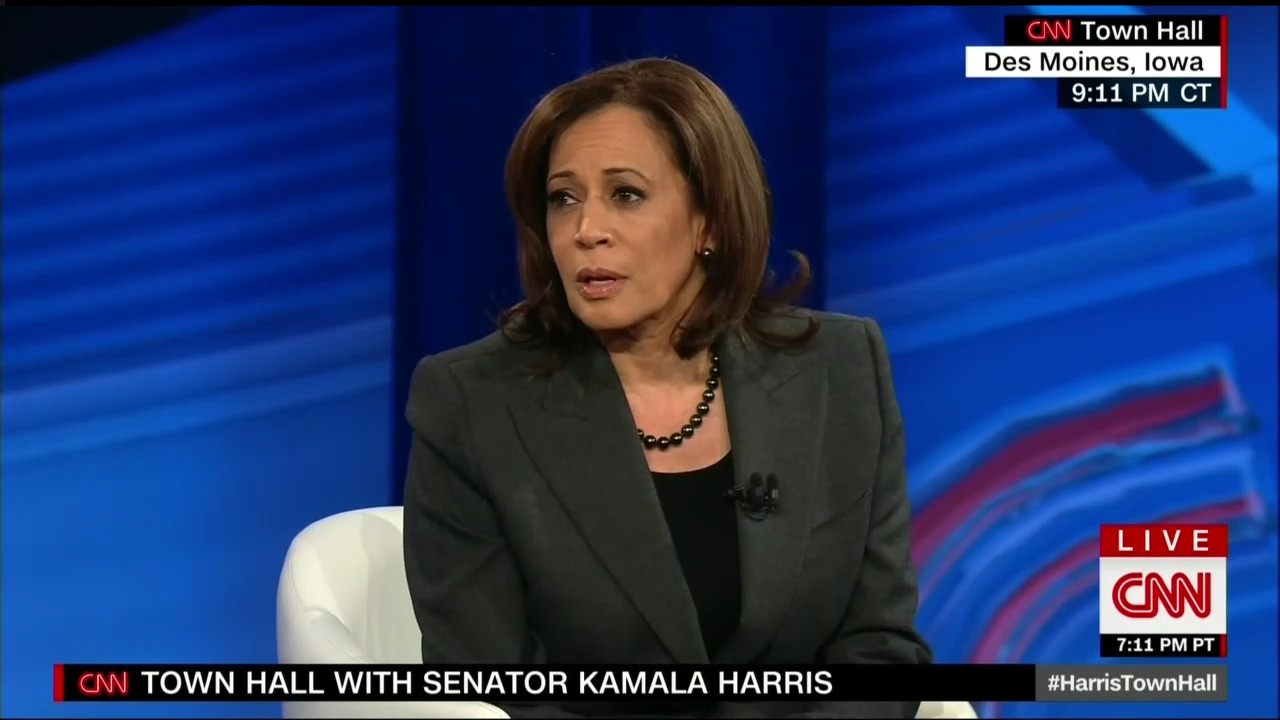 California Sen. Kamala Harris made it clear tonight that she plans to support the progressive push for Medicare-for-All.
Renee Welk, a self-employed Iowa voter, asked Harris about her plan to "ensure that people have access to quality health care at an affordable price," and if it involves "cutting insurance companies as we know them out of the equation?"
Harris answered bluntly: "I believe the solution -- and I actually feel very strongly about this -- is that we need to have Medicare-for-all. That's just the bottom line."
The answer drew cheers and applause from the audience.
Watch Harris explain:
10:07 p.m. ET, January 28, 2019
Kamala Harris gets roaring welcome in Iowa
California Sen. Kamala Harris just took the stage where she received a roaring welcome from Iowa voters.
The audience inside the Sheslow Auditorium cheered loudly as she was introduced by CNN's Jake Tapper and took her seat.
Watch the moment: