Inspector general testifies about Russia report
12:55 p.m. ET, December 11, 2019
Inspector general says he's investigating possible FBI leaks to Giuliani in 2016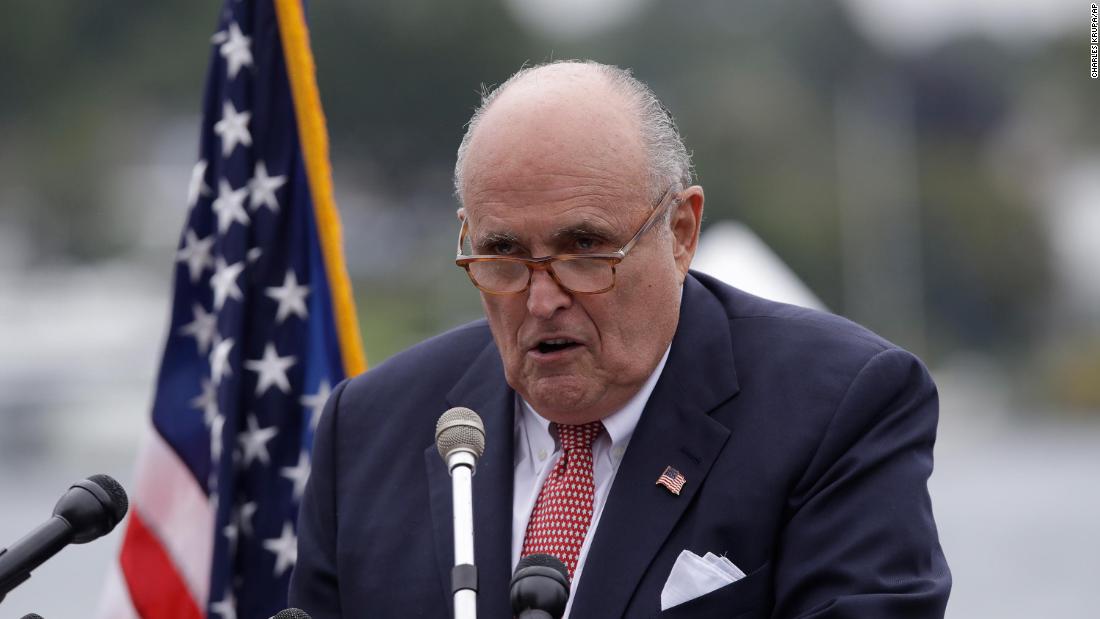 Democratic Sen. Patrick Leahy asked Justice Department Inspector General Michael Horowitz to give an update on his office's investigation into potential leaks by FBI officials in New York to Trump's attorney Rudy Giuliani before the 2016 election. 
How this started: Weeks before the 2016 election, Giuliani claimed that he heard about big problems coming soon for Democratic nominee Hillary Clinton. That was shortly before then-FBI Director James Comey announced he was re-opening the criminal probe into her email server, which didn't lead to any criminal charges. The polls shifted after Comey's comments, and Clinton claims was a main reason for her defeat.
Today, Leahy asked:
"What can you tell us about the New York field office's leaks to Rudolph Giuliani and others?" He pointed out that Comey previously confirmed to him that the matter was under investigation. 
Horowitz replied, "We were very concerned about that, and he noted that he mentioned some of those potentially improper contacts in the report he put out last year reviewing the Clinton email probe.
"Subsequent to that report, and this continues to this day, we are investigating those contacts," Horowitz said. "We've issued a couple of public summaries so far about people we found violated FBI policy. We have other investigations ongoing that when we conclude it, we will also post summaries."
But Horowitz hinted that his team was struggling to prove that there were illegal leaks. 
"What's proving to be very hard is to prove the actual substance of the communications between the agents and the reporter, or the individuals, but we can prove the contacts," Horowitz said. "Under FBI policy you need authorization if you're going to disclose information and have certain contacts."
Democrats accused Giuliani, who was previously the US attorney in Manhattan, of tapping his network of friends and contacts in law enforcement to get tips about Clinton, which he used to attack her in the press. Comey also raised this possibility in a closed-door deposition with House lawmakers last year.
For his part, Giuliani has denied ever receiving non-public information from active FBI agents.
12:45 p.m. ET, December 11, 2019
The hearing is taking a break
The Senate Judiciary Committee's hearing is now on break. The committee will be back later to continue questioning Inspector General Michael Horowitz.
12:28 p.m. ET, December 11, 2019
Horowitz says he knew in advance US Attorney disagreed with him
Inspector General Michael Horowitz said he was "surprised" by US attorney John Durham's public statement undercutting his findings on the FBI Monday, though he knew they had disagreed somewhat.
Durham is conducting a criminal probe at Attorney General William Barr's request into broader intelligence behind the probe, and has continued to look at questions Horowitz examined.
Durham's statement was highly unusual for a prosecutor conducting an ongoing investigation. "Based on the evidence collected to date, and while our investigation is ongoing, last month we advised the Inspector General that we do not agree with some of the report's conclusions as to predication and how the FBI case was opened," Durham said in his statement Monday. 
Horowitz also said that his office had asked Durham and Barr to share evidence that could help the FISA investigation. "None of the discussions changed our findings here" that there wasn't political bias that motivated the counterintelligence investigation, Horowitz said.
12:25 p.m. ET, December 11, 2019
Horowitz: FBI couldn't confirm dossier allegations against Page
When the FBI and DOJ asked the FISA court for permission to wiretap Carter Page, they said they wanted to investigate whether he was acting as an agent of the Russian government, based in part on allegations from "the dossier," a series of memos compiled by former British spy Christopher Steele. 
The dossier accused Page of acting as a conduit between the Trump campaign and the Russian government, and of playing an important role in their collusion over the 2016 election. Steele said Page met in Moscow with a top Russian energy executive and a Kremlin official to facilitate the alleged scheme, which included offers of lucrative energy deals in exchange for Trump lifting sanctions. 
The FISA court approved surveillance and wiretapping for nearly a year. But in the end, the FBI didn't find any evidence to corroborate the allegations against Page that were mentioned in the dossier.
"The FBI, at the end of these FISAs, told us that they had found no evidence to corroborate the allegations in the Steele dossier related to him," Horowitz told lawmakers.
The sweeping investigation led by special counsel Robert Mueller confirmed that Russia meddled in the election but did not establish that there was a criminal conspiracy between Trump's team and the Russians. Mueller didn't bring charges against Page, who maintains that he never did anything wrong.
12:04 p.m. ET, December 11, 2019
Horowitz says he wouldn't have submitted version of Carter Page surveillance application the FBI used
Inspector General Michael Horowitz said he would not have sent the FBI's version of the application to surveil Carter Page to the Foreign Intelligence Surveillance Court for approval if he had been the investigator.
Why this matters: This is the strongest characterization yet from Horowitz of his disapproval of the FISA application of Page, following his 400-page report released Monday that condemned 17 "significant errors or omissions" made by the FBI in the application.
Judiciary Committee Chair Lindsey Graham asked Horowitz about how a source on the Steele dossier had cast doubt on some of its assertions to the FBI.
Graham: Would you have submitted a warrant application as a lawyer? 
Horowitz: Let me put it this way, I would not have submitted the one they put in. 
Graham: Okay. 
Horowitz: No doubt about it. It has no business going in with that.
Horowitz added that he thought "It was misleading to the court."
He also said:
"The FISA applications made it appear as though the evidence supporting probable cause was stronger than was actually the case … Department lawyers and the court should have been given complete and accurate information so they could have meaningfully evaluated probable cause before the surveillance of a US person associated with a Presidential campaign."
This comment from him closely mirrors a section of his report.
11:56 a.m. ET, December 11, 2019
Horowitz stands by his report after attacks from the attorney general
Inspector general Michael Horowitz said he "stands by our finding" that the FBI was right to open the Russia investigation, even after Attorney General Bill Barr said this week that he doesn't agree with that assessment.
President Trump also sided with Barr and claimed for years that the probe was illegal. Horowitz's report said the FBI cleared the low legal threshold needed to launch the probe and that there was a legitimate factual basis to suspect that crimes might have been committed by Trump campaign aides. 
Sen. Feinstein asked: "Attorney general Barr expressed his doubt about the legitimacy of the FBI's investigation in press statements. Did Attorney General Barr provide any evidence that caused you to alter this key finding that the FBI investigation had an adequate predicate? 
"No, we stand by our finding," Horowitz said. 
More context: After the report came out, Barr contradicted some of Horowitz's primary conclusions — including the determination that the Russia investigation was justified when it was launched in July 2016. Barr has also said there were "gross abuses of FISA" and leaned into conspiracies that the Obama administration improperly manipulated law enforcement tools to "spy" on the Trump campaign.
11:49 a.m. ET, December 11, 2019
Graham details the first time he read the dossier
Sen. Lindsey Graham, the chair of the Judiciary Committee, jumped on Inspector General Michael Horowitz's report's extensive descriptions of Christopher Steele's dossier on Trump and the efforts the FBI took to verify information in it.
He even shared what he says now were his initial reactions to it.
First, some background: The dossier, before it was made public, had been sent to the late Sen. John McCain. McCain, a longtime close friend of Graham's before his death, had tasked a staffer at his foreign policy institute to determine whether Steele's information was serious and had spoken to Graham about it.
McCain quickly turned the dossier over to the FBI.
Here's what Graham said today:
"John McCain puts it in his safe, he gives it to me and I read it. And the first thing I thought of was 'Oh my god.' One of two things — this could be Russian disinformation or they may have something on Trump. If you read this document, the first thing you would think of is they got something on Donald Trump. It is stunning. It is damning. It is salacious. And it's a bunch of crap."
He continued: "I told him the only thing I knew to do with it, it could be a bunch of garbage, it could be true, who knows? Turn it over to somebody who's job it is to find these things out and John McCain acted appropriately."
"And I understand that, clearly people are in the McCain world that did some things inappropriate but it was not John McCain," Graham said. "John McCain did not give it to anybody in the press, he talked to me just as soon as he got it, and he turned it over to the FBI and that's exactly what he should have done."
In fact, many of the claims in Steele's dossier have held up over time, or have proven to be at least partially true, including the fact that there was a concerted Russian operation to attacking the 2016 US election.
Some of the more salacious claims in the dossier, however, including what the inspector general described as video tapes of "alleged unorthodox sexual behavior," couldn't be confirmed, Horowitz noted Monday.
12:08 p.m. ET, December 11, 2019
"Fundamental reform" needed at secretive surveillance court, Graham says
Sen. Lindsey Graham, the chair of the Senate Judiciary Committee, said he had "serious concerns" about the secretive surveillance court that approved politically sensitive wiretaps in 2016.
He added that he's not sure the court should continue to exist "unless there is fundamental reform."
"I'm a pretty hawkish guy, but if the court doesn't take corrective action and do something about being manipulated and lied to, you will lose my support," Graham said. 
What you need to know about the court: The special court operates in secret and approves wiretaps under the Foreign Intelligence Surveillance Act — or FISA — a law that is typically used to target foreign spies and terrorists. The court was created by Congress in in 1978 and is comprised of 11 federal trial-level judges chosen by the Chief Justice.
In 2016, the FBI sought and received approval from the court to surveil Carter Page for nearly a year, starting shortly after he left the Trump campaign in the fall of 2016.
What the report says about FISA: The inspector general's report found that significant errors and problems with how the FBI prepared the applications to the court, including the critical finding that exculpatory evidence about Page was omitted. Trump and Graham said these findings prove that the FISA process was abused, for political purposes, though the DOJ IG said there was no bias in the decision to seek FISA surveillance of Page, and these procedural failures were generally mistakes and sloppiness, not intentional manipulation.
"I would hate to lose the ability of the FISA court to operate at a time probably when we need it the most," Graham said today.
He continued: "But after your report, I have serious concerns about whether the FISA court can continue unless there is fundamental reform. After your report, I think we need to rewrite the rules of how you start a counter-intelligence investigation and the checks and balances that we need." 
A spokesperson for the court declined to comment this week after the publication of the report.
11:15 a.m. ET, December 11, 2019
The name "Clinesmith" just came up at the hearings. Here's what you need to know.
Sen. Lindsey Graham has named publicly the lower-level FBI lawyer who allegedly changed a document used in the Carter Page FISA warrant application.
Graham referred to "Clinesmith" during the inspector general hearing before the Senate. That's Kevin Clinesmith.
CNN first reported the inspector general had discovered the situation, and that it was referred to prosecutor John Durham as a potential criminal matter.
What the report says: The report released Monday described more details of what had happened. The change to the Page-related email had said Page was "not a 'source'" for intelligence, when in fact he had been. At first, the attorney told the inspector general he was not sure how the change happened, then later acknowledged he had made the change. Page's status as a source to US intelligence was a notable error among several within the FBI regarding the court application to surveil the former Trump campaign affiliate.
Clinesmith has not been charged with a crime. An attorney for Clinesmith has not responded to CNN requests for comment this week.