4:07 p.m. ET, August 26, 2018
A look back at John McCain's life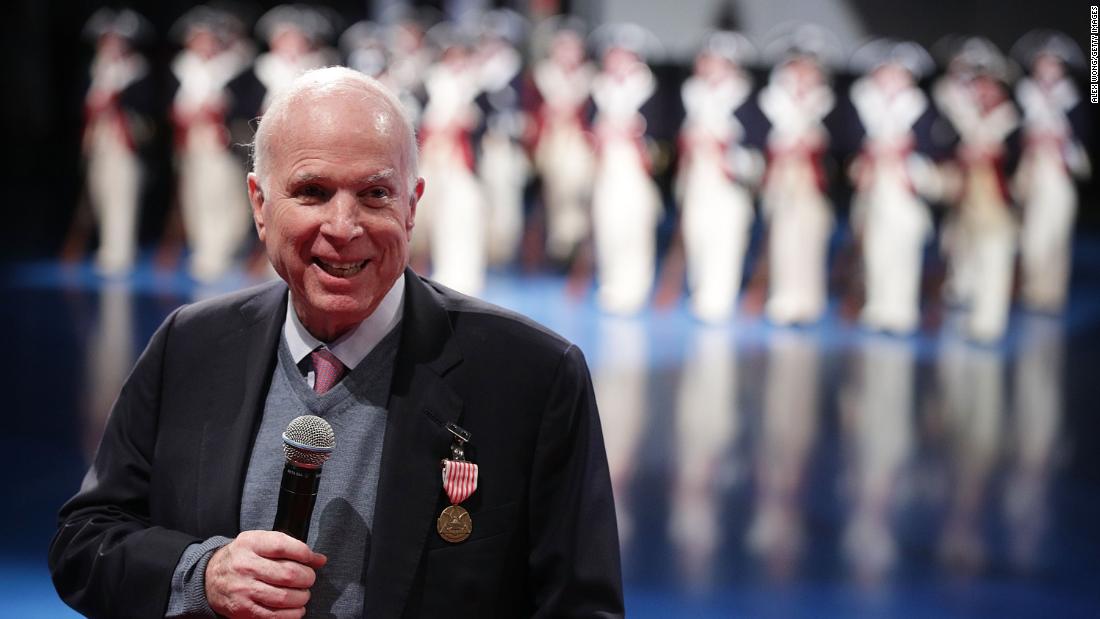 War hero, conservative maverick and two-time presidential candidate Sen. John McCain died Saturday at his home in Arizona at the age of 81.
We're wrapping up our live coverage, but if you are looking for more on McCain's life and career, you can ...
2:44 p.m. ET, August 26, 2018
Russian politicians react to McCain's death
Senior Russian politicians reacted Sunday to news of the death of Sen. John McCain, describing him as a Cold Warrior who maintained a consistently hard line on Russia during his long political career. 
Konstantin Kosachev, the chair of the foreign affairs committee in the Russian senate, described McCain in a Facebook post as a "colorful senator" who was also a "a highly ideologically driven politician." 
"McCain turned out to be a mirror of the era he grew up in," Kosachev said, saying McCain was a Cold War hawk whose worldview "divided the world into friends and enemies," with the main enemy being Russia.
Oleg Morozov, another senator, said McCain was "honest in his hatred of Russia," state news agency RIA-Novosti reported.
"He is the symbol of outspoken anti-Russian thinking, in essence: Russia cannot be anything other than hostile," Morozov said, according to RIA-Novosti.
Alexey Pushkov, another prominent Russian senator, recalled engaging in a debate with McCain on the Syria crisis at the World Economic Forum in Davos.
"He was preoccupied only with regime change in Syria," Pushkov said on Twitter. "At what cost, and what forces would come to power in Damascus after that did not concern him."
Russian state television: McCain a "symbol of Russophobia"
Russian state television on Sunday described Sen. John McCain as the "main symbol of Russophobia," calling the senator an ardent hawk and opponent of Russian national interests.
The Sunday evening edition of the news program Vesti highlighted McCain's bellicose rhetoric, saying world affairs "would have been even more catastrophic" had he not lost his presidential bid in 2008.
"McCain was not opposed to sending bombers to Iran, North Korea, Nigeria and Syria," the broadcast stated.
Russian state television also highlighted McCain's support for pro-democratic revolutions in Georgia and Ukraine, suggesting that the senator sought to contain or encircle Russia.
 "Long before the coup in Ukraine, McCain had become the main symbol of Russophobia, calling Russia a bigger threat than ISIS and calling for turning Syria into a second Afghanistan for Russia," the broadcast stated.
1:33 p.m. ET, August 26, 2018
How John McCain's running mate remembered him
Sarah Palin, who was John McCain's vice presidential pick when he ran for president in 2008, called the late senator an "American original."
"John never took the easy path in life - and through sacrifice and suffering he inspired others to serve something greater than self," Palin tweeted soon after news of McCain's death broke.
Here's her full tribute on Twitter:
1:21 p.m. ET, August 26, 2018
John McCain will lie in state in Arizona Wednesday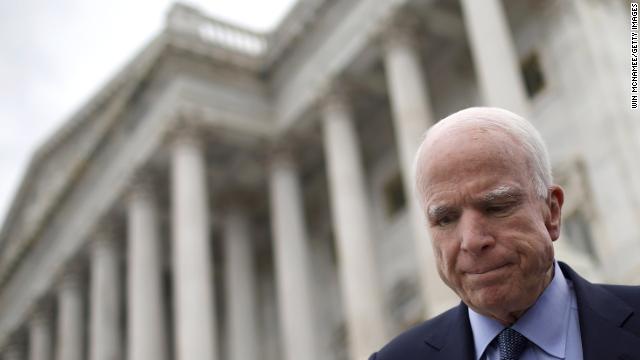 Arizona Governor Doug Ducey just announced John McCain's body will lie in state at the Arizona Capitol in Phoenix on Wednesday.
Also there will be a service for him in Arizona this week, a Republican close to the McCain family told CNN.
After that, his body will be brought back to Washington.
There, McCain will lie in state at the US Capitol. There will also be a full funeral service for him at the Washington National Cathedral, the Republican said.
Dates for those have not been announced
Following the Washington ceremonies, McCain will be taken to Annapolis, where he will be laid to rest.
12:56 p.m. ET, August 26, 2018
Mitch McConnell confirms John McCain will lie in state at US Capitol
CNN reported earlier today that John McCain will lie in state in the US Capitol. Now, Senate Majority Leader Mitch McConnell's office has confirmed it.
McConnell's office did not release any details about the timing of the ceremony.
"The nation mourns the loss of a great American patriot, a statesman who put his country first and enriched this institution through many years of service. McConnell said in a statement.
McConnell continued: "The Senate is keeping Cindy, the McCain family, all John's friends and staff, and the people of Arizona in our prayers at this tremendously difficult time ... I appreciate my colleagues and the entire Senate and House family's assistance with this honor."
12:55 p.m. ET, August 26, 2018
Sen. Chuck Schumer: "I am mourning, America is mourning"
Democratic Sen. Chuck Schumer called John McCain one of his "closest friends in the Senate," while speaking about the late senator at a press conference this morning.
"I am mourning, America is mourning, the world is mourning the loss of one of the truly great men of recent decades. You don't meet many great men as you go through life, John McCain was one of them for his patriotism, for his strength, for his ability to speak truth to power and for him to do personal acts of kindness, quietly, over and over again. I knew him well, he was one of my closest friends in the Senate.
Schumer announced that he's introducing a resolution to rename the Senate's Russell office building after the late Sen. John McCain.
Here's how he explained what the name change could mean:
"I'd like, decades from now, little children to ask their parents, 'Who was John McCain?' and they'll explain his sacrifice, his patriotism, and most of all his fidelity to do the right thing as he saw it," Schumer said.
12:19 p.m. ET, August 26, 2018
How the sports world is honoring McCain
Arizona's sports teams are paying tribute to Sen. John McCain following his Saturday evening death.
Bleacher Report's Tyler Conway explained the role sports played in McCain's life: A boxer in the Naval Academy in the 1950s, McCain was instrumental in the passing of the Muhammad Ali Act, a law designed to protect the health and financial welfare of boxers. He was also a proponent of pardoning former heavyweight champion Jack Johnson, which President Donald Trump did earlier this year.
The Arizona Diamondbacks, which played the Seattle Mariners last night, displayed McCain's photo on the field during the game. The team also tweeted out this tribute:
The Phoenix Suns shared this statement on McCain:
And the Arizona Cardinals — and one of its players — shared tributes to the late senator.
12:15 p.m. ET, August 26, 2018
See the White House flags fly at half-staff for John McCain
Flags at the White House have been lowered to half-staff to honor the late Sen. John McCain.
President Trump tweeted his "deepest sympathies and respect" to the family of the senator after his death was announced on Saturday night.
"My deepest sympathies and respect go out to the family of Senator John McCain. Our hearts and prayers are with you!" Trump tweeted.
11:52 a.m. ET, August 26, 2018
How the front pages are paying tribute to McCain
John McCain's Saturday evening death made the front pages of newspapers across the country.
Here's the full-page tribute the Arizona Republic in Phoenix ran this morning:
The Arizona Daily Star in Tucson also dedicated the entire front page to McCain:
Here's how The Washington Post covered the news:
McCain was also featured on the front page of The New York Times: