John Hickenlooper takes questions at CNN town hall
10:53 p.m. ET, March 20, 2019
Hickenlooper, under pressure from progressives, defends his record on oil and gas regulations
Former Colorado Gov. John Hickenlooper defended his record on regulating oil and gas companies and fighting climate change on Wednesday, saying he would put his record on the issue up against anybody else.
Hickenlooper, a former geologist, has been criticized from the left for his efforts to regulate the oil and gas industry in Colorado, arguing that he has not gone far enough and worked too closely with the industry to craft regulations.
"I would hold Colorado's success in regulating the oil and gas industry and really all of our emissions up against anybody," the 2020 candidate said.
"We got the oil and gas industry to sit down with the environmental community. I mean, these people hate each other. It's worse than Coke hating Pepsi or the Hatfields and the McCoys. But we got the environmental community to sit down in the same room for 14 months and created the first methane regulations in the country."
But the answer is unlikely to assuage some of his critics on the left, who believe the governor is too willing to promote the fracking industry – including by once drinking fracking fluid.
10:45 p.m. ET, March 20, 2019
Hickenlooper says he won't declare a national emergency on gun violence
Former Colorado Gov. John Hickenlooper said Wednesday that despite his feeling that gun violence in the United State is a national emergency, he would not – as president – declare it a national emergency like President Donald Trump has done with immigration along the U.S-Mexico border.
"I don't think that that is the purpose of declaring national emergencies. I think what the President has done on the border diminishes our military efforts at creating processes by which you establish what is a national emergency," he said.
"I think it also, you know, just deflects his desire for building a wall, his political vanity and deflects the public attention from just how bad that is."
Behind the question: Trump has declared a national emergency on the border in an effort to build a wall and fulfill a long-held campaign promise. In response, many Democrats have suggested there are more pressing national emergencies like climate change and gun violence, and some have said Trump's tactics could be used by the next Democratic president.
Hickenlooper was governor during the July 20, 2012, movie theater shooting in Aurora, Colorado and during his tenure, the governor helped pass a statewide universal background check bill and a high capacity magazine limit.
"It was a tough battle," he said.
"And I'm a great believer that you can -- you know, you should be able to sit and talk with anyone. And if you work hard enough and listen hard enough and repeat back people's words and really try to make sure they know that you're listening, you should be able to find compromise on almost everything. But the NRA would not listen to reason."
10:45 p.m. ET, March 20, 2019
Hickenlooper: Trump "should be ashamed of himself" over white nationalism comments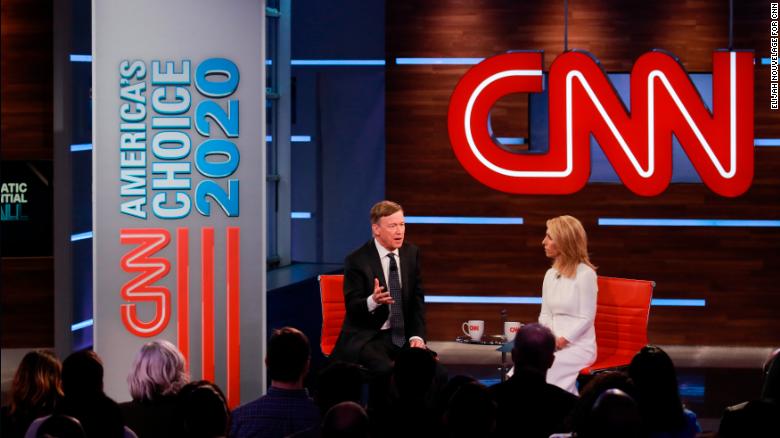 Former Gov. John Hickenlooper said President Donald Trump "should be ashamed of himself" for saying that he doesn't view white nationalism as a rising global threat following mosque terror attacks in New Zealand that killed 50 people.
Asked about Islamophobia and white nationalism during CNN's presidential town hall, Hickenlooper noted that "the rise of Islamophobia and white nationalism are different sides of the same coin."
"Any time you are making comments and creating, fanning the flames of hatred, then you're doing a genuine harm to your community," Hickenlooper continued.
He added:
"I don't know what to say – I think President Trump should be ashamed of himself."
Watch the moment:
10:38 p.m. ET, March 20, 2019
Why Hickenlooper says his face blindness has "been a blessing"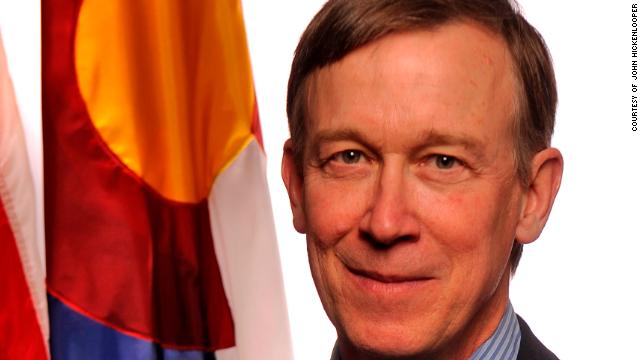 John Hickenlooper was introduced to his now-wife four times before he finally remembered her -- but because he suffers, he says, from face blindness.
But that hasn't stopped him from entering politics and running a business. Instead, Hickenlooper told a CNN town hall audience, it's been a blessing.
"Well, turns out there is a medical condition, and really a spectrum. And some people can look at 150 people in a video and remember every face and tell you if you show them five minutes later, a different picture of one person, they'll tell you exactly where they were. I'm the opposite. And I think in a way it's been a blessing. You know, I'm also moderately dyslexic, so I was a slow reader, always behind in college. My older brother used to tease me that I didn't get that many gifts from god. I had really thick glasses," he said.
He told CNN he discovered six years ago — well into his first term as Colorado's governor — that he suffered from face blindness.
In what he described as an "aha" moment, the governor was talking to someone and lamenting the fact that he had met someone four times and still couldn't remember them.
When that person said he was possibly face blind, Hickenlooper looked into the condition and determined that was the explanation for why he often struggled as a child with connecting with even close family.
One thing to note: Hickenlooper has not been officially diagnosed with the ailment —experts on face blindness say most doctors aren't able to medically diagnose it — but the former governor has discussed his issues recognizing and remembering faces with a number of face blindness experts who have said he displays clear signs of having the medical condition.
Watch the moment:
11:26 p.m. ET, March 20, 2019
Hickenlooper distances himself from single-payer healthcare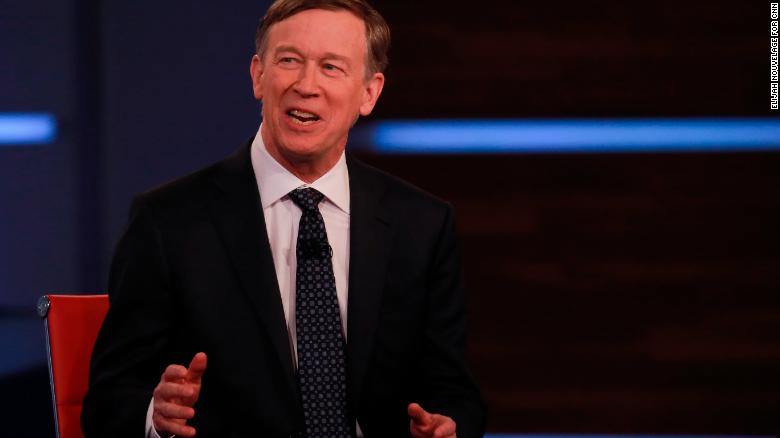 Former Colorado Gov. John Hicknelooper defended his opposition of "Medicare for All," a liberal health care plan supported by Vermont Sen. Bernie Sanders, among others.
"I don't agree with Sen. Sanders and the single payer approach," Hickenlooper said when asked by a Sanders supporter how he expected "voters to choose you over some of your contenders like Bernie Sanders, who have had a consistent record of support for single-payer health care."
Hickenlooper is a supporter of trying to achieve universal coverage in the United States, but has repeatedly said that he does not believe "Medicare for All" is achievable.
"Health care should be a right, not a privilege, right," Hickenlooper said to applause.
"I believe that. I've worked for that. I helped start a community health center in 1973, and we said back then health care needs to be a right, not a privilege. I want to support any way we can get to universal coverage. That should be our first and primary goal. That should be our north star."
He added, however, that too many Americans enjoy the insurance they are on that is provided by either their or a spouse's employer. Hickenlooper asked the audience to raise their hand if they were on an employee backed health care plan. Most of the audience did.
"I mean there are over 150 million people that I can't imagine how we would pull them off of health care coverage that in most cases they like," he said.
Watch the moment:
10:33 p.m. ET, March 20, 2019
Hickenlooper on the death penalty: "I'm against it. It makes no sense."
Former Colorado Gov. John Hickenlooper said Wednesday that he is fully against the death penalty and would suspend it, if elected president.
"I'm against it," Hickenlooper said.
"It makes no sense. It's not a deterrent. It's expensive. It prolongs misery. And the worst thing is it is depending on where that crime occurs, and in many cases, whether the killer is African-American or Latino, that has a lot to do with who gets tried on a death penalty charge. And the random injustice of that is something that this country should never stand for."
CNN's Dana Bash asked whether Hickenlooper would halt all of the federal executions as President.
"I have not looked at all the cases, but the vast majority of cases in the federal death penalty system, I'd have to be suspicious just to start," he said. "So, I certainly would suspend the death penalty. "
Watch the moment:
10:26 p.m. ET, March 20, 2019
Hickenlooper on legalizing marijuana: "The federal government should get out of the way"
Former Colorado Gov. John Hickenlooper said he would not ask the federal government to legalize marijuana for every state, but said that he would allow the states to make up their own mind on the issue, much like Colorado did under his watch.
"I would not ask the federal government to legalize it for everyone," he said at CNN's town hall on Wednesday.
"But I think where states do legalize marijuana with the voters or through their general assembly, the federal government should get out of the way and allow them to get banking, allow them to look at systems by which you can have this experiment go on successfully."
He then described his "dream":
"Ultimately, my dream would be the federal government to make sure that the Department of Agriculture and the Food and Drug Administration regulate whether pesticides are used when this is being created, that we get all the legal barriers to doing medical research around marijuana so that we can get one system nationwide for what is medical marijuana. Where does it work? Where does it not work? Let's make this a real experiment through collaboration between the federal government and the states."
Hickenlooper was opposed to marijuana legalization when voters supported it in 2012, which led to its legalization in 2014. On Wednesday, he said his fears about legalization had not come true:
"I was opposed to it originally. … We were worried about teenage consumption coming up. We worried about the risks of, you know, more people driving while high. And partly it's no fun to be in conflict with the federal government. But I believe that states are the laboratories of democracy, as Justice Brandeis said so famously, and that we would give it our best shot," he said. "And I have to say at this point, most of our fears haven't come true."
Hickenlooper is often asked about marijuana on the campaign trial and the issue seemingly follows him from state to state. "I'm not surprised that that's one of the first questions I get asked," he said to a laugh on Wednesday.
Watch the moment:
10:16 p.m. ET, March 20, 2019
Hickenlooper explains what his name means: Hedge-hopper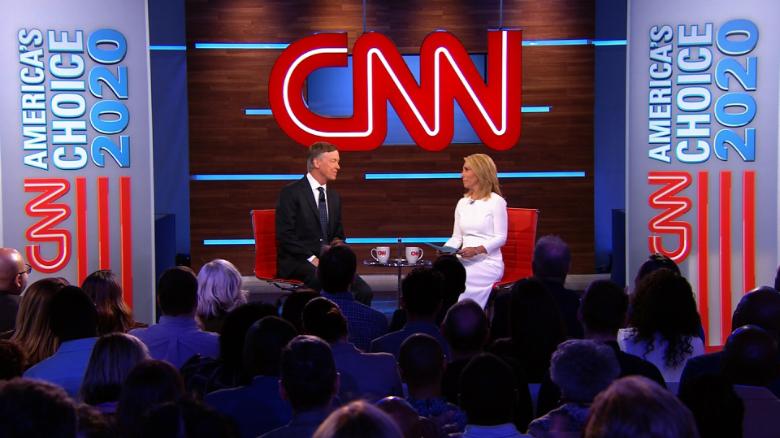 John Hickenlooper, the former Democratic governor of Colorado who is running for president, just took the stage and went right into the meaning of his unique last name.
CNN's Dana Bash noted that it is the longest of all the candidates, and asked him what it means. 
Here's what the former Colorado governor said about the meaning behind his name:
"Well, we were always told as kids that Hickenlooper was Dutch for hedge hopper. People would jump over the hedge to deliver the mail. But we as children were asked, why isn't it more common? So as it turned out, later in life my uncle told me that the truth was that hedge hoppers really were game poachers, and they would jump over the king's hedge and kill the king's deer. That's why I guess it's a common name in some of the prison colonies like Australia," Hickenlooper said.
Bash jokingly asked, "You're saying hedge-hopper, not head-chopper?"
Hickenlooper laughed and said, "No. That's a political interpretation."
Watch the moment:
9:58 p.m. ET, March 20, 2019
SOON: John Hickenlooper will take the stage at his town hall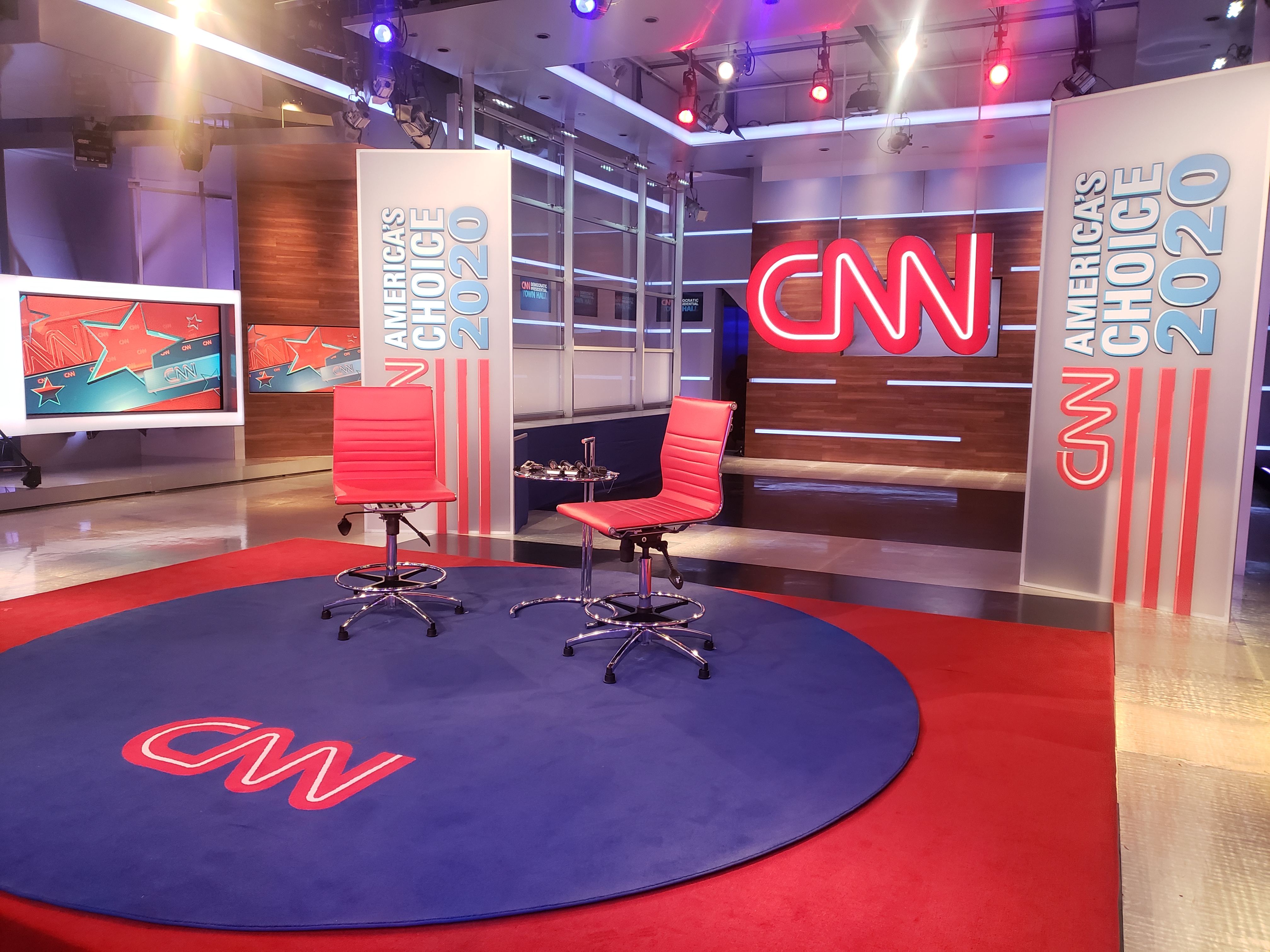 Democratic candidate John Hickenlooper will soon face questions at a town hall in Atlanta, Georgia.
CNN's Dana Bash will be moderating the show tonight at the CNN Center.
The former Colorado governor laid out his plan to improve the American workforce in an opinion piece today for CNN.
"I am calling for a national strategy for the American workforce," he said. "America only works when the economy works for everyone, especially for the nearly 70 percent of Americans who will not graduate with a four year college degree."
Here's what else Hickenlooper said he plans to do:
"A national strategy for the American workforce would mean an investment of historic proportions in skills training and apprenticeships. It would enlist labor unions, good corporate citizens, and civic organizations to join a national effort that ensures people have the skills companies need to drive our economy forward.
We can do this by reimagining the role of the employer where upskilling and reskilling will become a benefit of employment rather than an inadequate government retraining program after someone loses a job."