Washington Gov. Jay Inslee CNN town hall
10:54 p.m. ET, April 10, 2019
Inslee says he would have grounded the Boeing 737 Max plane sooner than Trump
Washington Gov. Jay Inslee said he would have grounded the Boeing 737 Max 8 plane sooner if he were president.
The US was one of the last countries to ground the aircraft after the fatal plane crash in Ethiopia in March. Facing mounting pressure, President Trump ordered his administration to ground the planes, following the crash.
Inslee said it's been difficult for employees at Boeing, which is based in Washington.
"This has been a painful thing for the people who make these airplanes. But I have to tell you, I would have grounded these jets much sooner. And don't hold me totally to this because I didn't have all of the briefing. But I would have been given serious consideration to grounding them after the first loss," he said.
It was the second time in less than six months that this model crashed soon after takeoff. A new Lion Air Boeing 737 Max 8 flight went down in October over the Java Sea off Indonesia, killing 189 people.
He also said he regrets the fact that Boeing is able to threaten the state.
"Boeing should not have been able to threaten the state of Washington to move 20,000 jobs out of our community," he said. "We're the best place to make airplanes and have been for many decades. But they threatened my state and 20,000 jobs unless they got certain tax benefits. I liken that as kind of extortion in a sense. I don't think that's right. I think we should be protected from that type of behavior."
10:47 p.m. ET, April 10, 2019
Inslee calls for ending the filibuster to pass health care reform and climate change legislation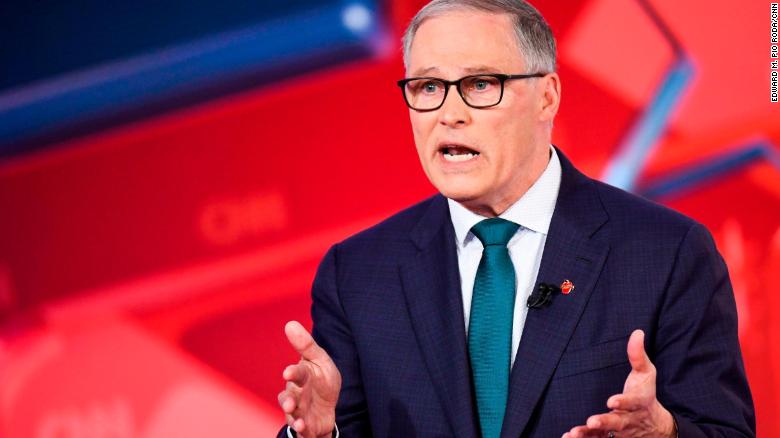 Washington Gov. Jay Inslee said Wednesday night at CNN's town hall that he would push to get rid of the filibuster in the Senate if he wins the presidency, believing that it is the largest impediment to passing health care reform and climate change legislation.
Inslee was one of the earliest candidates to support getting rid of the Senate rule that requires certain bills get 60 votes to pass. Getting rid of that provision would mean bills could pass solely on majority rule.
"We are not going to be able to get health care done or anything else for that matter, unless we get rid of the filibuster," Inslee said. "I was the first candidate in this race running for president to be very unequivocal about this."
He added:
"If the filibuster is still in Mitch McConnell's hand come 2021, all hope is sort of down the tubes to be able to do real significant reform. So I'm telling you, if I'm given this highest honor, I will lead the charge to end this senatorial privilege, which is an ancient artifact of a bygone in time, and let's get some health care reform and climate change legislation and reform the United States of America."
Not all Democrats are on board: Other candidates, including Sen. Elizabeth Warren, have supported getting rid of the filibuster. But Sen. Cory Booker has said he does not support "doing anything to mess with the strength of the filibuster" and Sen. Bernie Sanders said he is "not crazy about getting rid of the filibuster."
10:37 p.m. ET, April 10, 2019
Inslee: Instead of impeachment, focus on voting Trump out in 2020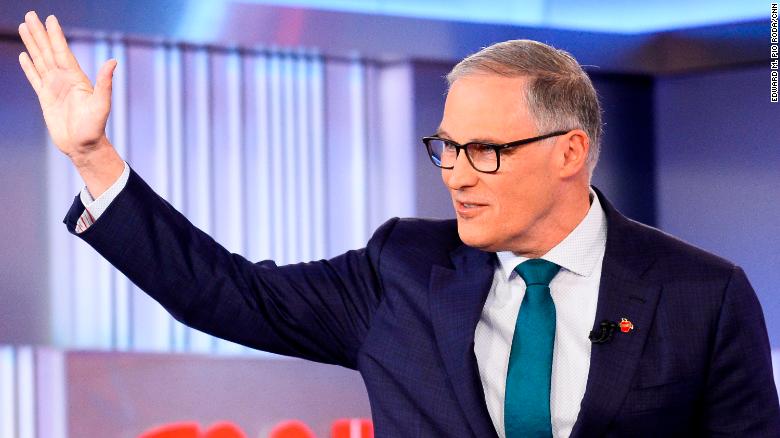 Washington Gov. Jay Inslee said on Wednesday during his CNN town hall that he supports voting President Donald Trump out of office in 2020, not impeaching him at this time.
Inslee, in response to a question about impeachment, said that he is as angry as anyone about some of Trump's decisions, but he added that he thinks the most fruitful way for Democrats to oust Trump is at the ballot box.
"I believe the current situation right now is that we should have a dramatic, engaged, concerted, energetic and successful effort on November 2020 to make Donald Trump a blip in history," Inslee said. "... Because filing articles of impeachment, as you know, doesn't solve the trick. You have to have conviction in the Senate."
He added: "So for my money at the moment, we're doing what we should be doing, which is to get ready to remove this person from this high office."
Inslee did not say he would never support impeachment, noting that not everything about Trump is currently known.
"For instance, we just discovered a black hole. Did you see the picture the first black hole?" Inslee said. "We think Donald Trump's tax returns are in there. We need those tax returns."
10:35 p.m. ET, April 10, 2019
Inslee supported the 1994 crime bill that led to mass racial disparities in the justice system. He regrets that vote.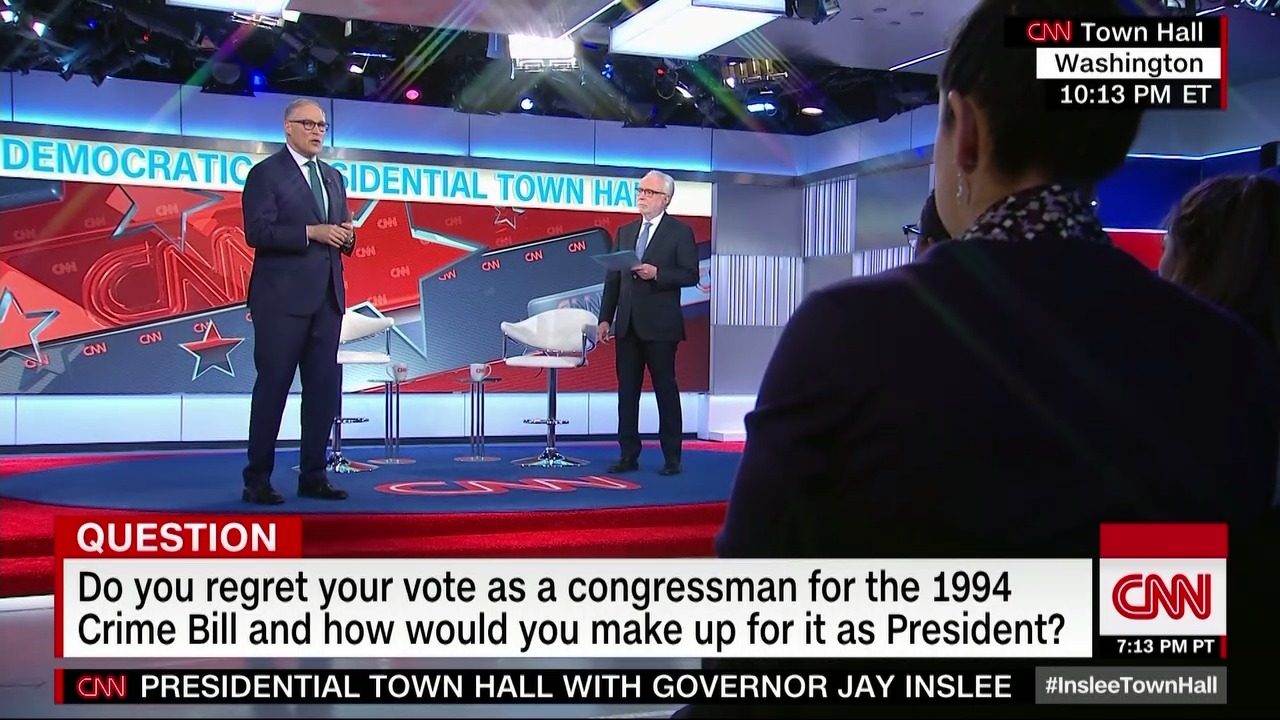 When Jay Inslee was a member of Congress, he supported a 1994 crime bill that included stiffer penalties for drug crimes and contributed to the massive incarceration of people of color.
But times have changed: He now says he would change his vote.
"Listen, that was a situation where many Democrats, including myself, believed we needed some response to the epidemic of crime at the time. But I will tell you that -- this, if I knew then what I know now I would not have cast that vote. It has resulted in racial disparities in our system," he said.
About that bill: President Bill Clinton signed into a law an omnibus crime bill in 1994 that included the federal "three strikes" provision, mandating life sentences for criminals convicted of a violent felony after two or more prior convictions, including drug crimes.
Clinton has since conceded that over-incarceration in the United States stems in part from policies passed under his administration.
Politicians in general are turning their attention away from "tough on crime" policies to those focused on lowering prison populations and providing more opportunities for low-income areas.
10:48 p.m. ET, April 10, 2019
Inslee says he doesn't regret voting for 1994 assault weapons ban, despite losing his seat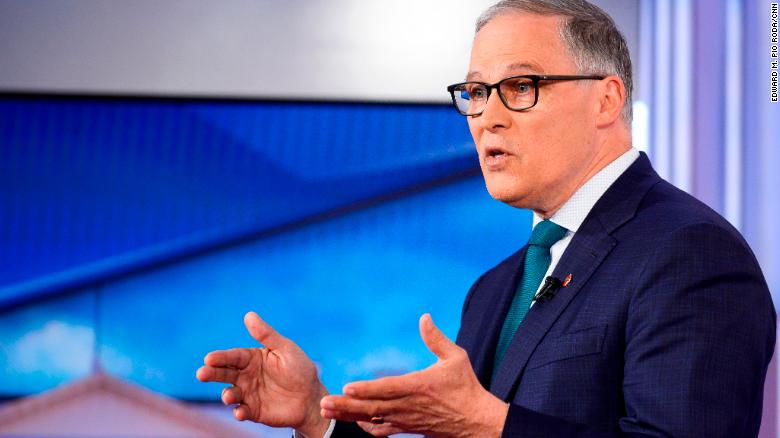 Washington Gov. Jay Inslee said Wednesday that he did not regret his vote in favor of the 1994 assault weapons ban, despite the fact that he believes he lost his congressional seat because of it.
Inslee was a freshman lawmaker representing Eastern Washington in 1994 when he voted for the assault weapons ban. Inslee said Wednesday that he was told he would lose his seat if he voted in favor of the bill, but he opted to do it anyway.
"I voted for that bill, I provided one of the critical votes to get it over the top and I lost my seat," he said.
"But I've never regretted that vote. Because I do not believe any congressman's or politician's seat is more important than any child's life. And I fundamentally believe that."
Despite losing re-election during what came to be known as the Republican Revolution in 1994, Inslee would return to the House in 1999 and become Washington's governor in 2013.
After losing re-election, Inslee said what the vote showed was "when you vote your convictions over political expediency, on occasion, it's not good for your career."
10:30 p.m. ET, April 10, 2019
Inslee counters Trump: "Wind turbines don't cause cancer. They cause jobs."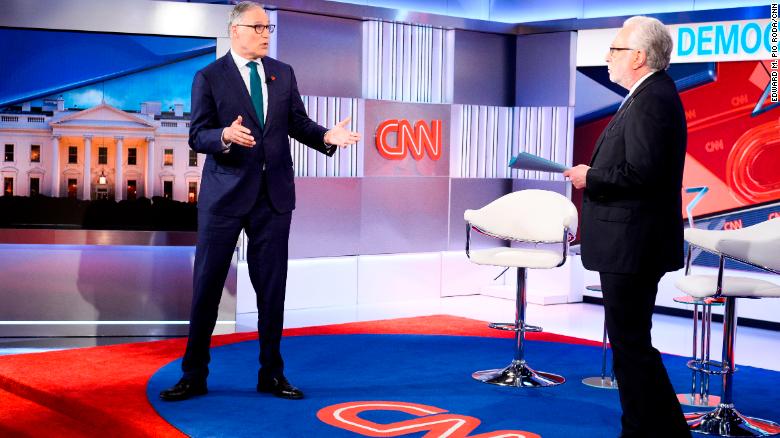 Washington Gov. Jay Inslee took an early shot at President Donald Trump on Wednesday when he maligned the fact that the President falsely said the noise from wind turbines cause cancer.
"And now when we can get a president of the United States that understands wind turbines don't cause cancer, they cause jobs," Inslee said.
Trump, during a recent speech at the National Republican Congressional Committee's spring dinner, knocked wind energy.
"If you have a windmill anywhere near your house, congratulations, your house just went down 75 percent in value. And they say the noise causes cancer," the President said.
Facts First: While some properties can see a decrease in value when turbines are planned and constructed nearby, several major academic studies found no statistically significant decrease in the average property value due to wind turbines in the US.
And that cancer claim? It's not clear who it was who told this to Trump, but there's no evidence to back it up.
10:04 p.m. ET, April 10, 2019
NOW: Jay Inslee takes the stage for CNN town hall
Gov. Jay Inslee just joined CNN's Wolf Blitzer on stage for the presidential town hall. You can watch it live in the video player above.
10:14 p.m. ET, April 10, 2019
In the Green Room with Jay Inslee
Democratic presidential hopeful Jay Inslee just chatted with CNN and answered a few questions before tonight's town hall.
We asked him eight, simple questions so voters can get to know him better.
Here's what he said:
CNN: What's one thing about you that surprises people?
Inslee: "Well that my wonderful wife has put up with me for 46 years and they wondered how I pulled that off. I am not sure but I have just been really, really lucky."
CNN: What's the best piece of advice you've ever received?
Inslee: "From my son actually, when I was trying to figure out whether I should run for Congress and he said, 'Dad, just run and let the people decide. Let them be the deciders.' That was pretty good advice."
CNN: What's your favorite movie and why?
Inslee: "I am a movie buff. I got a million of them, but I have to go with my first which is 'The Wizard of Oz.'"
CNN: What was the last book you read?
Inslee: "The last book I read was 'Sapiens,' which is an incredible story of science. And the book that actually I read at the same was a book called 'The Uninhabitable Earth,' which set the stage for what we need, which is the fight against climate change."
CNN: What is your greatest accomplishment?
Inslee: "Joining my wife and raising three honorable young me and now three grandchildren. That's going to be our top legacy, but I've had a few accomplishments as governor, too."
CNN: What three issues do we have to deal with right now?
Inslee: "No. 1 we have to face climate change and that has to be job No.1. And I have pledged that if I am president of the United States, I will make defeating climate change the No. 1 priority in the United States. And that frankly has to be job No. 1, maybe 2 and 3, because if we cannot solve climate change, we cannot solve the other issues. And I am the candidate, the only candidate who is making that pledge. We have to get this job done."
CNN: Name one thing that makes you different than all the other 2020 Democratic candidates.
Inslee: "I am the only candidate who has pledged to make defeating climate change the No. 1 priority in the United States. I am the only candidate who has had decades of experience making it the first, foremost, and paramount duty, and I am the candidate who has co-authored a book on this, help found the alliance against climate change and I am now ready to assume this position, which is to ignite a clean energy revolution and build millions of jobs in this country."
CNN: Is there anything you wish you could tell voters that you never get asked?
Inslee: "I think with what they might want to ask is how much I respect people who are going to make this decision to help us find a new president, and I can tell them that they should be inspired that we have a group of Americans who frankly want to change the course of this nation, who've had too much division. And now from Iowa to New Hampshire to Nevada to South Carolina to California and points east and west, they are ready for a unified force of optimism, someone who believes in the can-do spirit of America and I am going to give them that choice."
9:45 p.m. ET, April 10, 2019
Jay Inslee is a vocal opponent of President Trump
Washington Gov. Jay Inslee's profile rose after the election of President Trump.
After Trump's inauguration in 2017, Inslee became a vocal opponent of the Republican leader. Inslee sued after Trump tried to ban immigration from several Muslim majority countries.
Inslee faces a significant level of skepticism from Republicans on climate change, which is the central rationale for his campaign. As President, Trump left the Paris Climate Accord and said he does not believe government reports that cast grave warnings about the impact of climate change.
Inslee largely dismisses Trump's comments on climate change, arguing that the President doesn't understand where the American people are on the issue, especially young people.