Democratic debate in Iowa
12:00 a.m. ET, January 15, 2020
Here's who won the Iowa debate
Six Democratic presidential candidates took the stage tonight in Iowa for the seventh debate in the 2020 election.
Here are the winners and losers from tonight's debate:
Winners: Pete Buttigieg, Elizabeth Warren and Amy Klobuchar
Losers: Joe Biden, Bernie Sanders and Tom Steyer
Honorable mention: Policy is also a winner tonight. There was lots and lots of policy — health care, childcare, foreign policy, climate change — and very few personality-focused questions. 
11:53 p.m. ET, January 14, 2020
Fact check: Buttigieg said the Trump administration admitted the Iran deal worked. That's basically true.
Former Mayor Pete Buttigieg asserted during the debate tonight that the Trump administration admitted that the Iran nuclear deal was working before pulling out of it.    
Buttigieg said, "By gutting the Iran nuclear deal, one that, by the way, the Trump administration itself admitted was working, certified that it was preventing progress toward a nuclear Iran, by gutting that, they have made the region more dangerous and set off the chain of events that we are now dealing with as it escalates even closer to the brink of outright war." 
Facts first: This is basically true. By repeatedly recertifying the nuclear deal and waiving sanctions against Tehran as a result, the Trump administration effectively acknowledged that Iran was abiding by the terms of the deal even as the President publicly criticized it.    
The terms of the nuclear deal required the US president to reauthorize it every 120 days to keep sanctions from kicking in. President Trump didn't leave the deal until May 2018 and reauthorized it a handful of times after taking office. 
CNN previously reported that the President promised to kill the deal on the campaign trail but was persuaded by cabinet members and allies several times to recertify Iran's compliance. Former Defense Secretary James Mattis told the Senate Armed Services committee in April 2018 that the verification provisions in the pact were "pretty robust" though he did not publicly back the deal. Despite his criticism of the deal, neither Trump nor his aides had been able to say that Iran was violating the terms of the agreement.   
11:51 p.m. ET, January 14, 2020
Klobuchar on the debate: Iowans expect "certain civility"
Democratic presidential candidate Amy Klobuchar spoke to CNN's Jeff Zeleny about tonight's debate and the candidates' performance.
The Minnesota senator said the debate felt more like a discussion tonight. She attributed that to the smaller group (Only six candidates qualified for the Iowa debate).
"We're in Iowa where we have the caucuses and they expect a certain civility," she said.
Klobuchar also talked about balancing the upcoming Senate impeachment trial with her campaigning.
"Well, I don't want it to freeze in place because I'm No. 5 right now, but I'm going up and have been increasing in the polls. So we have a very strong ground operation here as I mentioned at the debate, the most endorsements of legislators and former legislators of anyone out there, and we're ready to win," she said.
12:08 a.m. ET, January 15, 2020
Here's the first interaction between Warren and Sanders after the debate
Seconds after the debate ended, Sen. Elizabeth Warren was seen shaking hands with Tom Steyer and Joe Biden — but when Bernie Sanders extended his hand, Warren didn't take it, instead appearing to engage him in a conversation.
It's unclear what they were discussing.
Earlier in the debate, Sanders again denied telling Warren, during a private 2018 dinner, that he did not believe a woman could win the presidency.
"I didn't say it," Sanders said. Warren stood by her account – and again said that she "disagreed."
Watch the moment:
11:29 p.m. ET, January 14, 2020
How the candidates closed out the debate
Each of the six candidates gave a closing statement to wrap up tonight's debate, the last one before the Iowa caucuses.
Here's a look at how they ended their arguments:
Amy Klobuchar: "Donald Trump thinks this is all about him. I think it's about you. It's not about his resorts or his tweets or even his ego. It is about your health care. It is about your schools. It is about your lives and your future."
Tom Steyer: "If there's one thing I will not permit, it is someone to run down the field and kick my teammate in the face, and that is exactly what I've seen over the last seven years, traveling around this country, seeing these Republicans, led by Mr. Trump, basically kicking the American people in the face."
Pete Buttigieg: "If you're used to voting for the other party but right now cannot look your kids in the eye and explain this President to them, join me."
Elizabeth Warren: "I come here tonight with a heart filled with hope, and it's filled with hope because I see this as our moment in history. Our moment when no one is left on the sidelines, our moment when we understand that it comes to us to decide the future of this country. 
Joe Biden: "We in the United States of America can put up with — we can overcome four years of Donald Trump, but eight years of Donald Trump will be an absolute disaster and fundamentally change this nation."
Bernie Sanders: "This is the moment when we have got to think big, not small. This is the moment when we have got to have the courage to take on the 1%, take on the greed and corruption of the corporate elite, and create an economy and create a government that works for all of us. Not just the 1%."
11:18 p.m. ET, January 14, 2020
Here's who spoke the most in tonight's debate
Sen. Elizabeth Warren had the most speaking time during tonight's debate with nearly 19 minutes, followed closely by Sens. Bernie Sanders and Amy Klobuchar at nearly 18 minutes. See the full breakdown below.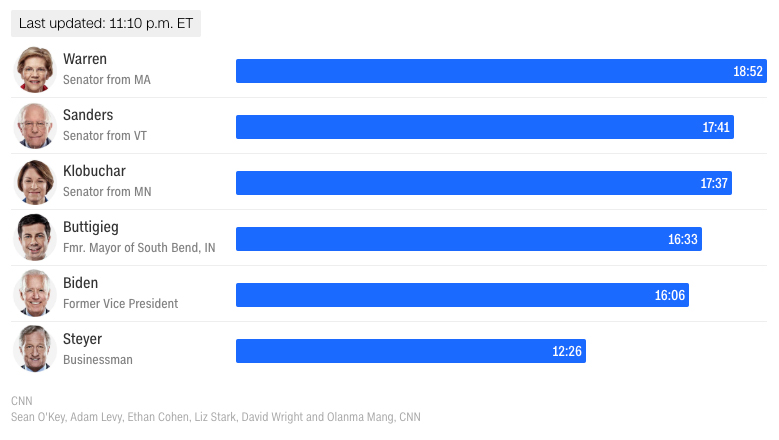 11:18 p.m. ET, January 14, 2020
Buttigieg slams Trump on "bone spurs" that kept him from serving in Vietnam
Pete Buttigieg pointed to his own military experience and slammed Donald Trump over his bone spurs diagnosis as he argued he is prepared to take on the President.
Buttigieg said if Trump tried "tough talk" on the military during a debate with the former South Bend, Indiana, mayor, he would have to do so while "standing next to an American war veteran and explain how he pretended bone spurs made him ineligible to serve."
The line came near the end of the debate, when Buttigieg turned a barb from businessman Tom Steyer to take on the Republican president.
Trump was diagnosed with bone spurs in his heels at the age of 22 in 1968, seven years before the Vietnam War ended. The diagnosis earned him a 1-Y medical deferment, meaning he was barred from military service in the same year that roughly 300,000 troops were enlisted into the military.
Buttigieg attacked the President on other topics, too.
"I am ready to take on this president on the economy because I am from the exact kind of industrial Midwestern community he pretends to speak to and has proven to turn his back on," Buttigieg said.
The mayor also hit Trump on religion. The mayor is an Episcopalian. Trump, a Presbyterian, enjoyed widespread support from white American evangelicals during the 2016 election.
"If he keeps trying to use religion, if a guy like Donald trump keeps trying to use religion to somehow recruit Christianity into the GOP, I will be standing there not afraid to talk about a different way to answer the call of faith," he said. "And insist that God does not belong to a political party."
11:09 p.m. ET, January 14, 2020
Why Steyer says he can beat Trump on the economy
Businessman Tom Steyer, who spent more than $100 million dollars on television ads, was asked how he plans to convince voters that he's more than just his money.
Steyer said it's simple; he's going to focus on the economy just like President Trump
"Look, we know how Donald Trump is going to run for president. He's going to run on the economy. He's already told Americans last month in Florida you don't like me, and I don't like you. But you're all going to vote for me because the Democrats are going to destroy the economy in 15 minutes if they get in control," he said.
Steyer went on to defend his wealth, saying that he started his business on his own.
"I didn't inherit a penny from my parents," he said.
Steyer continued: "Whoever is going to beat Mr. Trump is going to beat him on the economy and I have the experience and expertise to show he's a fake there and a fraud."
11:13 p.m. ET, January 14, 2020
Buttigieg defends lack of support among black voters, admits "much longer way to go"
Pete Buttigieg defended his lack of support among black voters on Tuesday, arguing that he isn't "perfect" on all issues that matter for African American voters.
Still, he noted that "the black voters that know me best are supporting me," pointing to the support he has in his hometown, South Bend, Indiana.
Buttigieg's lack of black support has been a persistent problem for the former South Bend mayor, one that he first acknowledged in 2019 but has largely failed to address for much of his campaign.
"The biggest mistake we can make is take black votes for granted. I never will," Buttigieg said. "The reason I have the support I do is not because any voter thinks I'm perfect, it's because of the work that we have done facing some of the toughest issues that communities can, not from the luxury of a debate or a television panel or committee room, but on the ground."
Buttigieg went on to say that "of course there is a much longer way to go in my community and around the country" on issues of race, he will "be a president whose personal commitment is to continue doing this work."
Buttigieg's inability to win over black voters has been particularly noteworthy in South Carolina, where a large part of the primary is expected to made up of black voters. That is why Buttigieg's campaign is banking on a win in Iowa or New Hampshire to propel him into Nevada and South Carolina -- the campaign believes black voters could move his way if he proves he can win.