Defense Secretary James Mattis resigns
9:07 p.m. ET, December 20, 2018
9:04 p.m. ET, December 20, 2018
Why Jim Mattis' resignation letter is an absolutely stunning rejection of Trumpism
Lots of Cabinet officials -- and I mean LOTS -- have either resigned or been fired by President Donald Trump in his first 20 months in office. But no one has quit in quite the same way as Defense Secretary James Mattis did Thursday night.
"Because you have the right to have a Secretary of Defense whose views are better aligned with yours on these and other subjects, I believe it is right for me to step down from my position," Mattis wrote to Trump in a pointed two-page letter that he hand-delivered to the commander in chief earlier Thursday afternoon. 
And then, this:
"One core belief I have always held is that our strength as a nation is inextricably linked to the strength of our unique and comprehensive system of alliances and partnerships. While the US remains the indispensable nation in the free world, we cannot protect our interests or serve that role effectively without maintaining strong alliances and showing respect to those allies."
In that single paragraph, which sums up the sentiment of the longer letter, Mattis rejects out of hand Trump's "America First" foreign policy that had led to clashes with a slew of longtime allies -- from Germany to Britain to Australia and back.
From Trump's decision to pull out of the Paris climate accord to his recent announcement that the United States would be leaving Syria -- a decision with which Mattis disagreed -- Trump has shown time and time again that he rejects the post-World War II alliance structure that presidents, Republican and Democratic, have relied upon for more than seven decades.
8:57 p.m. ET, December 20, 2018
Stephen Miller: Trump is "entitled to a secretary of defense that has strong alignment with his views"
Presidential adviser Stephen Miller weighed in on the sudden departure of Secretary of Defense James Mattis, who cited irreconcilable policy differences in his resignation letter Thursday.
"He and the President had a great relationship," Miller insisted.
"At the same time, as you know, President Trump believes that many immensely wealthy countries are taking advantage of the United States ... while we protect these very wealthy countries," he added. "The President has been very emphatic about the need to get a fair deal for the American taxpayer and to make sure that we're only engaged in activities that are in our national interests."
When Blitzer asked why the President tweeted that Mattis was retiring when the defense secretary released a letter of resignation, Miller replied, "James Mattis is retiring."
"At the same time, as Mattis said in the letter, the President is entitled to a secretary of defense that has strong alignment with his views," Miller said, later adding, "It's also very normal at this point in the administration to have turnover."
Watch:
8:33 p.m. ET, December 20, 2018
Military ordered to withdraw about half the troops in Afghanistan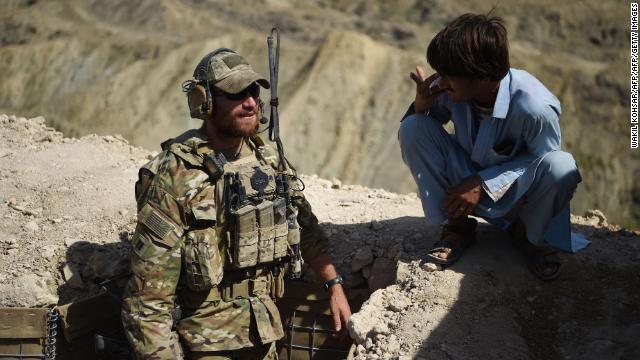 The military has been ordered to begin planning to withdraw about half the troops in Afghanistan, a US defense official with direct knowledge tells CNN.
The official said it could take months to do a withdrawal of the approximately 7,000 troops. 
The decision was made Tuesday, at the same time as the decision on Syria.
The Wall Street Journal was first to report the plan.
7:41 p.m. ET, December 20, 2018
Mattis has yet to sign order executing withdrawal from Syria, officials say
Secretary of Defense Jim Mattis has yet to sign off on the execute order for a withdrawal from Syria, two US officials told CNN.
One of the officials said the order drafted says that the timeline for withdrawal is 120 days from signing.
One thing to note: There is no standard time for such an order to be signed. For example, the initial order to send troops for border security took several days for Mattis to sign
7:30 p.m. ET, December 20, 2018
"There is chaos now in this administration": Democratic leadership reacts to Mattis' resignation
Democratic congressional leaders responded to the news that Defense Secretary James Mattis would be leaving the administration at the end of February.
House Minority Leader Nancy Pelosi said she was "shaken" about Mattis' departure and argued "everybody in the country should read his letter of resignation."
"It's a beautiful letter about our values as a nation," she said, while holding it up and reading parts of it at a joint press conference with Senate Minority Leader Chuck Schumer.
She described Mattis as a "comfort to many of us as a voice of stability in the Trump administration."
Schumer said Mattis was "one of the few symbols" of "strength and stability" in this administration.
"There is chaos now in this administration," he said.
"This week was one of the most chaotic weeks we've ever seen in American government," Schumer added.
7:23 p.m. ET, December 20, 2018
Mattis resigned over multiple issues, including Syria
A defense official says Defense Secretary James Mattis' decision to quit was not a "forced resignation." Mattis quit on his own accord over multiple issues, including Syria. 
Earlier, a senior administration official told CNN's Jake Tapper that Mattis was "vehemently opposed" to Syria decision and possible Afghanistan troop withdrawal.
Mattis met with President Trump one-on-one in the Oval Office around 3:30 p.m. ET, according to a senior White House official who declined to be identified. He told Trump he was going to be leaving and offered his resignation letter.