9:25 p.m. ET, May 9, 2019
Our live coverage of James Comey's town hall has ended. Scroll through the posts below to see how it unfolded.
9:21 p.m. ET, May 9, 2019
James Comey says he will never run for office. Here's why.
An audience member asked James Comey if he would ever run for office. Comey had an easy answer.
"No, never," he said firmly. "I admire good people that run for office. We need good people on both sides of the aisle running for office. It's not my thing," he said, adding that there are other ways to contribute and to serve your community and country without running.
He said he would, however, canvas for Democrats in the upcoming election because he believes in oversight of the president.
9:28 p.m. ET, May 9, 2019
Comey calls US-Mexico border images "a stain" and tells voters, "Wake up"
Former FBI Director James Comey had a message for Americans on immigration: "Wake up."
He added: "Think about what America is and vote those values."
Comey said the images of what's happening at the US-Mexico border "is a stain on this country and if there's anything good that can come from that, it will be a stirring of the giants."
9:25 p.m. ET, May 9, 2019
Why Comey doesn't want to see Trump impeached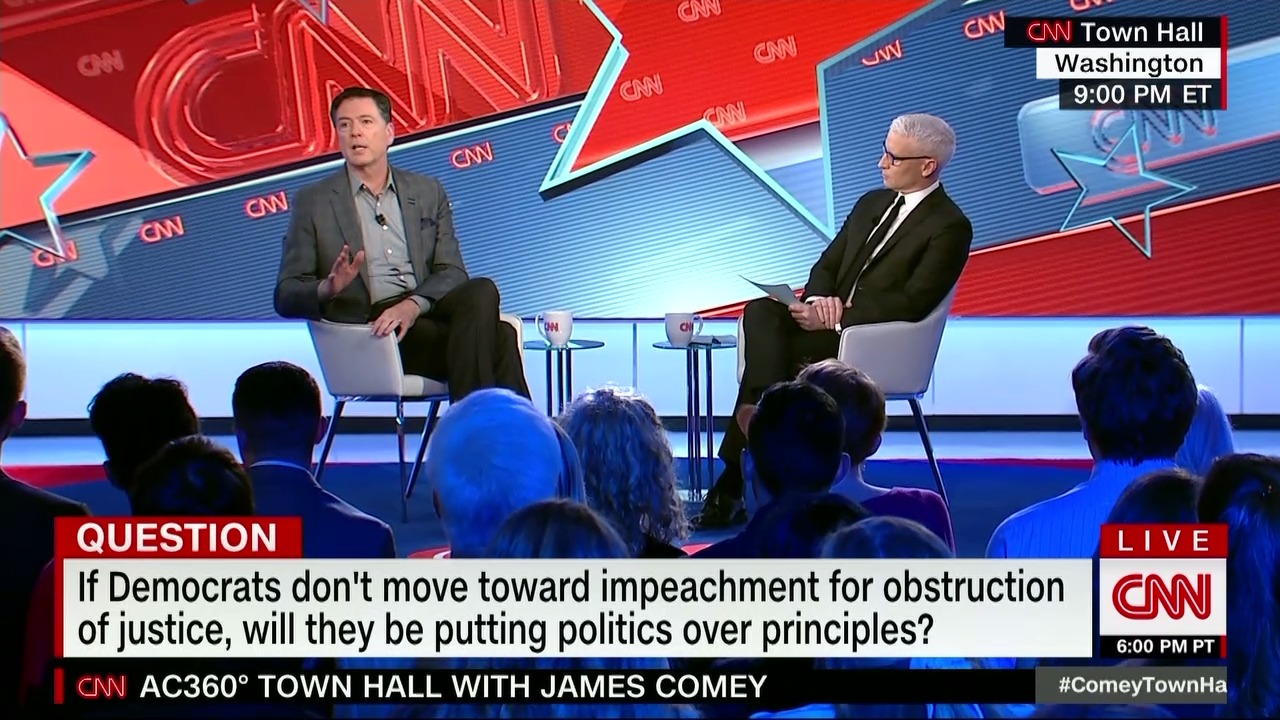 He's said it before, and he still believes it -- President Trump and all he represents should be defeated at the ballot box, not by impeachment, James Comey told CNN's Anderson Cooper.
"I kinda hope there isn't an impeachment because I think it will leave us in a situation where we're kind of off the hook," Comey explained.
"We need an election where the American people stand up and say, 'We have important differences over immigration and guns and abortion and really important issues, but we have something in common and it's non-negotiable: Our president must reflect the values of this country.'"
9:15 p.m. ET, May 9, 2019
Here's how Comey reacted to Sarah Sanders admitting she lied to the press about him
James Comey said he wasn't shocked when he read in the Mueller report that White House press secretary Sarah Sanders admitted that she lied to the press when she said that "countless" FBI agents had told her that they were thankful Trump had fired him.
"I wasn't shocked. I knew it was a lie when it was first said at the time," Comey said. "And it was gratifying to hear her admit that it was and if I need to explain to you what her deal is, I can't help you."
Some background: Mueller's report confirms that Sanders simply made that claim up.
Sanders made similar claims multiple times on two different days. Yet she told Mueller's office in an interview that she merely made a "slip of the tongue."
According to Mueller's report, "she also recalled that her statement in a separate press interview that rank-and-file FBI agents had lost confidence in Comey was a comment she made 'in the heat of the moment' that was not founded on anything."
9:19 p.m. ET, May 9, 2019
Comey says Rod Rosenstein is not a person of strong character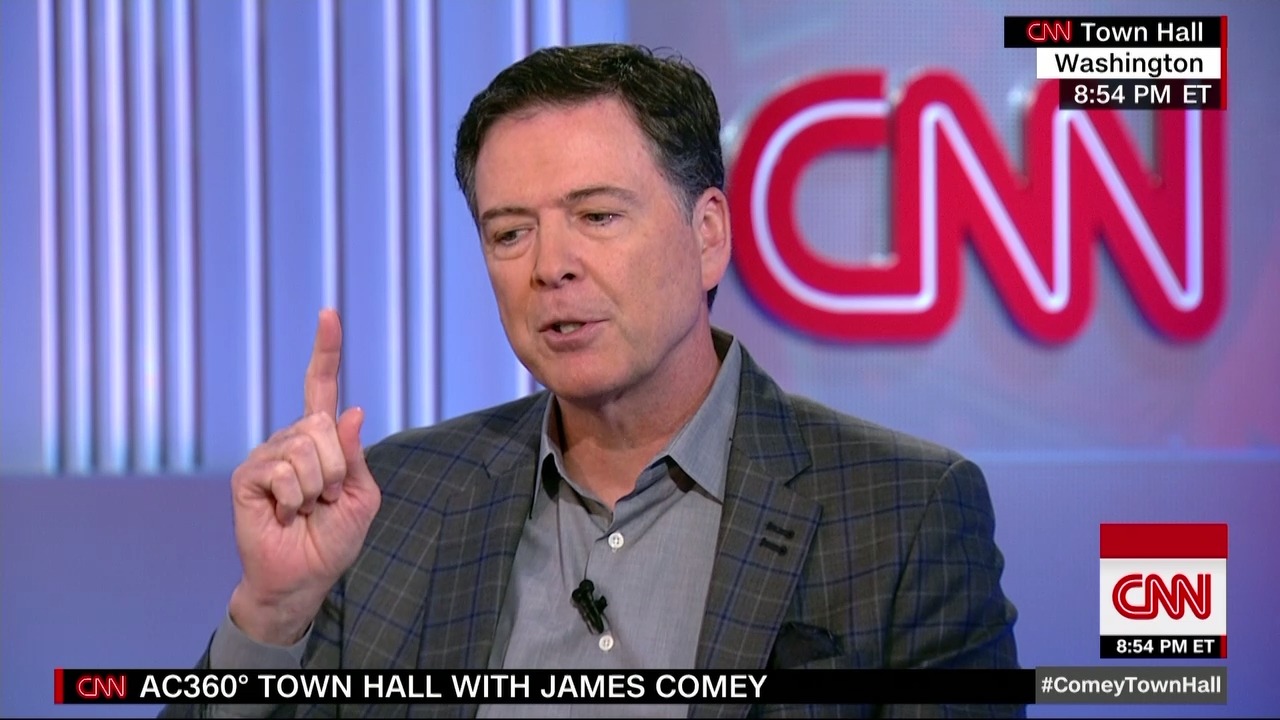 Former FBI Director James Comey told CNN's Anderson Cooper he doesn't think the outgoing deputy attorney general Rod Rosenstein is a man of strong character, citing his actions around President Trump as the reason why.
"I think people like that, like Rod Rosenstein, who are people of accomplishment, find themselves trapped. They justify their being trapped, which is, 'yeah he's awful but the country needs me.' Republicans are doing this in Congress. 'Yeah it's awful but if I speak I'll get defeated and this nation needs me here right now,' so they start to make little compromises to stay on the team, echo his words, use the term 'spying,' talk about collusion or just be silent, saying, 'that's what I need to do to survive,' and in the process he has eaten their soul. 
"So that's what happens to so many people," Comey said. "And they end up making compromises."
Cooper clarified: So Rod Rosenstein isn't a person of strong character?
"Yeah, I don't think he is," Comey said.
One thing to note: President Trump used Rosenstein's letter to justify firing Comey. Rosenstein resigned last month -- effective at the end of this week.
9:08 p.m. ET, May 9, 2019
Comey explains why he believes Trump eats peoples' souls
James Comey wrote in the New York Times that President Trump "eats your soul in small bites," and that's why some of his advisers make "compromises" to survive their boss.
He explained to CNN's Anderson Cooper just now why he wrote that.
"It doesn't make me happy to write that, but it's what I believe," Comey said. "This President, because he's an amoral leader, shapes those around him. And that shaping sometimes pushes out someone that is a strong person of integrity that stands up and says 'not going to have it,' but far more often it shapes and bends and pulls in weaker souls and he does it."
Comey admitted, "It has happened to me. The man lies constantly. In public you've seen it and in private it happened."
9:04 p.m. ET, May 9, 2019
Why Comey believes arming America's teachers is "just not a workable solution"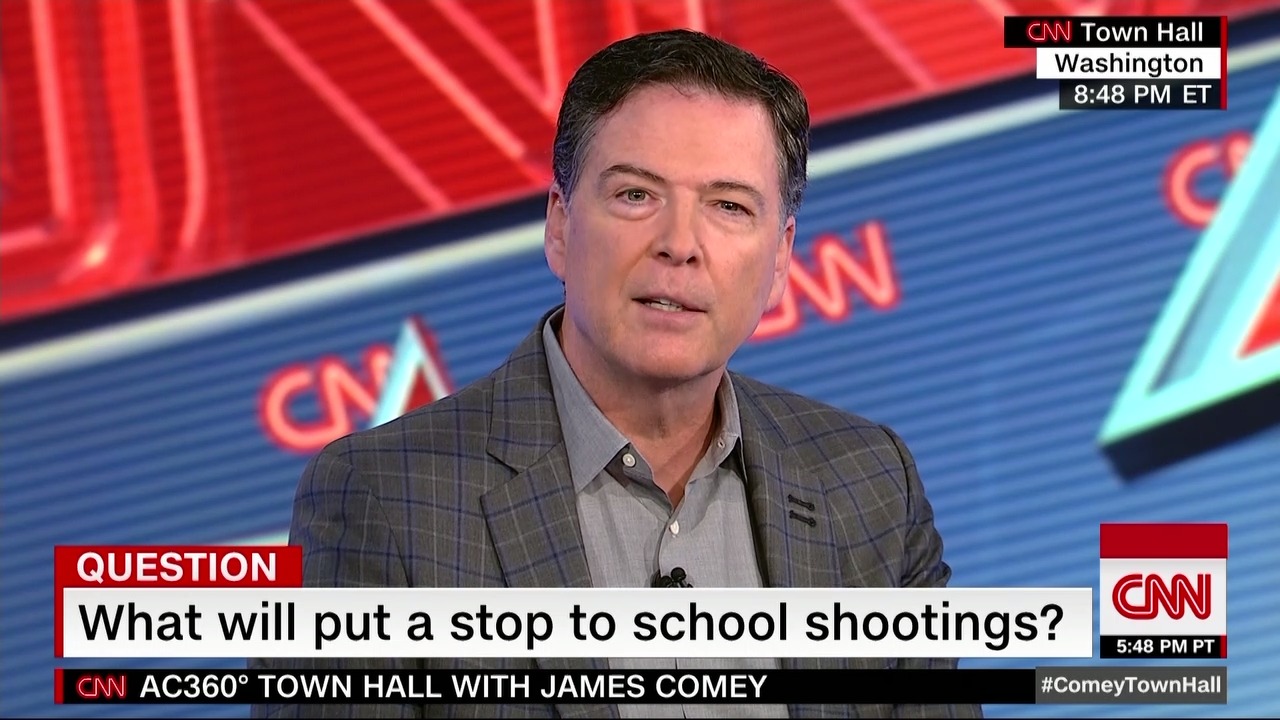 James Comey was asked what he thinks can be done to stop mass shootings in America, specifically those that happen in classrooms such as the one in Highlands Ranch, Colorado, earlier this week.
"One of the things we can do much better at is connecting our educators, our law enforcement and our public health, mental health community," he said, adding that he's heard there are "all kinds of impediments to sharing information in a good way so we can identify troubled souls earlier and get them the help they need."
Comey doesn't support arming teachers, citing the amount of training they would need to undergo to be trusted with a firearm in a classroom among children.
"It's just not a workable solution," he said.
9:00 p.m. ET, May 9, 2019
Comey describes Barr's testimony to Congress as "misleading"
Former FBI Director James Comey told CNN's Anderson Cooper that he thinks Attorney General William Barr's testimony regarding special counsel Robert Mueller's report before Congress was misleading.
Asked if he thinks Barr committed perjury, Comey said he doesn't know, but it doesn't look like he did.
"He certainly gave misleading testimony," he said.
Comey went on to say that Barr's testimony wasn't candid.
"The Department of Justice has a duty of candor to the courts and to Congress. The testimony was not candid, whether it was perjurious is a much higher bar," he said.