2020 Democrats campaign at the Iowa State Fair
2:13 p.m. ET, August 11, 2019
Bill Weld, the only Republican challenging Trump in 2020, makes his appearance
Former Massachusetts Gov Bill Weld, the only Republican scheduled to take a turn on the Des Moines Register Soapbox at the Iowa State Fair, invoked Sunday the names of Republicans from the past as he told the crowd his reason for opposing President Trump in 2020. 
I'm not running because I think I'm the only person who can make a difference, I'm running because I'm troubled by the situation in our country and I think we're at somewhat of an inflection point and I think the most urgent duty facing the next president is to seek to unify the country as opposed to dividing it. There's a bunch of things you can do there. One is to do what Ronald Reagan did, the Bushes, and Eisenhower ...to make all Americans feel good about being Americans. And that's not what the current administration is doing.
12:54 a.m. ET, August 11, 2019
Joe Biden mistakenly says he met with Parkland victims while he was vice president
Joe Biden twice in Iowa on Saturday said he'd met with students who survived the shooting in Parkland, Florida, when he was vice president.
But the Parkland shooting took place in February 2018, a little more than a year after Biden left office. 
At a gun control forum in Des Moines, Biden said on stage: "I met with them and then they went off up on the Hill when I was vice president."
He made the same error later, speaking to reporters. He said that "those kids in Parkland came up to see me when I was vice president," and then described members of Congress ducking meetings with the students.
Biden did meet with a group of Parkland survivors in 2018, and survivors of that shooting that left 17 dead visited Washington to lobby for stricter gun laws. Biden also could have been thinking of the Sandy Hook elementary school shooting in Newtown, Connecticut, which took place in 2012, when he was vice president. 
The verbal stumble came two days after Biden said that "poor kids are just as bright and just as talented as white kids" — which his campaign noted was an error he immediately corrected.
Biden on Saturday said people understood what he'd meant. "I don't think anybody thinks I meant anything other than what I said I meant," he told reporters.
8:38 p.m. ET, August 10, 2019
Booker jokes: "Look at Trump's hair. This is the answer"
New Jersey Sen. Cory Booker was the last Democratic presidential contender to step onto the Des Moines Register's Soapbox on Saturday — and the only time he mentioned President Donald Trump's name was to joke about his hair.
"Look at Trump's hair. This is the answer. This is the antidote," Booker said.
From there, Booker spoke to reporters and then climbed into a seat on the Ferris Wheel — with reporters and news cameras piling in after him. 
Asked at one point what Booker, a vegan, would eat at the fair, where fried meats rule, he said, "Uh, food."
And he did eat food: Booker later stopped at the Veggie-Table food cart for a fried peanut butter and jelly sandwich and fried pickles.
7:13 p.m. ET, August 10, 2019
The time-honored tradition of the Iowa State Fair Butter Cow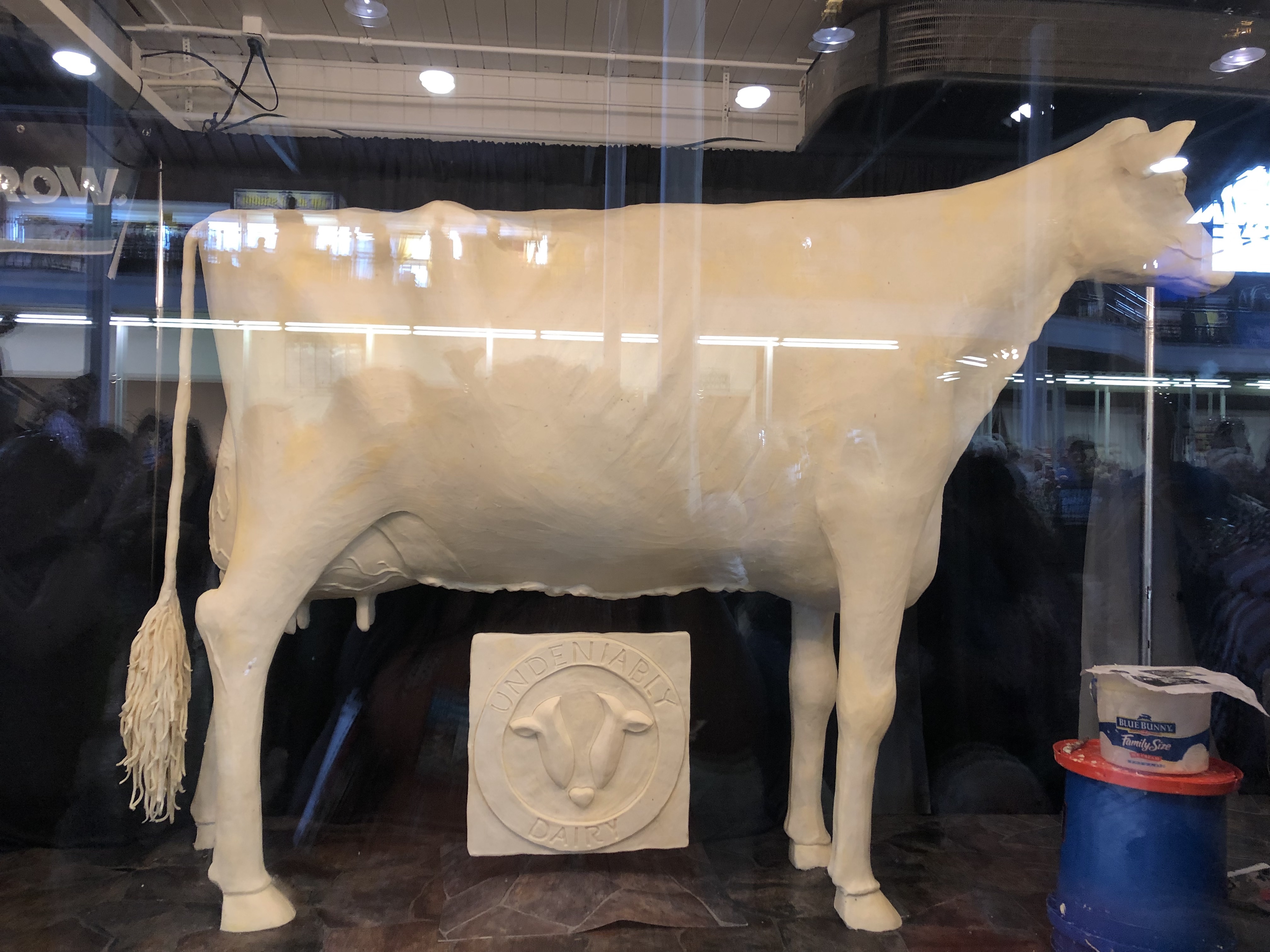 If there's one Iowa State Fair tradition that has held up over the years, it's the butter cow.
The butter statue lives in the coolers of the fairgrounds' Agriculture Building. According to the fair, it consists of 600 pounds of butter shaped over wood, metal, wire and a steel mesh frame.
At the fair on Saturday, people waited in line to see the building, taking in sights of ice sculptures and other exhibits before reaching the main event.
Inside of the coolers sat butter sculptor Sarah Pratt, reshaping butter on a sculpture of a girl. This year's companion butter statues were of the girl and characters from "Sesame Street": Big Bird, Bert, Oscar the Grouch, Cookie Monster, Elmo and Abby Cadabby.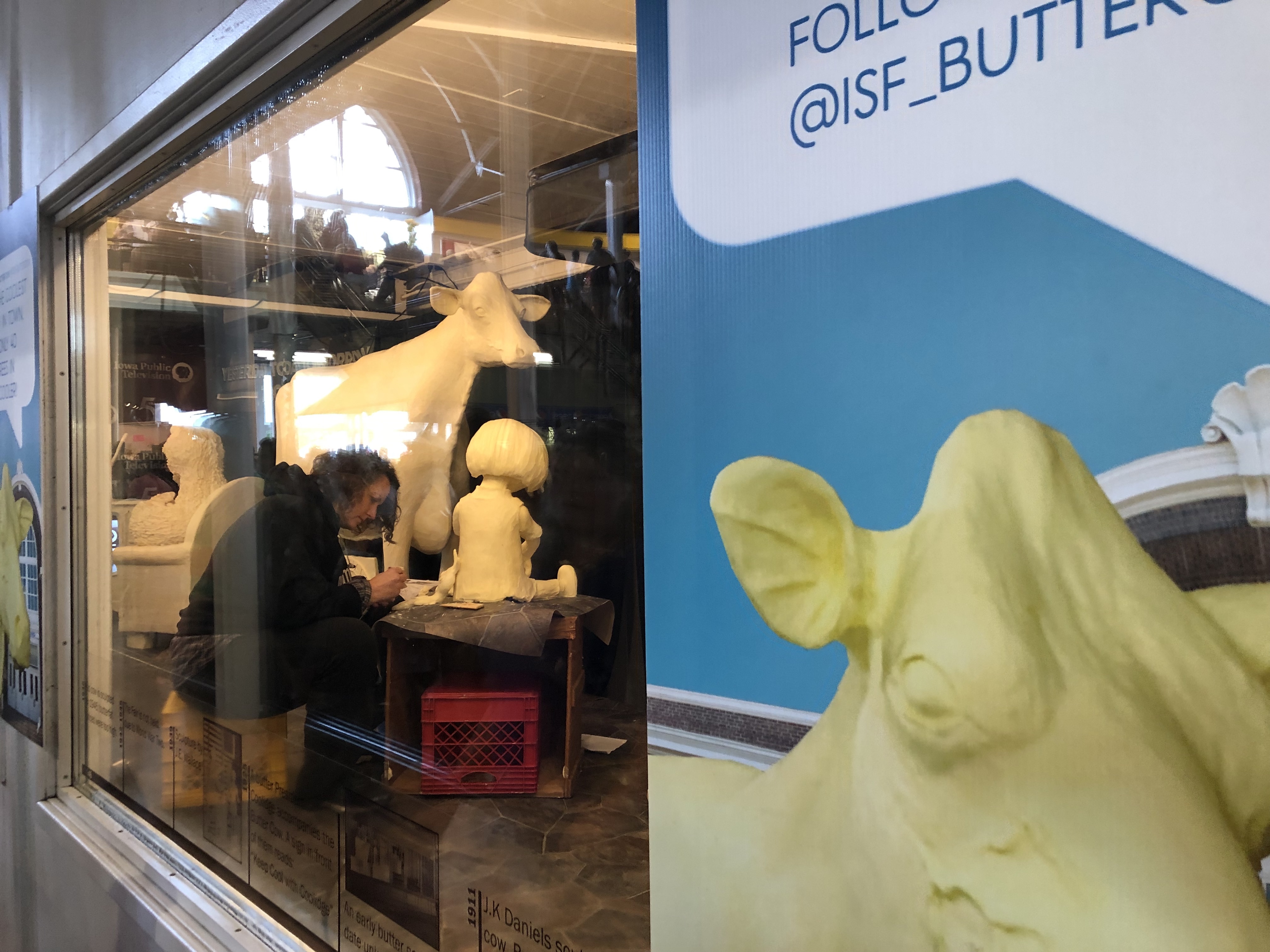 J.K. Daniels sculpted the first butter cow in 1911, according to the fair.
6:53 p.m. ET, August 10, 2019
Andrew Yang breaks down in tears at gun safety town hall
Democratic presidential candidate Andrew Yang became visibly emotional when discussing gun violence prevention with a woman who said she lost her daughter to a stray bullet.
During the Everytown Gun Safety Town Hall in Des Moines, Iowa, on Saturday, Yang was asked a question by a woman named Stephanie about preventing unintentional shootings by children.
Stephanie, who is from Las Vegas, lost her 4-year-old daughter Dayla when she was struck and killed by a stray bullet in March 2011. Her son, Dayla's twin, witnessed it. 
When Stephanie finished her question, Yang asked the moderator if it was OK if he went to give her a hug. As he came back up on stage, Yang said, "I have a six- and three-year-old boy, and I was imagining…" before getting too choked up to continue.
Fighting back tears for several seconds, he added, "I was imagining it was one of them that got shot and the other saw," before breaking down into tears again and telling Stephanie, "I'm so sorry."
Yang continued to fight his tears, and the audience clapped supportively.
6:00 p.m. ET, August 10, 2019
Kamala Harris links Trump to gun violence
Sen. Kamala Harris debuted a new line at a gun safety forum in Des Moines today, linking President Donald Trump and his rhetoric to the mass shooting in El Paso, Texas.
Harris specifically named the El Paso shooting, in which the alleged gunman had railed against Latinos and immigrants.
"People say to me that Donald Trump caused those folks to be killed… Well, no, of course he didn't pull the trigger, but he certainly had been tweeting out the ammunition," the California Democrat said.
Harris, when asked about how people of color and gun violence, said America and the media had "come to believe and accept ... the killing of, in particular, young black and brown men in America."
A hush fell over the crowd when the California Democrat began to tell the story of black moms who came to her office after their sons were killed while she was district attorney in San Francisco, and complained to her of a double standard. 
Harris described: "She would cry and say, 'If my child died of cancer, people would have a level of sympathy or empathy, if my child died in a car crash – they would treat me a certain way, but because my child died of gun violence in the streets they are treating him and me like a statistic. And not honoring me or giving me the dignity of a mother who has lost her child."
Harris said there were different sets of rules for minority communities.
"For so many of these black and brown men, they are considered a statistic when they are killed. And we have to come to terms with that by speaking this truth as it makes some people feel," she said. "And then deal with it in a way that we then respond to the violence in these communities with love and care."
5:03 p.m. ET, August 10, 2019
Deep fried Twinkies and turkey legs: What to eat at the Iowa State Fair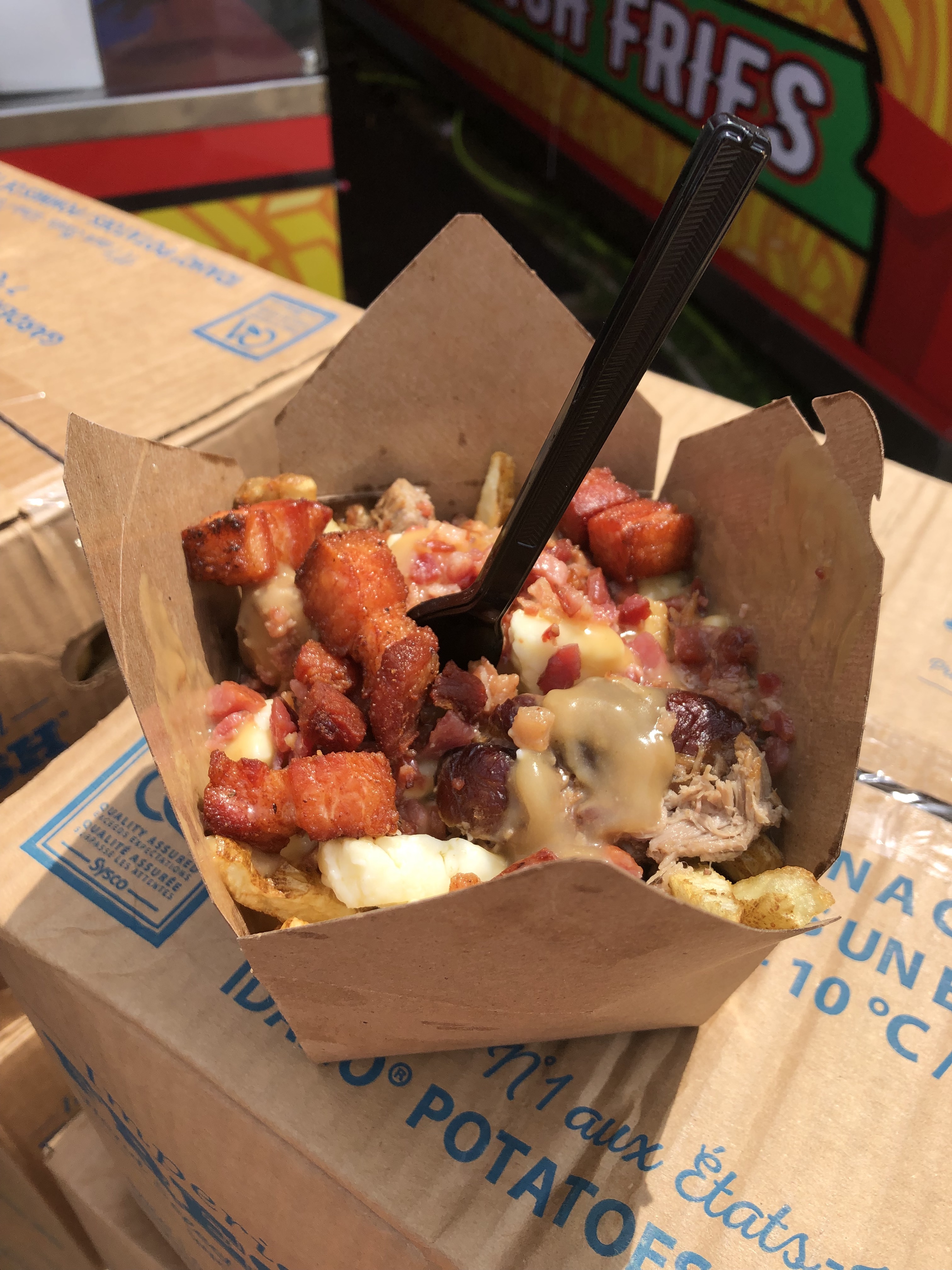 As attendees muscle their way through the crowds of the Iowa State Fair, they have an array of foods to choose from.
Among this year's selection:
Deep fried: Twinkies, Oreos, cherry pie, apple pie, mac and cheese, fruit kabobs, deviled eggs
Cheese on a stick
Popcorn on a stick
Bologna on a stick
Poutine with your choice of meat, such as pork belly, on top
Bomb pop lemonade
2:32 p.m. ET, August 10, 2019
Biden mocks 'tree of liberty' gun rights advocates
At a gun safety forum in Des Moines, former Vice President Joe Biden mocked advocates of Second Amendment rights who lean on Thomas Jefferson's famous "tree of liberty" quote.
 "Give me a break," Biden said. "Carrying concealed weapons? Come on. Come on."
 "Can you go out and buy a flamethrower? Can you go out and buy an F-15?" he said. "If you want to protect yourself against the federal government, you're going to need at least an F-15."
Biden was mocking pro-gun advocates who cite Jefferson's line, delivered in a letter discussing Shays' Rebellion: "The tree of liberty must be refreshed from time to time with the blood of patriots & tyrants. It is it's natural manure." 
"No amendment is, in fact, absolute," Biden said. "You cannot, you cannot stand up in this hall and yell 'fire.' That's not freedom of speech."
Biden also brought up a controversial remark he'd made in the past that the National Rifle Association is not gun control advocates' enemy. He said the problem is that "the gun manufacturers are supplying the leadership of the NRA with their income." 
"The reason they don't want what they know is rational gun policy is they'll sell fewer guns. They'll sell less ammunition. Who in God's name needs a weapon that can handle 100 rounds? For God's sake," he said. 
He advocated a series of gun control measures, starting with requiring gun manufacturers to use biometric markers -- like a fingerprint, used to unlock older iPhones -- that ensure only the owner of a gun can fire it. 
Biden also said gun manufacturers should not be shielded from liability for how their guns are used. Additionally, he advocated for confiscating the guns of anyone with a restraining order and for an assault weapons ban. 
"There's a lot of practical things that we're not doing that are easily able to be done, but it requires the federal government to have a commitment to follow through on what all of you are talking about," Biden said.
12:58 p.m. ET, August 10, 2019
Kamala Harris says Walmart should stop selling guns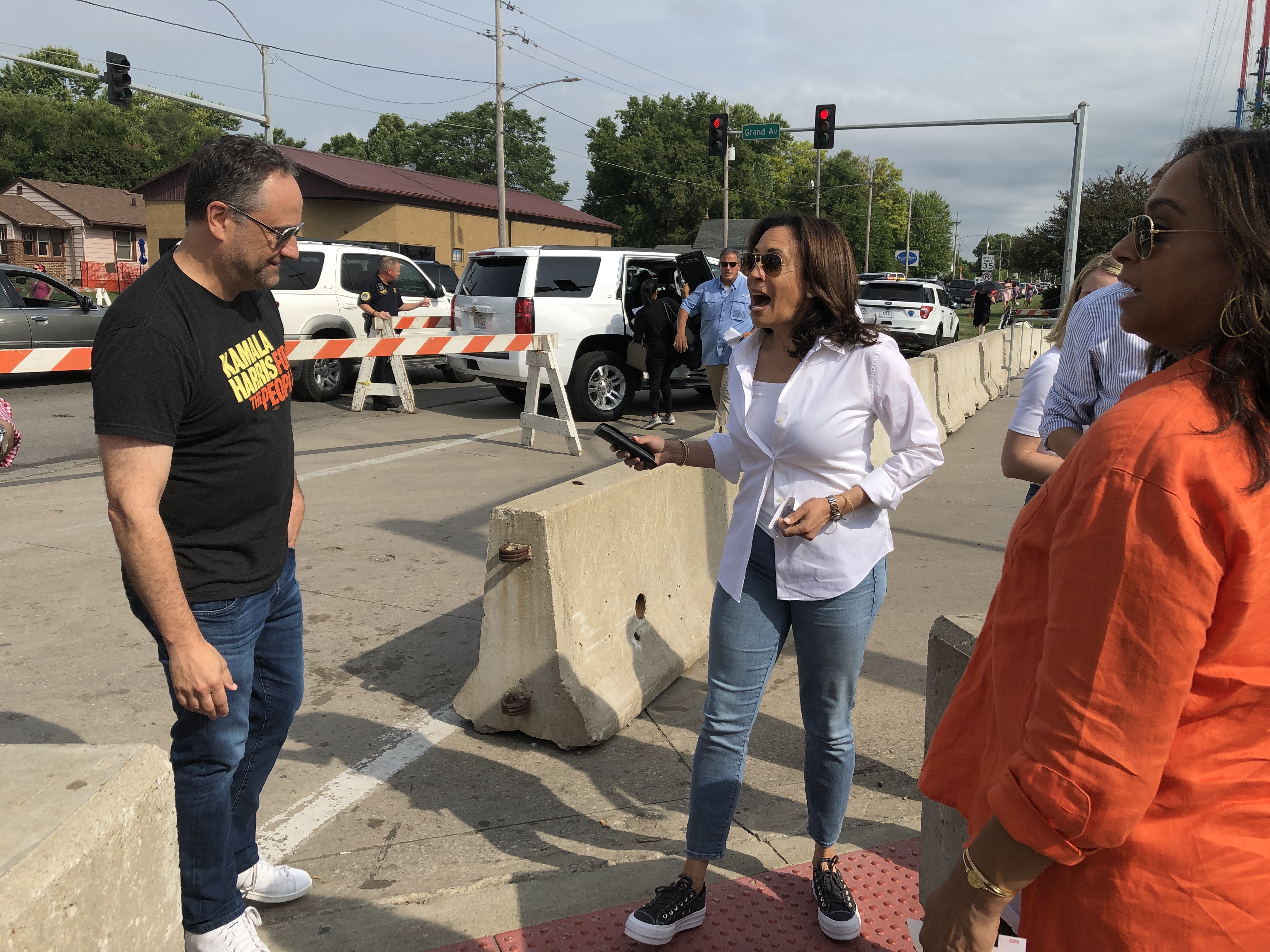 After delivering her soapbox speech at the Iowa State Fair, California Sen. Kamala Harris told reporters that she believed Walmart "should stop selling guns."
She elaborated by emphasizing the importance of background checks, saying, "if they participate in background checks," she would change her mind, "but right now, they're not" participating.
Walmart is one of the biggest gun sellers in the world. The retailer has taken down displays of violent video games following the mass shootings in El Paso, Texas, and Dayton, Ohio.
The senator drew one of the biggest crowds so far at the Des Moines Register's Soapboax, delivering her stump speech and inspiring applause as she explained her policy proposals and taking jabs at President Donald Trump.
"Fight we will. Fight we must. This is a fight born of optimism," she told the crowd. "It's a fight we will win."
As she arrived at the fair -- right before reporters swarmed around her -- she noted that she hadn't been before.
She got right to business, from flipping pork chops with the Iowa Pork Association to voting in the corn kernel casting.
"I think I'll vote for myself," she said as she dropped a kernel into a jar.