2020 Democrats campaign at the Iowa State Fair
1:05 p.m. ET, August 9, 2019
Julián Castro's message to Iowa farmers: Trump has "caused you to lose your livelihood"
Democratic presidential candidate Julián Castro spoke to reporters Friday morning after taking his turn on the soapbox at the Iowa State Fair.
He addressed Iowa farmers, and attacked President Trump, calling climate change a "threat to their livelihood."
Castro also criticized Trump's trade war with China, where companies have halted purchases of US agricultural products.
"I also believe that Iowa farmers understand how badly this President has betrayed them. China has now basically stopped buying agricultural products from the United States. The farmers here, soybean farmers and other farmers have lost contracts that may never come back. Because this President has too big of an ego to actually try and figure out how we marshal support for what we want to do with China, instead of just this erratic go-it-alone haphazard trade war," he said.
"He's caused you to lose your livelihood. He's costing you money out of your pocket right now and costing jobs," Castro continued.
12:40 p.m. ET, August 9, 2019
What the polls look like going into the Iowa State Fair
A new Monmouth Poll released on Thursday underscored the fluidity of the race in Iowa:
Former Vice President Joe Biden topped the field with 28%.
Sen. Elizabeth Warren was in second at 19% — another sign of her slow and steady rise.
And with a margin of error of plus or minus 4.9 percentage points, Sen. Kamala Harris, Sen. Bernie Sanders and South Bend Mayor Pete Buttigieg were essentially tied in third place at 11%, 9% and 8%, respectively.
The rest of the field was at 3% or less.
Biden also led the other candidates in a June CNN poll, which was weighted to account for voters who are likely to caucus in person next February and those who will participate in the new virtual caucusing system. At that juncture in the race, Warren, Sanders and Buttigieg were all in close contention for second place.
12:15 p.m. ET, August 9, 2019
Why the Iowa State Fair is a big deal for 2020 Democrats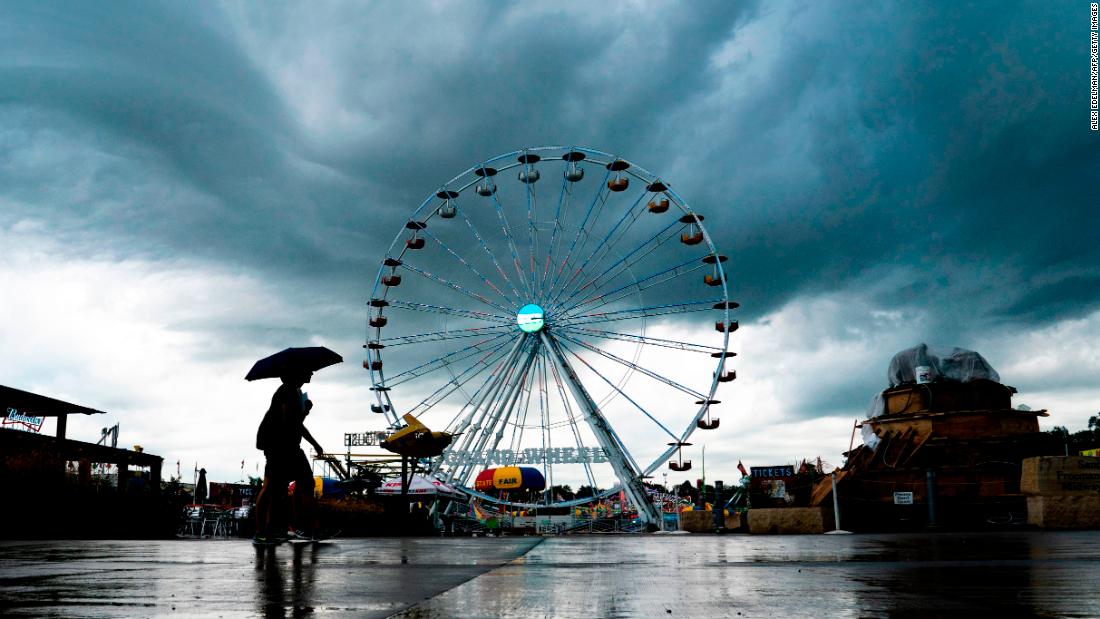 The Democratic presidential candidates are converging at the Iowa State Fair this week, jostling for attention as they deliver their speeches from the soapbox.
They will have a chance to flip pork chops, visit the famed Butter Cow and cheer on the junior ranchers and farmers who are trying their hand at mutton busting.
Inevitably, most of them will be coaxed into eating meat on a stick. (This year, the featured delicacy is bacon-wrapped-bacon.)
Here's why that matters: Of all the presidential race traditions, the fair visit ranks somewhere near the top. It is a chance for candidates to galvanize their volunteers in this crucial early caucus state, and introduce themselves to families from all over Iowa who converge in Des Moines to sample the delights of the fair.
It may feel as though the race for the Democratic nomination has been well underway for many months, but the Iowa State Fair will be a first introduction to the candidates for many voters in the Hawkeye state. Though contenders like Massachusetts Sen. Elizabeth Warren, California Sen. Kamala Harris and Vermont Sen. Bernie Sanders have all campaigned extensively across this state, the size of the field has been daunting and many voters say they are just getting to know the candidates.