4:57 p.m. ET, February 3, 2020
These Iowans are caucusing in 72-degree Florida
The last time Richard Yach, 73, and Linda Yach, 72, participated in an Iowa caucus it was freezing cold and they were wearing parkas. 
Today, Richard is in shorts and Linda is wearing a light shirt and they are Iowa caucusing in Port Charlotte, Florida. The temperature outside is 72 degrees and sunny. 
"If you are going to do it, this is the place to be," Linda laughed. "We are overjoyed to do this."  
Linda and Richard say their perfect Democratic ticket is Amy Klobuchar and Joe Biden — or a Biden-Klobuchar ticket. Today, they plan to start caucusing for Klobuchar and see what the viability looks like. The Yachs say they like Biden and Klobuchar because of their solid vision for the country. Their third choice is Pete Buttigieg.
Sitting across the room — and both in short sleeves were Jack Kremer, 72, and Bonnie Kremer, 69, Kremer.   
"We are beyond thrilled to be here," Bonnie said with a smile. But her tone changed to concerned when asked why it was important for her to participate. 
"We are terribly worried for America and the world," Bonnie said. 
The Kremers plan to start caucusing for Pete Buttigieg. They say they like that he's intelligent and stands for what they believe. But what they like the most is that he can be a "healer."  
"The world needs healing," Bonnie said. 
They don't agree on their second choices: Jack said he prefers Amy Klobuchar. And when Bonnie said her second choice was Elizabeth Warren, Jack replied: "Don't forget you need a ride home."
The couple laughed and said they drove two hours from Fort Myers Beach. 
5:55 p.m. ET, February 3, 2020
At least 3 caucus locations changed today
There appear to have been just a handful of location changes sent out by the Iowa Democratic Party for tonight's caucuses. 
Of the 1,678 precincts, the party appears to have announced only three location changes on Twitter today in ...
Sioux City
Burt
Liberty Center
Kevin Geiken, the executive director of the Iowa Democratic Party, tweeted yesterday that there have been "fewer than 10" location changes since Friday and that "Caucus location changes are possible due to unforeseen circumstances like capacity reasons, environmental factors beyond our control, and more."
State party caucus rules require that anyone in line by 7 p.m. local time (that's 8 p.m. ET), be allowed to take part in the caucus.
4:40 p.m. ET, February 3, 2020
These Iowans are caucusing at a movie theater in Arizona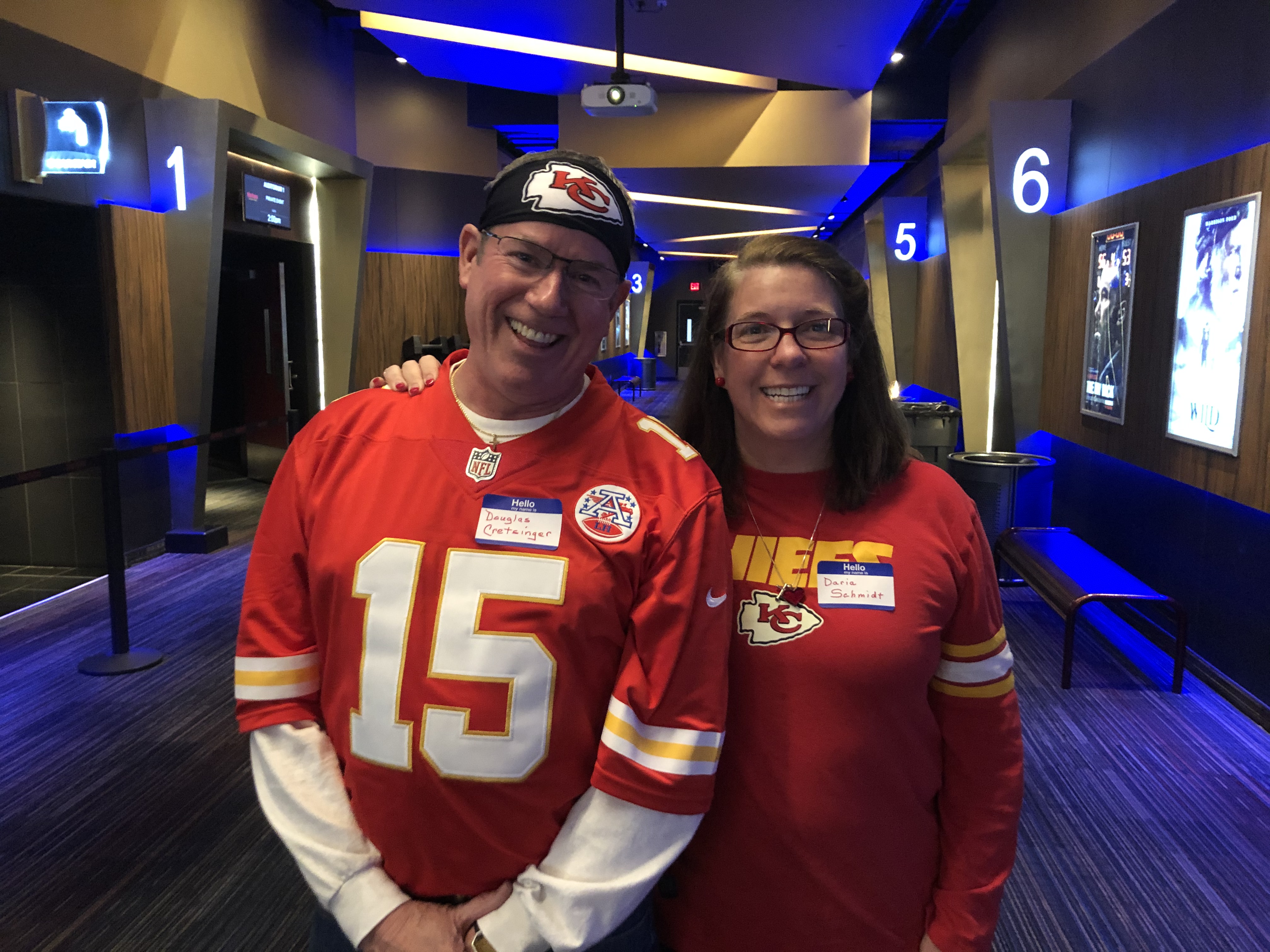 The Iowa caucuses aren't just happening in Iowa. Iowa voters in different states are taking part in satellite caucuses.
In Queen Creek, Arizona, the caucusing is going on in a movie theater where Knives Out is playing.
Douglas Cretsinger and Daria Schmidt, from Polk City, are wintering in Arizona. Cretsinger said this is his first caucus — and while Schmidt said she has caucused before in Iowa, she thinks it's great to be able to do it in warm temperatures in the winter.
4:47 p.m. ET, February 3, 2020
Iowans vote in satellite caucuses for the first time
This year, the Iowa Democratic Party has approved 87 "satellite caucuses." Following the same structure as a regular caucus, satellite caucuses will take place today at different times and locations than the regular precinct caucuses. The change was made to accommodate participants who might not be able to make their regularly scheduled vote due to work, accessibility, family obligations or other reasons.
Satellite locations include 60 in-state, 24 outside Iowa and spread across 13 states and Washington, DC, and three international sites (Paris, Glasgow, Scotland, and Tblisi, Georgia).
4:28 p.m. ET, February 3, 2020
These are the candidates to watch in the Iowa caucuses
Kicking off the 2020 Democratic presidential primary season, the Iowa caucuses will start to provide some clarity in Democratic race.
Here's where the candidates currently stand:
While Sanders has projected the most momentum heading into the Iowa caucuses, the race is by no means decided. Biden, Buttigieg and Klobuchar are all competing for the moderate vote.
If a candidate does not reach a 15% threshold to remain viable in the precinct, voters are able to caucus for another candidate, and this factor could also effect the results of the election.
4:14 p.m. ET, February 3, 2020
Why the Iowa caucuses are important
The Iowa Democratic caucuses are just hours away and with them, the true start of the 2020 election.
But just what can a single state with a relatively small number of delegates up for grabs tell us about the rest of the primary season? If history is any guide, the Iowa caucuses really do matter.
The winner of the Iowa caucuses on the Democratic side has frequently gone on to be the Democratic nominee. Since 1972, there have been nine primary seasons without a Democratic incumbent president running. Six of nine times (67%), the Iowa winner was also the Democratic nominee. One off these non-successes (Tom Harkin in 1992) was from Iowa.
The success rate of Iowa winners does decrease, if you expand it out to include Republican caucuses as well. Including those, nine of 16 (56%) winners of the Iowa caucuses went on to win their party's nomination.
Remember: There have been more than 100 candidates who have participated in the caucuses since 1972. So something that tells us the winner over half the time is truly a value add.
A closer look at the polling indicates that Iowa isn't just correlated with success. It likely causes it both in the next contest (the New Hampshire primary) and nationally.
Winners of the Iowa caucuses have jumped a median of three percentage points in the New Hampshire primary polls following their win. Moreover, outperforming expectations (i.e. polling) in Iowa seems to have an additional effect. For every point that candidates outperform their Iowa polls, they get a bounce of 0.5 points in New Hampshire polls. Candidates who underperform their polls in Iowa see their New Hampshire poll number deflate by 0.5 points for every point they undershoot their New Hampshire polls.
4:04 p.m. ET, February 3, 2020
There will be a battle to win the moderate lane
The three top moderate candidates in the race — Joe Biden, Pete Buttigieg and Amy Klobuchar — are all running to win on tonight.
But they are also running to finish ahead of each other.
The thinking goes like this: With most operatives anticipating a win from Bernie Sanders tonight, the three candidates want to be able to leave the state claiming the title of top challenger to the Vermont senator.
This is because the race after Iowa will likely be viewed after as a contest between one or two progressives and another group of moderates, so finishing atop an ideological cohort could give the top candidates needed momentum in New Hampshire.
"Let's face it. I need to have a good finish here in Iowa," Buttigieg said on Sunday.
Biden, too, has been playing pundit and publicly downplaying the need to be first in Iowa.
"There's a big difference between second and fourth," Biden told CNN in Mount Pleasant. "I think it's going to be really tight no matter how it works out. It's been bunched up. It's going to remain bunched up I think."
He added: "I just think it's a different year in that I think the measure, you all won't do it now and I don't mean it in a bad way, but I think what you're going to have to measure is who can represent every aspect of the Democratic Party."
3:57 p.m. ET, February 3, 2020
What to look for at tonight's Iowa caucuses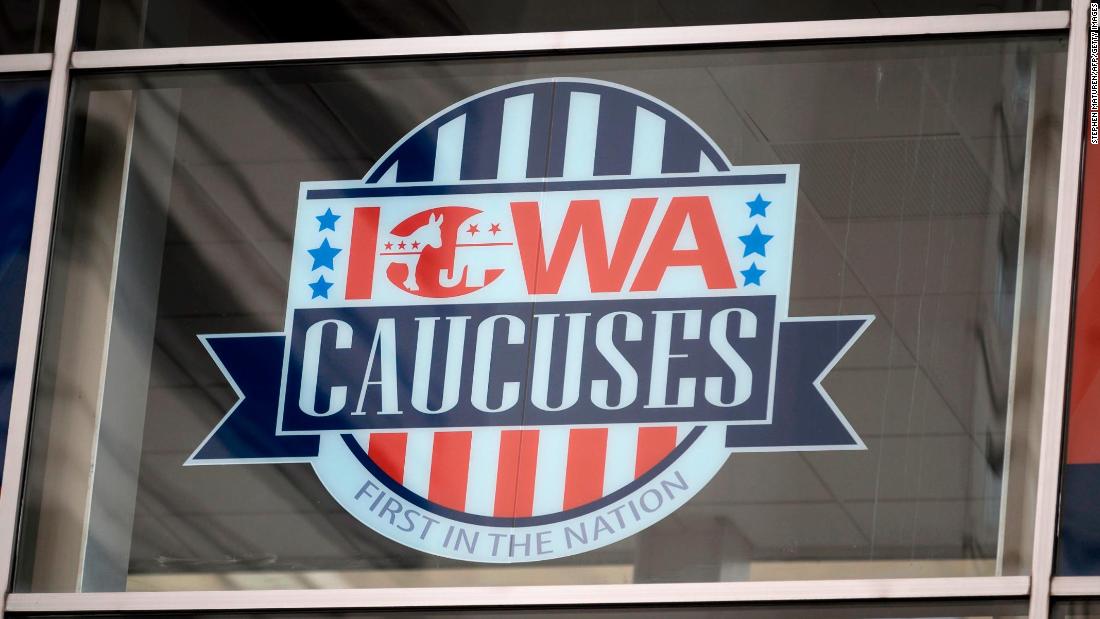 Iowa will be the first state to vote in the 2020 Democratic presidential primary.
Former Vice President Joe Biden, former South Bend, Indiana, Mayor Pete Buttigieg, Vermont Sen. Bernie Sanders and Massachusetts Sen. Elizabeth Warren have all been closely bunched in the polls.
Minnesota Sen. Amy Klobuchar has attempted a late climb as well. And entrepreneur Andrew Yang outpaced every other Democrat, holding 78 events in Iowa in the last month before the caucuses.
What to watch: One question that could determine Monday night's outcome is how many Iowa Democrats turn out to vote: Will it top 2008's record of nearly 240,000 caucusgoers, as Iowa Democrats for months had expected? Or will it be somewhere between that record and 2016's more muted turnout of about 171,000?
Check out this explainer to read more about how the caucuses work.