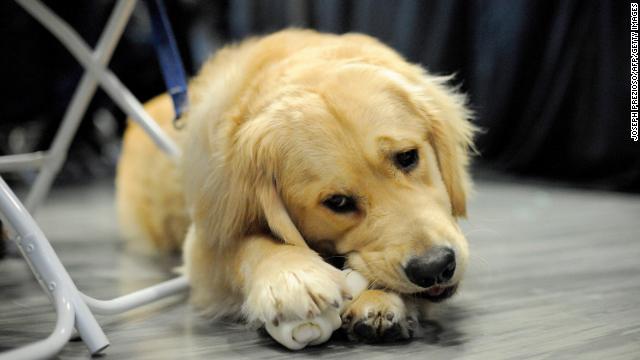 Sen. Elizabeth Warren has taken "zillions" of photos with voters she said Saturday, hosting a "selfie" line (note: they're not really selfies) with supporters at every single one of her campaign events since she announced her campaign for president.
But not today.
For the first time, Warren won't do the "selfie line" that has become synonymous with her campaign. The campaign strategy this weekend is to try to have her visit as many cities in Iowa as possible, and the "selfie line" takes up a lot of time.
Instead, Bailey Warren, her 2-year-old golden retriever and "furrogate," will take photos with willing caucusgoers in his own selfie line at the end of the rallies on Saturday.
"I've been in Washington for a lot of time locked down, and I need to get to a lot of places around Iowa," she told the audience at her Cedar Rapids rally. "So, I hope you'll indulge me. Bailey's gonna stay and do the selfie line. He's been working on his smile he's ready, he's ready."
While Warren has been stuck in DC for the impeachment trial of President Donald Trump, Bailey has been traveling through Iowa, campaigning for his owner with her husband Bruce Mann and her son Alex.