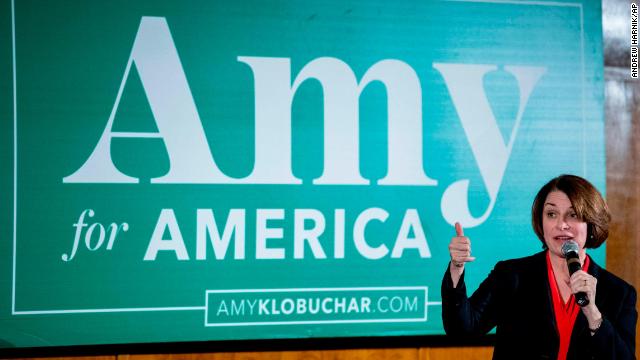 Amy Klobuchar wasted no time getting back to Iowa on Friday night, chartering a late-night flight from Washington, DC, to the Quad Cities to begin her final all-out through the state.
After arriving near midnight, Klobuchar celebrated being back in the Hawkeye State at her first event on Saturday, telling voters at a brewery in Bettendorf that she had "been a little busy lately."
"I had planned to be here all week in Iowa. We had a whole plan," Klobuchar said. "But instead, duty called."
Klobuchar told CNN in an interview after the event that voters "want a president who can do a lot of things at once."
"And here I am at a brewery on Saturday morning, OK," she said.
Iowa is critical to Klobuchar's campaign. Klobuchar's team understands that there is significant volatility inside the Iowa electorate, with many caucusgoers making up their minds this weekend on who to back in Monday's caucuses.
"I was gone this week. I said, 'You know what, okay, I'm not here, but it's because I'm in the arena, because I'm getting things done,'" Klobuchar said. "And I think that's what the people of this country want."
Klobuchar's team believes the senator's success on caucus night hinges on her success in rural counties, especially those along the border between Iowa and Minnesota, the senator's home state. The team will also be watching the Quad Cities in Eastern Iowa and Council Bluffs in Western Iowa.
"It feels like we have the momentum, which we know we have," Klobuchar said, pointing to a series of newspaper editorial board endorsements she has picked up. "We are punching way above our weight�� We clearly have a surge going here."
When asked if she still considered herself an underdog, the senator responded: "Uh, yeah."