House panel sets rules for impeachment debate
9:17 p.m. ET, December 17, 2019
Committee approves rules for tomorrow's floor debate on impeachment
The House Rules Committee just approved six hours of debate on the House floor Wednesday on the resolution to impeach President Trump.
The panel announced the parameters of the debate after voting to approve the rule on the impeachment articles along party lines.
The six hours of floor time will be divided equally by Democrats and Republicans and will be led by the House Judiciary Committee leaders. The House will also have one hour of debate before taking the procedural vote to approve the rule governing the debate.
On Wednesday, the House will vote on the two articles of impeachment — abuse of power and obstruction of Congress. No amendments will be allowed, according to the resolution approved by the rule-making committee tonight.
The House Rules Committee also allowed for the House to approve a resolution naming impeachment managers after the articles of impeachment have been passed.
The panel teed up the floor debate on the impeachment resolution following a lengthy and at times contentious exchanges between members as the panel ahead of the vote to make Trump the third President in US history to be impeached.
House Judiciary Chairman Jerry Nadler did not appear at the House Rules Committee meeting due to a family medical emergency, House Rules Chairman Jim McGovern said today. A committee aide said that Nadler was expected back for floor debate on impeachment Wednesday.
8:51 p.m. ET, December 17, 2019
House Rules Committee says there will be 6 hours of debate on impeachment tomorrow
Democratic Rep. Mary Gay Scanlon, a member of the House Rules Committee, said tomorrow's impeachment debate will be six hours.
The six hours will be divided between the two parties and controlled by the House Judiciary Committee leaders.
Scanlon, who read the debate rule at tonight's Rules Committee meeting, said it also allows for the House to pass a resolution on impeachment managers tomorrow.
Before passing the rule, they will first consider an amendment being put forward by Republicans to extend that debate to 12 hours. 
That measure is expected to fail. 
7:52 p.m. ET, December 17, 2019
The House Rules Committee is now in recess
The House Rules Committee is now in recess for an unspecified amount of time.
Committee Chairman Jim McGovern indicated members have conflicting schedules and they will have to figure out a good time to reconvene tonight.
The committee is done with questioning Reps. Jamie Raskin and Doug Collins, and no other members are going to testify.
But once the panel returns from its break, it should move relatively quickly.
Only one Republican amendment has been filed for this markup, so there will be debate and remarks from members on both sides before there is a vote on the amendment and a final vote on the rule for floor consideration of the articles.
7:10 p.m. ET, December 17, 2019
Protesters participate in impeachment rallies across the US
Protesters took to the streets in several US cities tonight calling for President Trump's impeachment.
In New York City, protesters gathered in Times Square and chanted "This is what democracy looks like" and "No one is above the law." Protesters in Atlanta gathered to chant "Remove who? Remove Trump! Remove who? Remove Trump?"
6:17 p.m. ET, December 17, 2019
Trump started drafting his letter to Pelosi last week, officials say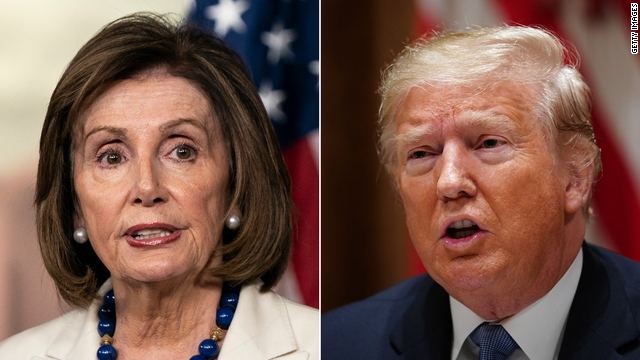 President Trump and his aides began drafting his scathing letter to House Speaker Nancy Pelosi last week, according to officials familiar with the matter, keeping the plan and text closely held within the West Wing until its public release today.
Trump, on the verge of becoming the third president to be impeached, wanted to send a message to Pelosi coming directly from him ahead of the House vote expected on Wednesday.
The missive wasn't long-planned, and reflected Trump's deep-rooted resentments at the impeachment proceedings and what he views as an illegitimate attempt to remove him from office.
Some White House officials who were not involved in the letter's preparation said they were surprised when they saw the six-page document, which is indignant in tone and echoes much of Trump's public statements and tweets over the course of the past months.
There was an initial plan to release to letter on Monday, but officials moved the release to today as House members debated the rules of the upcoming impeachment vote.
Many officials who would ordinarily have been included in crafting and releasing the letter were kept out of the loop, one official said.
The White House counsel's office — which has been leading the legal defense efforts ahead of an expected Senate trial — reviewed the letter but did not take the lead on its production, according to another official.
That fell to Trump himself, who dictated portions of the missive and helped develop its themes.
There is an ongoing debate inside the White House on how the President should respond on Wednesday to the vote that is expected to lead to his impeachment. Officials said — as of this evening — that he was not expected to deliver any type of formal speech to respond to the event.
"The letter is the speech," one official said.
Instead, Trump is likely to address his predicament during an evening campaign stop in Battle Creek, Michigan — an event being billed as a "Merry Christmas" rally.
6:09 p.m. ET, December 17, 2019
Salem mayor responds to Trump's claims about witch trial due process: "Learn your history"
The mayor of Salem, Massachusetts, told President Trump today to "learn some history" after he claimed that the people accused in the Salem witch trials had received more due process than he has gotten in the impeachment inquiry.
Mayor Kim Driscoll pointed out on Twitter that the Salem witch trials that occurred in 1692 included the "absence of evidence" when "powerless, innocent victims" were hanged or pressed to death.
Driscoll noted that in Trump's case, the accused is among the most powerful and privileged people in the world, and she said the case involves "ample evidence" and "admission of wrongdoing."
"Will they ever learn some history? This situation is much different than the plight of the witch trial victims, who were convicted using spectral evidence + then brutally hanged or pressed to death. A dubious legal process that bears no relation to televised impeachment," Driscoll tweeted.
In a letter to House Speaker Nancy Pelosi today, Trump excoriated the Democrats' impeachment inquiry, claiming that "(m)ore due process was afforded to those accused in the Salem Witch Trials," and accusing Pelosi of portraying a "false display of solemnity" during the impeachment process. Trump has yet to face trial in the Senate; the House is expected to vote on impeachment on Wednesday.
Some background: This is not the first time the President has deployed a defense evoking the witch trials. Throughout special counsel Robert Mueller's investigation, Trump called the inquiry a "witch hunt," and Mueller later rebutted Trump's claim in congressional testimony.
7:02 p.m. ET, December 17, 2019
House Speaker Nancy Pelosi calls Trump's letter "sick"
House Speaker Nancy Pelosi was just asked about President Trump's letter to her today. 
Pelosi said she has not read the whole thing because she's been working, but added that "it's ridiculous."
"I've seen the essence of it and it's really sick," she said.
More on this: In the letter, Trump wildly claimed that "(m)ore due process was afforded to those accused in the Salem Witch Trials." And he accused Pelosi of portraying a "false display of solemnity" during the impeachment process.
"No intelligent person believes what you are saying," Trump wrote in the letter sent today.
Trump is set to be the third president in US history to be impeached. Democrats have brought two Articles of Impeachment against Trump — abuse of power and obstruction of Congress. Democrats say Trump abused his office by pressuring Ukraine to investigate his political rivals in exchange of security aid. They also charge that the President obstructed the congressional investigation by refusing to allow key officials to testify.
Watch here:
5:48 p.m. ET, December 17, 2019
In 2014, Trump said impeachment would be a "horror show" and "absolute embarrassment" for Obama's record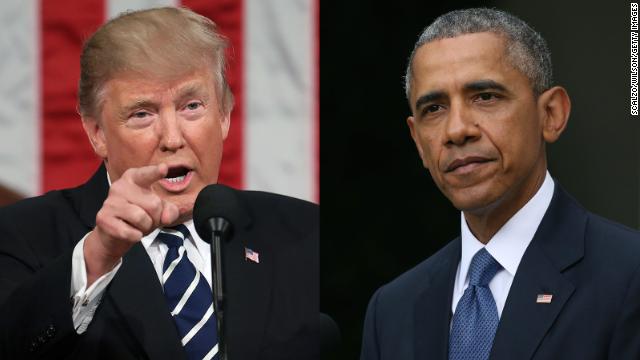 President Trump once said if former President Barack Obama was impeached by the House of Representatives, it would be an embarrassment for his record in office and a "horror show." 
Trump made the comments on Fox and Friends in November 2014, where he said Obama taking executive action to halt deportations for the undocumented parents of children born in the United States was unconstitutional and impeachable.
"Do you think Obama seriously wants to be impeached and go through what Bill Clinton did? He would be a mess. He would be thinking about nothing but — it would be a horror show for him. It would be an absolute embarrassment. It would go down on his record permanently," Trump said.
Trump claimed that Democrats successfully convinced Republicans not to impeach Obama. He claimed Democrats had convinced Republicans that it would actually help Obama politically.
5:16 p.m. ET, December 17, 2019
Fact-checking President Trump's scathing letter to Nancy Pelosi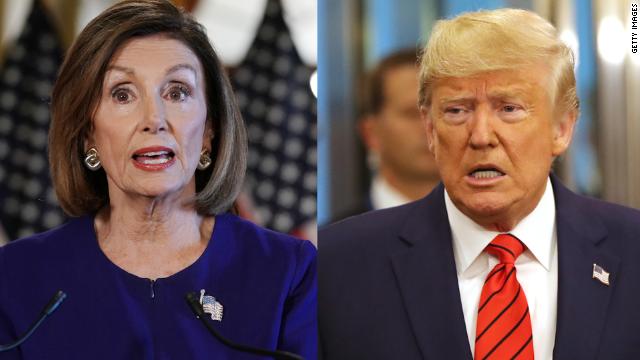 President Trump sent a scathing letter to House Speaker Nancy Pelosi earlier today, excoriating the House Democrats' pursuit of an impeachment inquiry.
In it, Trump made a series of claims. (You can read his full letter here.)
Here's a breakdown of some of things he said:
Trump decried "the so-called whistleblower who started this entire hoax with a false report of the phone call that bears no relationship to the actual phone call that was made."
Facts First: The whistleblower's account of Trump's July call with Ukrainian President Volodymyr Zelensky has been proven highly accurate. In fact, the rough transcript released by Trump himself showed that the whistleblower's three primary allegations about the call were correct or very close to correct. You can read a full fact check here.
Trump claimed the whistleblower "disappeared" because "they got caught, their report was a fraud."
Facts First: There is no evidence the whistleblower has disappeared, let alone that they are gone because they were shown to be inaccurate. Whistleblowers do not have an obligation to speak publicly after filing their anonymous complaints.
Trump said, "Ambassador Sondland testified that I told him: 'No quid pro quo. I want nothing. I want nothing. I want President Zelensky to do the right thing, do what he ran on.'"
Facts First: Gordon Sondland, Trump's ambassador to the European Union, did testify that Trump told him this — but Sondland nonetheless said that, in his own opinion, there was indeed a quid pro quo.