House prepares to vote on impeachment
3:53 p.m. ET, December 16, 2019
Trump says he hasn't learned "too much" about Giuliani's trip to Ukraine
President Trump said he hasn't learned "too much" about his personal attorney Rudy Giuliani's recent trip to Ukraine.
Asked today how much Giuliani shared with him about the trip, Trump responded, "Not too much." 
Then the President proceeded to defend Giuliani's reputation, calling him a "great crime fighter" and "the best mayor in the history of the city of New York." 
"He's a great person who loves our country and he does this out of love, believe me. He does it out of love. He sees what goes on. He sees what's happening. He sees all of the hoax that happens when they talk about impeachment hoax or the Russian collusion delusion and he sees it," Trump said. 
CNN previously reported that Trump met with Giuliani on Friday.
3:46 p.m. ET, December 16, 2019
McConnell opposes impeachment witnesses now. But he supported them during Clinton's trial.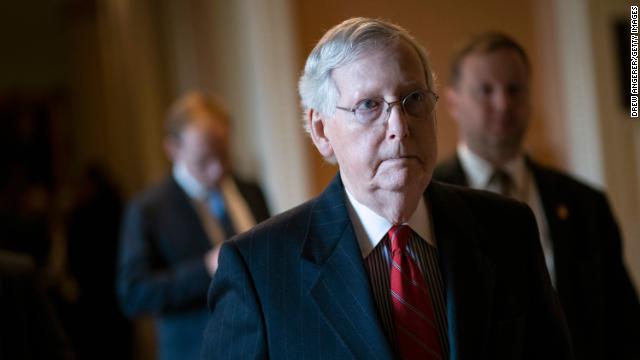 Senate Majority Leader Mitch McConnell is arguing against witnesses giving testimony in the expected impeachment trial of President Trump — but he had a different view in 1999 when he advocated for a request by Republican House impeachment managers to have witnesses testify in the case against then-President Bill Clinton, a Democrat. 
"There have been 15 impeachments in the history of the country. Two of them were cut short by resignations. In the other 13 impeachments there were witnesses," he told CNN's Larry King Live on January 28, 1999, as the Clinton trial played out in the Senate. "It's not unusual to have a witness in a trial. It's certainly not unusual to have witness in an impeachment trial."
"The House managers have only asked for three witnesses. I think that's pretty modest," he added.
McConnell opposes witnesses now. He is pressing for a short trial and a vote on the articles of impeachment sometime soon after the trial gets underway.
Speaking to Fox's Sean Hannity last week, McConnell explained why he opposes extending a trial by having witnesses even as he indicated no final decisions have been made and he would "take my cues" from Trump's lawyers on the issue. 
"If you know you have the votes, you've listened to the arguments on both sides and believe the case is so slim, so weak that you have the votes to end it, that might be what the President's lawyers would prefer. And you can certainly make the case for making it shorter rather than longer since it's such a weak case," McConnell said. 
A Republican aide said the circumstances were different in the Clinton matter because the House managers wanted to play videotaped depositions, not live witnesses as Senate Minority Leader Chuck Schumer demanded in a letter sent to McConnell Sunday. The aide also said McConnell would have been open to Clinton presenting witness testimony too.
3:46 p.m. ET, December 16, 2019
How the White House is responding to Schumer's trial proposal
Today the White House reviewed Senate Minority Leader Chuck Schumer's proposal for a Senate trial.
Here's the response from White House press secretary Stephanie Grisham:
"House Democrats violated their own rules and any historical precedent of fairness while conducting their illegitimate impeachment sham. Senator Schumer's letter is just more proof that the only evidence the House produced, actually proves President Trump did nothing wrong." 
What Schumer wants: In the letter obtained by CNN, Schumer called for at least four witnesses to testify: Acting White House chief of staff Mick Mulvaney, former national security adviser John Bolton, senior adviser to the acting White House chief of staff Robert Blair and Office of Management and Budget official Michael Duffey. Several Republican senators have warned that live witnesses could lead to a circus atmosphere in the Senate.
He also laid out his preference for how long House managers and White House counsel would have to make their cases, cross-examine witnesses and give closing arguments.
2:53 p.m. ET, December 16, 2019
House argues it still needs access to Mueller grand jury details for impeachment proceedings
With a historic vote in the impeachment inquiry looming, the House is arguing to a federal appeals court today that it still needs access to confidential grand jury information from special counsel Robert Mueller's investigation for use in the current impeachment proceedings.
Attorneys for the House told the DC Circuit Court of Appeals some of the still-secret information may have to do with Ukraine.
The grand jury information allegedly contains "certain redacted materials [that] pertain to a Trump Campaign member's dealings with Ukraine, and bear on whether the President committed impeachable offenses by soliciting Ukrainian interference in the 2020 Presidential election," the House wrote in a court filing today.
"The need for the withheld material grows more urgent by the day," the attorneys wrote.
The House says the material, which apparently includes information collected about the Trump campaign's interest in WikiLeaks in 2016, is "bearing on the impeachment of President Trump" and whether Trump obstructed Mueller with his written answers to questions about WikiLeaks.
What happens next: The case will be argued at the DC Circuit Court of Appeals on Jan. 3. The Justice Department is still attempting to block the House's request for the grand jury material after a lower-level judge sided with the House.
2:39 p.m. ET, December 16, 2019
These former GOP lawmakers want Don McGahn to testify under House subpoena
Several Republican former members of Congress and notable lawyers have signed a brief encouraging an appellate court to force former White House counsel Don McGahn to testify under a House subpoena.
Five of the 20 Republicans who signed the brief are members of the group Checks and Balances, including George Conway, husband of White House adviser Kellyanne Conway.
The case will be argued Jan. 3 at the DC Circuit Court of Appeals.
Here's a list of those GOP lawmakers:
Former Texas Rep. Steve Bartlett
Former Missouri Reps. Jack Buechner and Tom Coleman
Former Oklahoma Rep. Mickey Edwards
Former New Hampshire Sen. Gordon J. Humphrey
Former South Carolina Rep. Bob Inglis
Former Arizona Rep. James Kolbe
Former California Rep. Steven T. Kuykendall
Former Iowa Rep. Jim Leach
Former Mississippi Rep. Mike Parker
Former Wisconsin Reps. Thomas E. Petri and Reid J. Ribble
Former Vermont Rep. Peter Smith
Former New Jersey Rep. Dick Zimmer
2:38 p.m. ET, December 16, 2019
Top Senate Democrat says there is "no good reason" for witnesses not to testify at impeachment trial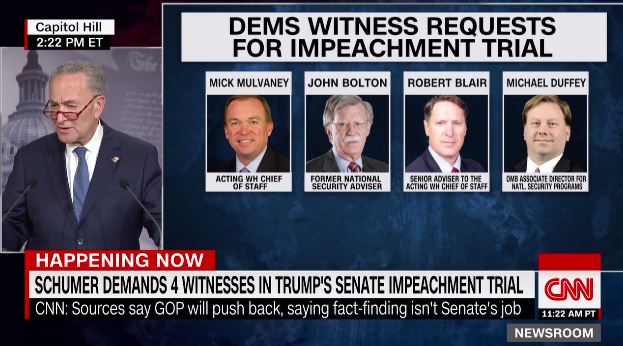 Senate Minority Leader Chuck Schumer, a Democrat from New York, held a news conference this afternoon to address his request that four White House witnesses testify if impeachment reaches a trial in the Senate.
Asked if he thought the House should have gone to court to try to compel the testimony of these witnesses, Schumer said he wouldn't "second guess" the House but added there is "no good argument" not to have these witnesses testify at a possible Senate trial "if you're interested in facts."
He added that he thinks live testimony from witnesses "is the best way to go" at trial.
What's this all about: Earlier today, Schumer sent a letter to Senate Majority Leader Mitch McConnell requesting testimony from: acting White House chief of staff Mick Mulvaney, former Trump national security adviser John Bolton, Mulvaney's senior adviser Robert Blair, and Office of Management and Budget official Michael Duffey.
"These are the four who have the most direct contact of the facts that are in dispute," Schumer said today.
2:24 p.m. ET, December 16, 2019
These senators were jurors at Clinton's impeachment. They will be at Trump's trial, too.
A Senate impeachment trial against President Trump is increasingly likely. If the House votes to approve the articles of impeachment, the Senate will hold a trial and either find Trump guilty or not guilty.
Each senator will be a juror, and a two-thirds majority is needed to remove Trump from office.
At least 15 of today's senators were also in the Senate during the 1999 impeachment trial of former President Bill Clinton, who faced two charges: Perjury and obstruction of justice.
Here's who they are — and how they voted almost 21 years ago:
Susan Collins, a Republican from Maine — not guilty
Michael Crapo, a Republican from Idaho — guilty
Richard Durbin, a Democrat from Illinois — not guilty
Mike Enzi, a Republican from Wyoming — guilty
Dianne Feinstein, a Democrat from California — not guilty
Chuck Grassley, a Republican from Iowa — guilty
James M. Inhofe, a Republican from Oklahoma — guilty
Patrick Leahy, a Democrat from Vermont — not guilty
Mitch McConnell, a Republican from Kentucky — guilty
Patty Murray, a Democrat from Washington — not guilty
Jack Reed, a Republican from Rhode Island — not guilty
Pat Roberts, a Republican from Kansas — guilty
Chuck Schumer, a Democrat from New York — not guilty
Richard Shelby, a Republican from Alabama — not guilty of perjury, but guilty of obstruction of justice
Ron Wyden, a Democrat from Oregon — not guilty
In 1999, the Senate ultimately acquitted Clinton. See how every senator voted here.
12:55 p.m. ET, December 16, 2019
McConnell says there's "no chance" Trump will be removed from office. Here's what he said about ousting Clinton in 1999.
In 1999, Mitch McConnell voted to impeach former President Bill Clinton, saying the President "lied — deliberately and methodically" to the American people.
According to his closed-door impeachment statement, which was released into Congressional record in February 1999, McConnell found Clinton guilty of two articles of impeachment — and said both warrant his removal from office.
"I believe that William Jefferson Clinton has abused and violated that public trust," McConnell said at the time.
He continued:
"His cold, calculated actions betrayed the trust vested in him by the American people and the high office of the presidency. The President of the United States looked 270 million Americans in the eye, and lied--deliberately and methodically. He took an oath to faithfully execute the laws of this nation, and he violated that oath. He pledged to be the nation's chief law enforcement officer, and he violated that pledge. He took an oath to tell the truth, the whole truth, and nothing but the truth, and he willfully and repeatedly violated that oath."
McConnell — who today is the Senate Majority Leader — has said there is "no chance" President Trump will be removed from office.
"We all know how it's going to end. There is no chance the President is going to be removed from office," he told Fox News last week.
You can read McConnell's full statement from 1999 here.
12:29 p.m. ET, December 16, 2019
If the Senate convicts the President, does he have any options to appeal?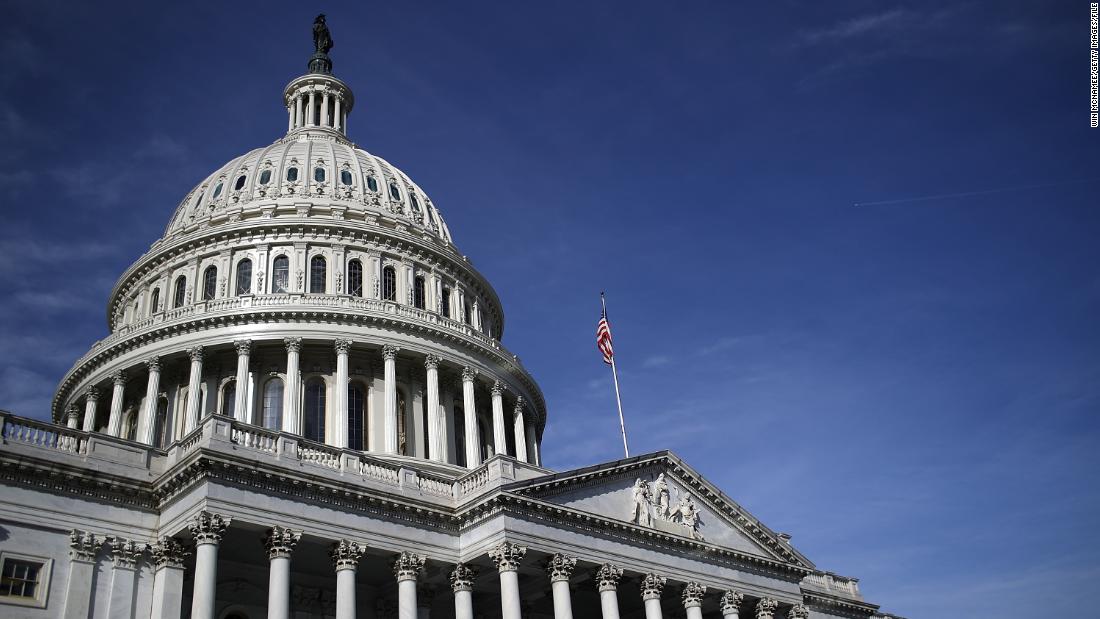 The House is expected to vote this week on the articles of impeachment against President Trump. If the articles are approved, there will be a trial in the Senate, where a two-thirds majority of senators must vote to convict Trump in order to remove him from office.
If the Senate convicts the President, does he have any options to appeal or contest his removal?
On the face of the Constitution, there is no way for a president or other federal official to appeal an impeachment and conviction. Article I of the Constitution gives the House "sole power of impeachment" and the Senate "sole power to try all impeachments."
It makes no mention of any right of appeal. In fact, the Constitution specifies only one role for the Judiciary Branch in the impeachment process: the Chief Justice of the Supreme Court presides over a Senate trial.  
Nonetheless, Trump has suggested by tweet that he might contest an impeachment in the Supreme Court. But the Supreme Court already has ruled that it has no role in reviewing impeachments. In a 1993 case Nixon v. United States, federal judge Walter Nixon appealed his impeachment by the House and conviction by the Senate to the Supreme Court. The Court firmly rejected Nixon's case, ruling that the Constitution commits impeachment and removal solely to Congress and that the Court plays no role in reviewing impeachment proceedings.