The debate on articles of impeachment against Trump
12:17 p.m. ET, December 12, 2019
Judiciary chairman: Zelensky "had a gun to his head"
House Judiciary Chairman Jerry Nadler addressed the pressures faced by Ukraine during today's impeachment hearing.
"We have repeatedly heard that the Democrats are accusing President Zelensky and Mr. Yermak of lying because Mr. Zelensky said — President Zelensky said he wasn't pressured," Nadler said. "Of course he said he wasn't pressured."
"Nobody pushed me," Zelensky told CNN in September.
"He has a gun to his head," Nadler said. "The gun is the fact that the President of the United States, upon whom he depends for military aid, for help in many different ways, has shown himself willing to withhold that aid based on what he says, based on what he's willing to play along with the President for his own personal political goals."
Watch:
12:46 p.m. ET, December 12, 2019
Amendment to strike abuse of power from the articles of impeachment voted down
After hours of debate an amendment introduced by Rep. Jim Jordan to strike the article accusing President Trump of abuse of power from the impeachment articles was voted down by the committee.
The vote was 17 in favor versus 23 against the amendment. The vote was along party lines with all Democrats voting against the amendment and all Republicans voting for it.
A second amendment is now being introduced.
Watch the vote:
12:02 p.m. ET, December 12, 2019
Rep. Kevin McCarthy on impeachment trial: "I don't think there's enough facts to move it to the Senate"
House Minority Leader Rep. Kevin McCarthy was asked today about the prospect of a Senate impeachment trial for President Trump.
Here's what he said:
"I don't think there's enough facts to move it to the Senate."
"I don't think it has to last that long," the California Republican said, adding, "I have no fear."
Asked about who he thinks should serve as Trump's lawyer in the impeachment trial, McCarthy said, "I would want the very best counsel." McCarthy praised a couple of Republican members of the House — including Reps. John Ratcliffe and Jim Jordan — who have been active in the impeachment inquiry.
McCarthy suggested that whoever Trump selects to represent him as counsel should rely on Republicans like Jordan and Ratcliffe for information.
11:53 a.m. ET, December 12, 2019
Republican senator says she is leaving witness discussions to McConnell and Schumer
Sen. Susan Collins, a moderate Republican up for re-election, told CNN she is not ruling out having witnesses in a Senate trial. But she will not weigh in on how the trial is structured until Senate Minority Leader Chuck Schumer and Senate Majority Leader Mitch McConnell actually meet.
"Last time, with President Clinton's trial, we did not have any live witnesses. There were three that the Senate ordered to be deposed and we had their depositions. I just want to see what the proposals are. I don't want to prejudge the evidence that is going to be presented or the rules until I give the two leaders the opportunity to have their discussions."
Collins said a lot is riding on the talks between Schumer and McConnell and that she hopes they will sit down and discuss the rules of the road "very soon." 
"I want to see what rules the leaders propose. It's my understand[ing] that they have not yet started discussions and I hope those discussions will begin very soon," she said.
12:13 p.m. ET, December 12, 2019
Republicans want total unity in voting against impeachment
House GOP leaders plan to begin whipping their members about the articles of impeachment vote during this afternoon, according to GOP sources.
A notice was sent to members last night from Republican Whip Steve Scalise.
The GOP is seeking total unity to vote against the articles.
For context: This is different from Speaker Nancy Pelosi's approach. She confirmed at her press conference today that Democrat leaders will not whip the vote and will allow members to vote their will.
Read the full notice below: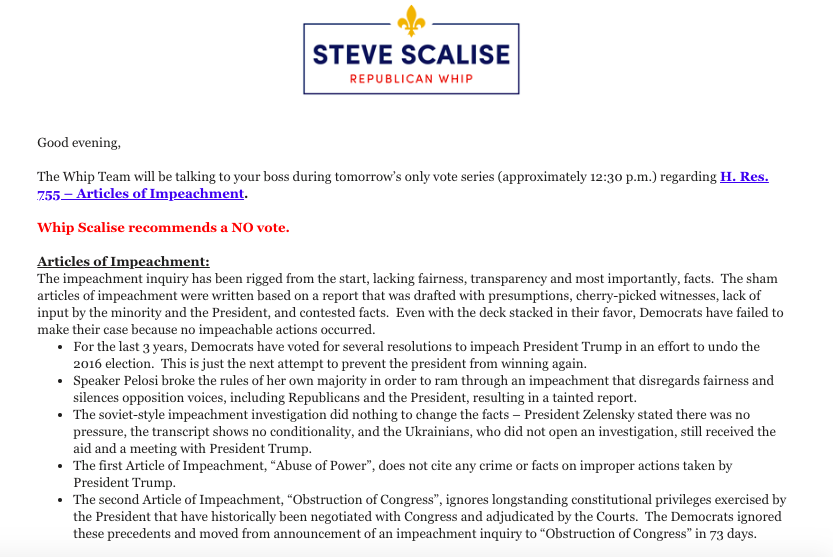 12:12 p.m. ET, December 12, 2019
Why lawmakers keep bringing up drama class at today's hearing
Lawmakers from both sides of the aisle got into a debate today, where they brought up studying theater to criticize the other party's understanding of the facts.
"I took theatre and drama in college and I was told the one thing you have to do is have the willing suspension of disbelief," Rep. Steve Cohen, a Democrat from Tennessee, said. "The Republicans obviously took that course over and over and over again."
In response, Rep. Doug Collins, the ranking Republican on the committee, said he was glad that Cohen brought up acting class.
"Folks who study drama also understand you read the lines. They can read the transcript. Quit saying "I want you to do me a favor" — it's not in the transcript," Collins said in an attempt to criticize how Democrats are quoting from the July 25 call between Trump and Ukraine's president Volodymyr Zelensky.
Watch:
11:18 a.m. ET, December 12, 2019
Fact check: Trump says Democrats misquoted his call. He's correct.
President Trump alleged that Democratic Reps. Veronica Escobar and Sheila Jackson Lee "purposely misquoted" his call with the President of Ukraine Volodymyr Zelensky in a Tweet this morning.
Facts First: Trump is correct that the call was misquoted during today's debate over the articles of impeachment in the House Judiciary committee.
In the declassified memo of the July 25 phone call between Trump and President Zelensky, the President says, "I would like you to do us a favor though because our country has been through a lot."
During the debate over impeachment articles, Rep. Escobar, using an analogy to stress the alleged problem in Trump's phone call with Zelensky, said "I want you to do me a favor though." This quote replaces the word "us" found in the memo on the call, with the word "me."
Rep. Jackson, when quoting the memo of the call, said that the quote was "I would like you to do a favor though" — removing "us" from the quote.
As the President tweeted this, Republican Rep. Jim Jordan was making the same points at the hearing.
Last week, Professor Pamela Karlan argued that Trump was using the "royal we" in that sentence and actually asking for a personal favor. But Republicans and Trump have repeatedly claimed the President was asking for a favor for the national interest instead.
Read the full tweet below:
11:12 a.m. ET, December 12, 2019
Pelosi on looming House vote: "The facts are clear, irrefutable"
Speaker of the House Nancy Pelosi was asked if she's concerned about Democratic members possibly not voting for the articles of impeachment.
While some vulnerable Democrats in swing districts would defect, we're not expecting mass defections, and Democrats will likely have more than enough votes for final passage.
Pelosi said representatives must decide for themselves how to vote — but said the "facts are clear."
"The facts are clear, irrefutable, in fact, and we've given the President every opportunity to demonstrate any exculpatory information he may have," she said.
"We take an oath to protect and defend the Constitution of the United States," she added.
The House Judiciary Committee, which is currently debating the articles of impeachment, is expected to approve them today. After that, it will go to the full House for a vote. Approval there would mean President Trump would officially be impeached.
10:44 a.m. ET, December 12, 2019
Republican calls Democrats' allegations of crimes a "drive-by"
Rep. Matt Gaetz, a Republican from Florida, said that the impeachment debate "just lacks a certain sincerity" this morning.
He mentioned Democratic Rep. Eric Swalwell in his remarks:
"I heard earlier Mr. Swalwell list out all these crimes," the congressman said. "If I'm watching at home I'm thinking, 'well, where are they in the impeachment?' That is just a Democrat drive-by, to go and list crimes that you don't allege and that you don't have evidence for."
"If there is ever a microcosm of how to consume this day and the importance of it with the American people," Gaetz continued. "It's that they're naming crimes in debate that they don't even have in their impeachment resolution because they can't prove them, because there are no underlying facts."
The congressman also criticized Democrats for "crying these alligator tears, clutching their pearls, over this notion that Trump didn't give this aid" while not raising the same concerns over Ukraine during Obama's presidency.
Watch: