Articles of impeachment against President Trump unveiled
4:51 p.m. ET, December 10, 2019
House Judiciary Committee begins formal discussion on impeachment articles tomorrow night
The House Judiciary Committee will begin formal discussions about the articles of impeachment tomorrow night, according to a source familiar. The meetings will be public and on camera.
Here's how the next couple days are expected to proceed:
Wednesday: At 7 p.m., the committee will meet and members will have the opportunity to make opening statements. Each member gets 5 minutes.
Thursday: At 9 a.m. ET, the committee will start considering amendments. There is no timing on when it will end.
5:02 p.m. ET, December 10, 2019
No ruling today in key impeachment witness case
Federal Judge Richard Leon didn't decide what to do with impeachment witness Charles Kupperman's court case today, after more than an hour of arguments.
The House and the Justice Department have asked the DC District judge to dismiss the case — and the House lawyers promised emphatically that their committees wouldn't subpoena Kupperman, a former deputy national security adviser, as impeachment heads to a Senate trial. The House also wouldn't hold him in contempt, its lawyers said.
Why this matters: The case — where Kupperman went to court after he received a House subpoena in late October and was told by the White House not to testify — has effectively put a pause on the fight between the House and the White House over impeachment witnesses. Several did not testify under the President's direction, and the House announced today it would introduce an article of impeachment against Trump for obstructing Congress. Kupperman, at times, has been considered a stand-in for John Bolton, another top witness the House had wanted to speak about the President and who hasn't testified.
The House admitted in court Tuesday it's basically powerless to force administration officials to testify at this time.
"We like to keep up appearances we have a jail in the basement," US House attorney Todd Tatelman told the judge, conceding that the House wouldn't arrest a person on his or her own for defying a congressional subpoena. The House would "absolutely will not be doing this here in this instance."
4:34 p.m. ET, December 10, 2019
House Judiciary Chairman Jerry Nadler privately pushed for obstruction of justice article, sources say
Democratic sources say that House Judiciary Chairman Jerry Nadler privately advocated for obstruction of justice as an article of impeachment, which would have included evidence from special counsel Robert Mueller's investigation.
As CNN reported this afternoon, there were multiple individuals, including committee chairs and members of Democratic leadership, who also agreed with a separate article of impeachment.
Ultimately, House Speaker Nancy Pelosi backed the two articles that were unveiled today — abuse of power and obstruction of Congress.
Multiple Democrats on the House Judiciary Committee say that the conversation they had privately with Laurence Tribe, a Harvard University law professor, during a Saturday prep session, helped convince them that narrowly crafted articles focused on Ukraine was the best path forward. 
Tribe praised the articles in a tweet today — while highlighting the language that referred back to President Trump's conduct Mueller documented.
Separately, Nadler wrote a letter to House Democrats this afternoon.
In it, he said:
"The introduction of these articles will not end the work of House Committees to pursue ongoing investigations into Presidential misconduct, and those will proceed despite unprecedented obstruction. Some of these investigations relate to the Articles of Impeachment and may gather additional information for use in a Senate trial, adding to the already overwhelming case."
3:59 p.m. ET, December 10, 2019
Romney on Trump impeachment: "I'm keeping an open mind"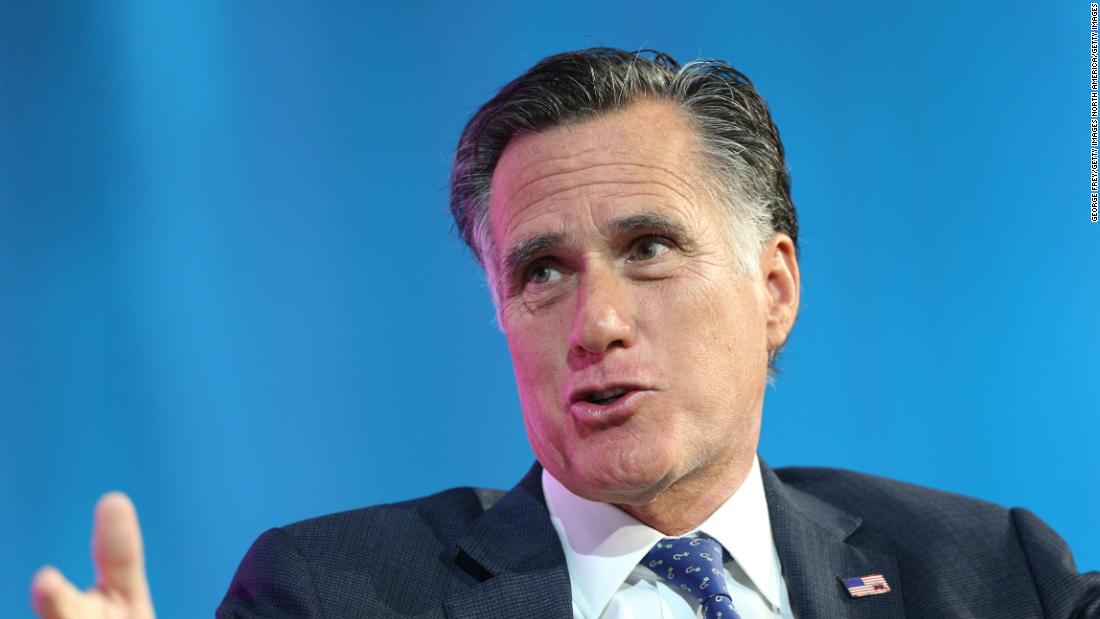 Republican Sen. Mitt Romney said it is "way too early" to make an assessment on President Trump's impeachment, but added that he is "keeping an open mind."
"It's way too early for me to make that assessment," the Utah senator told CNN. "There will be a trial in the Senate — we will hear the arguments from both sides. Upon those arguments, and whatever evidence they present, I'll make a decision."
Asked if he's open to voting to convict Trump, he said, "I'm keeping an open mind until that process is completed." 
Separately, Senate Majority Whip John Thune was asked if he expected any GOP votes to convict Trump: "You have to go through the process, but I would not expect that to be the case."
Also, one moderate Democrat— Arizona Sen. Kyrsten Sinema — refused to take any questions about her views on the articles of impeachment. An aide repeatedly interjected and instructed reporters to call her press office.
5:03 p.m. ET, December 10, 2019
Sen. Schumer says some GOP members are forming their own "conspiracy caucus"
Senate Minority Leader Chuck Schumer said some GOP members are forming their own "conspiracy caucus," where they are "pushing known Putin propaganda that Ukraine interfered in our elections."
Schumer added that none of these conspiracy theories "address the facts in the articles of impeachment."
Schumer was also asked when he'll have discussions with McConnell on the Senate trial. He replied, "As soon as he's ready." 
Asked if he has received an invitation from McConnell yet, Schumer said "not yet, no."
Schumer wouldn't get into specifics about what the ideal Senate trial would look like, in response to a reporter question. He only said, "it should be fair, it should be bipartisan, and it should let the facts come out."
He added: "It is not lost on members of the United States Senate that the White House has made a choice to block witnesses from testifying under oath and has refused to provide documents that might disprove the evidence against the President."
3:04 p.m. ET, December 10, 2019
Small group of vulnerable House Democrats float idea of censure instead of impeachment
Some House Democrats from districts that President Trump won in 2016 met Monday to discuss ways to possibly avoid a full on impeachment trial. They suggested an official censure of the President instead.
They argue that the outcome of an impeachment trial in the GOP Senate will inevitably lead to an acquittal, and say they hope a censure option could broaden the chance of building bipartisan support. 
But the members recognized that censuring the President was unlikely to succeed, according to two sources with knowledge of the meeting. 
3:08 p.m. ET, December 10, 2019
McConnell: Impeachment trial will start "after bowl games"
Senate Majority Leader Mitch McConnell said the Senate trial will start "right around the time the bowl games end," at a news briefing following Senate lunches today.
An aide said McConnell is talking about starting the trial after the New Year's bowls, which are a series of six college football matches.
CNN's Lauren Fox asked if he will be meeting soon, or even next week, with Minority Leader Schumer to discuss Senate trial procedure, McConnell replied: "Yeah, we'll be talking about the way to go forward and see if we can reach an agreement."
But he added they have not spoken about it yet.
Asked if the Senate will take live witnesses or use taped depositions, McConnell said, "We'll make that decision after we've heard the opening argument."
3:00 p.m. ET, December 10, 2019
Here's where things stand now in key cases tied to the impeachment inquiry
The House Democrats' announcement this morning of articles of impeachment against President Trump highlighted how time is of the essence when Congress wants to check the power of the presidency. But House Intelligence Committee Chairman Adam Schiff's remarks also noted the judicial branch's power and timing — and how the federal courts, in this situation, may be taking too long.
What Schiff said:
"It has taken us eight months get a lower court ruling that Don McGahn has no absolute right to defy Congress. Eight months. For one court decision. If it takes us another eight months to get a second court or maybe a Supreme Court decision, people need to understand, that is not the end of the process. It comes back to us and we ask questions because he no longer has absolute immunity and then he claims something else, that his answers are privileged and we have to go back to court for another eight or 16 months."
In many ways, Schiff's right. (He's certainly correct about the timeline in former White House counsel Don McGahn's case, which is still unresolved.) Federal courts have spent months weighing disputes between the House and Trump or his White House, especially when they relate to possible impeachment. And none of the cases have been definitively decided yet.
Here are some more examples:
This afternoon, potential impeachment witness Charles Kupperman, a former Trump deputy national security adviser, is in court about whether he can ask a judge to decide if he must testify. The hearing begins at 3 p.m., and what happens in the case (if it happens quickly enough) could affect the House's ability to call other top witnesses whom the White House has stonewalled, like former national security adviser John Bolton or chief of staff Mick Mulvaney.
House committees subpoenaed Trump's financial records and other documents from two banks and an accounting firm in the spring. Trump sued to stop the subpoenas shortly after, in April, and the cases are just now beginning to be considered by the Supreme Court and decided by another appeals court.
The House says it needs to see confidential details from grand jury proceedings in special counsel Robert Mueller's investigation, and that those details could factor into questions of whether to impeach Trump for obstruction of justice, which Mueller thoroughly investigated. The case will be argued before the appeals court on Jan. 3 alongside McGahn's case. So both McGahn and the Mueller grand jury questions are still at least a step away from the Supreme Court.
2:33 p.m. ET, December 10, 2019
McConnell says Senate won't deal with impeachment trial before Christmas recess
Senate Majority Leader Mitch McConnell said they won't hold an impeachment trial or take up the USMCA trade bill until they come back from recess scheduled to begin at the end of next week.