The latest on the Trump impeachment inquiry
By Fernando Alfonso III, CNN
Updated
4:23 p.m. ET, December 7, 2019
4:23 p.m. ET, December 7, 2019
Our live coverage of the impeachment inquiry has ended for the day. Read up on the latest news below.
2:51 p.m. ET, December 7, 2019
House Judiciary Committee releases witness list for Monday hearing
From CNN's Kevin Bohn
Chairman Jerry Nadler has released the names of the counsels to the House Permanent Select Committee on Intelligence and the House Judiciary Committee who will present in the ongoing impeachment inquiry into President Trump.
The witnesses are:
House Committee on the Judiciary
Barry Berke, majority counsel
Stephen Castor, minority counsel
House Permanent Select Committee on Intelligence
Daniel Goldman, majority counsel
Stephen Castor, minority counsel
Monday's hearing will begin at 9 a.m. ET and will proceed in two phases. First, majority and minority counsel for the Judiciary Committee will present opening statements for up to one hour, equally divided. 
Second, majority and minority counsel for the Intelligence Committee will present for up to 90 minutes, equally divided. Majority and minority counsel for the Intelligence Committee will then take questions from the committee.
12:35 p.m. ET, December 7, 2019
House Judiciary Committee releases report ahead of Monday's hearing, laying out historical arguments for impeachment
From CNN's Jeremy Herb
The House Judiciary Committee today released a report ahead of Monday's impeachment hearing laying out historical arguments for impeachment. 
The report does not accuse President Trump of committing impeachable offenses, but it lays the groundwork for Mondays' hearing, where evidence against Trump will be presented by the House Intelligence and Judiciary Committees, as well as the possible introduction of articles of impeachment next week. 
"The Framers worst nightmare is what we are facing in this very moment," House Judiciary Chairman Jerry Nadler said in a statement. "President Trump abused his power, betrayed our national security, and corrupted our elections, all for personal gain. The Constitution details only one remedy for this misconduct: impeachment. The safety and security of our nation, our democracy, and future generations hang in the balance if we do not address this misconduct. In America, no one is above the law, not even the President."
The report is an update to the Judiciary Committee reports that were issued in 1974 and 1998 during the impeachment proceedings of Presidents Richard Nixon and Bill Clinton.
"The earlier reports remain useful points of reference, but no longer reflect the best available learning on questions relating to presidential impeachment," Nadler wrote in a forward introducing the report. "Further, they do not address several issues of constitutional law with particular relevance to the ongoing impeachment inquiry respecting President Donald J. Trump."
2:12 p.m. ET, December 7, 2019
Former Republican lawmakers tell current GOP: Consider full evidence on impeachment
From CNN's Caroline Kelly
Two former Republican lawmakers urged their current successors to consider the evidence produced during the inquiry into President Trump's Ukraine dealings in determining whether to support impeachment.
William Cohen, a former Republican senator from Maine and secretary of defense who backed impeachment during the Watergate inquiry, and Slade Gorton, a former Washington state Republican senator and attorney general who also backed President Richard Nixon's impeachment, made the comments on CNN's "Erin Burnett OutFront" Friday evening.
Their counsel comes on the same day that Rep. Justin Amash, a Michigan independent who left the Republican Party this summer, announced that he would support impeachment articles against Trump — the first lawmaker to do so who is not a Democrat.
"I would say, listen to the witnesses," Cohen replied when asked what he thought of Republicans dismissing the probe as a sham. "Listen to the professionals who came before the Congress to swear under oath."
"You're saying that all those people who came before the committee are lying under oath," Cohen said, urging lawmakers "to go back and look at the entire spectrum from the Mueller report. There's a pattern here of (Trump) saying, 'I'm not beholden to anyone.' "
Gorton said he felt "sorry for the people who are tying themselves so heavily to the President at this point," adding that "they should be waiting to hear all of the facts."
"I think it's very easy for them to determine that the President did this, did what he's accused of," he said, adding that "it's one thing to say, we don't think that arises to the importance to take a man out of the presidential office. It's quite another to denounce it in advance when you don't know what there's going to be presented to you."
11:13 a.m. ET, December 7, 2019
House Judiciary Republicans request 8 witnesses in impeachment proceedings
From CNN's Jeremy Herb
While the White House indicated today that it wouldn't take part in the impeachment proceedings, Republicans members of the House Judiciary Committee formally requested witnesses that President Trump and his allies have been pushing to testify, according to a copy of the letter sent to committee chairman Jerry Nadler. 
Rep. Doug Collins, the ranking Republican on the committee, sent Nadler a letter today requesting eight witnesses, including House Intelligence Committee Chairman Adam Schiff, former Vice President Joe Biden's son Hunter Biden, the anonymous whistleblower and anyone the whistleblower relied on to prepare the complaint alleging Trump solicited election interference from Ukraine.
Collins wrote that the committee should call "each of the witnesses listed above to testify before this Committee to ensure a full evaluation of the facts and to cure the procedural and fairness defects injected into these proceedings by Chairman Schiff."
Collins requested that subpoenas be issued for all of the witnesses they had requested besides Schiff.
Republican also requested these witnesses:
Alexandra Chalupa, a former Democratic National Committee contractor
Fusion GPS contractor Nellie Ohr
Former Burisma board member Devon Archer
An intelligence community employee who Lt. Col. Alexander Vindman did not identify during his testimony before the House Intelligence Committee.
Many of these witnesses were also requested by Republicans during the House Intelligence Committee hearings.
Democrats blocked those requests, which Schiff dismissed as an attempt to "undertake the same sham investigations into the Bidens or 2016 that the President pressed Ukraine to conduct for his personal political benefit."
There is no evidence of wrongdoing by the Bidens.
9:31 a.m. ET, December 7, 2019
Vulnerable House Democrats anxiously eye impeachment vote
From CNN's Alex Rogers and Manu Raju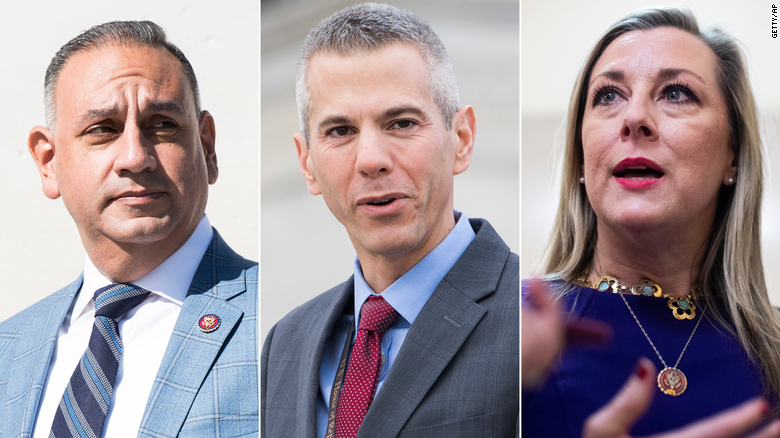 As the House Judiciary Committee held its first impeachment hearing into President Trump this week, some of the House's most vulnerable Democrats privately huddled to discuss how to protect their majority. 
At the headquarters of the House Democrats' campaign arm, they talked about what they were hearing back home and were briefed on an internal poll surveying 57 battleground districts from October to November, according to a source familiar, which showed support for impeaching and removing Trump had stayed about the same ? slightly trailing the opposition ? despite a Republican onslaught. While independents had surged to support it, Republicans had rallied around their party leader.
While the polling was meant to reassure Democrats from highly competitive districts, they are still uneasy about the historic vote they're about to cast, which could have major ramifications for the country and their races.
"I'm totally undecided," Rep. Anthony Brindisi of New York, a freshman from a competitive district who had initially resisted an impeachment inquiry, said Friday. "Anytime you talk about impeaching a president -- the third time in our nation's history -- that's a very serious vote. I take it very seriously."
The day after the briefing, Speaker Nancy Pelosi announced the House would proceed with articles of impeachment, setting up a vote that will present a tricky choice for the 31 Democrats in Trump districts.
Hours later, Brad Parscale, the Trump campaign manager, tweeted that "impeachment is killing" freshman House Democrats ? "and polling proves it." He then tweeted an internal poll showing that in Oklahoma Rep. Kendra Horn's district, less than half of respondents support impeachment ? a surprisingly high number there, but one that still showed that a slim majority of her constituents did not want her to vote to impeach the President.
Like many other Democrats in red districts, Horn told CNN that she's still deciding on how to vote, waiting to see "all the information," including how the articles of impeachment will be written.
The charges laid out during Wednesday's hearing include abuse of power and bribery, obstruction of justice and obstruction of Congress.
Democrats say Trump put his personal interest over the country's when he pressured Ukraine to announce politically-damaging investigations of Democrats, while using military aid and a White House meeting coveted by Ukrainian leader Volodymyr Zelensky as leverage.
Some Democrats hope that their colleagues do not expand the articles further, or include episodes of alleged obstruction of justice found in the Mueller report in the articles.
8:45 a.m. ET, December 7, 2019
Nadler: White House's refusal to participate means Trump "cannot claim that the process is unfair"
From CNN's Manu Raju
Rep. Jerry Nadler, the chairman of the House Judiciary Committee, responded to the White House's refusal to participate in the House impeachment inquiry today, saying "If the President has no good response to the allegations, then he would not want to appear before the Committee."
President Trump's administration declined to participate in the impeachment inquiry this afternoon, calling the probe "completely baseless" and a "reckless abuse of power" ahead of a deadline set by House Democrats.
Nadler, a Democrat from New York, said he believes that Trump's decision means "he cannot claim that the process is unfair."
"The President's failure will not prevent us from carrying out our solemn constitutional duty," the chairman added.
Read Nadler's full statement below:
"The American people deserve answers from President Trump. The House invited, and then subpoenaed, his top advisors. The President ordered them not to show and continues to block key evidence from Congress. We are disappointed that the President has once again failed to provide those answers here. We gave President Trump a fair opportunity to question witnesses and present his own to address the overwhelming evidence before us. After listening to him complain about the impeachment process, we had hoped that he might accept our invitation. 
If the President has no good response to the allegations, then he would not want to appear before the Committee. Having declined this opportunity, he cannot claim that the process is unfair. The President's failure will not prevent us from carrying out our solemn constitutional duty."
7:19 a.m. ET, December 7, 2019
Schiff sends letter to Pence seeking to declassify contents of his Sept. 18 call with Ukrainian leader
From CNN's Manu Raju 
Rep. Adam Schiff, the chairman of the House Intelligence Committee, has asked Vice President Mike Pence to declassify the contents of his Sept. 18 call with Ukrainian President Volodymyr Zelensky.
Schiff sent a letter requesting the declassification to Pence on Friday.
"While Ms. [Jennifer] Williams already testified generally to the phone call in question, declassification of this supplemental testimony will allow the Congress to see further corroborative evidence as it considers articles of impeachment, and provide the public further understanding of the events in question," a House Intelligence committee official told CNN.
About the call: Williams, an aide to Pence, told lawmakers she listened to a phone call between Pence and Zelensky, which took place on Sept. 18 after the hold on US security assistance to Ukraine was lifted, according to a transcript of her closed-door deposition.
Williams was asked if on the call Pence gave Zelensky any advice on how to approach Trump when they met at the forthcoming United Nations General Assembly meeting. Williams said Pence told Zelensky, "President Trump would be eager to hear about President Zelensky's progress in his reform agenda."