The latest on the Trump impeachment inquiry
5:47 p.m. ET, December 6, 2019
House Judiciary Republicans request 8 witnesses in impeachment proceedings
While the White House indicated today that it wouldn't take part in the impeachment proceedings, Republicans members of the House Judiciary Committee formally requested witnesses that President Trump and his allies have been pushing to testify, according to a copy of the letter sent to committee chairman Jerry Nadler. 
Rep. Doug Collins, the ranking Republican on the committee, sent Nadler a letter today requesting eight witnesses, including House Intelligence Committee Chairman Adam Schiff, former Vice President Joe Biden's son Hunter Biden, the anonymous whistleblower and anyone the whistleblower relied on to prepare the complaint alleging Trump solicited election interference from Ukraine.
Collins wrote that the committee should call "each of the witnesses listed above to testify before this Committee to ensure a full evaluation of the facts and to cure the procedural and fairness defects injected into these proceedings by Chairman Schiff."
Collins requested that subpoenas be issued for all of the witnesses they had requested besides Schiff.
Republican also requested these witnesses:
Alexandra Chalupa, a former Democratic National Committee contractor
Fusion GPS contractor Nellie Ohr
Former Burisma board member Devon Archer
An intelligence community employee who Lt. Col. Alexander Vindman did not identify during his testimony before the House Intelligence Committee.
Many of these witnesses were also requested by Republicans during the House Intelligence Committee hearings.
Democrats blocked those requests, which Schiff dismissed as an attempt to "undertake the same sham investigations into the Bidens or 2016 that the President pressed Ukraine to conduct for his personal political benefit."
There is no evidence of wrongdoing by the Bidens.
Watch here:
5:13 p.m. ET, December 6, 2019
Podcast: The Democrats are facing one huge question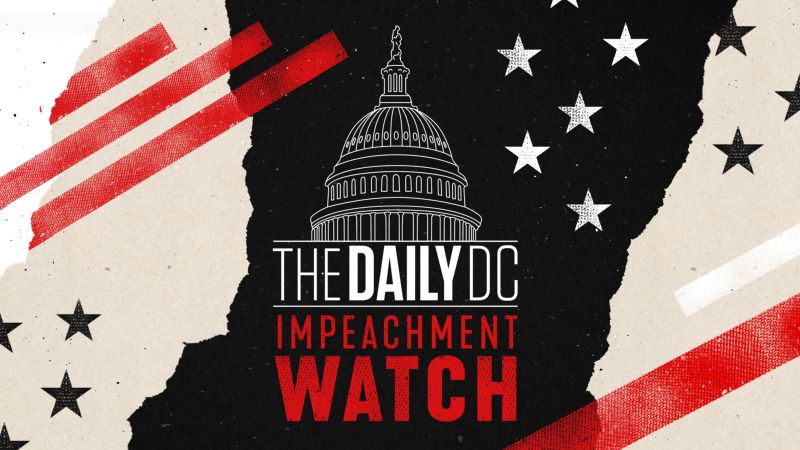 Nancy Pelosi is having a moment.
The Speaker of the House has deftly guided her party through the inquiry, but now her caucus faces a massive decision: should the articles of impeachment include a charge related to the Mueller investigation?
In today's episode of "The Daily DC: Impeachment Watch" podcast, CNN political director David Chalian reads the political tea leaves with CNN chief political analyst Gloria Borger and CNN political analyst Rachael Bade.
5:09 p.m. ET, December 6, 2019
Giuliani ally says he'll testify about alleged Ukraine role in 2016 election
Former Ukrainian diplomat Andriy Telizhenko told CNN today that he's been contacted by US Senate staff and has agreed to be interviewed on the topics of "Ukraine, 2016 election and DNC."
Earlier today, Republican lawmakers, who chair three Senate committees, announced today they were seeking the interview to examine what they allege were efforts in 2016 to undermine the Trump campaign.
Telizhenko is a former junior diplomat who previously worked in the Ukrainian Embassy in Washington and has promoted a debunked conspiracy theory that Ukraine, not Russia, conspired to interfere in the 2016 US presidential election.
He previously told CNN he spent about six hours in New York with President Trump's personal lawyer Rudy Giuliani in May this year and discussed a range of issues including the business dealings of Hunter Biden in Ukraine as well as what he called "the DNC Ukraine collusion."
Telizhenko has been been attending meetings with Giuliani in Kiev this week as part of Giuliani's trip to Europe in a continued bid to dig dirt on Trump's political rivals.
4:56 p.m. ET, December 6, 2019
White House calls impeachment inquiry "completely baseless" in letter to House Judiciary Committee
In a letter sent to Rep. Jerry Nadler, the chairman of the House Judiciary Committee, President Trump's attorney called the impeachment inquiry "completely baseless."
The letter, sent by White House counsel Pat Cipollone, claims the inquiry "has violated basic principles of due process and fundamental fairness."
While the letter does not specifically say the White House will not participate in the inquiry, a White House official tells CNN, "The letter communicates that we will not participate in this process."
"Nevertheless, the Speaker of the House yesterday ordered House Democrats to proceed with articles of impeachment before your Committee has heard a single shred of evidence. House Democrats have wasted enough of America's time with this charade. You should end this inquiry now and not waste even more time with additional hearings. Adopting articles of impeachment would be a reckless abuse of power by House Democrats, and would constitute the most unjust, highly partisan, and unconstitutional attempt at impeachment in our Nation's history," Cipollone said in the letter.
Read the entire letter below: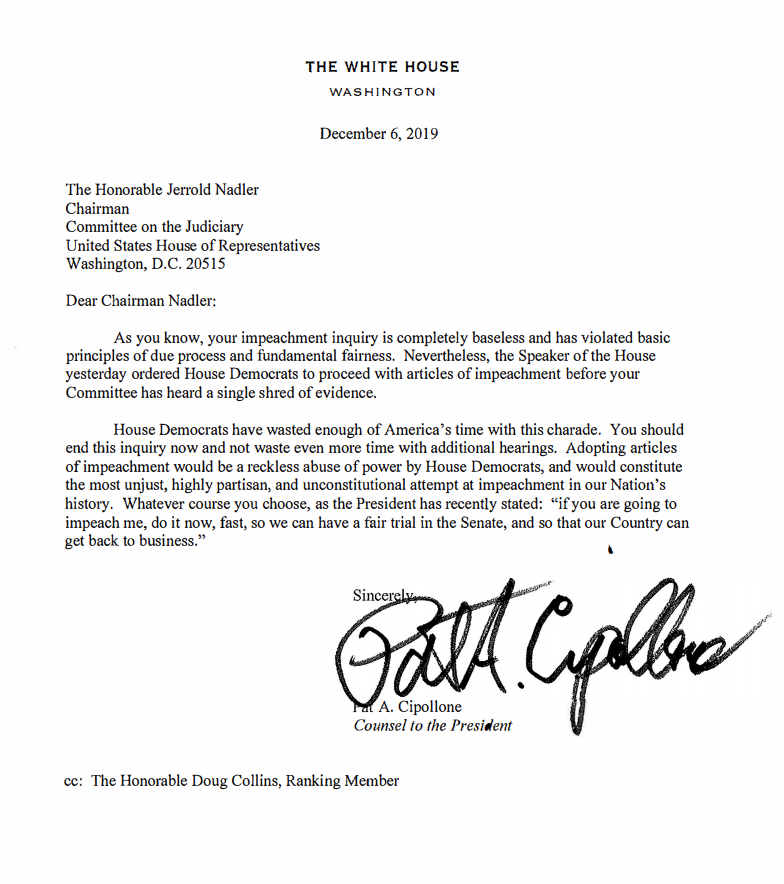 3:24 p.m. ET, December 6, 2019
Some moderate Democrats feel frustrated as party leaders start writing articles of impeachment
A group of moderate Democrats are growing impatient with leadership, warning that any effort to include charges that the President obstructed justice in potential articles of impeachment could severely hurt the frontline members who help make a majority of the caucus, according to conversations with Democratic aides and members.
The tension is emblematic of a diverse caucus and the competing allegiances members from swing districts have versus many members of the more liberal House Judiciary Committee. 
One moderate Democrat, who spoke on the condition of anonymity to freely discuss the caucus's thinking, told CNN that the speaker's office has kept any plans on drafting the articles closely held, creating frustration and anxiety for members who will have to go home and explain impeachment in their districts.
"The fact of the matter is this does have political consequences and the people who will suffer significant political consequences are our moderate members. In fact, there are on-year amounts of money being spent in districts all across our moderates. For our leadership not to engage with moderates at all to either talk about how they are going to message or what they are going to put in it, seems to be a giant oversight," the member said.
Another moderate Democratic member lamented that the information about articles of impeachment are "secondhand."
"I would say, look, I am concerned about not knowing what the articles will have in them. I am concerned about the timeline of this whole impeachment process. For me, right now, I am struggling to see how the evidence supports impeachment at this point," the member said on the condition of background in order to speak freely about internal discussions.
3:02 p.m. ET, December 6, 2019
House Republicans continue to struggle to explain why Trump asked Ukraine for Biden probe
Two House Republicans today struggled to explain why President Trump asked Ukraine to investigate a political rival when he never mentioned corruption on his phone calls with Ukraine's President Volodymyr Zelensky.
Rep. James Comer, a Republican from Kentucky, said that while Trump doesn't explicitly mention investigating corruption on his phone call with Ukraine, "he was implying corruption, that's why he was asking about it."
"He may not have said it, but I believe that was the intent of the phone call, that's what most of the people in my district believe, too," Comer said.
Asked if he believed the President had invited a foreign power to interfere in elections, the congressman said, "I don't think it is. I think the President was wanting to find out about corruption."
"In hindsight, he probably should have had someone else ask that question, maybe," Comer added.
North Carolina Rep. Mark Walker similarly said that on the phone call with Ukraine, Trump's "general argument there is weeding out corruption."
"Well, the overall reaching arm of this was that Ukraine had a problem with corruption," he said.
2:52 p.m. ET, December 6, 2019
House Democrats expect to hold mock hearing this weekend ahead of Monday's testimony
Democrats on the House Judiciary Committee plan to meet on Saturday and Sunday to discuss their plans and strategy for Monday's hearing, according to committee sources.
They are expected to have a mock hearing to prepare for Monday's session, but members have not been told exactly what they'll be going over. 
Members of the committee have also not been told whether there will be any sort of briefing or discussion on the articles of impeachment, which are being worked on by House Speaker Nancy Pelosi, House Judiciary Committee Chairman Jerry Nadler and House Intelligence Committee Chairman Adam Schiff. 
It's not yet clear yet how Monday's hearing will unfold: The details are being kept under wraps. Specifically, lawmakers on the committee said today they don't know what the counsels on the House Judiciary Committee will be presenting at Monday's hearing. It's an open question still whether the committee counsels will present evidence in special counsel Robert Mueller's report.
Nadler declined to comment to CNN about Monday's hearing.
The hearing will also feature a presentation of evidence from House Intelligence Committee counsels detailing the Ukraine investigation.
1:32 p.m. ET, December 6, 2019
Freshmen House Democrats warn against adding Mueller evidence to articles of impeachment
Two freshmen House Democrats from swing districts — Reps. Max Rose of New York and Gil Cisneros of California — pushed back against adding evidence from special counsel Robert Mueller's investigation to articles of impeachment.
Both indicated they got behind an inquiry after the Ukraine situation came to light.
Asked if this is a tough vote, Rose said that compared to the lives of firefighters and police officers, "This is cushy sh**."
2:03 p.m. ET, December 6, 2019
House Judiciary members will work through the weekend to prepare for hearing
House Judiciary members are expected to stay in Washington this weekend to prepare for their Monday impeachment inquiry hearing, according to CNN's Manu Raju.
The Judiciary Committee announced the hearing yesterday, saying that during it, members will "receive presentations from counsels to the House Permanent Select Committee on Intelligence and House Judiciary Committee."
The Judiciary Committee held its first impeachment hearing on Wednesday, when a trio of legal scholars argued that Trump's unprecedented conduct was evidence of impeachable offenses.
A fourth witness, requested by the Republicans, said at that hearing that Democrats were making a mistake by pursuing a "slipshod" impeachment that would have long-lasting consequences.