Pelosi asks House to proceed with articles of impeachment
8:48 p.m. ET, December 5, 2019
Our live coverage of the impeachment inquiry has ended for the day. Read up on the latest news below.
7:10 p.m. ET, December 5, 2019
Anti-impeachment witness says he's received threats since House Judiciary Committee hearing
From CNN's Devan Cole
Constitutional law expert Jonathan Turley says his testimony yesterday against impeaching President Trump has led to a barrage of threats against him.
Turley, a law professor with nearly 30 years of teaching experience under his belt at George Washington University, was one of four scholars called before the House Judiciary Committee to provide insight into the complicated and rare constitutional maneuvering.
Turley was called by the committee's Republicans. The other three witnesses — all called by the committee's Democrats — spoke out in favor of Trump's impeachment while Turley, who was also an expert witness during Bill Clinton's impeachment proceedings, leaned on his previous testimony in the 1990s to explain his opposition to it.
"Before I finished my testimony, my home and office were inundated with threatening messages and demands that I be fired from George Washington University for arguing that, while a case for impeachment can be made, it has not been made on this record," Turley wrote in an op-ed published Thursday in The Hill.
What Turley said Wednesday: During his testimony, Turley consistently pointed to his worries about the speed and scope of the impeachment inquiry, saying, "Fast and narrow is not a good recipe." He also argued that the record against Trump is "one of the thinnest records ever to go forward on impeachment" and that it "has left doubts in the minds of people" about what happened.
6:46 p.m. ET, December 5, 2019
Questions emerge about House investigator report showing calls between Giuliani and budget office
From CNN's Lauren Fox and Pamela Brown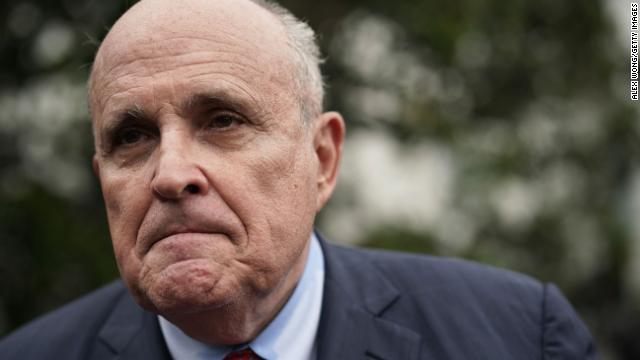 Rudy Giuliani's phone calls with a number that House investigators say is associated with the Office of Management and Budget, may have simply been calls to and from the White House, according to information obtained by CNN. 
CNN has learned that the number the House Intelligence Committee's report said was "associated" with the OMB is a number that could go to multiple officials within the White House complex including the White House itself.
The new details cast doubt on whether Giuliani was talking to the OMB in the spring, a critical time in which the ousted US Ambassador to Ukraine Marie Yovanovitch was facing a barrage of now-discredited rumors that she wasn't loyal enough to the President. The calls, which occurred in April 2019, were well before any known action by the White House to hold Ukrainian military aid raising questions as to whether there were discussions earlier than previously know. The OMB designation appears again, according to the report, in calls with Giuliani on Aug. 8 when US military aid to Ukraine had already been held back. 
The House Intelligence Committee's report makes clear that "Giuliani had three phone calls with a number associated with OMB" on April 23. And the report detailed that in August Giuliani had a call with a number associated with OMB for 13 minutes.
"The Committees were unable to identify the official associated with the phone number. In the mid-afternoon, someone using a telephone number associated with the Office of Management and Budget (OMB) called Mr. Giuliani, and the call lasted for nearly 13 minutes. Mr. Giuliani called the OMB number and the White House Situation Room several more times that evening, but each time connected for only a few seconds or not at all," the report stated.
After the House Intelligence Committee published their report, one senior committee official told CNN that a number that had been associated with the OMB in the report had been "based on public directories," but that they are "continuing to investigate these call records as part of our ongoing work, including to assess whether that number, associated with OMB landlines, may also indicate calls received from elsewhere within the White House."
"The White House does not contest that these calls with Giuliani originated within the White House, thereby confirming that Giuliani was in fact in frequent contact with individuals within the White House at key points during the scheme. For his part, Mr. Giuliani has now confirmed speaking to Mick Mulvaney, who continues to serve as both the head of OMB and Acting Chief is Staff in the White House," the House Intelligence Committee official said in a statement. 
After the call logs emerged Tuesday in the intelligence committee's report, questions arose about why Giuliani was speaking with someone at OMB.  
A spokesperson for OMB told CNN that no one from the agency was ever in contact with Giuliani.
One possibility was that the phone was connected to acting chief of staff Mick Mulvaney, who still held his position at OMB. A White House official told CNN on Wednesday that Mulvaney and Giuliani had not discussed Ukraine and Mulvaney's call records never showed he spoke to the President's personal attorney by phone on the dates listed in the report.
Giuliani also said he wasn't involved in withholding the aid to Ukraine and that he never discussed the issue on any call to OMB.
"(I) don't remember calling OMB and not about military aid never knew anything about it," he told CNN via text on Wednesday.
The call log still reveals Giuliani was in regular contact with the White House at a time that House intelligence investigators say was critical to the withholding of US military aid.  
5:59 p.m. ET, December 5, 2019
Democratic congresswoman calls President Trump a "corrupt executive"
From CNN's Morgan Stoviak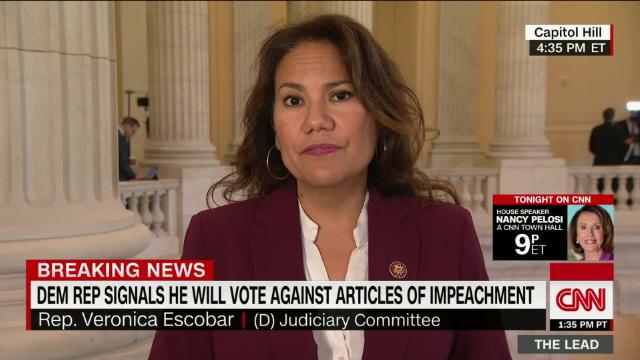 Rep. Veronica Escobar, a Democrat from Texas, discussed the next steps in the impeachment process on CNN's "The Lead" this afternoon, calling President Trump a "corrupt executive."
"The issue with Ukraine and the urgency behind it and the reason, the very reason why our framers, our constitutional framers, included impeachment in the Constitution is because if you have a corrupt executive who is willing to maintain power by corrupting our election, there's an urgency there. If we were to wait — we have already seen that the President has done everything possible to prevent us from getting access to all of the documents, all of the witnesses that we need to," Escobar said.
4:54 p.m. ET, December 5, 2019
Podcast: "Don't mess with me" about "hate" Pelosi says after green lighting impeachment
There's no turning back now.
House Speaker Nancy Pelosi instructed her House colleagues to draft articles of impeachment in an announcement today. So what will those articles look like? Will obstruction of justice related to the Mueller investigation play a role?
Pelosi also had a heated exchange with a reporter about whether or not she hates President Trump during her weekly news conference today. "I pray for the President all the time," she told the reporter. "So don't mess with me when it comes to words like that."
In today's episode of "The Daily DC: Impeachment Watch" podcast: CNN political director David Chalian previews the consequential days ahead with CNN senior political reporter Nia-Malika Henderson and CNN legal analyst Michael Zeldin.
4:48 p.m. ET, December 5, 2019
This Democrat says he plans to vote against all articles of impeachment
From CNN's Manu Raju
Rep. Jeff Van Drew, one of two Democrats to vote against formalizing the impeachment inquiry, said he plans to vote against all the articles of impeachment "unless there's something that I haven't seen, haven't heard before." 
He warned Democrats to "be careful what you wish for" and he added that impeachment "is tearing the nation apart. … And I want to bring people together."
Van Drew said he would have preferred a censure vote so they could "move on." 
Minnesota Rep. Collin Peterson, the other Democrat who also opposed the inquiry, was also asked if he'd vote to impeach.
"I don't have an idea what they're doing," Peterson said.
6:19 p.m. ET, December 5, 2019
Catch up: 5 key developments today in the impeachment inquiry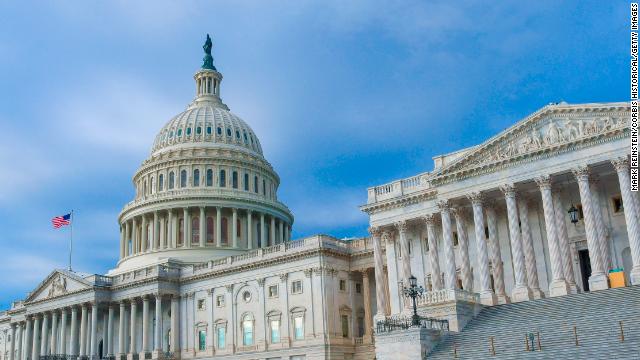 If you're just tuning in, here are the key developments today in House impeachment inquiry into President Trump:
Nancy Pelosi makes an announcement: The Speaker of the House said the House was proceeding with articles of impeachment against Trump. The speaker's announcement is the clearest signal yet that Democrats are moving swiftly to impeach the President before Christmas.
"Don't mess with me": Pelosi reacted angrily at the end of her press conference to a shouted question about whether she hated the President, returning to the podium to condemn the implication. She responded, "As a Catholic, I resent your using the word 'hate' in a sentence that addresses me. I don't hate anyone." Pelosi added, "So don't mess with me when it comes to words like that."
Another hearing has been set: The House Judiciary Committee announced today that its next impeachment hearing will be Monday, Dec. 9, at 9 a.m. ET., where it will hear evidence from the staff counsels of both the House Intelligence and Judiciary committees.
Republicans slam Pelosi's decision: House Minority Leader Kevin McCarthy said the "nation is weaker" because Democrats have put impeachment ahead of "all the other things that the American people want." Senate Majority Leader Mitch McConnell also tweeted that Pelosi is rushing a partisan impeachment process.
Trump wants a fair trial: The President tweeted a lot today about the impeachment inquiry and called for a fast and fair trial in the Senate. Trump said, "Therefore I say, if you are going to impeach me, do it now, fast, so we can have a fair trial in the Senate, and so that our Country can get back to business."
3:43 p.m. ET, December 5, 2019
Schiff: Pelosi's announcement is a "significant milestone"
From CNN's Jeremy Herb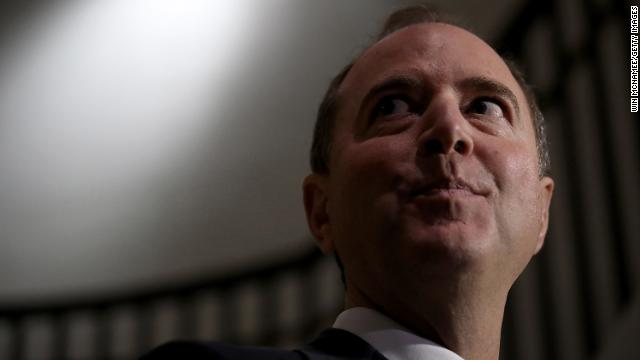 Rep. Adam Schiff, the chairman of the House Intelligence Committee, said House Speaker Nancy Pelosi's announcement today to bring forward articles of impeachment was a "significant milestone."
 "Well, it's obviously a significant milestone, where the decision has been made to bring forward articles before the committee," Schiff said. "And obviously we'll be having a lot of discussions between now and then about what those articles ought to look like."
Schiff would not comment on what those articles might contain or if Democrats should include charges related to the Mueller investigation.
2:25 p.m. ET, December 5, 2019
What we're expecting next in the impeachment inquiry
Speaker of the House Nancy Pelosi announced today that she's asked the House to move forward with articles of impeachment against President Trump.
Here's what we know will happen next:
Tomorrow: Trump must decide whether his attorneys will participate in the House Judiciary Committee's impeachment proceedings, according to deadline set by the committee.
Monday: The House Judiciary Committee will hold its next impeachment hearing, where it will hear evidence from the staff counsels of both the House Intelligence and Judiciary committees.
After that timing, it gets a little unclear, but here's a general sense of how the impeachment process will work:
Now: The House Judiciary Committee — which has authority to write articles of impeachment — will begin drafting them.
Committee vote: After articles are complete, the committee will vote on whether to refer them to the full House. We're not sure when this will happen, but it could happen sometime next week.
House vote: If they're approved, the articles will go to the House floor, where a simple majority is needed to formally impeach Trump. This vote could happen the week of Dec. 16.