Democrats release Trump impeachment report
6:05 p.m. ET, December 3, 2019
3 key takeaways (so far) from the impeachment report
The House Intelligence Committee just released its impeachment inquiry report.
It's a roughly 300-page report, and we're still going through it, but here are some of the key takeaways so far:
This report is the articles of impeachment roadmap. While committee chair Adam Schiff is publicly reserving judgment on impeachment, a simple look at the table of contents makes clear that this product was intended to serve as the backbone of articles of impeachment. Section One lays out, in extensive detail, abuse of power. Section two lays out, in extensive detail, efforts to obstruct the inquiry. The 19 "Key Findings of Fact" that follow track along these lines as well, and would conceivably fold quite well, verbatim, into draft articles. 
There is new — and significant — information. The report is largely a detailed, narrative based product designed to lay out in a single place what the committee learned in closed-door depositions and public hearings over the course of two months. The depositions are now available to the public, as are the transcripts of the hearings, so much of the narrative was well known. What wasn't: that the committee had subpoenaed call records, dozens of them, to lay out timelines of contacts between key players including Rudy Giuliani, Rep. Devin Nunes, Giuliani's associate Lev Parnas, conservative journalist John Solomon and various White House contacts (including a call from Giuliani to the Situation Room.) It's also clear the committee obtained call records tied to US Ambassador to the European Union Gordon Sondland, laying out his calls to the White House. While many of these contacts were alluded to, or assumed, based on the testimony of witnesses, the explicit records showing the number of calls — and who all was talking — adds heft to Democratic allegations.
Rep. Devin Nunes has emerged in the investigation. Nunes, the top Republican on the panel, has always been a central player in the impeachment inquiry due to his role on the committee. Now he's a star player due to his contacts, and alleged knowledge, of what the committee was investigating from the very start. Through the call records it is abundantly clear that Nunes — along with two of his top aides — were in repeated contact with the very players at the heart of the investigation, including Parnas and Giuliani. Schiff declined to say if he discussed these contacts with Nunes in advance, only saying: "It is deeply concerning that at a time when the president of the United States was using the power of his office to dig up dirt on a political rival, that there may be evidence that there were members of Congress complicit in that activity."
4:56 p.m. ET, December 3, 2019
Here's how tomorrow's House Judiciary impeachment hearing will work
The House Judiciary Committee will hold its first hearing tomorrow. The expected witnesses are four constitutional law experts.
Here's the schedule for the hearing, which starts at 10 a.m. ET:
Chair Jerry Nadler and Ranking Member Doug Collins will give opening statements, before the witnesses are sworn in and give their own opening statements.
There will be 45 minutes for Democratic counsel questions.
Then there will be 45 minutes for Republican counsel questions.
After that, each member will get 5 minutes to ask questions.
The hearing will end with closing statements. 
4:54 p.m. ET, December 3, 2019
Trump campaign has dug up information on tomorrow's witnesses to discredit them
The Trump campaign has dug up research on the academic witnesses testifying tomorrow before the House Judiciary Committee – including some of their past statements and past political contributions.
The campaign plans to blast some of this out later today, and will also have past statements, tweets and other information about the witnesses ready to weaponize during the hearing tomorrow, per two campaign aides.
It's part of what will be an effort from Trump allies to discredit the professors testifying tomorrow.  
Here's a taste of what the campaign will be sending out soon:
Pamela Karlan is a registered Democrat since1998, served in the Obama administration and has been described as a "politically liberal law professor," and an "unapologetic liberal." She has donated $1,000 to Elizabeth Warren's presidential campaign this year and donated $2,000 to Hillary Clinton.
Noah Feldman, in 2017, wrote that a tweet from President Trump may have been an impeachable offense. The same year, he wrote that President Trump's criticism of the media is grounds for impeachment. In January 2018, Feldman wrote that President Trump should be impeached for declaring a crisis at the southern border.
Michael Gerhardt argued earlier this year that Trump should be impeached. He donated $1,245 to Barack Obama and has donated to other Democrat candidates. 
4:48 p.m. ET, December 3, 2019
Nunes ignores questions about being named in report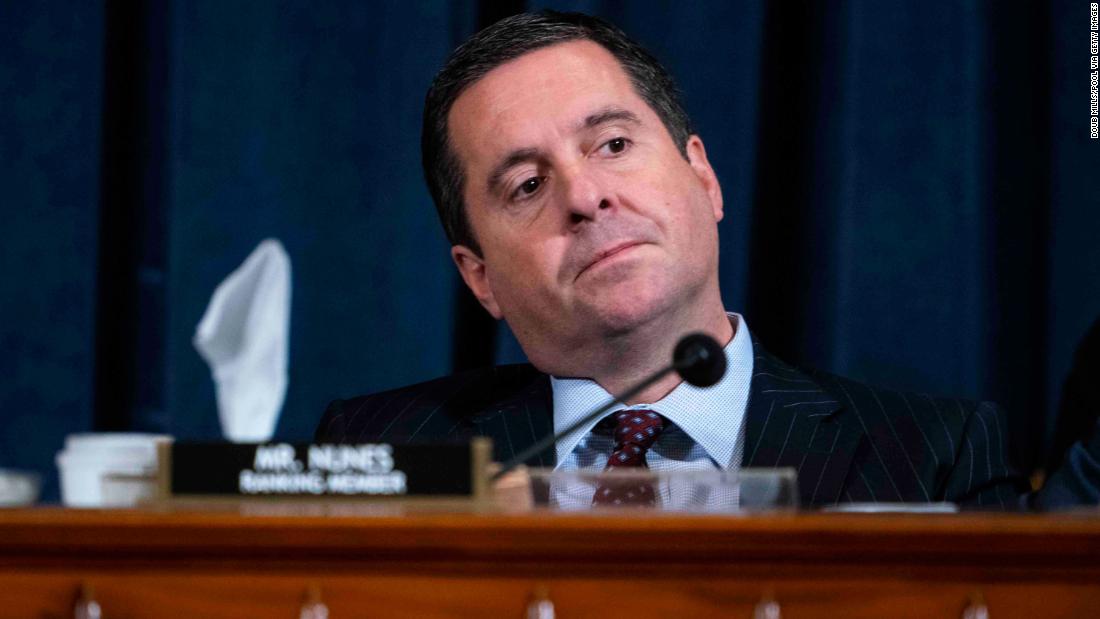 CNN tried to ask Rep. Devin Nunes about being named in the report.
He declined to comment.
More context: Call logs in the just-released report link Nunes, the ranking member on the House Intelligence Committee, to an effort of coordinating with a conservative journalist to peddle "false narratives" about President Trump's opponents.
The report shows Nunes exchanged multiple calls with Trump's personal attorney Rudy Giuliani and Giuliani's associate, Lev Parnas, who is currently facing federal charges of campaign finance violations.
4:37 p.m. ET, December 3, 2019
Trump was briefed before the report's release
President Trump was briefed before the release of the Democratic House Intelligence Committee's report on what was expected, but the President has not yet received a detailed readout of the document now that it has been released, a senior administration official said.
White House aides in Washington are combing through the 300-page report and will provide feedback to the President at some point, the official said. The source added that the President's team in Washington — which includes the counsel's office, the chief of staff's office and the President's allies — are very engaged with developments the impeachment process this week and will continue to brief Trump while he's traveling in London this week for the NATO summit.
The official reiterated that it is doubtful Trump will watch the House Judiciary Committee's hearing tomorrow because it will conflict with the President's schedule.
The official also denied there are any renewed concerns about acting chief of staff Mick Mulvaney in light of the Democratic report, which made reference to his quid pro quo comments at the White House podium. 
4:26 p.m. ET, December 3, 2019
Democrats use Giuliani's own words to hammer him for Ukraine pressure campaign
The Democratic report cites a series of public comments from Trump's lawyer Rudy Giuliani, including television interviews, comments to reporters and Twitter posts.
Democrats used all of these comments to hammer Giuliani for "putting pressure on Ukraine to open investigations that would benefit his 2020 reelection campaign."
They also used the comments to accuse Giuliani of working for President Trump's personal interests, not in the interests of the United States. Over the past few months, as the investigation has intensified, Giuliani has maintained that he did everything solely for the benefit of his client, Trump.
Here are some of the Giuliani quotes that appear in the report:
"We're not meddling in an election, we're meddling in an investigation, which we have a right to do." 
"Everything I did was to discover evidence to defend my client against false charges."
"This isn't foreign policy — I'm asking them to do an investigation that they're doing already, and that other people are telling them to stop."
4:06 p.m. ET, December 3, 2019
What the report says about Pompeo and his role in the impeachment inquiry
The House Intelligence Committee report explicitly states that President Trump's "scheme" was carried out "with the knowledge and approval" of several top administration officials, including Secretary of State Mike Pompeo.
This directly implicates the top US diplomat in efforts that "subverted US foreign policy toward Ukraine and undermined our national security."
The report notes that Ambassador Gordon Sondland testified Pompeo was among those top officials who were "in the loop" regarding efforts to leverage a White House meeting and military aid to get Ukrainian President Volodymyr Zelensky to announce two political investigations: One into the Bidens, Burisma and another into the debunked conspiracy that Ukraine interfered in the 2016 election. 
Specifically, the report notes that Pompeo was fully aware of Sondland's efforts to "break the logjam" regarding military aid to Ukraine, indicating he was fully aware that the money was conditioned on Zelensky announcing his intent to move forward with these investigations.  
The report states that Pompeo not only refused to issue a public statement of support for former US Ambassador to Ukraine Marie Yovanovitch amid a smear campaign against her, but was also in contact with President Trump's personal attorney Rudy Giuliani at that time. 
The report also highlights the fact that Pompeo refused to turn over any State Department documents related to Trump and Giuliani's dealings with Ukraine. Those documents include a March 27 email, obtained via FOIA lawsuit, indicating Trump's personal secretary facilitated a phone call between Pompeo and Giuliani.
"To date, Secretary Pompeo has not produced a single document sought by the Committees and has not indicated any intent to do so going forward. In addition, the Department has ordered its employees not to produce documents in their personal possession," it states. 
The report also highlights Pompeo's efforts to discourage State Department officials from testifying in the impeachment inquiry.
4:04 p.m. ET, December 3, 2019
Schumer: Possible Senate impeachment trial must be bipartisan
Senate Minority Leader Chuck Schumer said he has not yet had discussions with Majority Leader Mitch McConnell about a possible Senate impeachment trial.
"The best way to do something as important and almost as hallowed a procedure as this is in a bipartisan way," he said today. "So I hope that Leader McConnell will make every effort to come up with a bipartisan solution working with me. I'm certainly willing to work with him."  
Schumer also said he hopes the Senate procedure will be a "full" and "open procedure," not something "that's unduly truncated."
House Democrats have aimed to hold a vote to impeach President Trump by Christmas. If the House votes to impeach the President, the case then moves to the Senate, which will hold a trial, after which senators would vote on removing Trump from office.
4:06 p.m. ET, December 3, 2019
Democrats invoke FBI director to criticize Giuliani 
House Democrats invoked FBI Director Christopher Wray to criticize Rudy Giuliani's actions with Ukraine. They pointed out how Wray said the FBI was concerned about Americans contacting foreign actors who were trying to influence US politics.
"My view is that, if any public official or member of any campaign is contacted by any nation-state or anybody acting on behalf of a nation-state about influencing or interfering with our election, then that is something that the FBI would want to know about," Wray told a Senate subcommittee in public testimony on May 7.
Regardless of Wray's public warning, Giuliani pushed ahead with his off-the-books effort to get Ukraine to announce investigations into Trump's political rivals, including former Vice President Joe Biden. The result of these announcements would have given Trump's campaign a boost, and would have helped Trump undercut the findings of the Mueller probe.