The latest on the Trump impeachment inquiry
12:11 p.m. ET, November 27, 2019
McGahn gets temporary pause on testimony from judge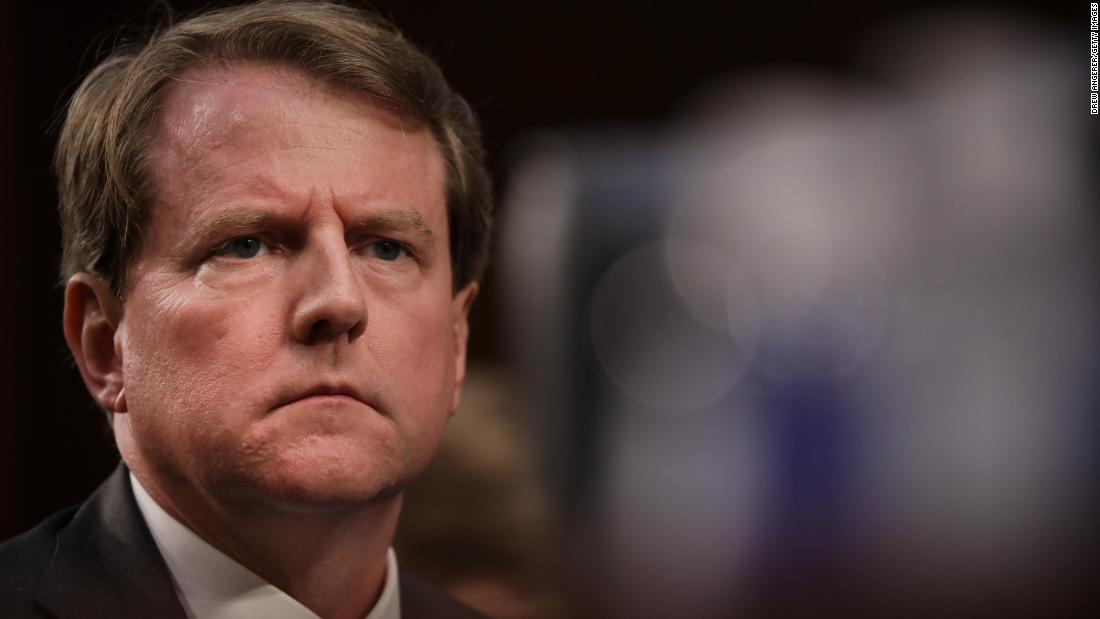 Former White House counsel Don McGahn will get the temporary pause he requested from federal Judge Ketanji Brown Jackson after she ordered him to testify to the House in its impeachment inquiry.
Jackson will continue to consider whether her ruling Monday should be kept on hold as he appeals her ruling. 
The Justice Department has filed paperwork to appeal the judge's opinion. The department had also asked Jackson to pause her ruling pending appeal.
What this means: At least for now, McGahn doesn't have to testify.
11:59 a.m. ET, November 27, 2019
White House likely won't send an attorney to next week's hearing, but the final decision has not yet been made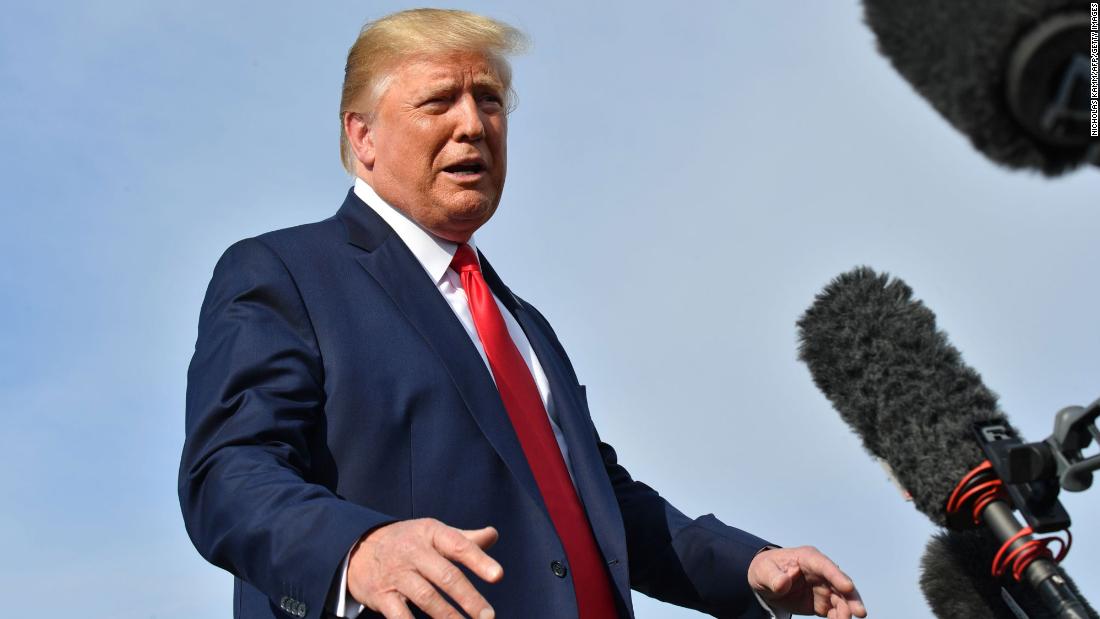 While a final decision hasn't been made, the current thinking inside the White House is that they likely won't send an attorney to the House Judiciary impeachment inquiry hearing next week, according to two officials.
This could change as they are still debating the merits internally of how to respond to the request.
Why this matters: This decision is part of a larger debate as the counsel's office maps out their plan for the next several weeks. The White House is also still considering suggesting witnesses who should be called for the hearing.
More context: Judiciary Chairman Jerry Nadler sent President Trump a letter yesterday inviting him and his counsel to participate in the hearing scheduled for Dec. 4. 
11:52 a.m. ET, November 27, 2019
Democratic congresswoman encourages Trump to participate in next week's impeachment hearing
Rep. Debbie Dingell, a Democrat from Michigan, was asked on CNN today if she expects the President or his counsel to show up to next week's first open hearing with the Judiciary Committee in the impeachment inquiry.
"I would encourage him to participate to let the American people see his side," she said.
"I don't know what he's going to do, but I do know that that was established so it would be a fair and transparent process," Dingell added. She is not a member of the committee holding the hearing.
More context: Judiciary Chairman Jerry Nadler sent Trump a letter yesterday inviting him and his counsel to participate in the hearing scheduled for December 4. 
10:44 a.m. ET, November 27, 2019
Meanwhile, Trump is spending the day at his golf club
President Trump has arrived at the Trump International Golf Club, where he is likely golfing, per the travel pool with the President today. The White House has not confirmed any possible gold plans.
This is Trump's 317th day at a Trump property, 240th day at one of his golf clubs.
10:11 a.m. ET, November 27, 2019
Former White House counsel asks court to pause his testimony during appeal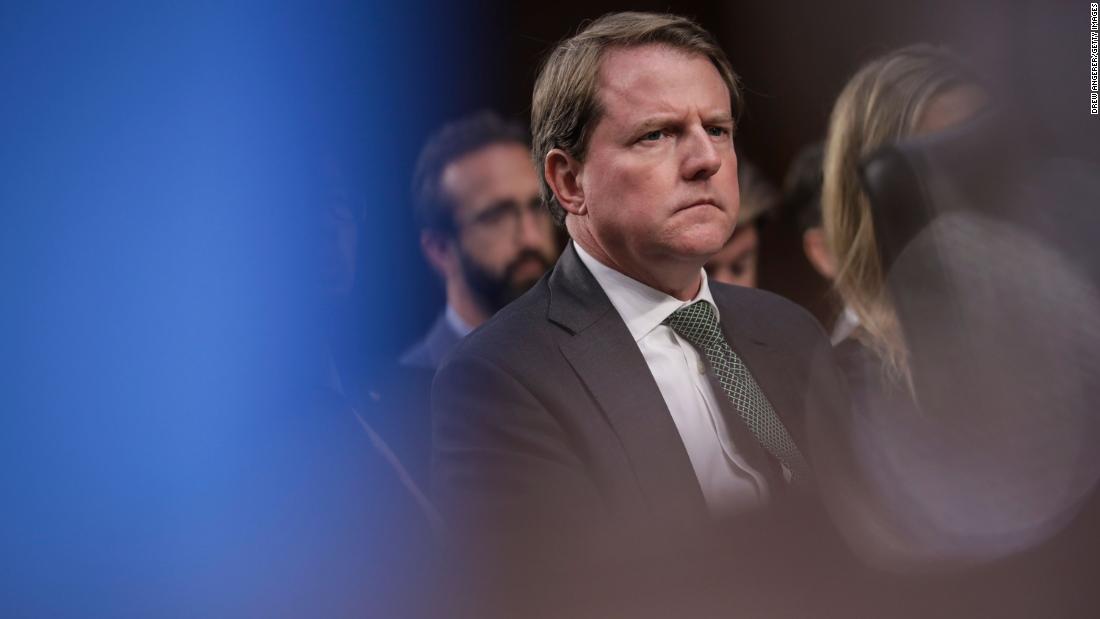 The Justice Department, representing former White House counsel Don McGahn, has now asked the DC Court of Appeals for a pause on his testimony while he appeals. 
They asked for a similar pause from the district judge who ruled against McGahn and the White House's assertion of immunity on its officials earlier this week. The district judge has not decided on the state so the appeals court may need to step in. 
Justice has asked for both an administrative stay, which would help them immediately, and for a stay that would keep McGahn from testifying until the appeals court fully decides the case.
What this means: DOJ would need a pause so as to avoid him having to testify as soon as a week from today or be held in contempt of court. (Both of those things are unlikely to happen next week—a stay is likely)
What this is all about: A federal judge decided on Monday that McGahn must testify to the House of Representatives in its impeachment probe, marking the first major ruling about House witness testimony during the Trump administration.
"However busy or essential a presidential aide might be, and whatever their proximity to sensitive domestic and national-security projects, the President does not have the power to excuse him or her from taking an action that the law requires," Judge Ketanji Brown Jackson wrote.
9:53 a.m. ET, November 27, 2019
How impeachment could impact future presidential elections
History signals that the public's final verdict on President Trump's possible impeachment won't be delivered until the 2020 election — whatever happens next in the House and Senate, and however Americans react to it.
The public reactions to impeachment proceedings against Presidents Richard Nixon in 1974 and Bill Clinton in 1998 fundamentally diverged, with most Americans ultimately supporting the former and a consistent majority opposing the latter.
Yet the outcomes in the next presidential elections converged. In each case, the president's party lost the White House to a candidate — Democrat Jimmy Carter in 1976 and Republican George W. Bush in 2000 — who played off lingering public unease about the scandal that had precipitated the impeachment process against their predecessor.
In each instance, impeachment functioned like a leak that corroded the foundation under the president's party in the next election.
Read more about this here.
8:36 a.m. ET, November 27, 2019
Public opinion of impeachment is the same before and after hearings, poll shows
After five days of public hearings in House Democrats' impeachment inquiry into Trump, public opinion over whether the President ought to be impeached and removed from office remains exactly the same as it was in October, according to a new CNN poll conducted by SSRS.
Half of Americans say Trump should be impeached and removed from office.
Meanwhile, 43% say he should not be.
Neither figure has changed since October, with support for impeachment remaining at its highest level thus far in CNN polling.
The partisan divide over the President persists as well, with roughly 80 points between Democratic support for Trump's removal and Republican support for it. 
Independents are closely divided on the question, 47% in favor, 45% opposed. Opinions on both sides are deeply held, with about 9 in 10 on either side saying they feel strongly in favor or against it.
7:46 a.m. ET, November 27, 2019
Analysis: New revelations put Trump on shakier ground
New transcripts of witness testimony and news reports revealing key details on the Ukraine scandal timeline show in vivid detail the way President Donald Trump and top officials maneuvered behind the scenes to block aid to Ukraine as the President sought an investigation into his political rival Joe Biden.
The new revelations, coming at a time when half of Americans support impeaching and removing the President even though impeachment proceedings have not moved the needle of public opinion, underscored the problem for Trump and his supporters in Congress: Public hearings in the impeachment inquiry may be in the rearview mirror, but new details about his pressure campaign on Ukraine continue to trickle out.
Read the full analysis here.
7:40 a.m. ET, November 27, 2019
Catch up: 4 key developments in the Trump impeachment inquiry
Here are the latest developments in the impeachment inquiry into President Trump: