The latest on the Trump impeachment inquiry
1:47 p.m. ET, November 24, 2019
Schiff doesn't rule out impeachment articles on matters beyond Ukraine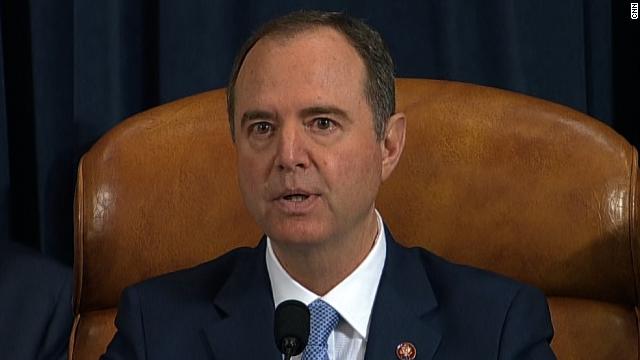 House Intelligence Chairman Adam Schiff on Sunday did not rule out the House could impeach President Donald Trump on matters beyond Ukraine during an interview with CNN's Jake Tapper on "State of the Union."
Democrats have been debating whether to bring articles of impeachment on allegations of obstruction of justice laid out in the Mueller report as well as potential violations of the emoluments clause of the Constitution which prevents federal officeholders from receiving payments or anything of value from a foreign state.
"Within our committee what we're focused on is obviously the constellation of issues around Ukraine, as well as the blanket obstruction of Congress vis-à-vis the Ukraine investigation," the California Democrat said when asked by Tapper if it was up to him would the potential articles of impeachment focus only on Ukraine. "Now there's been more obstruction of Congress that goes beyond Ukraine. There's also the obstruction of justice that Mueller wrote about so extensively. And there are other violations of the Constitution that we will need to consider."
He added: "I'm not at this point, Jake, prepared to say what I will recommend."
Trump has denied obstructing justice or violating the emoluments clause. The Mueller report detailed numerous cases in which Trump asked his aides to take actions that would have obstructed the Russia investigation but stated they were unsuccessful because the aides refused the orders.
12:54 p.m. ET, November 24, 2019
Schiff says evidence shows 'serious misconduct' by President
House Intelligence Chairman Adam Schiff on Sunday told CNN's Jake Tapper on "State of the Union" the impeachment inquiry spearheaded by his panel indicates evidence of "serious misconduct" by President Donald Trump, but said he was not ready to say if he would vote for articles of impeachment.  
"I certainly think that the evidence that's been produced overwhelmingly shows serious misconduct by the President. But I do want to hear more from my constituents, and I want to hear more from my colleagues," Schiff, a California Democrat, told Tapper. "This is not a decision I will be making alone. But at the end of the day, this is a decision about whether the founding fathers had in mind this kind of misconduct when they gave Congress this remedy."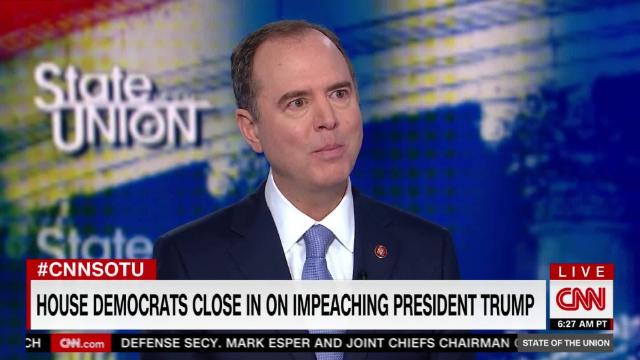 Schiff said the committee will take the time that is necessary to complete its report that will be sent to the Judiciary Committee for consideration of the articles of impeachment.
"We're at work on compiling that report right now," he said. "But, again we have continued to learn more information every day. And I think that is going to continue. So, we may have to file addendums to that report. We may have other depositions and hearings to do."
"Because the evidence is already overwhelming and uncontested, we want to provide that to the Judiciary Committee to make sure that we protect the country in the election that's yet to come," he added. 
Schiff told Tapper on Sunday that even after its report is handed over the House Intelligence Committee's work "isn't going to end."
While many national polls show the nation evenly divided over the issue of impeachment and no congressional Republicans have said they will support impeachment, Schiff said he is not deterred.
"At the end of the day, we have to decide what our constitutional duty is, even if our colleagues in the GOP and Congress have decided they're more committed to the person and the president than their constitutional duty. We're going to still have to do our duty."
11:17 a.m. ET, November 24, 2019
Adam Schiff doesn't plan to testify in a Senate trial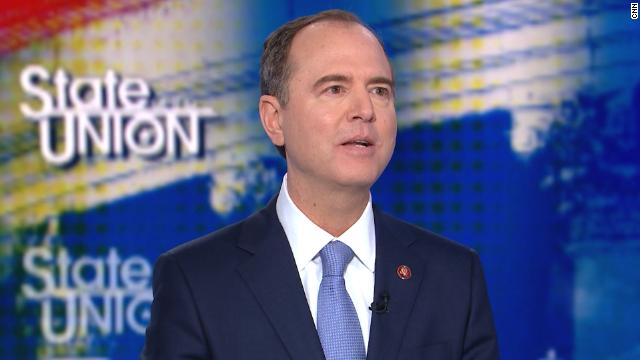 House Intelligence Chairman Adam Schiff told CNN's Jake Tapper on "State of the Union" on Sunday that he does not plan to testify if there is a Senate impeachment trial of President Donald Trump, saying that he would have nothing "pertinent" to offer.
"There is nothing to testify about. I think if the President or his allies in the Senate persist it means they are not serious about what they are doing," Schiff said. "What would I offer in terms of testimony that I heard Dr. (Fiona) Hill in open hearing say such and such? That is not pertinent. The only reason for them to go through with this is to mollify the President and that is not a good reason to try to call a member of Congress as a witness."
His remarks on Sunday come as the House moves into the next phase of impeachment proceedings into Trump and Ukraine. Trump said on Friday if the House votes to impeach him that he supports a Senate trial. The President and his allies have called for Schiff to testify in the impeachment investigation.
"If they go down this road, it shows a fundamental lack of seriousness. A willingness to try to turn this into a circus like the President would like and I hope they don't go there," Schiff told Tapper.
The Democratic representative pushed back on the idea that his testimony could be equated to President Bill Clinton's attorney questioning then-independent counsel Ken Starr during the Clinton impeachment proceedings, saying the two were not the same.
"I am not a special counsel. I do not work for a separate branch of government. I am not in the Justice Department," Schiff said. He went on to explain that anything he could offer was already heard in public testimony.
8:32 a.m. ET, November 24, 2019
What to expect this week in impeachment deliberations
A handful of leadership aides and senior committee officials plan a busy week of deliberations behind the scenes to prepare for a momentous December that will likely lead to President Trump being impeached by year's end.
Here's what you can expect:
They're writing the report: Democratic House aides are spending Thanksgiving week preparing a report that will spell out the case for impeachment. The report, which will be released by the House Intelligence Committee and two other panels, is likely to be a guiding document as the impeachment proceedings move through the House Judiciary Committee. It will detail the evidence that was gathered over the course of the eight-week investigation and is expected to make recommendations about the path forward.
There are unlikely to be any big surprises in the report: Almost all of the evidence is public already. Lawmakers released 15 of 17 transcripts from their depositions, the text messages they obtained from Kurt Volker, the former special envoy to Ukraine, and the emails provided by Ambassador Gordon Sondland. It's not clear what other documents they would have to include in the report, given the stonewalling from the Trump administration. The final two transcripts — from Philip Reeker of the State Department and Mark Sandy of the Office of Management and Budget — could be released as soon as Monday.
What they'll be considering: Senior aides on the House Judiciary and Intelligence committees plan to continue deliberation with House Speaker Nancy Pelosi's staff to determine the size and scope of the articles of impeachment. Ultimately, the decision will be made by Pelosi. They are looking at multiple articles of impeachment – including abuse of power, obstruction of Congress, obstruction of justice and bribery. There is a debate underway about whether to include the episodes detailed in special counsel Robert Mueller's report within an article of obstruction of justice.
There will be more hearings: Democratic lawmakers and aides privately say they expect hearings to begin in the House Judiciary Committee the first week in December when Congress returns, in order to keep on schedule to finish impeachment before Christmas. The exact format of the hearings is still being decided. But they may include a session on what the Constitution says about impeachment, a presentation of the case for impeachment from the committees and a chance for the White House legal team to make its case, according to Democratic sources. It's unclear which witnesses may testify in such hearings. The House Judiciary Committee will then debate and vote on articles of impeachment after the hearings.
What happens in court: On Monday, a federal district court will rule on whether former White House counsel Don McGahn must testify before the House Judiciary Committee. If Democrats win, it could bolster their arguments to bring in former national security adviser John Bolton and his former deputy Charles Kupperman. But Democrats are signaling they are unlikely to pursue Bolton and Kupperman's further given that it will only delay their proceedings, and the Justice Department may appeal if they lose the case.
7:38 a.m. ET, November 24, 2019
Where the White House legal team stands on impeachment
A source familiar with the White House legal team spelled out where they stand on the impeachment inquiry as the House moves towards preparing articles of impeachment.
Here's what we know:
On the vote: The team is not convinced that the House will ultimately vote to impeach President Trump, the source said. They also believe that impeachment is not in the interest of the American people.
On the impeachment articles: The legal team believes the Senate should dismiss any impeachment articles based on both on the process and the merits, the source said. They argue the House impeachment inquiry was designed to achieve a preconceived result.
On the House Judiciary Committee: They would like to participate in the House Judiciary Committee process, the source said. They want the President to be represented and be able to call witnesses — but they have serious doubts either will happen.
On witnesses: They want to call House Intelligence Committee chairman Adam Schiff, former Vice President Joe Biden, Hunter Biden and the anonymous whistleblower as witnesses, the source said.
On the trial: They think it would be 100% in the President's interest for there to be a public trial in the Senate — a sentiment Trump himself has expressed.
6:34 a.m. ET, November 24, 2019
Key takeaways from all the impeachment testimonies this week
The House Intelligence Committee wrapped its testimonies in the impeachment inquiry into President Trump this week.
Here's a breakdown of who spoke on what days and what each person had to say:
Tuesday, Nov. 19: Lt. Col. Alexander Vindman, Jennifer Williams, an aide to Vice President Mike Pence, Kurt Volker, former US special envoy to Ukraine, and Tim Morrison, former National Security Council aide
Vindman and Williams described the July 25 call: They said the July 25 call between President Trump and the Ukrainian leader was not "perfect." The President was acting on his own in the July call in asking for the investigations and was provided with no talking points to back that up.
What Volker admitted: He told lawmakers that he drew a "sharp distinction" between Burisma and Biden, but admits that he was wrong to view them separately. "In hindsight, I now understand that others saw the idea of investigating possible corruption involving the Ukrainian company, "Burisma," as equivalent to investigating former Vice President Biden. I saw them as very different. The former being appropriate and unremarkable, the latter being unacceptable," Volker said in his opening statement. "In retrospect, I should have seen that connection differently, and had I done so, I would have raised my own objections."
Wednesday, Nov. 20: US Ambassador to the European Union Gordon Sondland, Laura Cooper, a deputy assistant secretary of defense, and David Hale, the under secretary of State for political affairs
Sondland pressed Ukraine at Trump's direction: In his opening statement and throughout his testimony, Sondland said he was working with Trump's attorney Rudy Giuliani on Ukraine matters at the "express direction of the President of the United States." Sondland recounted several conversations between himself and Trump about Ukraine opening two investigations: one into Burisma, a company where former Vice President Joe Biden's son was on the board, and another into conspiracies about Ukrainian meddling in the 2016 US election.
Sondland implicated Pence, Pompeo and Mulvaney: Republicans have argued that Giuliani could have been running a shadow foreign policy without the involvement or knowledge of other senior White House and State Department officials, but Sondland contradicted that several times in his testimony. He said "everyone" in the State Department was aware. He also implicated key White House officials, including Vice President Mike Pence, Secretary of State Mike Pompeo and acting White House chief of staff Mick Mulvaney, who also directs the Office of Management and Budget.
Cooper showed Ukraine knew about aide issues in July: She testified that Ukrainian officials knew as early as July 25 that there was an issue with US aid to the country. This undercuts a key Republican rebuttal to accusations of a "quid pro quo" linking the aid to investigations into President Trump's political rivals. In their defense of Trump, Republicans have alleged that no bribery could exist if the Ukrainians weren't aware the aid was being held.
Thursday, Nov. 21: Fiona Hill, the former White House Russia expert, and David Holmes, the counselor for political affairs at the US Embassy in Ukraine
Pressure on Ukraine: Holmes undercut the GOP's defense that there was no pressure on Ukraine. He testified that the Ukrainians felt pressure to move ahead with probes. He said the Ukrainians want to keep White House happy because "they still need us now." 
"Not credible": Hill said she found Ambassador Gordon Sondland's testimony "not credible" when he claimed that it took him many months to connect the Ukrainian energy company Burisma to former Vice President Joe Biden. Both Holmes and Hill make clear it was obvious Burisma was about the Bidens. Sondland and Kurt Volker, the former US special envoy to Ukraine, claimed to be clueless and uncurious about why this was the one company the President wanted investigated.
CNN's Phil Mattingly, Lauren Fox, Manu Raju and Jeremy Herb contributed to this report.
6:31 a.m. ET, November 24, 2019
Here's what happens next now that the House impeachment hearings are over
The House Intelligence Committee's last public impeachment inquiry — or at least the last one that has been scheduled — just wrapped up this week. House Democrats are now actively preparing for the next steps.
Now: The House Intelligence Committee, along with two other panels, are writing a report detailing their findings, which is expected to serve as the basis for articles of impeachment that the House Judiciary Committee will consider. Democrats say they are still debating the size and scope of the articles, which are likely to focus on abuse of power, obstruction of justice, obstruction of Congress and bribery.
December: Privately, Democrats are anticipating a busy December that will be filled with proceedings before the House Judiciary Committee.
By Christmas: A likely vote to impeach Trump on the House floor could come by Christmas Day, which would make him just the third President in history to be impeached, according to multiple Democratic sources.
Remember: Despite speaking with 17 witnesses behind closed doors, including 12 witnesses in just a week of public testimony, Democrats have not obtained crucial documents or spoken with several key officials because the White House and State Department have refused to comply with subpoenas.
That has left top Democrats with a choice: They could fight in court to obtain potential smoking-gun documents and testimony from acting White House chief of staff Mick Mulvaney, Secretary of State Mike Pompeo and former national security adviser John Bolton. Or they could move forward with the evidence they have.
Speaker Nancy Pelosi has chosen the latter.
In some of her most direct comments to date, Pelosi said Thursday they wouldn't delay their impeachment push to fight for those witnesses through court battles.
"They keep taking it to court and no, we're not going to wait until the courts decide," she said. "That might be information that's available to the Senate in terms of how far we go and when we go, but we can't wait for that because again it's a technique. It's obstruction of justice, obstruction of Congress, so we cannot let their further obstruction of Congress be an impediment to our honoring our oath of office."
Pelosi added: "We cannot be at the mercy of the courts."
Additional reporting by CNN's Lauren Fox, Ali Zaslav, Haley Byr.