The latest on the Trump impeachment inquiry
11:59 a.m. ET, November 23, 2019
Pence blames 'endless investigations' for slowing work in Washington
While speaking to troops in Iraq, Vice President Mike Pence blamed what he called "endless investigations" by Congress for slowing work down in Washington, seeming to refer to the impeachment inquiry.
"We need Congress to do their job. My fellow Americans gathered here, Congress should have finished their work on defense appropriations months ago. But you all know that partisan politics and endless investigations have slowed things down a bit in Washington DC, but I'll make you a promise: this President, this Vice President, and our administration will never stop fighting until we get you, our troops, the resources you need to accomplish your mission."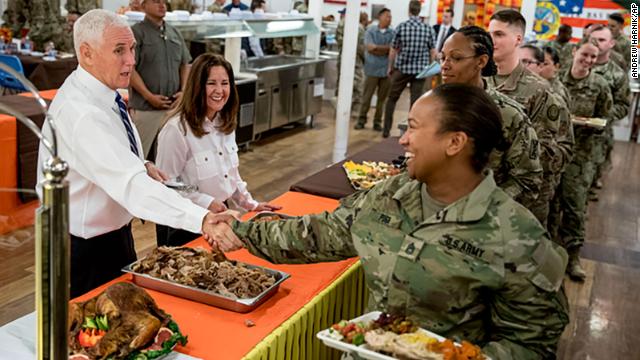 Mike Pence and his wife Karen Pence on Saturday also served the troops a Thanksgiving lunch, with the Vice President serving turkey and Mrs. Pence handing out yams.
As service members came up to them, the Pences asked each where they were from and thanked them for their service.
10:25 a.m. ET, November 23, 2019
People I'd still like to hear testify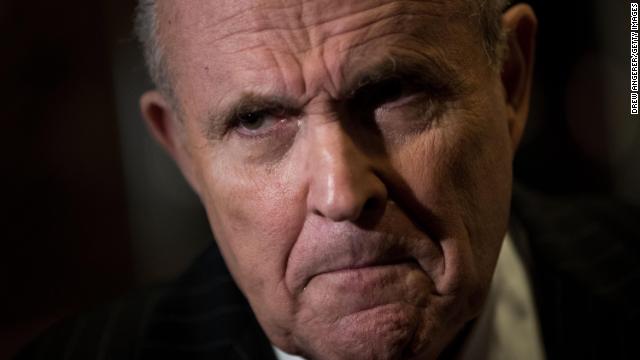 Democrats were only able to present half the story. The White House made the decision not to cooperate, so we haven't seen key documents and we haven't heard key testimony. We likely won't hear Trump's side until or unless Trump is impeached and this moves to a full trial in the Senate.
Here are some people we should probably hear from but who aren't talking:
Vice President Mike Pence -- What did he say when he met Zelensky on September 1 and Zelensky asked for the military aid? How did Pence justify the holdup?
Secretary of State Mike Pompeo -- He's the boss of many of the witnesses who testified. He was on the call between Trump and Zelensky. Sondland says he was in the know. He got a first-person plea from Bill Taylor to act. But he's stayed quiet. Now Trump is suggesting he should go home to Kansas and run for Senate.
John Bolton -- He said Giuliani's shadow foreign policy was like a "drug deal." He met with Trump regarding Ukraine. He offered his resignation on the day this all blew up. More on him later.
Acting White House chief of staff Mick Mulvaney -- He's already said there were conditions on Ukraine before they could get funding. Tell us more and do it under oath. When did Trump decide to hold the aid and how was that transmitted to the Ukrainians?
Acting OMB Director Russell Vought -- He can tell us more about exactly how and when the money Congress allocated for Ukraine got held up.
Attorney General William Barr -- What, if any, were his directions from Trump regarding Burisma and the Bidens?
John Eisenberg -- The NSC attorney who fielded complaints from Hill and Vindman can also explain why he took the unusual step of putting the July 25 call transcript in an extra-secure server.
Sen. Ron Johnson -- He talked to Trump about the Ukraine aid and he met with Zelensky during the critical period.
Energy Secretary Rick Perry -- The only one of the "Three Amigos" -- Perry, Sondland and Volker -- who has not testified. He met with Zelensky and gave hm an approved list of natural gas advisers.
Rudy Giuliani -- He's almost unnecessary since he's talked so much about all of this, but he needs to be put on the record and under oath.
The whistleblower -- Yes, the whistleblower has a right under the law to anonymity. But at this point, so many other people have come forward publicly. It would complete the puzzle to hear the missing account of how the whispers in West Wing became a formal complaint.
10:18 a.m. ET, November 23, 2019
Key takeaways from Tuesday's hearings with Vindman, Williams, Volker and Morrison
Four key witnesses in the impeachment inquiry testified before the House Intelligence Committee on Tuesday.
In case you missed them, here are some of highlights from the two hearings:
From Lt. Col. Alexander Vindman and Jennifer Williams, an aide to Vice President Mike Pence
They were very careful during their testimonies. They are clearly conscious of revealing information improperly and inviting retribution.
They described the July 25 call: They said the July 25 call between President Donald Trump and Ukrainian President Volodymyr Zelensky was not "perfect." The President was acting on his own in the July call in asking for the investigations and was provided with no talking points to back that up.
Meeting at the White House: Vindman described a July 10 meeting in which there was a demand in the White House of a direct quid pro quo by Ambassador to the European Union Gordon Sondland.
Republicans question Vindman's integrity: They suggested there was mixed loyalty because Ukraine offered him a government position (Vindman turned it down). They also suggested he inflated his position.
From Kurt Volker, former US special envoy to Ukraine, and Tim Morrison, former National Security Council aide
"Not a policy objective": Morrison said he never asked his Ukrainian counterparts to investigate the Bidens because "it was not a policy objective."
Why support for Ukraine is important: Volker said the US is "not pushing back hard enough on Russia, and we owe Ukraine a great deal of support."
Morrison and Volker were the GOP's witnesses: It's worth remembering they are the witnesses Republicans — not Democrats — wanted to hear from in the impeachment inquiry. It's notable because their testimony is not entirely flattering to President Trump. They have described their unease at Rudy Giuliani's efforts in Ukraine and their skeptical view of efforts to launch an investigation into Burisma, the Ukrainian energy company.
What Volker admitted: He told lawmakers that he drew a "sharp distinction" between Burisma and Biden, but admits that he was wrong to view them separately. "In hindsight, I now understand that others saw the idea of investigating possible corruption involving the Ukrainian company, "Burisma," as equivalent to investigating former Vice President Biden. I saw them as very different. The former being appropriate and unremarkable, the latter being unacceptable," Volker said in his opening statement. "In retrospect, I should have seen that connection differently, and had I done so, I would have raised my own objections."
8:41 a.m. ET, November 23, 2019
What you need to know about Sondland, Cooper and Hale's testimonies
The most dramatic testimony Wednesday in the impeachment inquiry came from US Ambassador to the European Union Gordon Sondland, who connected President Trump directly to the "quid pro quo."
Later, Laura Cooper, a deputy assistant secretary of defense, and David Hale, the under secretary of State for political affairs, testified.
Here are some of the key moments:
Sondland pressed Ukraine at Trump's direction: In his opening statement and throughout his testimony, Sondland said he was working with Trump's attorney Rudy Giuliani on Ukraine matters at the "express direction of the President of the United States." Sondland recounted several conversations between himself and Trump about Ukraine opening two investigations: one into Burisma, a company where former Vice President Joe Biden's son was on the board, and another into conspiracies about Ukrainian meddling in the 2016 US election.
"Everyone knew" about the quid pro quo: In clear terms, Sondland confirmed for all to see that there was a quid pro quo with Ukraine, that Trump withheld a White House meeting until Ukraine launched investigations into the Bidens. "I know that members of this committee frequently frame these complicated issues in the form of a simple question: Was there a quid pro quo?" Sondland said. "As I testified previously, with regard to the requested White House call and the White House meeting, the answer is yes."
Sondland implicated Pence, Pompeo and Mulvaney: Republicans have argued that Giuliani could have been running a shadow foreign policy without the involvement or knowledge of other senior White House and State Department officials, but Sondland contradicted that several times in his testimony. He said "everyone" in the State Department was aware. He also implicated key White House officials, including Vice President Mike Pence, Secretary of State Mike Pompeo and acting White House chief of staff Mick Mulvaney, who also directs the Office of Management and Budget.
Cooper showed Ukraine knew about aid issues in July: She testified that Ukrainian officials knew as early as July 25 that there was an issue with US aid to the country. This undercuts a key Republican rebuttal to accusations of a "quid pro quo" linking the aid to investigations into President Trump's political rivals. In their defense of Trump, Republicans have alleged that no bribery could exist if the Ukrainians weren't aware the aid was being held.
7:40 a.m. ET, November 23, 2019
Sondland referenced the lack of documents more than 15 times during his testimony
Ambassador Gordon Sondland often lamented his lack of access to his State Department records, saying the impeachment process was "less than fair" and "challenging" for him, during his public testimony before House committees in charge of the impeachment inquiry.
CNN found that Sondland mentioned the missing records at least 15 times throughout the course of the hearing on Wednesday.
"I have not had access to all of my phone records, State Department e-mails and many, many other State Department documents," Sondland said in his opening.
Sondland argued that the impeachment process would be "far more transparent" if he had access to his records -- a request he said he has made to the State Department and the White House, both of which have been non-compliant in providing documents related to Ukraine, even when subpoenaed by House committees.
 On Oct. 23, Federal Judge Christopher Cooper gave the State Department 30 days to release Ukraine-related documents, following a lawsuit from the watchdog group American Oversight. As of today, the documents have yet to be released.
Sondland told Rep. Jackie Speier that he had been "hampered to provide completely accurate testimony without the benefit of those documents," when she asked about how the missing records affected his testimony.
When minority counsel Steve Castor derided Sondland's lack of recollection of specific events, the ambassador said the records would help jog his memory of countless calls and meetings he has had with several government officials and foreign leaders.
Among those conversations Sondland couldn't recall, he said, were calls with President Trump, Rudy Giuliani, acting White House Chief of Staff Mick Mulvaney, energy Secretary Rick Perry, and former US special envoy Kurt Volker, among others.
6:30 a.m. ET, November 23, 2019
Here's what happens next now that the House impeachment hearings are over
The House Intelligence Committee's last public impeachment inquiry — or at least the last one that has been scheduled — just wrapped up this week. House Democrats are now actively preparing for the next steps.
Now: The House Intelligence Committee, along with two other panels, are writing a report detailing their findings, which is expected to serve as the basis for articles of impeachment that the House Judiciary Committee will consider. Democrats say they are still debating the size and scope of the articles, which are likely to focus on abuse of power, obstruction of justice, obstruction of Congress and bribery.
December: Privately, Democrats are anticipating a busy December that will be filled with proceedings before the House Judiciary Committee.
By Christmas: A likely vote to impeach Trump on the House floor could come by Christmas Day, which would make him just the third President in history to be impeached, according to multiple Democratic sources.
Remember: Despite speaking with 17 witnesses behind closed doors, including 12 witnesses in just a week of public testimony, Democrats have not obtained crucial documents or spoken with several key officials because the White House and State Department have refused to comply with subpoenas.
That has left top Democrats with a choice: They could fight in court to obtain potential smoking-gun documents and testimony from acting White House chief of staff Mick Mulvaney, Secretary of State Mike Pompeo and former national security adviser John Bolton. Or they could move forward with the evidence they have.
Speaker Nancy Pelosi has chosen the latter.
In some of her most direct comments to date, Pelosi said Thursday they wouldn't delay their impeachment push to fight for those witnesses through court battles.
"They keep taking it to court and no, we're not going to wait until the courts decide," she said. "That might be information that's available to the Senate in terms of how far we go and when we go, but we can't wait for that because again it's a technique. It's obstruction of justice, obstruction of Congress, so we cannot let their further obstruction of Congress be an impediment to our honoring our oath of office."
Pelosi added: "We cannot be at the mercy of the courts."
Additional reporting by CNN's Lauren Fox, Ali Zaslav, Haley Byr
6:29 a.m. ET, November 23, 2019
Here are the key takeaways from Thursday's hearing with Hill and Holmes
The House Intelligence Committee wrapped its testimonies in the impeachment inquiry into President Trump.
Committee members heard testimony from Fiona Hill, the former White House Russia expert, and David Holmes, the counselor for political affairs at the US Embassy in Ukraine, on Nov. 21.
Here are some of the key takeaways from the hearing:
Pressure on Ukraine: Holmes undercut the GOP's defense that there was no pressure on Ukraine. He testified that the Ukrainians felt pressure to move ahead with probes. He said the Ukrainians want to keep White House happy because "they still need us now." 
"Not credible": Hill said she found Ambassador Gordon Sondland's testimony "not credible" when he claimed that it took him many months to connect the Ukrainian energy company Burisma to former Vice President Joe Biden. Both Holmes and Hill make clear it was obvious Burisma was about the Bidens. Sondland and Kurt Volker, the former US special envoy to Ukraine, claimed to be clueless and uncurious about why this was the one company the President wanted investigated.
Ukraine meddling is a "fictional narrative": Hill delivered a full-throated rebuttal to the "fictional narrative" pushed by Trump and his GOP allies, including during the impeachment inquiry hearings, that Ukraine interfered in the 2016 election. And she warned the committee the Kremlin is prepared to strike again in 2020 and remains a serious threat to American democracy that the United States must seek to combat.
John Bolton came up: Hill mentioned her former boss a few times during her testimony. She recalled how he stiffened in his chair during a meeting where Sondland mentioned the investigations. Bolton later instructed her to tell lawyers that she was not part of the "drug deal" Sondland and acting chief of staff Mick Mulvaney were "cooking up." Bolton is among those who've refused to cooperate with impeachment investigators' request to testify.
"I think this is all going to blow up": Hill told lawmakers she and Sondland had several "testy" exchanges, and she described being angry with him because he "wasn't coordinating with us." She said that after she read his deposition, she realized "he wasn't coordinating with us because we weren't doing the same thing that he was doing." Hill added: "And I did say to him, 'Ambassador Sondland, Gordon, I think this is all going to blow up.' And here we are."