While speaking to troops in Iraq, Vice President Mike Pence blamed what he called "endless investigations" by Congress for slowing work down in Washington, seeming to refer to the impeachment inquiry.
"We need Congress to do their job. My fellow Americans gathered here, Congress should have finished their work on defense appropriations months ago. But you all know that partisan politics and endless investigations have slowed things down a bit in Washington DC, but I'll make you a promise: this President, this Vice President, and our administration will never stop fighting until we get you, our troops, the resources you need to accomplish your mission."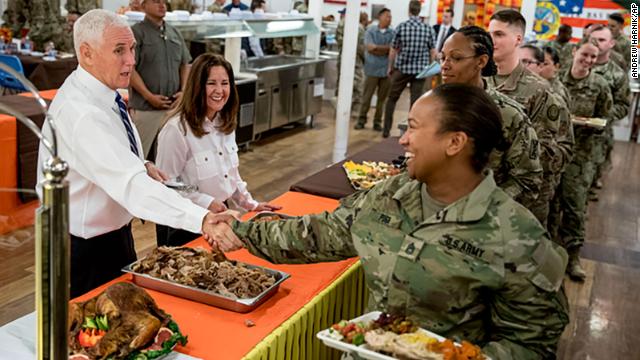 Mike Pence and his wife Karen Pence on Saturday also served the troops a Thanksgiving lunch, with the Vice President serving turkey and Mrs. Pence handing out yams.
As service members came up to them, the Pences asked each where they were from and thanked them for their service.