The latest on the Trump impeachment inquiry
9:33 p.m. ET, November 18, 2019
Holmes: Ukraine was aware of the quid pro quo
State Department official David Holmes was asked if the Ukrainian government felt pressure to announce the investigations. He testified that the Ukrainians indeed felt the heat and ultimately understood that there was a quid pro quo.
"I think the Ukrainians gradually came to understand that they were being asked to do something in exchange for the meeting and the security assistance hold being lifted," Holmes said. 
It is unclear to which period of time Holmes is referring.
9:32 p.m. ET, November 18, 2019
Holmes says Ukrainians viewed Giuliani as "an important conduit to the President"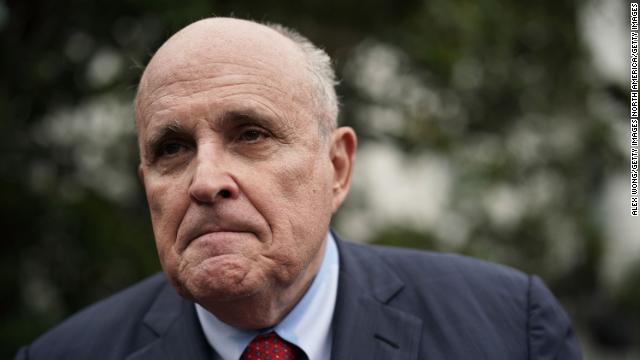 In response to a question about Rudy Giuliani's role in Ukrainian diplomacy, David Holmes said, "The Ukrainians ... viewed him as an important representative of American interests and of the United – let me say it this way. They viewed him as a significant individual in terms of their relationship with the United States."
Later, Holmes said that he "came to believe" that Giuliani was promoting "the President's political agenda" in Ukraine, saying, "because Mr. Giuliani was promoting that investigations issue, which later I came to understand, including through these various interactions, that was – that the President cared about." 
Asked why he thought Giuliani was promoting a political agenda, Holmes responded, "We were told to do our jobs, to implement policy, kind of, as we understood it, and to disregard all that other stuff as stuff that was relevant in Washington politics. The themes that Mr. Giuliani was promoting and his associates were promoting were in that basket, in my view. And so that was my understanding. In my mind, those were – those were things – those were political things that were not related to the implementation of our policy." 
Asked to specify what political things Giuliani was promoting, Holmes responded that would include the investigation of Burisma and the Bidens.
Asked if the Ukrainians believed that Giuliani spoke for the President, Holmes said, "I believe they were aware that he's the President's personal attorney. And I believed that they perceived him in that role to be someone who is important in – an important conduit to the President." 
9:28 p.m. ET, November 18, 2019
Holmes tells lawmakers he's "never seen anything" like Trump-Sondland call in restaurant
David Holmes, the political adviser at the US Embassy in Ukraine, told lawmakers last week he'd "never seen anything" like the call Gordon Sondland placed to President Trump at a restaurant in Kiev.
Holmes, the political adviser at the embassy, said he was taken aback both by the conversation he overheard and the woeful lack of operational security demonstrated by Sondland, the US ambassador to the European Union.
"This was an extremely distinctive experience in my Foreign Service career," Holmes said. "I've never seen anything like this, someone calling the President from a mobile phone at a restaurant, and then having a conversation of this level of candor, colorful language. There's just so much about the call that was so remarkable that I remember it vividly."
Holmes' recollection of what he overheard on the call was contained in his opening statement, which was obtained by CNN last week. He said he heard Sondland tell Trump that Ukrainian President Volodymyr Zelensky "loves your ass" and that Ukraine was going to move forward with the investigations Trump had requested.
The Ukrainian President would do "anything you ask him to," Sondland told Trump, according to Holmes. Sondland confirmed on the call the Ukrainians were going to "do the investigation."
Pressed later in his interview about the day in the restaurant, Holmes said Sondland told him Trump "doesn't give a s--t about Ukraine," and that his primary focus was on "big stuff that matters to him, like this Biden investigation that Giuliani is pushing."
The episode surprised Holmes because of the high likelihood the phone conversation could have been monitored by foreign intelligence.
"It was surprising to me that he—yes. In my experience, generally, phone calls with the President are very sensitive and handled accordingly," he said. "I believe at least two of the three, if not all three of the mobile networks are owned by Russian companies, or have significant stakes in those."
"We generally assume that mobile communications in Ukraine are being monitored," Holmes said.
He went on to describe the fallout in the US embassy in Kiev when he relayed the conversation to his superior there.
"I would refer back to it repeatedly in our, you know, morning staff meetings," he said. "We'd talk about what we're trying to do. We're trying to achieve this, that. Maybe it will convince the President to have the meeting. And I would say, 'Well, as we know, he doesn't really care about Ukraine. He cares about some other things.'"
9:22 p.m. ET, November 18, 2019
Holmes: Trump dealt "a blow to our anti-corruption effort" by removing Yovanovitch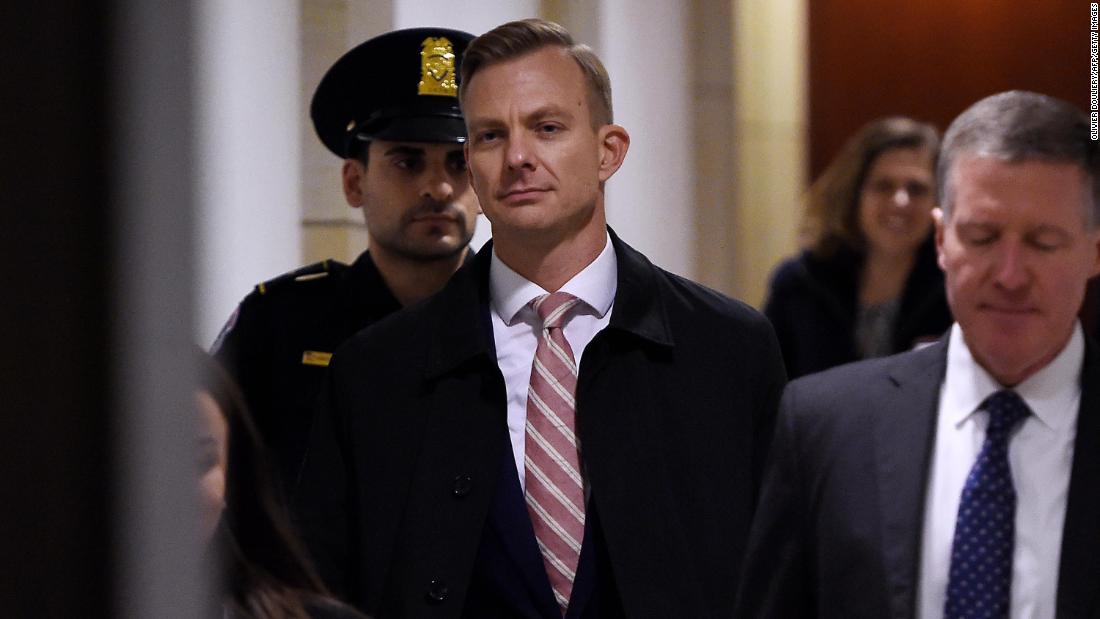 State Department official David Holmes said President Trump harmed US efforts to root out corruption in Ukraine when he recalled then-Ambassador Marie Yovanovitch from her post in the spring. 
"To have him succeed in that was a blow to our anti-corruption effort," Holmes said.
Trump has defended his actions — including the request for an investigation into Biden — by saying they were all part of a good-faith effort to clean up Ukraine, a country long known for its corruption. But Holmes' testimony shows that yet another career official, with expertise in the region, saw Trump's actions as harming the US goal to end corruption in Ukraine. 
Holmes also said that Ukrainians were upset when Yovanovitch left for good in April.
"So there was a lot of expressions of concern and solidarity with hen while she was — while this was happening," Holmes said. "I guess I would say that a lot of Ukrainians were essentially seeing it for what it turned out to be, and they were expressing their disappointment and their solidarity with her for that happening to her, and then when she recalled."
7:38 p.m. ET, November 18, 2019
GOP lawmakers are "shaken" by aide's testimony, source says
Several GOP lawmakers were more "shaken" by the testimony from State Department aide David Holmes than they publicly let on, according to one top congressional GOP source.
Behind closed doors, many expressed frustration that Ambassador to the European Union Gordon Sondland would place a call to President Trump in a public restaurant, and are concerned that Holmes' testimony was the most convincing argument for Trump's direct involvement in the campaign to pressure Ukraine.
Holmes' testimony is also making some GOP members worry about how far Sondland will go in his public testimony Wednesday. 
Two senior Republican sources said that some House Republicans are also worried about how Sondland will handle himself at Wednesday's hearing. The sources pointed out that Sondland is not an accomplished diplomat and one source added he believes Sondland was unprepared and ill-fitted for the job as US ambassador to the EU. 
According to multiple State Department and former State Department officials, he was not well regarded by the US diplomatic community. 
House Republicans are also increasingly worried about the political fallout from the hearings overall and the impact of multiple witnesses who are career professionals. 
They are especially concerned about the reaction from independent voters and suburban women voters who are watching Trump attack witnesses both on Twitter and on television.
7:11 p.m. ET, November 18, 2019
Trump's aides eye moving impeachment witnesses out of White House jobs
President Trump's aides have explored moving some impeachment witnesses on loan to the White House from other agencies, such as Lt. Col. Alexander Vindman, back to their home departments ahead of schedule, according to people familiar with the conversations.
As public hearings bring the officials' allegations to his television screen, Trump is asking anew how witnesses such as Vindman and diplomat Bill Taylor came to work for him, people familiar with the matter said. He has suggested again they be dismissed, even as advisers warn him firing them could be viewed as retaliation.
The possible move of officials out of the White House could still be viewed by some as evidence of retribution for their testimony. Trump's frustration at his own officials comes as he attacks witnesses on Twitter, including during Friday's public hearing with the ousted ambassador to Ukraine Marie Yovanovitch. Trump appears to have adopted a strategy of maligning the officials, despite some allies encouraging him not to.
The uncertain fate and public thrashing of these officials has created a thorny situation for a White House wading through the impeachment process. Trump's impulse to dismiss them hasn't been realized, but he's made clear nevertheless he views them as unwelcome.
It's one of the persistent anomalies of the impeachment inquiry: most of the witnesses airing concerns at Trump's approach to Ukraine remain employed by him, despite his claims they are "Never Trumpers" and his overt suggestions they've already been fired.
None, for now, have been explicitly fired by Trump, even as he and his allies suggest otherwise. It's created an odd and uncomfortable situation for staffers, who say they are unclear on their colleagues' futures in the administration.
7:06 p.m. ET, November 18, 2019
Lawmakers expect contentious fight over whistleblower when NSC official testifies
Lawmakers on the House Intelligence Committee are bracing for a contentious flareup Tuesday when Lt. Col. Alexander Vindman testifies because Republicans could ask him about his conversations after President Trump's infamous July phone call with the Ukrainian president.
When Republicans attempted a similar line of questioning behind closed doors during Vindman's deposition last month, Democrats accused the GOP of trying to out the whistleblower whose complaint spawned the impeachment inquiry, prompting a partisan shouting match and leaving lawmakers on both sides furious. House Intelligence Committee Chairman Adam Schiff objected to the line of questioning, causing Republicans to cry foul.
Republicans told CNN this evening they would not shy away from that line of questioning during Tuesday's open hearing with Vindman, who serves on the White House National Security Council and who reported his concerns about Trump's ask for Ukraine to investigate his political rivals.
GOP lawmakers argue they are not trying to uncover the identity of the whistleblower, but want to know the steps that Vindman took after the call and whether he appropriately reported his concerns up the chain of command. And they believe if Schiff objects Tuesday, they will once again use it as ammunition to accuse the California Democrat of heavy-handed leadership atop the panel.
Leaving a GOP strategy meeting this afternoon, Rep. Jim Jordan, a Republican from Ohio, told CNN that no decisions have been made. But he indicated Schiff would not dictate their questions.
But Democrats had a warning today. "Any effort to out the whistleblower should be stopped and will be," said Rep. Mike Quigley, a Democrat from Illinois.
Here's what happened at Vindman's deposition: During the closed-door testimony, Schiff objected to a line of GOP questioning about who Vindman had spoken with, something the chairman described as a "bad-faith effort to out a whistleblower who has a statutory right to remain anonymous."
Republicans pushed back, arguing they have the right to ask who Vindman spoke to about the Ukraine matter.
"We can ask the questions we want to ask," Jordan said at the time.
It also prompted a heated back and forth between Democratic Rep. Eric Swalwell and GOP Rep. Mark Meadows.
As Meadows tried to raise a procedural objection, Swalwell tried to get Meadows to let Schiff finish speaking.
"He's the chairman," Swalwell said. "He finishes."
Meadows responded: "Shut up."
5:30 p.m. ET, November 18, 2019
Podcast: Did President Trump lie to Robert Mueller?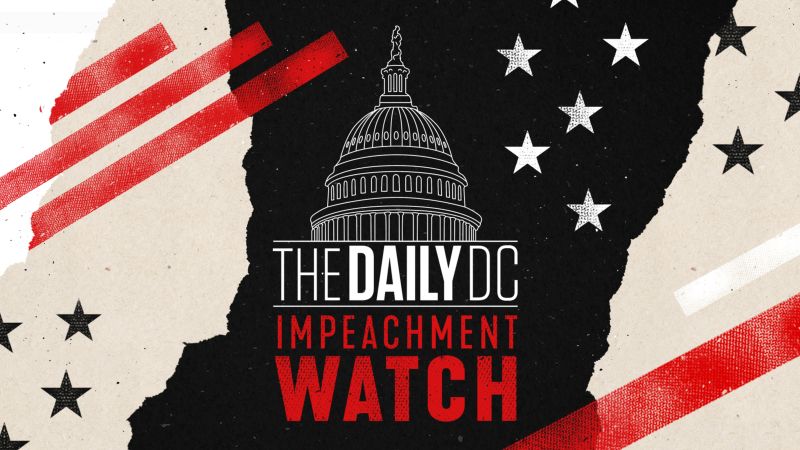 In today's episode of "The Daily DC: Impeachment Watch" podcast, CNN's Zach Wolf looks at:
The House of Representatives' probe into whether President Trump lied to special counsel Robert Mueller in written answers he provided in the Russia investigation
US Ambassador to the European Union Gordon Sondland's upcoming public testimony
Trump's tweets saying he might testify in the impeachment inquiry
The challenge of being Trump's lawyer
Vice President Mike Pence and what he knows about the Ukraine controversy 
Wolf is joined today by CNN senior national correspondent Alex Marquardt and CNN legal analyst Michael Zeldin.
4:34 p.m. ET, November 18, 2019
State Department aide will testify publicly on Thursday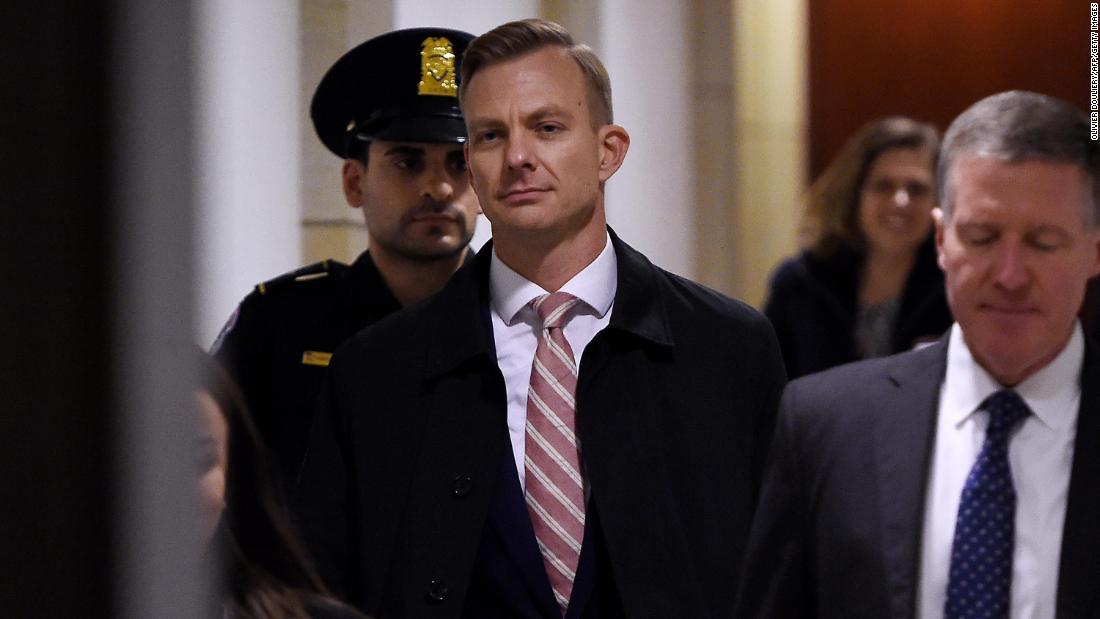 State Department aide David Holmes will testify publicly alongside former White House Russia expert Fiona Hill before the House Intelligence Committee on Thursday, according to a Democratic aide.
The aide announced Holmes had been added to the panel on a call with reporters.
About Holmes: He told lawmakers in a closed-door deposition Friday that US Ambassador to the European Union Gordon Sondland had told President Trump the Ukrainian president would do "anything you ask him to" and that Sondland had confirmed the Ukrainians were going to "do the investigation," one day after Trump has asked Zelensky to investigate former Vice President Joe Biden, according to a copy of Holmes' opening statement obtained by CNN.
Holmes' statement confirmed the testimony from Bill Taylor, the top US diplomat in Ukraine, who revealed the July 26 phone call with lawmakers at his public testimony Wednesday, saying Holmes had informed Taylor about it after he first appeared on Capitol Hill behind closed doors last month.
Holmes' testimony places Trump closer to the push for Ukraine to open an investigation into his political rival, and raises additional questions about the testimony of Sondland, who is scheduled to testify publicly this week.