The latest on the Trump impeachment inquiry
3:34 p.m. ET, November 11, 2019
Media organizations ask judge to make Mulvaney court hearing today accessible to public
Several media organizations including CNN have written to a federal judge asking to make a hearing later today about acting White House chief of staff Mick Mulvaney's House subpoena more accessible to the public.
Federal Judge Richard Leon will hear arguments at 5 p.m. on whether Mulvaney can join an existing lawsuit about House subpoena power versus the White House assertions of immunity during the impeachment probe.
But the media organizations at this time aren't able to listen to that hearing as it happens.
"The need for contemporaneous public access to this proceeding could not be greater, given that this matter involves momentous constitutional questions regarding separation of powers and impeachment," lawyers for seven national media organizations wrote today.
Leon has said he would speak to the attorneys involved by telephone, from his judicial chambers. The hearing could last an hour or more and is happening on a day the Washington courthouse is observing Veterans Day. The court generally makes transcripts of court proceedings available following hearings, but for a fee.
Mulvaney had asked to join the lawsuit late Friday. Charles Kupperman, the lead plaintiff who formerly served as White House national security adviser, said Mulvaney should have to file a separate lawsuit and shouldn't be allowed to join the case. Attorneys for the House also oppose allowing Mulvaney to join the case.
The media organizations requesting access to the hearing Monday are: CNN, Associated Press, the New York Times, Dow Jones (the Wall Street Journal), Politico, Reuters and the Washington Post, according to the filing.
2:45 p.m. ET, November 11, 2019
Impeachment witness claims acting White House chief of staff shouldn't be allowed to join his lawsuit
Impeachment witness Charles Kupperman is distancing himself from acting White House chief of staff Mick Mulvaney as he attempts to join Kupperman's lawsuit testing House subpoena power.
Kupperman claimed in a court filing that Mulvaney shouldn't be allowed to join his lawsuit, asking a court for help in a fight between the White House and the House. Though Kupperman doesn't want to share his lawsuit with Mulvaney, he supports Mulvaney's filing of a separate lawsuit that would be heard by the same judge as Kupperman's.
Kupperman's attorneys seized upon Mulvaney's previous public statements about a quid pro quo, suggesting to a federal judge his attempts to refrain from testifying aren't as strong as Kupperman's.
"Mulvaney has publicly discussed the events at issue in the House's impeachment inquiry, including appearing to admit that there was a quid pro quo relationship between the President's decision to withhold appropriated financial assistance from Ukraine and a Ukrainian investigation into what happened to a Democratic server in 2016 (an admission he subsequently sought to disavow). [Kupperman], in contrast, has never publicly disclosed information relating to any of his official duties, including the matters under investigation by the House," Kupperman's attorney Chuck Cooper wrote today. "There is a serious question as to whether Mulvaney waived the absolute testimonial immunity claimed by the President."
A federal judge will hear arguments at 5 p.m. today about Mulvaney joining Kupperman's lawsuit.
More on this: Kupperman, a former White House national security official, asked a court to decide whether he must testify to the House last week, or whether the White House's assertion of immunity over him was correct. The House later withdrew the subpoena, asking the court to dismiss the case and calling Kupperman's legal approach a delay tactic.
The House also opposes Mulvaney's attempt to join the case, its lawyers wrote in another filing.
2:36 p.m. ET, November 11, 2019
Rudy Giuliani was overheard in a New York restaurant talking about launching an impeachment podcast
President Trump's personal lawyer Rudy Giuliani is considering re-entering the impeachment fray by launching a podcast to provide impeachment analysis of the public hearings in the House of Representatives scheduled for later this week.  
Giuliani was overheard discussing the plans with an unidentified woman while at a crowded New York City restaurant, Sant Ambroeus, over lunch on Saturday. The conversation, which lasted more than an hour, touched on details including dates for recording and releasing the podcast, settling on a logo, and the process of uploading the podcast to iTunes and other podcast distributors. 
Two people who overheard Giuliani's discussion reached out to CNN and provided a recording they decided to make of the conversation. They contacted CNN unprompted after reading a recent CNN story about Giuliani and the President's ongoing relationship. The people asked not to be identified and provided the audio recording on the condition that it not be published.
"Many Americans want to hear directly from Rudy Giuliani," said Christianné Allen, a spokesperson for Giuliani. "He is considering several options, in consultation with Jay Sekulow and the legal team, regarding the best way to move forward. As of now, they have not decided on the strategy but are getting very close."
2:11 p.m. ET, November 11, 2019
White House official: Mick Mulvaney is not trying to distant himself from Trump
A White House official pushed back on the notion that acting chief of staff Mick Mulvaney's decision to join a lawsuit seeking a federal judge's guidance in the impeachment inquiry amounts to any distance between Mulvaney and President Trump. 
The official said Mulvaney is working with the White House, not against it.
"Mulvaney's counsel is working closely with [White House counsel's office], and WHCO was fully apprised of the filing before it took place," the official said. "Having the President be on the lawsuit is a technicality, given the competing instructions given to Mr. Mulvaney. The lawsuit is non-adversarial as to the President, and in no way indicates any distance between the President and the acting chief."
12:08 p.m. ET, November 11, 2019
What happens after this week in the impeachment inquiry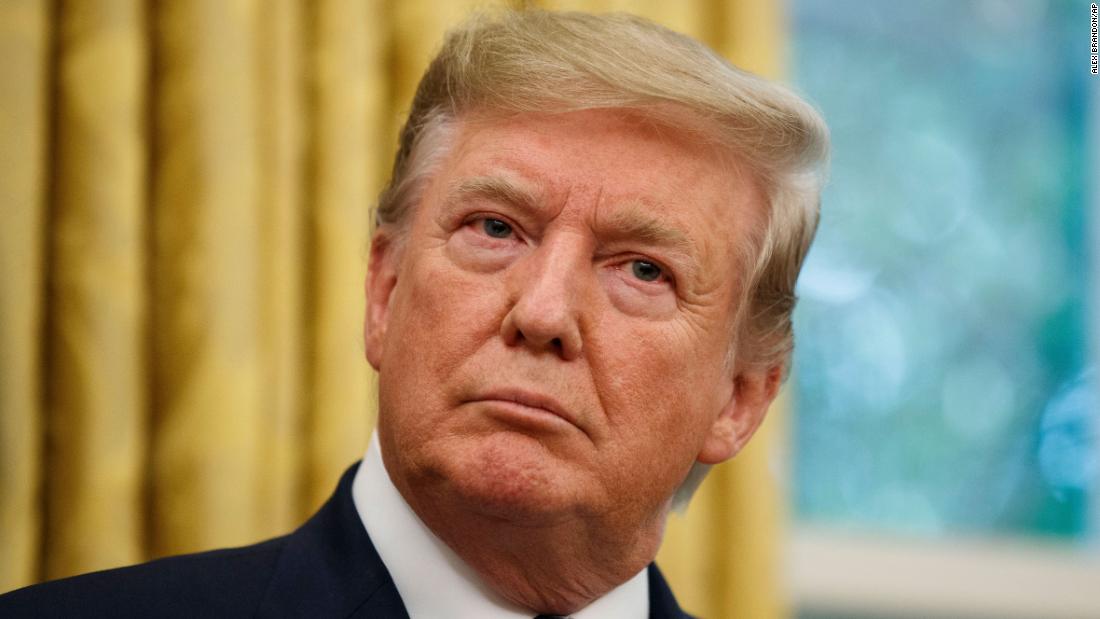 We know that this is a big week in the impeachment inquiry (read up on what to watch here).
But there's more to come next week: Democratic lawmakers expect at least one more week of public hearings following this week. Who could be the next public witnesses was not clear going into this weekend, so expect those hearings to be announced in the coming days.
Also, if any of the seven remaining transcripts haven't been released this week, they would likely be released at this time.
While not exactly impeachment related, Congress also faces a deadline of November 21 to pass legislation to fund the government and avoid a shutdown. CNN reported last week that bipartisan congressional spending negotiators have reached a critical stage in the closed-door talks to take a potential shutdown off the table at least later this month. 
Those discussions focused on a short-term measure — typically referred to as a continuing resolution, or a resolution that continues funding at current levels — until roughly mid-December, aides say. But that would be contingent on an agreement that kicks the funding process into gear. If that doesn't happen, then lawmakers will actively look to punt things beyond a potential Senate impeachment trial. So the short answer is people working on this don't believe there's near-term risk for a shutdown. Still, it's a factor lawmakers will consider over the next several weeks.
10:51 a.m. ET, November 11, 2019
NOW: President Trump speaks ahead of New York City's Veterans Day Parade
President Trump is in New York City today. He's speaking at a ceremony before the start of the city's Veterans Day parade this morning.
The President spent this morning tweeting on a number of issues, including the impeachment inquiry, the whistleblower and the risks of vaping. He also wished the country a Happy Veterans Day.
9:20 a.m. ET, November 11, 2019
Trump tweets: Whistleblower, lawyers and Adam Schiff should be investigated for fraud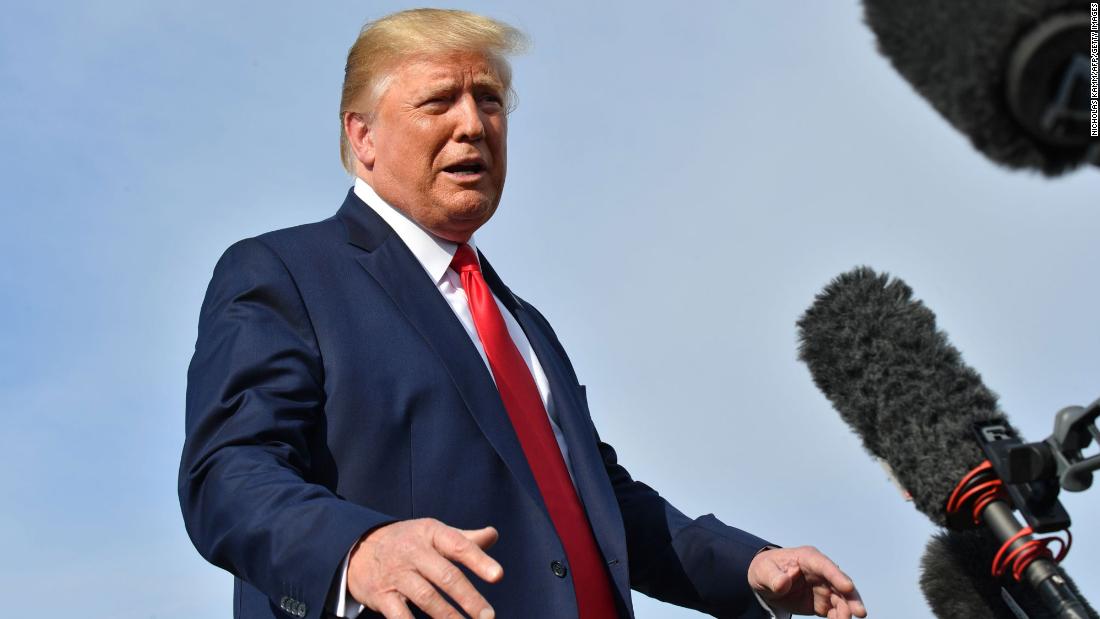 Trump this morning railed against whistleblower's lawyer, tweeting that the whistleblower, the lawyer, and House Intelligence Committee Chairman Adam Schiff "should be investigared (sic) for fraud!"
Remember: Last week, a lawyer for the Ukraine whistleblower, whose complaint document triggered the House impeachment inquiry of President Trump, sent a letter to the White House warning the President to "cease and desist" attacking his client.
8:42 a.m. ET, November 11, 2019
Here's what President Trump is doing today
President Trump is in New York City today. He'll attend the city's Veterans Day parade this morning.
About Veterans Day: The holiday honors the roughly 20 million armed forces members who have served in uniform. It's also known as Armistice Day to mark the end of WWI in 1918.
9:07 a.m. ET, November 11, 2019
What we're watching this week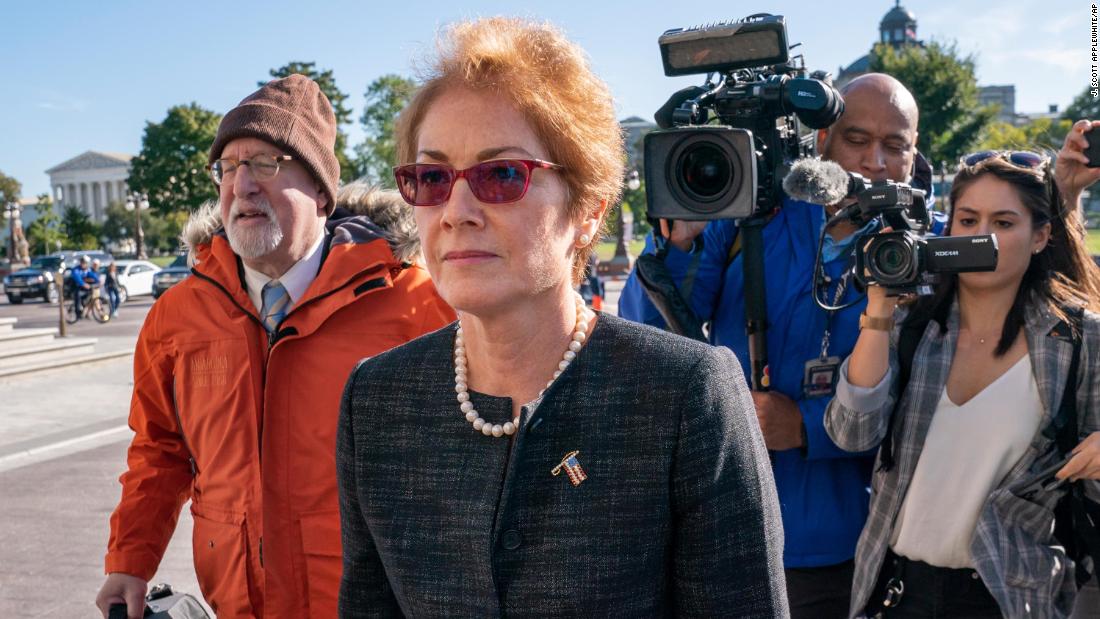 Here are the most important events of the impeachment inquiry scheduled for this week:
Tomorrow: The White House could release the transcript of an April call between Trump and Ukrainian President Volodymyr Zelensky.
Wednesday: Public testimony is scheduled from Bill Taylor, still the top State Department official in Ukraine, who raised concerns about the shadow foreign policy being pursued by Rudy Giuliani and who internally called out Trump's political appointee for tying political investigations to security aid. Taylor can talk about why Ukraine needs that aid.
Also Wednesday: There will be open testimony from George Kent, who will talk about Giuliani's efforts to get former US Ambassador to Ukraine Marie Yovanovitch removed from her post.
One more thing on Wednesday: Trump will hold a news conference with Turkish President Recep Tayyip Erdogan at the White House.
Friday: former US Ambassador to Ukraine Marie Yovanovitch will testify publicly about her recall at Trump's request.