The latest on the Trump impeachment inquiry
4:16 p.m. ET, November 9, 2019
Our live coverage of the impeachment inquiry has ended for the day. Read up on the latest news below.
4:01 p.m. ET, November 9, 2019
Whistleblower's attorney reacts to GOP call for testimony reiterating client will answer questions in writing
From CNN's Zach Cohen
An attorney for the unnamed intelligence whistleblower who came forward with information about President Trump's dealings with Ukraine reacted today to calls for his client to testify in the coming public impeachment hearings by reiterating that person is only willing to answer questions in writing. 
"My client's complaint has been largely corroborated. Nonetheless, I have offered to have my client respond in writing, under oath, and under penalty of perjury to Republican questions," Andrew Bakaj said in a statement to CNN.
Bakaj also said there may be ulterior motives at play here.
"Moreover, because I am concerned this is part of a larger effort to unmask my client's identity, I provide you the following, which I have previously stated publicly: THE IMPORTANCE OF PROTECTING MY CLIENT'S IDENTITY: I urge all of our government leaders - notably all Members of Congress - to step back and reflect on the important role whistleblowers play in our constitutional republic's ability to oversee itself," he said. 
The attorney said members of the intelligence community must disclose when they have a reasonable belief a violation of law, rule or regulation has happened.
CNN has also obtained a Nov. 6 letter from the whistleblower's legal team to Rep. Devin Nunes reiterating their offer to answer written questions. The letter explicitly reiterates the legal team's intention to work with both parties equally.
1:30 p.m. ET, November 9, 2019
Trump says White House will release transcript of another call with Ukraine "probably" Tuesday
From CNN's Nikki Carvajal
President Trump said he will release the transcript of his first call with the president of Ukraine "probably" on Tuesday.
 "They want to have a transcript of the other call, the second call, and I'm willing to provide that," the President told reporters on the tarmac at Joint Base Andrews, before boarding Air Force One.
Trump first spoke with Ukrainian President Volodymyr Zelensky in April – this is the phone call transcript he is referencing. 
He called the transcript "very important."  
"You'll read the second call, and you'll tell me if there's anything wrong with it," he said. The call took place months before the July conversation at the center of the impeachment inquiry.
The President also claimed that he doesn't care if impeachment proceedings are behind closed doors or in public, because they shouldn't be happening at all. 
"There shouldn't be anything. There shouldn't be impeachment hearings," he said. He called the testimony so far "all third-hand knowledge." 
While Trump dismisses some of the importance of the witnesses who have been deposed in private so far, they have provided key information to congressional investigators, including stating their belief there was a quid pro quo.
In exchange for US military assistance, the Trump administration was requiring the Ukrainian government to open investigations of former Vice President Joe Biden and his son, Hunter. There is no evidence of wrongdoing against either Biden.
CNN's Kevin Liptak contributed to this story.
10:49 a.m. ET, November 9, 2019
READ: House GOP's letter requesting witnesses to testify in impeachment probe
House Republicans submitted a list of witnesses they'd like to testify as part of the chamber's impeachment inquiry into President Donald Trump and Ukraine.
The letter to House Intelligence Committee Chairman Adam Schiff today listed the anonymous whistleblower and former Vice President Joe Biden's son Hunter Biden, among others. Democrats must approve any requests submitted by the Republicans.
Read the GOP letter here:
10:20 a.m. ET, November 9, 2019
House Republicans submit impeachment witness requests
From CNN's Phil Mattingly
House Republicans have submitted their list of witnesses they'd like to testify as part of the impeachment inquiry in a letter sent to House Intelligence Committee Chairman Adam Schiff today.
The list includes the anonymous whistleblower, Vice President Joe Biden's son, Hunter, former Ambassador Kurt Volker, former undersecretary of state David Hale and Tim Morrison, formerly of the National Security Council. 
The list also includes Nellie Ohr formerly of Fusion GPS and Alexandra Chalupa, a former DNC staffer, signaling that the GOP still wants to focus unsubstantiated election-related claims to the 2016 campaign.
Democrats must approve any requests submitted by Republicans and they are expected to reject the requests for Biden and the whistleblower.
9:03 a.m. ET, November 9, 2019
What 2,677 pages of testimony reveal about Trump's Ukraine scandal
From CNN's Manu Raju, Jeremy Herb and Marshall Cohen
A review of more than 2,600 pages of transcripts released this week from eight witnesses who have testified in the House impeachment inquiry over the past six weeks shows how controversy over Trump's Ukraine policy had been brewing inside the US government for months.
It roiled efforts to bolster a key strategic alliance after Trump enlisted his own personal attorney to work outside normal diplomatic channels in an apparent effort to bolster his reelection chances.
The testimony details how top US officials were alarmed that Trump had outsourced Ukraine policy to his attorney, Rudy Giuliani, who had pushed top Ukraine officials to publicly announce an investigation into the Bidens and to pursue a conspiracy theory that Ukraine interfered in the 2016 elections to help Democrats. Giuliani's efforts, with support from the President, led to the ouster of America's top diplomat in Ukraine, who stood in his way, while enlisting emissaries who have since been indicted.
Moreover, the testimony shows a President detached from the integral role Ukraine plays in US policy against Russia -- but also animated in his agitation toward Ukraine. And the testimony of at least one witness links Trump to the decision to withhold nearly $400 million in security aid for Ukraine until that country announced it would pursue the investigations into his political rivals.
Trump has continued to rail on Twitter and in public on his phone call with Ukrainian President Volodymyr Zelensky, calling it a "perfect" call. But the Democrats' case now goes far beyond that conversation.
The officials who have testified explained how the push for Ukraine to investigate the President's political opponents was already underway well before the call occurred and for weeks after the President urged Zelensky to investigate the Bidens.
Hill, who was the former top White House Russia adviser, and the National Security Council's Ukraine expert, Lt. Col. Alexander Vindman, testified that the Ukrainians were told on July 10 that the White House meeting with Trump they were seeking was conditioned on opening investigations into the President's rivals.
7:49 a.m. ET, November 9, 2019
Does Bolton have a bombshell?
From CNN's Zachary B. Wolf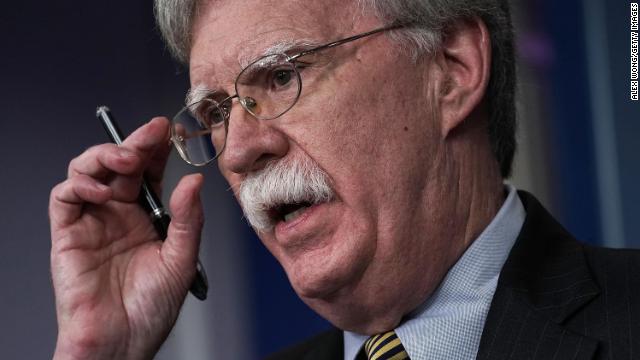 When it looked like House impeachment investigators might proceed without him, former national security adviser John Bolton, somewhat jilted, demanded that they try harder.
Don't give up
His lawyer wrote the House general counsel essentially asking him not to give up on the court case engineered to make Bolton talk.
He has information
Bolton, according to his lawyer, has some information you might be interested in. He attended "many relevant meetings and conversations that have not yet been discussed in the testimonies thus far."
Bolton is all over the testimony, in particular, of former White House Russia adviser Fiona Hill, who quoted him directly as describing the shadow foreign policy of US Ambassador to the European Union Gordon Sondland and acting White House chief of staff Mick Mulvaney as a "drug deal."
Why the show?
My theory: Bolton is a neocon true believer in a strong executive, so it makes sense he wouldn't, on his own, want to cross a White House claim of executive privilege and cooperate with House impeachment investigators.
But who knows what he will ultimately say. And it's a good bet that someone with Bolton's history of supporting executive power won't think President Donald Trump acted inappropriately even if he's willing to help take down others in the administration.
5:58 a.m. ET, November 9, 2019
"Anonymous" author describes Trump as dealing with each new political crisis "like a twelve-year-old in an air traffic control tower, pushing the buttons of government indiscriminately"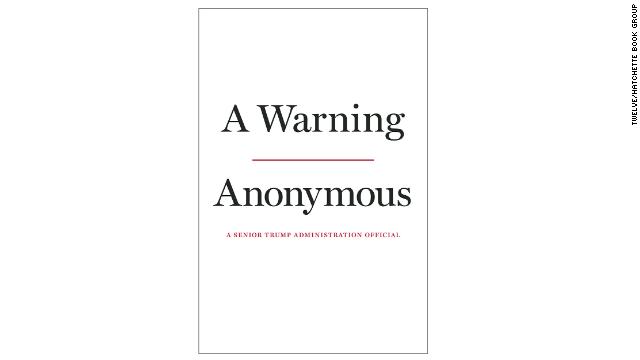 The anonymous senior Trump administration official claims in their forthcoming book that Trump officials considered resigning together last year in a "midnight self-massacre" in hopes to sound an alarm about President Donald Trump, according to an excerpt obtained by The Washington Post.
In excerpts published by the Post, which obtained a copy of the book: "A Warning," the unnamed author writes: "I was wrong about the 'quiet resistance' inside the Trump administration. Unelected bureaucrats and cabinet appointees were never going to steer Donald Trump the right direction in the long run, or refine his malignant management style. He is who he is."
The book describes the US President as dealing with each new political crisis "like a twelve-year-old in an air traffic control tower, pushing the buttons of government indiscriminately, indifferent to the planes skidding across the runway and the flights frantically diverting away from the airport," according to the Post.
The author claims that officials would wake up "in a full-blown panic" over the President's tweets, the Post reports.
"It's like showing up at the nursing home at daybreak to find your elderly uncle running pantsless across the courtyard and cursing loudly about the cafeteria food, as worried attendants tried to catch him. You're stunned, amused, and embarrassed all at the same time. Only your uncle probably wouldn't do it every single day, his words aren't broadcast to the public, and he doesn't have to lead the US government once he puts his pants on," the author writes, according to the Post.
The author, whose book will be released on November 19, wrote an op-ed in the New York Times in 2018, claiming to be part of a "resistance" working to thwart Trump's worst impulses.
Sources familiar with the book have previously confirmed to CNN that the publisher and the author's literary agents at Javelin were provided verification that the author of the book and op-ed is the same person.
According to the New York Times' review of the book, the anonymous author, however, admits that their op-ed's thesis was "dead wrong" -- saying that the "adults in the room" trying to impose order were "just a wet Band-Aid that wouldn't hold together a gaping wound."
5:15 a.m. ET, November 9, 2019
Mulvaney attempts to join lawsuit over House subpoena, sidestepping scheduled testimony
From CNN's Katelyn Polantz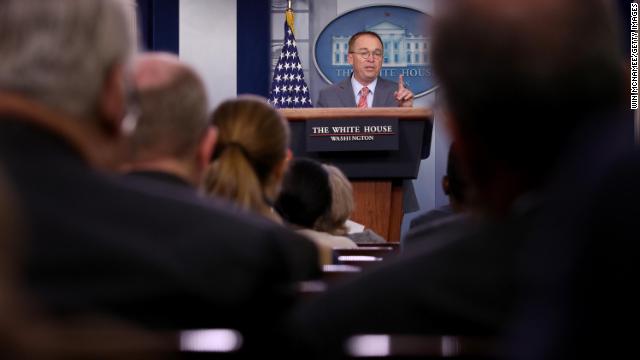 Acting White House chief of staff Mick Mulvaney did not appear for his scheduled testimony Friday morning despite him receiving a subpoena, because the White House told him he should not appear, claiming that legally he is immune. According to transcripts of two other witness' testimony released Friday, Mulvaney was a key broker inside the White House pushing for Ukraine's announcement of investigations that could politically help President Donald Trump.
On Friday night, Mulvaney asked a court to allow him to join a lawsuit about the House subpoena power over White House witnesses in the impeachment probe. Mulvaney wrote he fears the House could hold him in contempt, while he obeys executive branch orders.
He claims that he cannot choose between complying with the House subpoena he received and the White House's instruction that he is immune from testifying, and would like a federal court to decide for him.
Mulvaney's move in court adds him to the ongoing case of another uncooperative impeachment witness, former deputy national security adviser Charles Kupperman, who sued House members and the White House before his scheduled testimony, asking a court to resolve whether he should follow the White House's orders that he is immune from testimony or the House's subpoena. Kupperman's case isn't set to be resolved for weeks, if not until mid-December or later.
The questions Mulvaney raises with his proposed lawsuit Friday "are significant for the country generally and for Mr. Mulvaney personally," his lawyers wrote in the late-night filing. "They go to the heart of our representative government and its promise to secure individual liberty by dividing the awesome power of government amongst itself.
Read more about this, here: