The latest on the Trump impeachment inquiry
2:41 p.m. ET, November 8, 2019
John Bolton has "relevant" information on Ukraine probe not yet disclosed, lawyer says 
Former national security adviser John Bolton has significant insights into matters being probed by the impeachment investigators, his lawyer said in a letter to congressional leaders today.
But Bolton's attorney said his client will not testify until a court resolves whether a subpoena to him must be adhered to.
In a letter, lawyer Charles Cooper said, "Ambassador Bolton, who was the National Security Advisor to the President, and who was personally involved in many of the events, meetings, and conversations about which you have already received testimony, as well as many relevant meetings and conversations that have not yet been discussed in the testimonies thus far."
2:44 p.m. ET, November 8, 2019
Hill said Rick Perry laid out Ukraine talking points at a meeting
Fiona Hill, President Trump's former top Russia adviser, testified that in the July 10 meeting with the Ukrainian delegation, Energy Secretary Rick Perry "laid out all of these talking points" about working with Ukraine to tackle corruption in the energy sector.
Trump's former national security adviser John Bolton said this was encouraging and suggested they could start thinking about a meeting between Trump and President Trump Volodymyr Zelensky.
Bolton, Hill said, urged the Ukrainians to deal with the State Department and with Perry on that.
This is when, Hill testified, Gordon Sondland "did a redirect" of the conversation.
"And this is when Sondland, who is, you know, a fairly big guy, kind of leaned over across Ambassador Bolton," she testified. "I mean, he was basically…countermanding what Ambassador Bolton had just said. In other words saying, I actually have, you know, some completely separate agreement about a meeting, you know, kind of you're stonewalling kind of thing."
Hill continued by saying Sondland looked irritated and told the Ukrainian delegation to go back to the Ward Room and talk about the next steps for the presidential meeting. She said Bolton was "pretty furious" about this, and that it was her impression that Sondland had previously talked to the Ukrainians about planning the presidential meeting — even though Bolton and others had been "recommending against having a meeting at this juncture."
2:31 p.m. ET, November 8, 2019
Biden: "This is about Donald Trump, not about me"
Former Vice President Joe Biden was asked if he would agree to appear if there was a Senate impeachment trial for President Donald Trump, as he spoke to reporters after filing for the New Hampshire Democratic primary.
"Number one, this is about Donald Trump, not about me. There's not a single solitary thing that anybody has demonstrated that I didn't do my job as the representative of the United States of America, representing America's position," he said.
"So, what Trump is doing and what he always do try to take the focus off of what the problem is. The problem is Donald Trump invited, at least on three occasions three different countries for different reasons to intervene in American elections. And this is a look, it's a constitutional issue. The House has no choice. The President stood there and basically indicted himself in 30 meetings, saying there's enough evidence to move forward with a trial in the United States Senate."
Biden, who was a Senator during President Bill Clinton's impeachment, added that impeachment proceedings are "not fun", but "there's a constitutional responsibility."
Remember: The whistleblower complaint that triggered the ongoing impeachment investigation centers around a claim that the President used military aid as a leverage to convince Ukraine to investigate Joe Biden and his son, Hunter.
There is no evidence of wrongdoing by either of the Bidens.
2:06 p.m. ET, November 8, 2019
Hill said two diplomats pushed for investigations in exchange for White House meeting 
Fiona Hill, President Trump's former top Russia adviser, reviewed the text messages between Ambassador to the European Union Gordon Sondland and then-special envoy for Ukraine Kurt Volker made public by the impeachment inquiry. 
When asked if that was normal diplomacy, Hill testified, "No."
"Because of the content and the nature of, you know, setting up a meeting in relation to this, to something that is not a national security deliverable," she said. "It was obvious from those text messages that they were referring to the investigations, and that was not something that we were pushing from the national security perspective, certainly not the National Security Council and certainly not the State Department."
Hill said that they were pushing for investigations "in exchange for a White House meeting."
More context: "I think potus really wants the deliverable," Sondland texted Volker on Aug. 9, as the two were talking about possible dates for a meeting between President Trump and Ukraine's president Volodymyr Zelensky.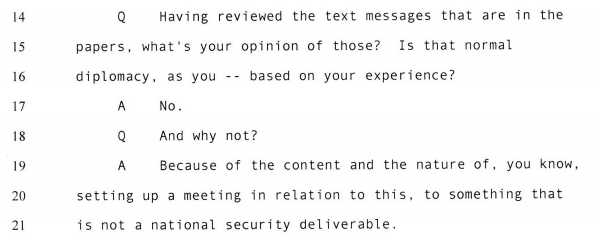 2:04 p.m. ET, November 8, 2019
Hill: Advisers tried to convince Trump that Ukraine 2016 interference theory was false
Fiona Hill, Trump's former top Russia adviser, testified that President Trump's advisers tried to convince him that the theory that Ukraine interfered in the 2016 election is false.
Hill said "we spent a lot of time" with Tom Bossert, Trump's former Homeland Security advisor, former National Security Council advisor H.R. McMaster and others "trying to refute this one in the first year of the administration." 
"Tom and others who were working on cybersecurity laid out to the President the facts about the interference," she said. "I can't say any more than that."
2:03 p.m. ET, November 8, 2019
Ukraine was interested in a meeting, not aid, in exchange for investigation, Vindman testified
Lt. Col. Alexander Vindman, the White House's top Ukraine expert, spelled out to members of Congress that he believed the Ukrainians understood President Trump's demand for investigations to be in exchange for a bilateral meeting — not aid to Ukraine. 
Asked when the Ukrainians were made aware of the hold on US foreign aid, Vindman said:
"It was no secret, at least within government and official channels, that security assistance was on hold. And to the best of my recollection, I believe there was some of these light inquiries in the mid-August timeframe…about security assistance." 
"And just to be clear, is it fair then that when you related that opinion that the withholding of military aid was clearly not part of the demand during that July 25th phone call?" a member of Congress asked. 
He responded: "I don't think the Ukrainians were aware of it. So, my understanding is this was all about getting the bilateral meeting."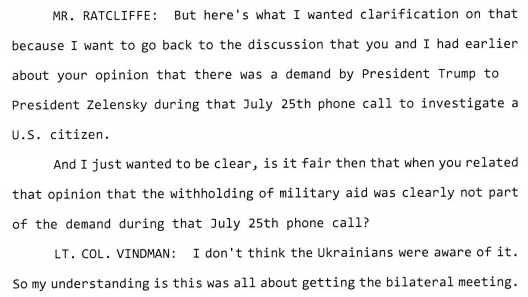 1:57 p.m. ET, November 8, 2019
White House officials are not backing down from court battle over impeachment testimony
A lawyer for two top White House officials suggested a federal judge still has to decide whether his clients must testify to impeachment investigators. 
Charles Cooper, who represents former National Security Adviser John Bolton and former Acting National Security Advisor Dr. Charles Kupperman, told the House today that even if a court rules that Don McGahn can testify, such a holding would not automatically clear the way for his clients to do so.
Remember: McGahn, former White House counsel, is at the center of a court case over his refusal to comply with a subpoena last spring.
Cooper penned the letter in response to a suggestion by House lawyers earlier in the week that a ruling in the McGahn case would apply to Kupperman and Bolton.
The letter suggested a more prolonged legal fight over the testimony of some top aides, and it could conceivably apply to others such as National Security Council legal advisor John Eisenberg and acting White House chief of staff Mick Mulvaney.
Cooper's reiterated his position: the only way his clients can appear is if a Court says the White House's immunity claim is invalid. Cooper says that because the House isn't interested in McGahn's views on sensitive national security issues in the case at hand, he is not in the same position as aides such as Kupperman and Bolton.
1:57 p.m. ET, November 8, 2019
Hill called path to releasing the security aid "extraordinarily corrosive"
Rep. Jim Jordan, a Republican from Ohio, tried to argue that "in the end, it kind of all worked out," because "the Javelins happened, the security assistance dollars happened, continued to flow" and that President Trump met Ukrainian President Volodymyr Zelensky in New York and the two leaders "hit it off."
"In the end, it kind of worked like it normally does," he said.
Fiona Hill, President Trump's former top Russia adviser, pushed back on that point of view: "Well, it depends on what you mean about working out," she said. 
"The President and President Zelensky did, in fact, meet at the UNGA. That is correct. The military assistance appears to have been delivered, to the best of my knowledge and also to yours. But in terms of the overall U.S.-Ukrainian relationship, no, I wouldn't say that this has worked out because we're in the middle of now what is a scandal about Ukraine. So the manner in which we got to this point has been extraordinarily corrosive, the removal of our Ambassador and what we have done, which is laying open what appears to have been an effort in which a number of unsanctioned individuals, including Ukrainian American businesspeople, seem to have been involved in these efforts," she said.

1:45 p.m. ET, November 8, 2019
Vindman reported concerns to security officials, including his brother
After a July 10 debriefing at the White House, Lt. Col. Alexander Vindman and Fiona Hill reported their concerns about EU ambassador Gordon Sondland's comments regarding Ukraine and a "deliverable" to National Security Council legal advisor John Eisenberg.
Eisenberg said he would "take a look into it," according to the transcript. But Vindman testified that he never heard back from Eisenberg on the issue.
Hill and Vindman also discussed their concerns about the meeting with Vindman's brother, Eugene Vindman, who is the chief ethics counsel at NSC.
Raed more: