The latest on the Trump impeachment inquiry
3:51 p.m. ET, November 6, 2019
Taylor squarely blames Ukraine controversy on Giuliani and Trump
Top US diplomat in Ukraine Bill Taylor said in newly released congressional testimony that he believes the idea of the US pressing Ukraine to investigate Burisma and 2016 came from Rudy Giuliani, who was representing the interests of President Donald Trump. 
Taylor confirmed New Jersey Democrat Tom Malinowski's description of two Trump administration camps diverging on the Ukraine issue — those who wanted to go along with the President's call for Ukraine to investigate and those who would not compromise their principles. 
"You (all) wanted a good relationship between the two countries. And then at a certain point, you all learned that the President was in a different place, correct?" Malinowski asked. 
"Yes," Taylor responded. 
Taylor also agreed with the assessment that the officials were divided into two camps. 
"It is (a fair assessment), Congressman. And it was motivated, but as you said, toward a strong relationship. It was just different — they thought they had to take a different route through Giuliani to get there," Taylor said. 
Asked if Ambassador to the European Union Gordon Sondland was responsible for what White House national security adviser John Bolton referred to as the "drug deal" — essentially withholding Ukraine aid in exchange for the requested investigations — Taylor pointed to Giuliani as a proxy for Trump. 
"I don't think so," Taylor said, referring to the question of whether Sondland was responsible.
"I think the origin of the idea to get President Zelensky to say out loud he's going to investigate Burisma and the 2016 election, I think the originator, the person who came up with that was Mr. Giuliani," he continued.
"And he was representing whose interests in —" Malinowski asked.
"President Trump," Taylor responded.

3:23 p.m. ET, November 6, 2019
David Hale left Capitol Hill after more than six hours of testimony
David Hale, a high-ranking State Department official, has wrapped up more than six hours of closed door testimony before the impeachment committees. 
Hale is the third highest ranking official at the State Department and the highest ranking career State Department official.  
Three other officials were scheduled to testify but are not expected to show up.
3:25 p.m. ET, November 6, 2019
Taylor: Giuliani wanted Ukraine to meddle in US election
Bill Taylor, the top diplomat to Ukraine, said President Trump's attorney Rudy Giuliani was pressing Ukraine "to intervene in US domestic policy or politics" by launching investigations into Trump's political rivals, according to the transcript. 
This testimony corroborates a major allegation from the whistleblower complaint, that Giuliani and Trump were trying to solicit help from the Ukrainians to boost his re-election chances in 2020. Giuliani wanted Ukraine to investigate former Vice President Joe Biden and Democratic National Committee servers. 
Taylor said he saw the requests as so dangerous that he believed Ukrainian President Volodymyr Zelensky should ignore them — even if it meant losing a one-on-one meeting with Trump. 
"If President Zelensky, in order to get that meeting (with Trump), were going to have to intervene in U.S. domestic policy or politics… by announcing an investigation on that would benefit someone in the United States, then it's not — it wasn't clear to me that that would be worth it," Taylor said. 
In his testimony, Taylor said it would be unacceptable for a foreign country to meddle in the US election. Other witnesses have also condemned any effort to solicit electoral help from Ukraine.

3:14 p.m. ET, November 6, 2019
Taylor said Trump's Ukraine aid package was better than Obama's
Bill Taylor, the top diplomat to Ukraine, told the House committees that he felt that the Trump administration's aid package to Ukraine was an improvement over that of the Obama administration. 
"It was a substantial improvement, in that this administration provided Javelin antitank weapons. These are defensive weapons, and they deter, and I believe successfully deter, Russians from trying to grab more territory, to push forward any further tank attack, number one. So there was a military capability," Taylor said.
He continued: "There was also a very strong political message that said that the Americans are willing to provide more than blankets. I mean, that was the previous. And these weapons are serious weapons. They will kill Russian tanks. So these were serious weapons. It was a demonstration that we support Ukraine."
While serving outside of the government, Taylor had urged the Obama administration to provide lethal defensive weapons to Ukraine, but he said, "the objection was that it might provoke the Russians."
Secretary of State Mike Pompeo has repeatedly touted the fact that the Trump administration provided weapons to Ukraine, noting to the New York Post that the "previous administration chose to provide blankets." 
Taylor explained to the House committees that "the prior administration had been willing to give aid, but 'blankets' was just kind of the more derogatory version of it, but it was nonlethal weapons." 
"So there was communications equipment, there were vehicles, there were maybe some rations, there were blankets, there were night-vision goggles. So it was a significant package, but it stopped short of weapons," he said.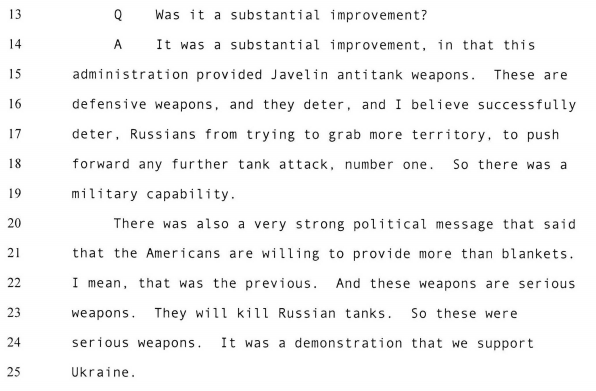 3:25 p.m. ET, November 6, 2019
Taylor described his "nightmare scenario" text during his testimony
Top diplomat to Ukraine Bill Taylor sent a text message to former special envoy for Ukraine Kurt Volker and Ambassador to the European Union Gordon Sondland on September 9, describing his "nightmare scenario," as it related to frozen US security aid.
"The message to the Ukrainians (and Russians) we send with the decision on security assistance is key. With the hold, we have already shaken their faith in us. Thus my nightmare scenario," Taylor wrote on September 9. Russia has made repeated illegal incursions into Ukraine.
"As I said on the phone, I think it's crazy to withhold security assistance for help with a political campaign," he added.
During his testimony to lawmakers, Taylor described exactly what he meant by his texts.
"'The nightmare' is the scenario where President Zelensky goes out in public, makes an announcement that he's going to investigate Burisma and the election in 2016, interference in 2016 election, maybe among other things," Taylor told the House committees. "The nightmare was he would mention those two, take all the heat from that, get himself in big trouble in this country and probably in his country as well, and the security assistance would not be released. That was the nightmare." 
"The Russians loving it. The Russians are paying attention. The Russians are paying attention to how much support the Americans are going to provide the Ukrainians," Taylor continued. "And they, the Russians want to know how much support the Ukrainians are going to get in general, but also what kind of support from the Americans. So the Russians are loving, would love, the humiliation of Zelensky at the hands of the Americans, and would give the Russians a freer hand, and I would quit."
Taylor said he was worried about such a scenario when he met with Secretary of State Mike Pompeo on May 28 and said he told Pompeo that if the US policy on Ukraine changed, he would leave.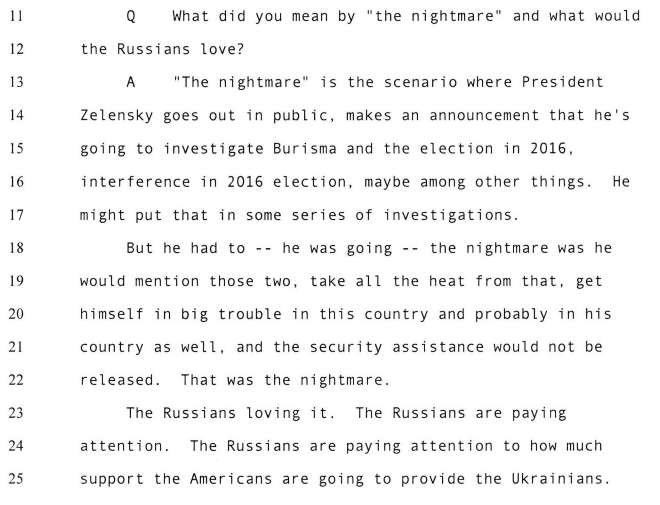 3:04 p.m. ET, November 6, 2019
Taylor feared Trump could let Russia keep Crimea
Career diplomat Bill Taylor told lawmakers that one reason why he was worried about taking the post in Kiev was because he was afraid that the Trump administration might abruptly change US policy toward Ukraine to make it much more friendly to Russia. 
"I could not be effective if our strong support for Ukraine policy were to change and if we were if for some reason, I couldn't imagine this would happen, but I was worried that there could be some dramatic change where we would agree with the Russians, that well maybe Crimea is Russian after all, you know, or something like that," Taylor testified. 
Taylor said if that were to happen, "I would have to resign," according to the transcript.
In the past, Trump has praised how Russian President Vladimir Putin handled the invasion of Crimea, and has parroted Kremlin talking points about the annexed Ukrainian territory. Trump made those controversial comments during the 2016 campaign, saying "the people of Crimea, from what I've heard, would rather be with Russia than where they were."
The Russian military annexed Crimea in 2014, wresting it from Ukrainian control. It has been part of Ukraine since the 1950s.
3:25 p.m. ET, November 6, 2019
Taylor took meticulous notes and kept a notebook
Top diplomat Bill Taylor's opening statement was extraordinarily detailed and included information about various phone conversations and in-person meetings.
He told lawmakers that he is a meticulous note-taker and referred to his records when preparing for his testimony. 
"I've always kept careful notes, and I keep a little notebook where I take notes on conversations, in particular, when I'm not in the office," Taylor said. "So, in meetings with Ukrainian officials or when I'm out and I get a phone call and I can — I keep notes."

3:00 p.m. ET, November 6, 2019
Taylor said it was "improper" to request Ukrainians investigate Burisma
The top US diplomat in Ukraine told impeachment committees he believed it was "improper" to ask the Ukrainian government to investigate Burisma, the gas company on whose board Hunter Biden sits.
"If the United States were to ask Ukraine to investigate an apparent violation of Ukrainian law, that would be improper," Bill Taylor said during his closed-door interview.
Questioned by Rep. Adam Schiff, the chairman of the House Intelligence Committee, on whether it was also improper because the goal was to influence US elections, Taylor said yes.
Later, he described Ukrainian officials as increasingly aware of the request to launch investigations as a condition for setting up a meeting with President Trump and Ukrainian President Volodymyr Zelensky.
"I think it was becoming clear to the Ukrainians that, in order to get this meeting that they wanted, they would have to commit to pursuing these investigations," he said.
Taylor said he was "embarrassed" in conversations with Ukrainian officials when they asked about stalled US aid since he didn't know the reasons behind the freeze.
"I'm a representative of the United States Government out there, and he asked me a perfectly legitimate question, why are you holding up this assistance, and I couldn't tell him," Taylor said.
3:27 p.m. ET, November 6, 2019
Taylor said he never talked to Trump
Top diplomat to Ukraine Bill Taylor testified that he "never talked to the President" when pressed by a GOP lawmaker on whether he knew firsthand Trump was conditioning investigations on meeting with Ukrainian president 
In response to GOP Rep. Lee Zeldin of New York, Taylor stated that he "had no conversations with the President" and later added, "I've never talked to the President." 
During Zeldin's questioning, Taylor also said, "What I know is that the direction was coming from Giuliani."