The latest on the Trump impeachment inquiry
3:25 p.m. ET, November 6, 2019
Taylor took meticulous notes and kept a notebook
Top diplomat Bill Taylor's opening statement was extraordinarily detailed and included information about various phone conversations and in-person meetings.
He told lawmakers that he is a meticulous note-taker and referred to his records when preparing for his testimony. 
"I've always kept careful notes, and I keep a little notebook where I take notes on conversations, in particular, when I'm not in the office," Taylor said. "So, in meetings with Ukrainian officials or when I'm out and I get a phone call and I can — I keep notes."

3:00 p.m. ET, November 6, 2019
Taylor said it was "improper" to request Ukrainians investigate Burisma
The top US diplomat in Ukraine told impeachment committees he believed it was "improper" to ask the Ukrainian government to investigate Burisma, the gas company on whose board Hunter Biden sits.
"If the United States were to ask Ukraine to investigate an apparent violation of Ukrainian law, that would be improper," Bill Taylor said during his closed-door interview.
Questioned by Rep. Adam Schiff, the chairman of the House Intelligence Committee, on whether it was also improper because the goal was to influence US elections, Taylor said yes.
Later, he described Ukrainian officials as increasingly aware of the request to launch investigations as a condition for setting up a meeting with President Trump and Ukrainian President Volodymyr Zelensky.
"I think it was becoming clear to the Ukrainians that, in order to get this meeting that they wanted, they would have to commit to pursuing these investigations," he said.
Taylor said he was "embarrassed" in conversations with Ukrainian officials when they asked about stalled US aid since he didn't know the reasons behind the freeze.
"I'm a representative of the United States Government out there, and he asked me a perfectly legitimate question, why are you holding up this assistance, and I couldn't tell him," Taylor said.
3:27 p.m. ET, November 6, 2019
Taylor said he never talked to Trump
Top diplomat to Ukraine Bill Taylor testified that he "never talked to the President" when pressed by a GOP lawmaker on whether he knew firsthand Trump was conditioning investigations on meeting with Ukrainian president 
In response to GOP Rep. Lee Zeldin of New York, Taylor stated that he "had no conversations with the President" and later added, "I've never talked to the President." 
During Zeldin's questioning, Taylor also said, "What I know is that the direction was coming from Giuliani."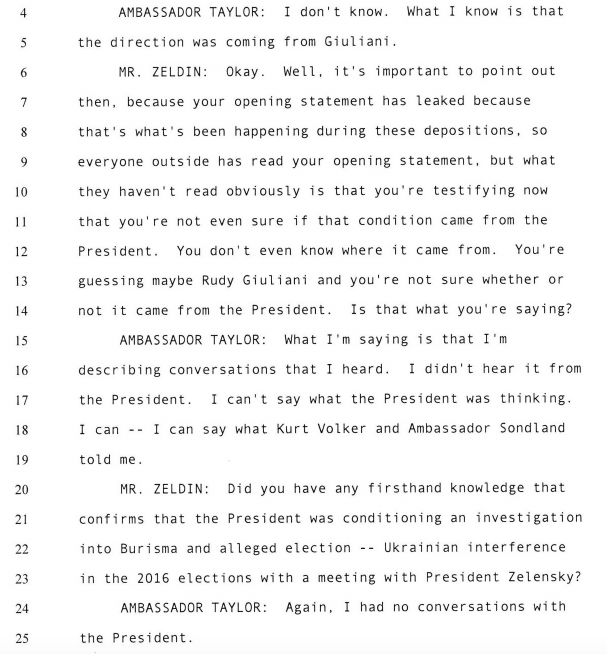 2:54 p.m. ET, November 6, 2019
Taylor thought call for Ukraine to investigate was a "bad idea"
Top diplomat in Ukraine Bill Taylor stated unequivocally to the House committees that he thought the call for Ukraine to launch investigations was "a bad idea." 
"I thought the idea of Americans asking the Ukrainians to investigate a violation of Ukrainian law was a bad idea," he said.
He said that former special envoy for Ukraine Kurt Volker had "volunteered" to reach out to Deputy Assistant Attorney General Bruce Swartz about the investigations and that was "fine with (him)."
Volker testified that, spurred by questions from Ukrainian officials, he wanted to check if the Justice Department had asked for such investigations.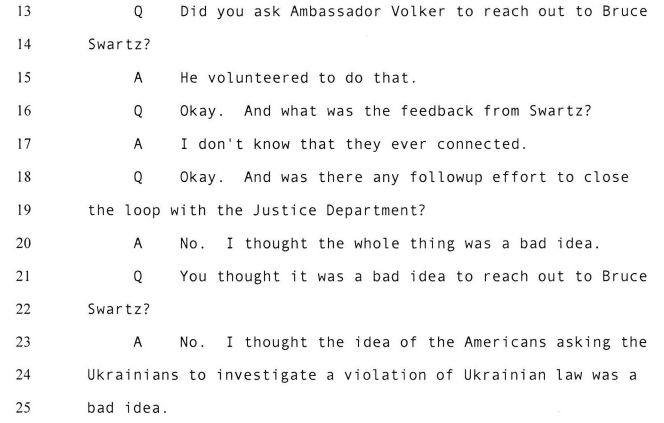 3:27 p.m. ET, November 6, 2019
Taylor told Pompeo he was worried about Giuliani's role
Impeachment investigators asked Bill Taylor, the top diplomat to Ukraine, to read excerpts from a May 2019 article in The New York Times, which revealed Rudy Giuliani's plans to travel to Ukraine to dig up dirt on the Bidens. Taylor said he found the news troubling and it gave him second thoughts about taking ambassador job in Kiev. 
"This was one of the several concerns I had when considering whether to accept the offer to go back out to Kyiv," Taylor said. "This was… one of the two snake pits, this is the Washington snake pit that I was concerned I would be stepping into if I were to accept the offer. So this made me less interested, this made me concerned, it troubled me that this is what was affecting U.S. policy towards Ukraine."
To hash out with those qualms, Taylor said he spoke with Secretary of State Mike Pompeo and State Department Counselor Ulrich Brechbuhl, and that he specifically raised concerns about Giuliani. 
"I let them know up front going into the meeting that I had not decided whether to accept the offer to go back out to Kyiv because I was troubled by what I was hearing, not just this Giuliani article, but I was troubled by other things as well and I made this clear to both, both Mr. Brechbuhl and Secretary Pompeo," Taylor said. 
In response, Pompeo told Taylor that he would always support a "strong US Policy" toward Ukraine, and that he would "make this case to President Trump," according to Taylor's testimony.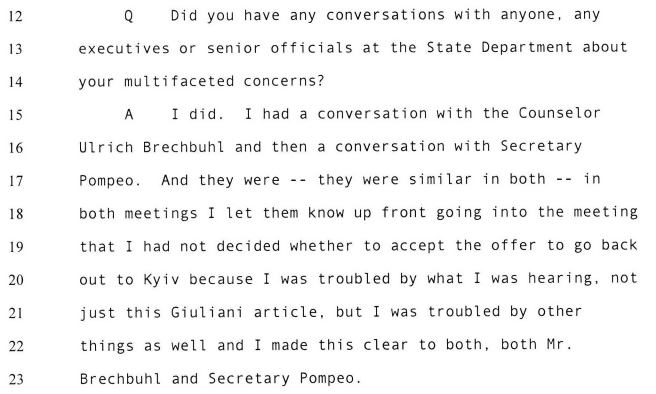 2:46 p.m. ET, November 6, 2019
Taylor testified that US officials wanted to resume Ukraine aid
Top US Diplomat in Ukraine Bill Taylor said in congressional testimony that he "was told a couple of times by people at State and people at the NSC that the Secretary of Defense, Secretary of State, the National Security Adviser, and the head of the CIA all strongly supported the resumption of this assistance," referring to Ukraine aid held up by the US.
Among those relaying this information, Taylor said he was told by Deputy Assistant Secretary George Kent and Tim Morrison, the top Russia and Europe adviser on President Donald Trump's National Security Council.
Taylor also noted that he "had known from earlier conversations with people that (John Bolton) was also trying with the two secretaries and the Director of the CIA to get this reversed. So he confirmed that and urged me to make my concerns known to the Secretary again." 
In his opening statement, Taylor had relayed that Bolton wanted him to send a cable to Secretary of State Mike Pompeo. 
"It was he who suggested then at that meeting that I write this note to Secretary Pompeo, which I did the next day," Taylor said in testimony. "He indicated that he was very sympathetic."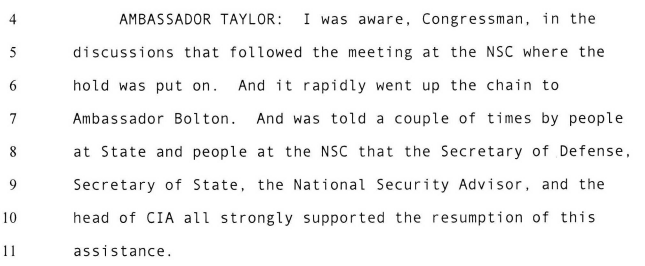 3:28 p.m. ET, November 6, 2019
Taylor said he learned from Hill staffer that Ukraine aid was unfrozen
Bill Taylor, the top US diplomat in Ukraine, said he heard that military assistance to Ukraine had been unfrozen in an email from a Senate Armed Services Committee staffer on Sept. 11.
"It was September 11th. So, yeah, I remember getting an email from a staffer, a Senate Armed Services Committee staffer. And of course Senate staffers House staffers too, I'm sure get the word much earlier than anybody else. And so i got this email, I think it was probably overnight, which I then sent to Tim Morrison and I think maybe to George Kent saying: 'Oh, this is great news. This is what we've been waiting for.' And Tim hadn't heard it yet. So that's how I first heard. And then he later that day confirmed," Taylor told the House committees.

2:38 p.m. ET, November 6, 2019
White House beefs up staff to fight impeachment
The White House is adding two new aides to its ranks as it battles House Democrats in their impeachment inquiry.
Tony Sayegh, the former senior Treasury aide, and Pam Bondi, the former Florida attorney general, are both expected to start in the coming days — both on a temporary basis.
It's a tacit acknowledgement from the White House that, despite denials, they needed to bolster their communications staff. The details are still being finalized but offers have been made. 
3:29 p.m. ET, November 6, 2019
Taylor said Trump wanted Ukraine to announce investigations 
The top US diplomat in Ukraine told lawmakers it was his "clear understanding" that American financial assistance to Kiev wouldn't come unless the country's president said publicly he would investigate President Trump's political rivals.
In his testimony last month, Bill Taylor told lawmakers his believed the money wouldn't flow unless the investigations were announced publicly was derived from conversations with other senior US officials, including US ambassador to the European Union Gordon Sondland.
"That was my clear understanding, security assistance money would not come until the President committed to pursue the investigation," Taylor said.
Taylor said Sondland told him repeatedly that Trump did not view the arrangement as a "quid pro quo." But he said, "I observed that, in order to move forward on the security assistance, the Ukrainians were told by Ambassador Sondland that they had to pursue these investigations."
Later, Taylor was pressed on how he knew the security assistance was conditioned on the announcement of the investigations. He acknowledged he never heard that from Trump himself.
"I didn't hear it from the President. I can't say what the President was thinking," Taylor said.
He said he "had no conversations with the President."