The latest on the Trump impeachment inquiry
5:30 p.m. ET, November 6, 2019
Taylor testified that Volker supported US officially asking Ukraine to investigate Burisma
Bill Taylor, the top US diplomat to Ukraine, told members of Congress that he did not mirror former special envoy for Ukraine Kurt Volker's support for having the US formally request Ukraine investigate Burisma, a natural gas company.
"I thought the idea of the Americans asking the Ukrainians to investigate a violation of Ukrainian law was a bad idea," Taylor said. "But Kurt, for some reason, wanted to pursue that. And when he volunteered to take that question to (Deputy Assistant Attorney General) Bruce Swartz, that was fine with me." 
In his opening statement, Taylor said he gave Swartz's name to Volker. But while answering questions from lawmakers, Taylor said Volker volunteered to reach out to Swartz.
About Burisma: Former Vice President Joe Biden's son, Hunter Biden, sat on the board of the Ukrainian natural gas company from May 2014 until April 2019.
Trump has claimed, without offering proof, that Joe Biden tried to have Ukraine's top prosecutor ousted in 2016 to stop investigations of Burisma, to benefit his son.
But the investigations did not produce any prosecutions, and there is no evidence of wrongdoing by either Joe Biden, nor that Hunter Biden himself was ever under investigation.
5:01 p.m. ET, November 6, 2019
Taylor was OK with Giuliani's role at first
Top diplomat to Ukraine Bill Taylor said he initially "wasn't disturbed" by Rudy Giuliani's role in steering US policy toward Ukraine, but that his opinion soured as he learned more about the political favors Giuliani was seeking from Ukraine. 
"Actually, I wasn't disturbed by that," Taylor said of Trump's order to State Department diplomats that they work with Giuliani on Ukraine policy. "It's not unusual to ask people outside the government to play a role." 
Former US special envoy for Ukraine Kurt Volker was brought in from the outside to help, Taylor noted. Volker kept his civilian job while also working as a volunteer diplomat to handle the Ukraine crisis.  
Taylor continued: "There have been examples, we've heard about them recently of other civilians doing work for the State Department. And as long as the people pulled in from the outside, consulted from the outside, giving advice or ideas on policy, that's -- we see that all the time. We all have seen that, and that's okay, as long as it's consistent with and supports the main thrust of U.S. foreign policy."
But Taylor said his views changed over time, and that he grew alarmed by what Giuliani was up to, and even concerns about what was happening with US policy toward Ukraine with Secretary of State Mike Pompeo. 
Republicans are likely to seize on Taylor's initial comments about Giuliani to claim that there was nothing wrong with Trump bringing in his personal attorney to play a role in official US government foreign policy. 
4:42 p.m. ET, November 6, 2019
Taylor over time understood "investigations" meant into Bidens and DNC hacks
Diplomat Bill Taylor said that he understood by early July that when President Trump appointees were talking about Ukraine launching "investigations" that they were talking about the desired probes into former Vice President Joe Biden and into conspiracy theories about the Democratic email hacks in 2016.  
"I'm beginning to understand that there — that the investigations, again I'm not sure if there's a crystal time, a specific time, but I'm beginning to understand that these investigations of Burisma and the 2016 elections are what the term 'investigations' refer to," Taylor said. 
A key sticking point in the inquiry is what was meant by "investigations."
Some of Trump's defenders have leaned into the vagueness of this term, and Trump has said all he cares about is ending corruption in Ukraine. But testimony from Taylor and other witnesses suggests that it was widely understood that the "investigations" were tantamount to political meddling by Ukraine. 
4:26 p.m. ET, November 6, 2019
Taylor testified he didn't feel the same pressure as Yovanovitch
Ukraine diplomat Bill Taylor testified that he was never made to feel out of line after his pushback against the Ukraine policy being pursued by Rudy Giuliani and the administration's "three amigos."
Citing the pressure placed on his predecessor Marie Yovanovitch by Giuliani and others, Democratic Rep. Raja Krishnamoorthi asked Taylor if he was aware of "any attempts by Giuliani or anyone else" to "come back at him" after he had texted his concerns to Gordon Sondland and Kurt Volker. Taylor said "no."
"Did anybody ever question you directly about your statements and whether you were somehow out of line in making the statements that you made?" Krishnamoorthi asked Taylor. 
"Not yet," Taylor said.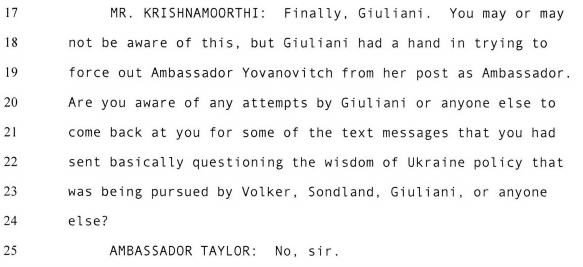 4:13 p.m. ET, November 6, 2019
Taylor adds new details on Trump-Ukraine quid pro quo
Top diplomat to Ukraine Bill Taylor gave lawmakers new information about how Trump officials pressed Ukraine to launch politically charged investigations that could help the President's re-election.  
Taylor described a call with US Ambassador to the European Union Gordon Sondland on June 27 where they discussed the upcoming phone call between President Trump and Ukrainian President Volodymyr Zelensky. 
Taylor testified that Sondland told him that "President Zelensky, needed to make clear to President Trump that he, President Zelensky, was not standing in the way of investigations." 
Asked for specifics, Taylor said he didn't know at the time exactly which investigations Sondland was referring to, but that he knew they were related to the probes that Rudy Giuliani was seeking.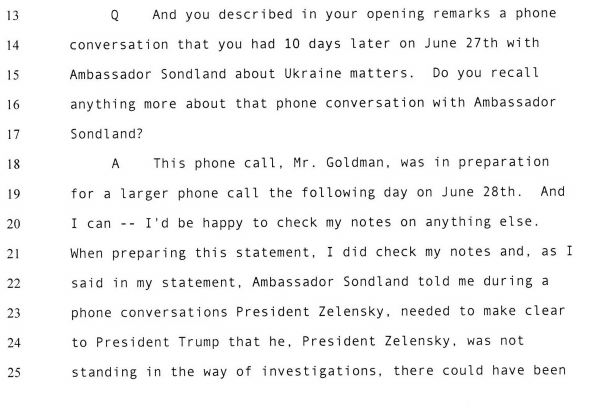 4:17 p.m. ET, November 6, 2019
Taylor said Trump held up Ukraine aid for "domestic political gain" to cast Biden in "bad light"
Top US diplomat in Ukraine Bill Taylor clarified to members of Congress that in his opening statement, when he was referring to the administration holding up Ukraine aid for "domestic political gain" or a "political campaign," he was specifically referring to President Trump casting former Vice President Joe Biden "in a bad light." 
In his opening testimony, Taylor said he "told Ambassadors Sondland and Volker … 'I think it's crazy to withhold security assistance for help with a political campaign.'" 
"I argued to both that the explanation made no sense: the Ukrainians did not 'owe' President Trump anything, and holding up security assistance for domestic political gain was 'crazy," he continued in his opening remarks. 
Taylor was asked specifically what he was referring to by New York Democratic Rep. Sean Maloney.
"As I understood the reason for investigating Burisma was to cast Vice President Biden in a bad light," Taylor told members of Congress during the question and answer period. 
The political campaign to gain from the investigation, he said, was "a political campaign for the reelection of President Trump."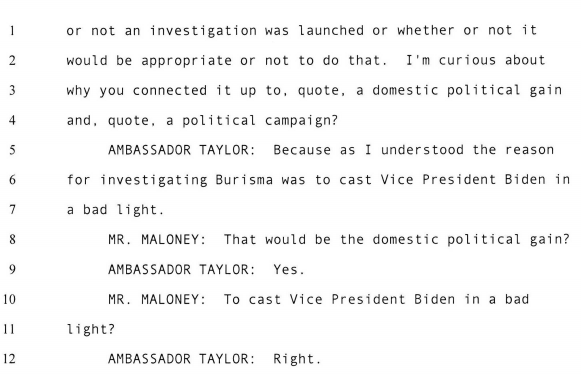 4:09 p.m. ET, November 6, 2019
This Republican senator objected to an unanimous resolution on whistleblower protections today
Days after Republican Sen. Rand Paul called the for the Ukraine whistleblower's identity to be made public, Senate Democrats attempted to pass an unanimous resolution to recognize the role of Congress and the Executive Branch to protect whistleblowers today. 
Paul objected saying he wanted the Senate to pass his own bill that would apply whistleblower protections to Edward Snowden and allow President Trump to face his accuser. 
Senate Minority Leader Chuck Schumer said GOP calls to name the whistleblower are "wrong" and "dangerous" and outing them would send a "chilling message to future patriots." He urged the Senate to pass this resolution to reaffirm a longstanding tradition to protect whistleblowers. These are laws that have existed "since the founding of our republic," Schumer added.
After Sen. Mazie Hirono, a Democrat of Hawaii, asked for unanimous consent, Paul objected. He then introduced his own bill, The Whistleblower Protection Act of 2019, which he said would provide retroactive protections for whistleblowers that could then be applied to defend Snowden, for example, and would ensure the president can have a right to address his accuser.
Paul said he isn't objecting because he doesn't support whistleblowers, but the system should be refined.
Hirono added in response that Paul is undermining whistleblower protections, which makes even just the name of his bill, The Whistleblower Protection Act, "appalling" and "laughable." 
5:39 p.m. ET, November 6, 2019
House has withdrawn its subpoena of Charles Kupperman, according to court filing
In a sign that Democrats don't want a prolonged battle for witnesses in their impeachment probe, the House of Representatives says it is retracting the subpoena for former deputy national security adviser Charles Kupperman.
"The subpoena at issue in this matter has been withdrawn and there is no current intention to reissue it," the House wrote in court documents about Kupperman's testimony this afternoon.
The House instead suggested Kupperman should abide by what is decided in a separate case that is further along, its lawsuit against Don McGahn to force the former White House counsel to testify.
The House told Kupperman's attorney yesterday it still would be interested in speaking with him in the impeachment inquiry, and that he should sit for a deposition if another federal judge knocks down the White House's blocking tactic in McGahn's case. McGahn was subpoenaed in April to discuss the President's attempts to obstruct the Russia investigation.
McGahn's case is "much closer to resolution by the court than Dr. Kupperman's flawed suit," the House wrote to Kupperman's attorneys yesterday. "Unless your lawsuit was admittedly only for purposes of delay, and without a subpoena in force, the Committees expect that your client will voluntarily dismiss the complaint ... and be guided by the decision in McGahn."
CLARIFICATION: This post has been updated to clarify that the House of Representatives is retracting its subpoena of Kupperman but still may want to question him.
3:51 p.m. ET, November 6, 2019
Taylor squarely blames Ukraine controversy on Giuliani and Trump
Top US diplomat in Ukraine Bill Taylor said in newly released congressional testimony that he believes the idea of the US pressing Ukraine to investigate Burisma and 2016 came from Rudy Giuliani, who was representing the interests of President Donald Trump. 
Taylor confirmed New Jersey Democrat Tom Malinowski's description of two Trump administration camps diverging on the Ukraine issue — those who wanted to go along with the President's call for Ukraine to investigate and those who would not compromise their principles. 
"You (all) wanted a good relationship between the two countries. And then at a certain point, you all learned that the President was in a different place, correct?" Malinowski asked. 
"Yes," Taylor responded. 
Taylor also agreed with the assessment that the officials were divided into two camps. 
"It is (a fair assessment), Congressman. And it was motivated, but as you said, toward a strong relationship. It was just different — they thought they had to take a different route through Giuliani to get there," Taylor said. 
Asked if Ambassador to the European Union Gordon Sondland was responsible for what White House national security adviser John Bolton referred to as the "drug deal" — essentially withholding Ukraine aid in exchange for the requested investigations — Taylor pointed to Giuliani as a proxy for Trump. 
"I don't think so," Taylor said, referring to the question of whether Sondland was responsible.
"I think the origin of the idea to get President Zelensky to say out loud he's going to investigate Burisma and the 2016 election, I think the originator, the person who came up with that was Mr. Giuliani," he continued.
"And he was representing whose interests in —" Malinowski asked.
"President Trump," Taylor responded.