The latest on the Trump impeachment inquiry
1:46 p.m. ET, November 4, 2019
Yovanovitch said she felt threatened after Trump singled her out on July phone call
Former US Ambassador to Ukraine Marie Yovanovitch said she felt threatened after President Trump used her name on the July 25 phone call to the president of Ukraine.
According to the transcript from her deposition last month, Yovanovitch was asked about a transcript of the call, which showed President Trump saying "she's going to go through some things."
During the testimony, someone asked Yovanovitch, "What did you understand that to mean?"
"I don't know what it meant," she answered. "I was very concerned. I still am."
"Did you feel threatened?" she was asked.
"Yes," she responded.
Watch more:
1:46 p.m. ET, November 4, 2019
Yovanovitch said she believed charges against Ukrainian official convicted of election meddling were politically motivated 
Former US Ambassador to Ukraine Marie Yovanovitch testified that she didn't believe the charges against Serhiy Leshchenko, a former Ukrainian government official convicted in a Kyiv court in 2018 of meddling in the 2016 US election. 
Leschenko and Artem Sytnyk released documents in August 2016 exposing Paul Manafort's secret dealings in Ukraine, and were later accused by Rudy Giuliani of colluding to help the Democrats.
"I mean, honestly, I didn't believe the charges. I thought that they were politically motivated against Leshchenko," Yovanovitch told the committees.
She also said that "it felt too political" to her and that she did not have instructions from State, [Department of Justice] or Washington to intervene on "what seemed to be internal Ukrainian political fights kind of using us."
"The court system in Ukraine, and certainly at the time that we're talking about, was still not reformed, and so the court system didn't have a great deal, and still does not enjoy, a great deal of credibility," she added.
She denied that there had been conversations with the State Department about special treatment or protections.

1:43 p.m. ET, November 4, 2019
Republican senator comes to the defense of whistleblower protections
Sen. Chuck Grassley, a Republican from Iowa, defended the laws protecting a whistleblower's identity today.
Grassley's defense of the law comes after President Trump tweeted that the whistleblower "must be brought forward to testify."
"The law protects the whistleblower," Grassley told reporters of Trump's remarks about the whistleblower's identity. "I'm an advocate for whistleblowing and passed all these whistleblower protection laws, so I can only say we have to go by what the law says." 
Grassley said he wants to make sure the law is followed.  
"A person like me that has advocated for whistleblowers for a long period of time, including this whistleblower, I want maximum protection for whistleblowers," he said.
Grassley said he hasn't discussed the matter with Trump, adding that he'd only talk about it with the President "if he asked me to discuss it with him."
1:36 p.m. ET, November 4, 2019
Yovanovitch said she was told to tweet praise for Trump
Former US Ambassador to Ukraine Marie Yovanovitch testified that she called US Ambassador to the European Union Gordon Sondland to ask for his advice earlier this year in the wake of public attacks from President Trump's closest allies, specifically his son Donald Trump Jr., his lawyer Rudy Giuliani and Fox News host Sean Hannity.
Yovanovitch testified that Sondland told her "You know, you need to go big or go home. You need to, you know, tweet out there that you support the President, and that all these are lies and everything else."
She later explained the situation in more detail, saying that Sondland told her, "You know the President. Well, maybe you don't know him personally, but you know, you know, the sorts of things that he likes. You know, go out there battling aggressively and, you know, praise him or support him." 
Yovanovitch testified that his response "took me aback." She testified that didn't see how she could follow Sondland's advice, because she is a career foreign service officer and must remain apolitical. Sondland is a Trump political appointee and is close to the President after donating handsomely to his inauguration.
"And, you know, so, you know, I mean, obviously, that was advice. It was advice that I did not see how I could implement in my role as an Ambassador, and as a Foreign Service officer," she said.
Yovanovitch said she did not feel like she could tweet because "the State Department was silent."
"I just didn't see that there would be any advantage to publicly taking on a fight with those who were criticizing me in the United States," Yovanovitch said.


1:08 p.m. ET, November 4, 2019
Yovanovitch was told State Department couldn't issue statement of support for her because Trump might undermine it
As onetime US ambassador to Ukraine Marie Yovanovitch came under attack from some of President Trump's allies — including his son, Donald Trump Jr., — she pressed the State Department to issue a statement supporting her.
But such a statement never came because officials were worried Trump might "undermine" it with his own messages.
Speaking during a congressional deposition on Oct. 11, Yovanovitch said she felt a statement from Washington was necessary to maintain her credibility in Kiev.
"If you have the President's son saying, you know, we need to pull these clowns, or however he referred to me, it makes it hard to be a credible ambassador in a country," she said.
She said she wanted a statement of support from the State Department, and spoke with acting assistant secretary Phil Reeker about it.
"What I wanted was the secretary of state to issue a statement that said that, you know, I have his full confidence or something like that, to indicate that I, in fact, am the ambassador in Ukraine, and that I speak for the President, for the Secretary of State, for our country," she testified.
She said she heard from Reeker that after discussions with senior State Department staff, there was concern that such a statement could be undercut by the President himself.
"I was told there was caution about any kind of statement, because it could be undermined," she said.
She clarified the concern was about the President himself undermining his own agency in a "tweet or something," though she said it wasn't clear to her how the undermining might occur.
She said it was ultimately made clear that "non statement was going to be issued, not by the Secretary, not by anybody else."

1:59 p.m. ET, November 4, 2019
Yovanovitch said there's no official policy to link Ukraine aid to Biden — but wonders if there's an unofficial one
Former US ambassador to Ukraine Marie Yovanovitch said there was "no official policy" at the State Department to link Ukraine aid to Biden investigations. But after reading texts between Kurt Volker, Gordon Sondland and Bill Taylor — which were released by House Democrats early in the inquiry — Yovanovitch wondered "whether there was an unofficial policy." 
This all came up while Yovanovitch and lawmakers were trying to untangle the official work of the US embassy in Ukraine with Giuliani's campaign of shadow diplomacy, seemingly blessed by President Trump.
Here's how her exchange with Rep. Lee Zeldin went down:
Zeldin: Are you aware of a policy where aid from the United States to Ukraine was linked to investigating the Bidens? 
Yovanovitch: No, I am not. An official policy. There's no official policy. 
Zeldin: Are you aware of an unofficial policy? 
Yovanovitch: Well, I mean, reading the texts and so forth, it made me wonder whether there was an unofficial policy.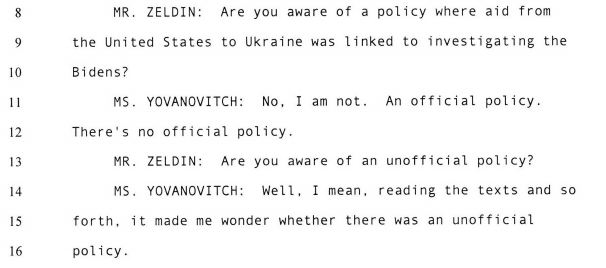 1:04 p.m. ET, November 4, 2019
Yovanovitch testified Giuliani undercut US policy
US ambassador to Ukraine Marie Yovanovitch said Rudy Giuliani's shadow diplomacy "cut the ground out from underneath us" at the US embassy and hampered her efforts to represent the US as the senior-most diplomat in Ukraine.
"Ukrainians were wondering whether I was going to be leaving, whether we really represented the President, US policy, et cetera," Yovanovitch said. "And so I think it was — you know, it really kind of cut the ground out from underneath us."
She blamed Giuliani's torrent of television interviews and social media posts. For months this spring and summer, Giuliani, President Trump's personal lawyer, spread conspiracy theories and unfounded rumors about Ukraine, former Vice President Joe Biden and his family, Yovanovitch's loyalties, alleged corruption and much more.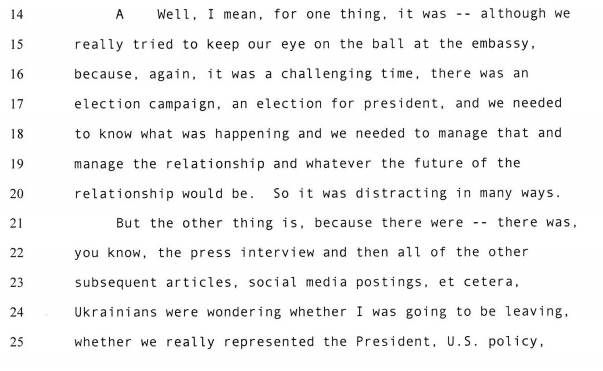 1:04 p.m. ET, November 4, 2019
Yovanovitch said she and another State official didn't discuss Hunter Biden and Ukraine role
Former US Ambassador to Ukraine Marie Yovanovitch testified that she and George Kent — who was the deputy chief of mission in Kiev until summer of 2018 — "never discussed Hunter Biden and his board role and all of that, or to my recollection, I should say."
She added that Kent "did share with me his understanding of what happened, what occurred with regard to the British court case against Zlochevsky, the head of Burisma."
"That, you know, again, happened before my arrival. That was, you know, pretty much it," she said," she said.
Some background on Burisma: President Trump has repeatedly claimed that former Vice President Joe Biden had called for the firing of a Ukrainian prosecutor who was "investigating his son." There is no evidence Hunter Biden was ever under investigation.
The investigation was into the business dealings of the owner of a Ukrainian natural gas company, Burisma Holdings, where Hunter Biden sat on the board of directors.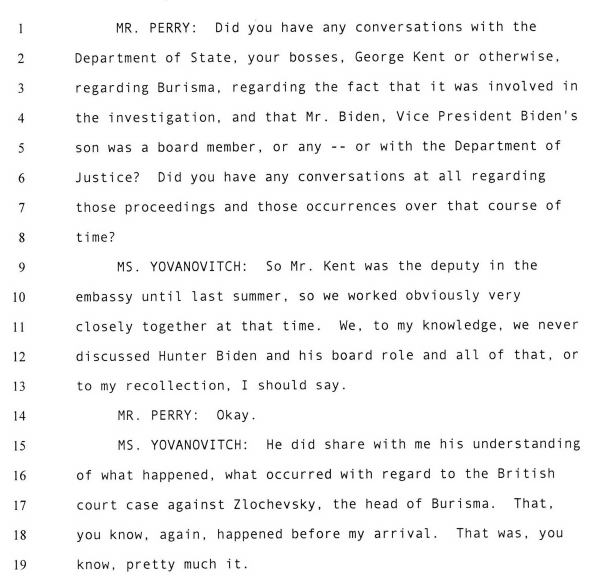 1:00 p.m. ET, November 4, 2019
McKinley testified about concerns within the State Department about "bullying tactics"
Michael McKinley, former senior adviser to Secretary of State Mike Pompeo, told lawmakers that he spoke with a fellow ambassador about what McKinley believed sounded like "bullying tactics" within the State Department toward officials who might comply with the impeachment investigation.
Ambassador George Kent, who oversees Ukraine and other countries in Eastern Europe, told McKinley that Kent had been questioning why the document requests from Congress were not being delivered to him from higher-ups at the State Department on a "timely basis."
"He challenged the deadline they were working against," McKinley recalled Kent telling him. "Why weren't they given the request for documents on a timely basis and why were they having to pull together whatever they were pulling together days after the congressional request had come in."
McKinley said Kent also raised concerns that a letter from Pompeo back to the House committees contained "inaccuracies" about protecting or providing legal support to State employees who might speak with Congress. McKinley said he was "absolutely appalled" that the State Department was declaring that there would be no financial support for officials' private counsel.
McKinley, relaying his conversation with Kent said, that "he also mentioned that he thought that the [State Department] lawyer was trying to shut him up, and so I didn't tell him to write it up." McKinley said Kent wrote up the details of what he conveyed to McKinley and sent it in an email to McKinley that evening.
McKinley went on to send that memo to "other people on the 7th floor" – that is, the floor of the State Department where Pompeo and other senior officials have their offices – because he thought it was a "serious memorandum."
"I thought it indicated a lack of support that was broader than simply a question of statements," McKinley said, adding that he was concerned about "bullying tactics" against other State officials who might cooperate with the congressional investigation.
McKinley testified he received no response from anyone on the Seventh floor to the Kent memo he sent around.