The latest on the Trump impeachment inquiry
2:37 p.m. ET, November 4, 2019
Yovanovitch said former Ukrainian prosecutor "lied" about coming to the US to meet with Giuliani
In her testimony, former US Ambassador to Ukraine Marie Yovanovitch defended the decision to deny the former Ukrainian prosecutor general Viktor Shokin a visa to the US and suggested she was blindsided by Rudy Giuliani going to the White House and senior State Department officials to lobby on his behalf. 
Yovanovitch said she was alerted that "the embassy had received a visa application for a tourist visa from Mr. Shokin, the previous prosecutor general. And he said that he was coming to visit his children, who live in the United States. And so, the consular folks, you know, got the application, recognized the name, and believed that he was ineligible for a visa, based on his, you know, known corrupt activities."
She said that it was her understanding that the embassy gave Shokin either a "formal hard refusal or what we call a 221G, which is an administrative refusal, asking for more information."
"And the next thing we knew, Mayor Giuliani was calling the White House as well as the assistant secretary for Consular Affairs, saying that I was blocking the visa for Mr. Shokin, and that Mr. Shokin was coming to meet him and provide information about corruption at the embassy, including my corruption," Yovanovitch said.
Yovanovitch said she alerted George Kent, who notified then Assistant Secretary of State for European and Eurasian Affairs A. Wess Mitchell about Shokin's visa denial.
"And when you know, of course, when the calls came from Mr. Giuliani to the White House and to the Assistant Secretary for Consular Affairs, they got in touch with the European Bureau, and Mr. Mitchell, you know, held firm. I mean, it was a consular decision. The consular folks felt that they had made the right decision. And, you know, there was the added issue that, you know, basically the notorious reputation of Mr. Shokin," she said.
"And, frankly, at the end of the day, he lied on his visa application," Yovanovitch added, noting that he had said on his application he was visiting family when he was really visiting Giuliani.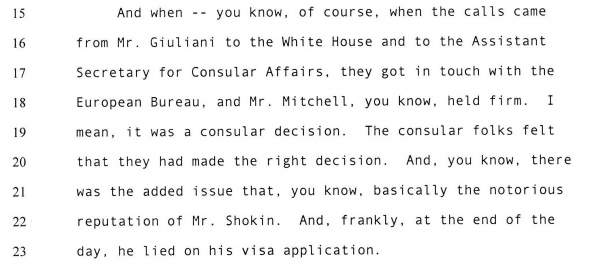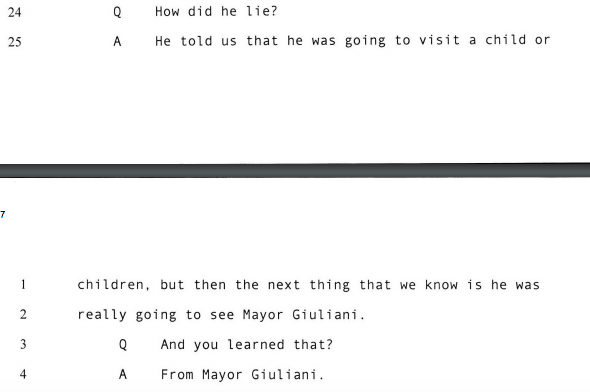 5:31 p.m. ET, November 4, 2019
Trump says Nationals' win is all America could talk about — "that and impeachment"
As key witness testimony in the impeachment inquiry rocks Washington, President Trump welcomed the Washington Nationals, this year's World Series Champions, to the White House.
"The last time Washington, DC, was home to the World Series champs, the President was a man by the name of Calvin Coolidge," Trump said, predicting that this would be the first championship "of many."
Trump said America fell in love with Nationals baseball this season, adding that it was was "all they could talk about."
"That and impeachment. I like Nats baseball much more," Trump said.
The President said he has proclaimed today Washington Nationals Day, as he congratulated the team. A military band played "We are the Champions" as the President and First Lady departed. 
Not every member of the Nationals attended the event. In addition to Sean Doolittle declining the invitation, it appears Anthony Rendon, Victor Robles, Wander Suero, Javy Guerra, Joe Ross, Wilmer Difo and Michael A. Taylor also did not come to the White House today.  
Watch here:
2:19 p.m. ET, November 4, 2019
Yovanovitch transcript shows Republican efforts to question impeachment inquiry
The transcript of Marie Yovanovitch's testimony makes clear Republican efforts to question the impeachment effort's procedures, even as GOP members were given equal time to question the former US ambassador to Ukraine.
Before the questioning even began, Republicans criticized the rules surrounding the inquiry and suggested it should be led by another committee. Rep. Jim Jordan, a Trump ally, said the President and Republicans should be able to see all the evidence and present their own evidence "bearing on the credibility" of witnesses. The Ohio Republican also said President Trump should be able to respond to the testimony.
The Republicans went back-and-forth with House Intelligence Committee chairman Adam Schiff over the rules before the questioning began. 
Later, the Republicans interjected when it became known that Yovanovitch's opening statement had been obtained by the media, which they repeatedly attempted to question her about. Her lawyer sought to block those questions, though she eventually responded to an inquiry on whether she thought her opening statement should be provided to the press. 
"I actually don't really have an opinion on that. I haven't thought about this in terms of what is most appropriate or not appropriate to share with the greater public, but I do know that there is a lot of interest in this," she said.
Later, during their time to question Yovanovitch, the Republicans asked about a conversation she had with George Kent, a State Department official, about Trump's July 25 phone call with Zelensky after she was recalled from her post.
Rep. Mark Meadows, a Republican from South Carolina, also asked Yovanovitch why she was called "Masha," to which she replied that it's a common Russian nickname. 
2:15 p.m. ET, November 4, 2019
Yovanovitch: Ukrainian official told me to "watch my back" after Giuliani efforts
In her deposition, former US Ambassador to Ukraine Marie Yovanovitch said she was warned by a senior Ukrainian official that she needed to watch her back as Trump associates worked to undermine her and have her removed.
Asked about her conversations with Ukrainian officials about Rudy Giuliani, Yovanovitch said she recalled a February 2019 conversation with one official who was "very concerned" about Giuliani's efforts along with his associates Lev Parnas and Igor Fruman.
"He basically said, and went into some detail, that there were two individuals from Florida, Mr. Parnas and Mr. Fruman, who were working with Mayor Giuliani, and that they had set up the meetings for Mr. Giuliani with Mr. Lutsenko. And that they were interested in having a different ambassador at post, I guess for because they wanted to have business dealings in Ukraine, or additional business dealings."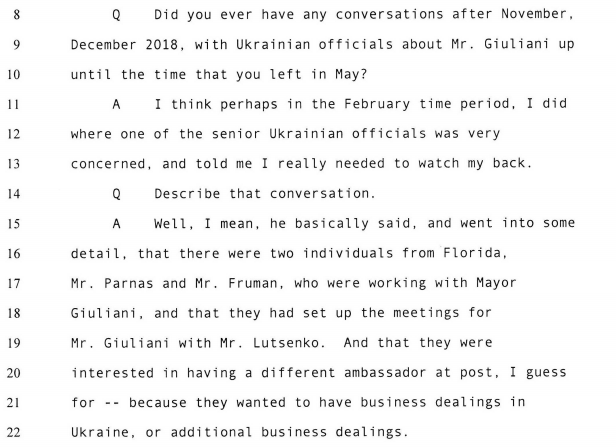 2:10 p.m. ET, November 4, 2019
Yovanovitch was told she needed to come back home out of concerns for her "security"
Former US Ambassador to Ukraine Marie Yovanovitch fought to stay in Ukraine, but was told she had to be "on the next plane home" out of concerns for her "security." 
Here's how Yovanovitch explained the situation:
"She said that there was a lot of concern for me, that I needed to be on the next plane home to Washington. And I was like, 'What? What happened?' And she said, 'I don't know, but this is about your security. You need to come home immediately. You need to come home on the next plane.' And I said, 'Physical security? I mean, is there something going on here in the Ukraine?' Because sometimes Washington has intel or something else that we don't necessarily know. And she said, 'No, I didn't get that impression, but you need to come back immediately.' And, I mean, I argued with her. I told her I thought it was really unfair that she was pulling me out of post without any explanation, I mean, really none, and so summarily."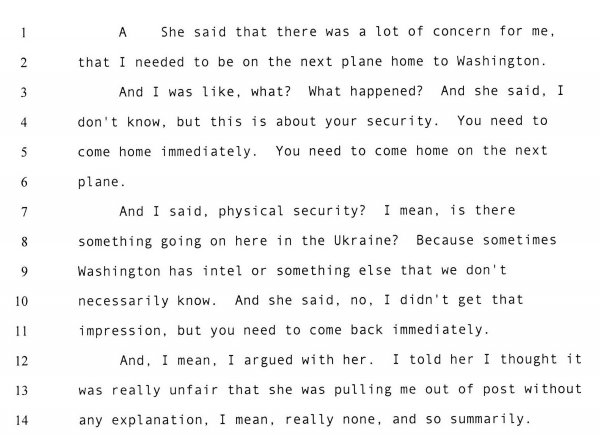 2:03 p.m. ET, November 4, 2019
Yovanovitch recounted Volker telling her Giuliani backlash against her would "blow over" 
Former US Ambassador to Ukraine Marie Yovanovitch said former special envoy for Ukraine Kurt Volker told her the backlash against her would "blow over," and that she did not recall discussing Rudy Giuliani's activities in Ukraine with Volker.
"About maybe a week, a week and a half after The Hill article, we had a conversation but about the Donbass," she testified. "And he started the conversation by saying, You know, it's going to be okay. It will all blow over. I know it's unpleasant now. But that was the extent of the conversation."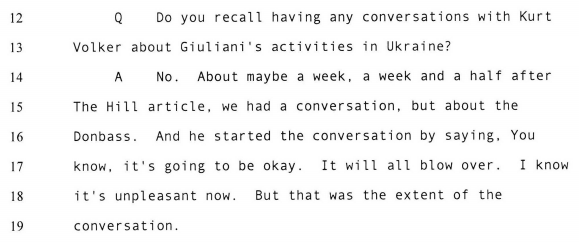 2:23 p.m. ET, November 4, 2019
McKinley was "disturbed" by implication of foreign governments being asked to find dirt on political opponents
Former State Department adviser Michael McKinley testified that one of the reasons he resigned was that he "was 'disturbed' by the implication that foreign governments were being approached to procure negative information on political opponents."
"It wasn't just the situation inside the building and the lack of a statement of support," he said.
McKinley continued:
"I read the news. I read what is happening. I think I tried to say clearly in my statement that I think I used the words 'deeply disturbed' or 'disturbed' by the implication that foreign governments were being approached to procure negative information on political opponents. Well, actually that was another issue of concern to me and one that threw into question exactly what you're saying. I have spent 37 years being a diplomat. Being a diplomat for the United States means supporting millions of Americans overseas. It means supporting our companies to create jobs at home. It means resolving conflicts that impact the United States. It means keeping the homeland safe. It means working with our military, the agency, all of our civilian agencies on projecting our interests and influence overseas. It means projecting American values ... In this context, frankly, to see the emerging information on the engagement of our missions to procure negative political information for domestic purposes, combined with the failure I saw in the building to provide support for our professional cadre in a particularly trying time, I think the combination was a pretty good reason to decide enough, that I had I had no longer a useful role to play."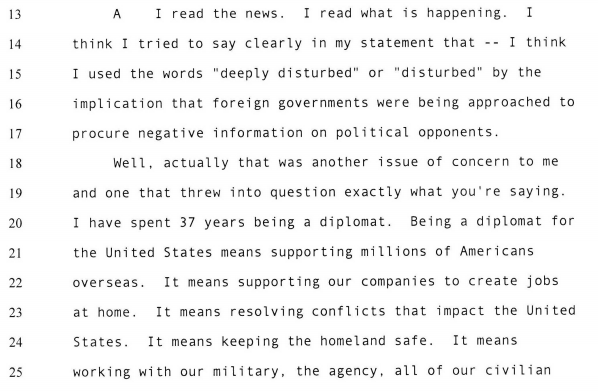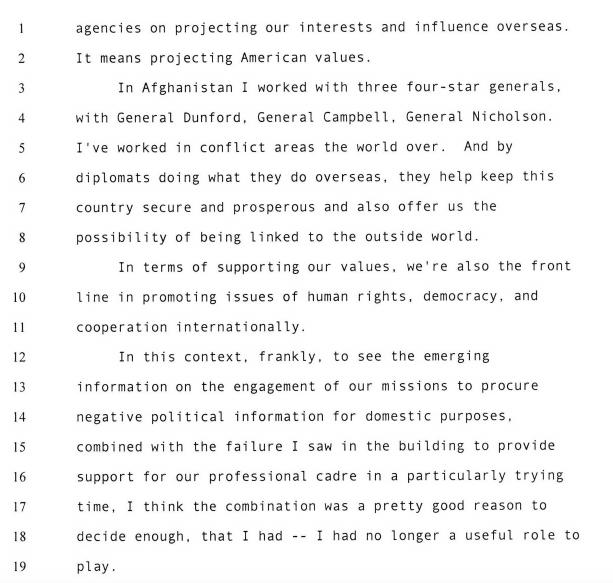 1:55 p.m. ET, November 4, 2019
Ukrainian official told Yovanovitch he thought engaging with Giuliani was "dangerous"
Ukraine's interior minister told US Ambassador Marie Yovanovitch in early 2019 that he believed it "dangerous" to engage with President Trump's personal lawyer Rudy Giuliani "because of his concerns about what they were doing." 
Those concerns, Yovanovitch testified, were that Ukrainian officials could be compromising their support from bipartisan US officials.  
"That Ukraine, since its independence, has had bipartisan support from both Democrats and Republicans all these years, and that to start kind of getting into U.S. politics, into U.S. domestic politics, was a dangerous place for Ukraine to be," Yovanovitch testified, describing the concerns of Interior Minister Arsen Avakov. 
Giuliani had personally called Avakov "in either late January or early February" 2019, and the two spoke briefly. Avakov told Yovanovitch he did not want an in-person meeting with Giuliani.  
"I think he felt that that was just very dangerous terrain for another country to be in," she testified. 
Raed more: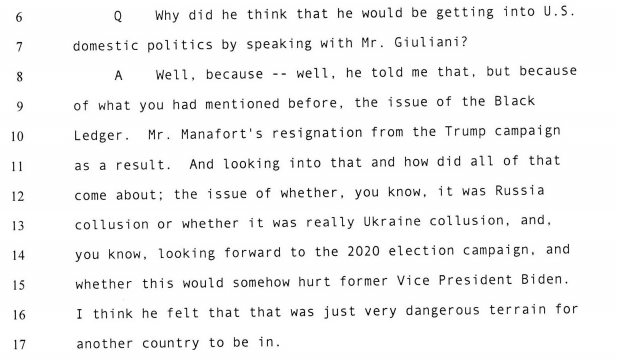 1:54 p.m. ET, November 4, 2019
Yovanovitch said, in retrospect, Rudy Giuliani seemed to be leading parallel policy in Ukraine
Although the Trump administration cited anti-corruption efforts as rationale for holding up security assistance to Ukraine, former US Ambassador to Ukraine Marie Yovanovitch said she was not aware of shadow officials like Rudy Giuliani raising concerns about such corruption reforms in conversations with Ukrainian officials.
But Yovanovitch said that "in retrospect," the characterization that Giuliani was leading a parallel policy in Ukraine "seems to be correct." 
"But at the time, you know, we weren't seeing, you know, all of the pieces. I mean, we could feel that there was stuff out there, but we hadn't put it all together," she said. "And so, you know, I mean, I was telling everybody, you know, keep on charging forward. This is our policy. This is agreed policy that Republicans, Democrats have all approved."