The latest on the Trump impeachment inquiry
6:34 p.m. ET, October 30, 2019
Rep. Adam Schiff: "We certainly hope" John Bolton will cooperate and testify
Rep. Adam Schiff, the chairman of the House Intelligence Committee, said that he hopes John Bolton will cooperate and testify before his committee.
Schiff wouldn't say whether he would issue a subpoena should Bolton, President Trump's former national security adviser, not voluntarily appear for his deposition. 
"We certainly hope that he will cooperate. He obviously has very relevant evidence to provide," Schiff said.
According to a source familiar, Bolton was invited to appear next week on Nov. 7. They have also invited John Eisenberg and Michael Ellis to testify on Monday, the source said.
6:00 p.m. ET, October 30, 2019
Gen. Joseph Dunford calls the White House's top Ukraine expert a "loyal officer"
Gen. Joseph Dunford, the retired chairman of the Joint Chiefs of Staff, has called Lt. Col Alexander Vindman a "professional, competent, patriotic, and loyal officer" following criticism the top White House Ukraine expert has received following his testimony yesterday in the impeachment inquiry.
Dunford added that he came into regular contact with Vindman while he was on the joint staff.
"He is a professional, competent, patriotic, and loyal officer. He has made an extraordinary contribution to the security of our nation in both peacetime and combat," Dunford told CNN.
Why this matters: Dunford's comments come after Republicans criticized Vindman this week. On Tuesday, former GOP Rep. Sean Duffy said about Vindman: "It seems very clear that he is incredibly concerned about Ukrainian defense." Trump also claimed, without evidence, that the White House's top Ukraine expert is a "Never Trumper." Trump repeated this unfounded claim this morning on Twitter.
Vindman served multiple overseas tours as a US infantry officer, including a deployment to Iraq where he received a Purple Heart after being wounded in an IED attack. He has served in Trump's National Security Council since 2018.
6:20 p.m. ET, October 30, 2019
White House official set to testify Thursday is stepping down soon
Tim Morrison, the top White House official on President Trump's National Security Council for Europe, will be leaving his job soon, according to a source familiar with his move.
The news comes on the eve of Morrison's testimony behind closed doors as part of the House impeachment inquiry. The departure, however, was Morrison's decision and it has been "planned for some time," the source added.
Morrison was recruited to join the NSC by former national security adviser John Bolton, and his departure has been expected since Bolton was fired in September. A number of Bolton's other allies at the NSC left around the time that he did. 
Morrison is still finalizing his date for departure but the source said that he will still be a current White House official when he testifies tomorrow.
"After more than a year of service at the National Security Council, Mr. Morrison has decided to pursue other opportunities — and has been considering doing so for some time. We wish him well," a senior administration official said.
About Morrison: He has been at the NSC for about 15 months. He was initially the senior director of Weapons of Mass Destruction and Biodefense and over the summer he took over the Europe job. 
CNN's Kevin Liptak contributed to this report.
5:12 p.m. ET, October 30, 2019
Republicans on House Rules Committee offer up amendments to impeachment resolution
Republicans on the House Rules Committee are offering up close to 20 amendments to the Democrats' impeachment inquiry resolution, an aide familiar tells CNN. 
So far the committee has debated six GOP amendments and all have gone down along party line votes. 
The committee is on a break for House floor votes, but expect to take up the remaining amendments later this evening. 
A look at some of the amendments: The first amendment Republicans offered up came from Georgia Republican Rob Woodall. The amendment would get rid of the parts of the resolution dealing with the House Intelligence Committee and leave the procedures concerning the House Judiciary Committee intact.
Woodall seemed to argue that the resolution should require the intelligence committee to hold only public hearings and no more private depositions. But there was confusion among members in the room about why he is seeking to get rid of everything related to the intel committee, especially the procedures for releasing deposition transcripts and holding public hearings. 
The amendment failed on a party line vote, 4-9.
Rep. Debbie Lesko introduced an amendment to allow the top Republican on the House Intelligence Committee to issue subpoenas to the same number of witnesses that the Democratic chairman subpoenas — and without consent from the Democratic chair of the committee.
In the Democratic resolution, Republicans would be able to subpoena witnesses only if Schiff agrees to it or if a majority of the committee approves it.
That amendment also failed on a party line vote. 
5:02 p.m. ET, October 30, 2019
Podcast: State Department officials describe Rudy Giuliani's shadow diplomacy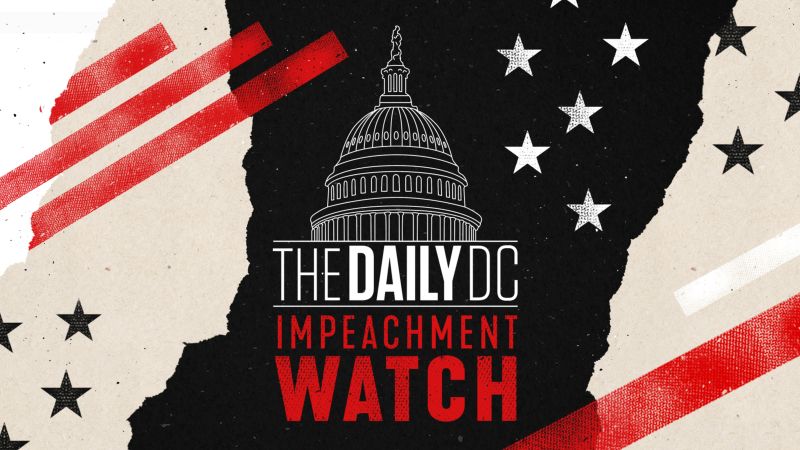 In the latest episode of "The Daily DC: Impeachment Watch" podcast, CNN's Marshall Cohen looks at:
Cohen is joined today by Kylie Atwood, CNN's national security reporter, and retired Rear Admiral John Kirby, a CNN military and diplomatic analyst.
4:58 p.m. ET, October 30, 2019
Sen. Lindsey Graham on invitation for Bolton to testify: "I don't know what kind of problems that creates"
Sen. Lindsey Graham was asked by reporters today about Democratic House impeachment investigators inviting former national security adviser John Bolton to testify behind closed doors next week.
Here's what Graham said:
"I don't know if you want to start calling President's national security advisers about national security advice. I don't know what kind of problems that creates for the office, but I'll leave it up to them."
About the invitation: According to a source familiar, Bolton was invited to appear next week on Nov. 7. They have also invited John Eisenberg and Michael Ellis to testify on Monday, the source said.
4:05 p.m. ET, October 30, 2019
White House official testified he was convinced Ukraine aid became part of Trump's demand for Biden investigations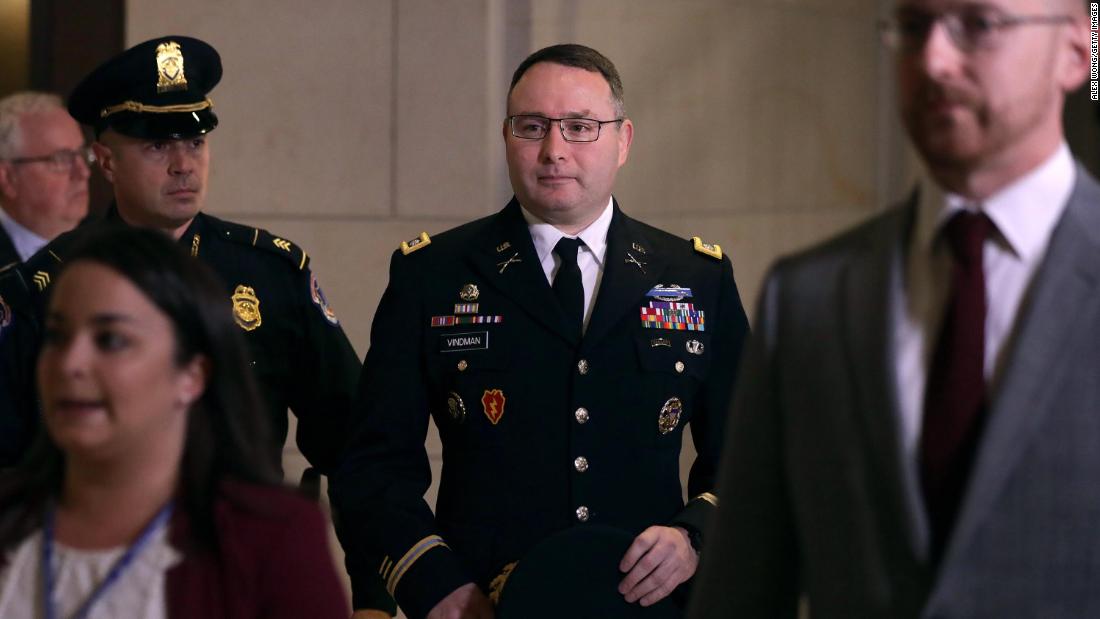 Top White House Ukraine expert Alexander Vindman told congressional investigators he was convinced President Trump was personally blocking $400 million in military aid to Ukraine to force that country to publicly announce an investigation into Joe Biden and his family, two sources present at the deposition told CNN.
Vindman, a decorated Army officer, on Tuesday testified that he was convinced that a quid pro quo existed by July 10, which was before Trump and Ukrainian President Volodymyr Zelensky in a phone call that is now at the heart of the House's impeachment inquiry. Trump has repeatedly said he did nothing improper on the call and has cited it as the sole reason for the impeachment inquiry.
The sources at the deposition said Vindman believed the existence of a quid pro quo was clear during a July 10 meeting between American and Ukrainian officials. In his opening statement, Vindman wrote that date is when US Ambassador to the European Union Gordon Sondland told Ukrainian government officials that they would need to deliver "specific investigations in order to secure the meeting" with Trump that they so desired.
In a separate meeting of US officials immediately afterward, "Sondland emphasized the importance that Ukraine deliver the investigations into the 2016 election, the Bidens, and Burisma," Vindman testified.
But the fact that the $400 million in aid, including desperately needed military assistance, was also being used by the President didn't become clear until the next month, Vindman testified.
4:09 p.m. ET, October 30, 2019
House investigators invite John Bolton to testify
House impeachment investigators have invited John Bolton to appear next week on Nov. 7, according to a source familiar.
Bolton is Trump's former national security adviser. The President fired him in September.
They have also invited John Eisenberg and Michael Ellis to testify on Monday, the source said.
A House Intelligence spokesman declined to comment.
When asked about a subpoena for Bolton to testify in impeachment probe, House Foreign Affairs Chairman Eliot Engel said: "We hadn't done that yet. It's something that we would consider."
"I've always found him to be very straightforward and honest about what he believes," Engel added.
He also said he doesn't know if next week is the final week of depositions but added: "We are getting close"
3:41 p.m. ET, October 30, 2019
A key player in the Clinton impeachment just showed up in the Trump inquiry
Students of relatively recent impeachment history will recall that a main backer of impeaching Bill Clinton for his adulterous affair was Bob Livingston — heir apparent to Newt Gingrich, who was leaving his role as House Speaker in 1998.
That is, until Livingston's shock resignation and admission that he had engaged in his own adulterous affairs.
It wasn't a crisis of conscience that led Livingston to resign, but rather the fact that Hustler Magazine's Larry Flynt offered $1 million to anyone who could prove an affair with a high government official. He apparently got multiple takers who fingered Livingston. You can read a CNN report from 1998 about Livingston's fall.
This was stunning at the time: He apologized to his wife and family on the House floor and had anger in his voice when he said, "So I will set the example that I hope President Clinton will follow."
He stopped pursuing the Speakership and didn't run for reelection.
Why on earth are we talking about this right now? It turns out that Livingston — who played such a big role in the impeachment of Bill Clinton — has a bit part in the impeachment inquiry against Trump.
Livingston has repeatedly called Catherine Croft, a State Department official who testified in closed doors today about pressure she felt to oust Marie Yovanvotich, now the former US ambassador to Ukraine.
"During my time at the NSC, I received multiple calls from lobbyist Robert Livingston, who told me that Ambassador Yovanovitch should be fired," Croft said in prepared testimony. "He characterized Ambassador Yovanovitch as an 'Obama holdover' and associated with George Soros. It was not clear to me at the time — or now — at whose direction or at whose expense Mr. Livingston was seeking the removal of Ambassador Yovanovitch."
Who was Livingston working for? As CNN reported yesterday: Livingston's lobbying firm has worked for Ukrainian politician Yulia Tymoshenko, a top but unsuccessful candidate in the country's most recent election, according to its federal foreign lobbying disclosure. In December 2018, the Livingston Group disclosed she was introduced to Rudy Giuliani. It's unknown if Livingston's calls to the NSC were connected in any way to his work for the Ukrainian official or his firm's contact with Giuliani.  
You can get the latest impeachment updates set to your inbox. Sign up for the newsletter here,