The latest on the Trump impeachment inquiry
10:19 a.m. ET, October 30, 2019
Schumer asks the Army how they are protecting impeachment witness targeted by GOP
Senate Minority Leader Chuck Schumer has written a letter to the Secretary of the Army Ryan McCarthy and Chief of Staff of the Army James McConville, in which he says the "vitriol" towards Lt. Col. Alexander Vindman since testifying yesterday "may result in professional reprisals and threats to his personal safety and that of his family."
Schumer is requesting a briefing on "what actions the Army is taking to ensure that LC Vindman and other whistleblowers like him are afforded appropriate protections."
"It is incumbent on the Army to ensure that he [Vindman] is afforded the same protections as whistleblowers and protected from reprisal for testifying before Congress," the letter says.
A defense official told CNN that even though Vindman is not the whistleblower, he is protected under the whistleblower laws. That determination has been made by military lawyers.
Schumer is expected to speak on the floor of the Senate this morning and will address this letter. He has previously requested information on whistleblower protections from the acting DNI director and the ICIG.
What's this about: Some Republicans have criticized Vindman this week. On Tuesday, Former GOP Rep. Sean Duffy said about Vindman: "It seems very clear that he is incredibly concerned about Ukrainian defense." Trump also claimed without evidence that the White House's top Ukraine expert is a "Never Trumper." Trump repeated this unfounded claim this morning on Twitter.
Vindman served multiple overseas tours as a US infantry officer, including a deployment to Iraq where he received a Purple Heart after being wounded in an IED attack. He has served in Trump's National Security Council since 2018.
10:37 a.m. ET, October 30, 2019
State Department official arrives for testimony
Catherine Croft, a special adviser to Ukraine, has arrived on Capitol Hill to testify in the impeachment inquiry.
She is expected to describe a meeting in which staffers were told that Ukraine aid was put on hold at the direction of President Trump. 
9:05 a.m. ET, October 30, 2019
Here's what today's House committee vote is about
The House Rules Committee is expected to vote today on a resolution that will formalize the procedures of the impeachment inquiry into President Trump and Ukraine.
This is not a vote to impeach President Trump — rather, it's a vote to formalize the impeachment proceedings. You can read the full resolution here.
Here's how we're expecting things to play out this week:
Today: The Democratic-led House Rules Committee will meet at 3 p.m. ET to consider the resolution. Members will debate and then vote on the measure. It's expected to pass.
Tomorrow: The full House, which is controlled by the Democrats, will vote on the resolution.
After that: The impeachment inquiry will continue, under the protocols described in the resolution. The working theory among Democrats is there will be another week or two of closed depositions — and that public hearings before the House Intelligence Committee could begin as soon as the second week in November.
About the possible impeachment vote: House Judiciary Chairman Jerry Nadler told CNN on Monday that it's "possible" a vote could be held in his committee on articles of impeachment before Christmas.
After that committee vote, the articles, if approved, are given special status on the House floor and it requires a simple majority of voting lawmakers to approve them. This full House vote would be the vote to impeach the President.
You can read more about the impeachment process here.
8:46 a.m. ET, October 30, 2019
Trump claims Pelosi using impeachment inquiry to keep her job as speaker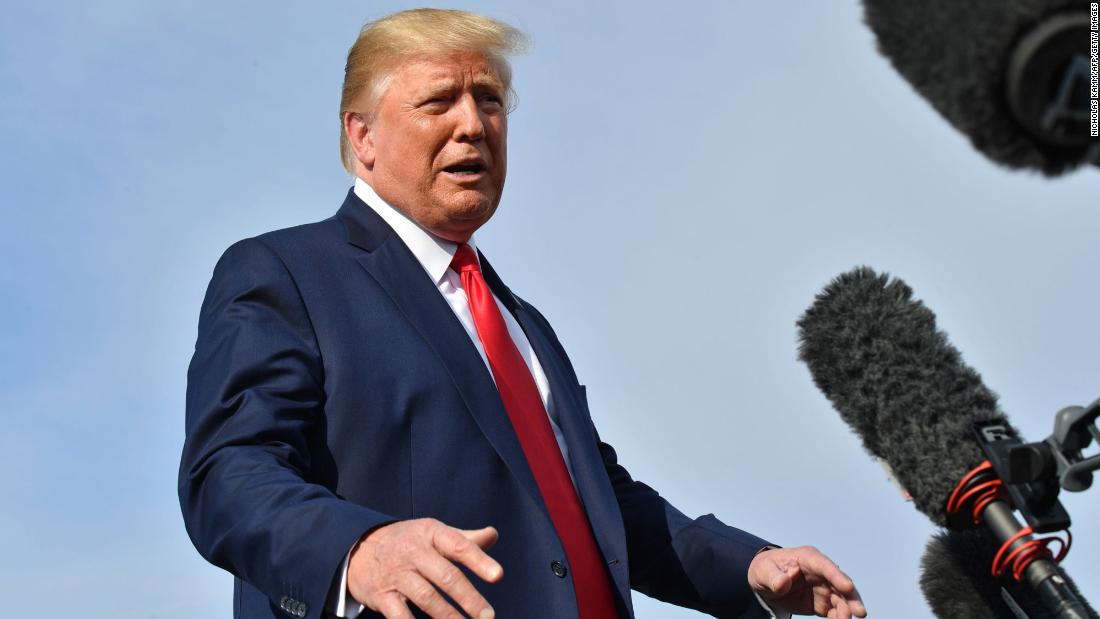 President Trump is tweeting about impeachment and quote-tweeting "Fox and Friends," claiming that Speaker of the House Nancy Pelosi is using impeachment to retain her speakership. 
Trump then adds in his own words: "A disgraceful use of Impeachment. Will backfire!"
Pelosi has described the impeachment inquiry as a "solemn" process and has maintained that "nobody comes to Congress to impeach a president."
"You come about the future, about our children, about issues you care, well there's education, climate you know it, gun safety. So nobody comes for that," she said over the weekend.
 Here's Trump's full tweet:
8:24 a.m. ET, October 30, 2019
What you need to know about the State Department officials testifying today
State Department experts on Ukraine Catherine Croft and Christopher Anderson are scheduled to testify in separate closed-door hearings before the House Intelligence, Oversight and Foreign Affairs committees today.
They are both foreign service officers, described as "two stars of the midlevel ranks" by a former State Department colleague. They each worked as deputy to then-Special Envoy for Ukraine Kurt Volker.
That colleague told CNN that the State Department always picked its "best people" to take Ukraine jobs due to the challenging nature of the work.
About Croft: She took over the role from Anderson in the summer of 2019. She had previously served at the National Security Council, focusing on Ukraine issues, and on the State Department's Ukraine desk.
About Anderson: He is now taking language courses at the Foreign Service Institute ahead of his next overseas posting. He served at the US Embassy in Kiev.
Both have long memories of established US-Ukraine policy — another former State Department official who worked with them said they were "steeped in the policy issues." According to their prepared opening statements, both Anderson and Croft will testify to this wealth of experience.
8:04 a.m. ET, October 30, 2019
The government runs out of money in 3 weeks. Here's what that could mean for impeachment.
The US government runs out of money in three weeks. That, of course, is a problem – and an even more acute one given the white-hot political battle taking place over the House Democratic impeachment inquiry.
It's not time to panic yet: Senate staff and lawmakers are very much trying to hammer something out at the moment. It isn't time yet to fire up the countdown clock, and there are pathways to a rather drama-free resolution. But those pathways haven't been cleared yet, which means things are going to need to start moving fast and furious soon, or lawmakers will have a major problem on their hands.
How impeachment could affect impeachment: There are a lot of theories rolling around about what impeachment will mean for funding the government. Most of them, to be blunt, are either enormously speculative, or, in some cases, just dumb.
Here's one very real dynamic, however: Should, as expected, Democrats vote to adopt articles of impeachment, it will quickly move to the Senate, where the trial that follows will be all-consuming. Senate Majority Leader Mitch McConnell has told Republicans it would be six days a week and trial-only until its completion.
That means that for that period, nothing legislatively will get done. Which means that spending bills either need to be completed before the trial commences, or a stop-gap bill freezing funding at its current levels must be passed that reaches beyond the Senate trial. That complicates things. 
As Sen. John Cornyn, a Texas Republican, told CNN:
"Once it comes over to us, we don't have any choice but to take it up and you can't do anything else without consent. And you know how hard that can be." 
7:48 a.m. ET, October 30, 2019
Republicans and Democrats got into a screaming match behind closed doors yesterday
The impeachment inquiry is turning more acrimonious.
Less than a week after Republicans stormed into the secure room where an impeachment witness was set to be deposed, yesterday's deposition of Vindman devolved into a shouting match between Republicans and Democrats.
What set it off? Democrats accused Republicans of trying to goad Vindman into revealing the identity of the whistleblower with their questions.
Trump's rhetoric is also escalating: There is a knee-jerk attempt by President Donald Trump to discredit witnesses as Never Trumpers or nobodies. That effort backfired with Vindman, a decorated war veteran.
What Hill Republicans are saying: The rhetoric among Republicans is evolving on Capitol Hill. Rep. Steve Scalise of Louisiana called it a "Soviet-style process." Vindman, who testified Tuesday, and fled the Soviet Union as a 3-year-old, might be able to explain the flaws in that analogy.
6:53 a.m. ET, October 30, 2019
What we learned from Vindman's testimony
The National Security Council official in charge of Ukraine policy -- Lt. Col. Alexander Vindman -- emerged as another key witness, corroborating Fiona Hill and providing the latest twist in an impeachment inquiry that offers something new every day.
He is the first witness to offer testimony in the inquiry who actually listened to the July 25 phone call between Trump and Ukrainian President Volodymyr Zelensky.
He said he raised a red flag immediately afterward.
Immigrant patriot -- He arrived on Capitol Hill in uniform, with a chest full of medals, including a Purple Heart.
In his opening statement, he told of fleeing the Soviet Union as a child and how that made him an American. He proved it by serving in Iraq. Vindman never complains about it but still carries shrapnel in his body from Iraq IED attack, a source close to him told Jake Tapper.
Note: He said he's never had contact with the President. He also said he is NOT the whistleblower.
Concerns after call -- He did convey his own concerns at the White House about Trump's pressure on Ukraine after the July 25 call.
Told Sondland pressure was inappropriate -- Vindman detailed a confrontation with US Ambassador to the European Union Gordon Sondland weeks before Trump's call with Zelensky at which he and Hill told Sondland that pressuring Ukraine to launch investigations was inappropriate.
Contradiction -- Sondland had said in his testimony that he had never heard any such concerns after that meeting.
Who did Vindman tell? -- If he and Hill notified the top lawyer on the National Security Council, that would seem to be a man named John Eisenberg, who CNN has also reported is the official who directed that the transcript of the call be placed in a more secure server.
6:21 a.m. ET, October 30, 2019
Whistleblower's legal team says they have received death threats
The legal team representing the whistleblower who ignited the impeachment investigation confirmed they have received death threats that have led to at least one law enforcement investigation, according to a source familiar with the situation.
The FBI deemed the threat not to be credible after meeting with the individual who sent it, the source said.
"There have been a myriad of disturbing emails and voicemails sent to the legal team, with a few select messages crossing the line enough into direct threats of harm that have resulted in follow up from relevant law enforcement entities," according to the source.
The Wall Street Journal first reported that the threats led to at least one law enforcement probe.