The latest on the Trump impeachment inquiry
8:03 p.m. ET, October 25, 2019
Trump attacks impeachment inquiry in tweets
President Trump mischaracterized why congressional testimony from an anonymous whistleblower is growing unlikely and attacked the House impeachment inquiry in a series of tweets tonight.
The attorneys for the whistleblower who lodged a complaint with the intelligence community inspector general related to Trump's July 25 phone call with Ukraine's President wrote in a Washington Post op-ed today that there is no need for their client to testify in person, even behind closed doors.  
Andrew Bakaj and Mark Zaid argue that their client's anonymity needs to be protected and say he has no additional information to offer about the call, writing: "Because our client has no additional information about the president's call, there is no justification for exposing their identity and all the risks that would follow." 
In a separate tweet, Trump attack the impeachment process, calling it a scam.
The President also floated the idea of suing Democratic Rep. Adam Schiff. Trump has brought this up numerous times.
7:45 p.m. ET, October 25, 2019
Pelosi says court ruling is "another blow to President Trump's attempt to put himself above the law"
House Speaker Nancy Pelosi called today's court ruling ordering the Department of Justice to release grand jury information redacted from special counsel Robert Mueller's investigation to Congress "another blow to President Trump's attempt to put himself above the law." 
"Most importantly, the court recognized the House's right to obtain grand jury information pursuant to its impeachment inquiry," she said in the statement.
Pelosi noted that the federal judge wrote, "Tipping the scale even further toward disclosure is the public's interest in a diligent and thorough investigation into, and in a final determination about, potentially impeachable conduct by the President described in the Mueller report." 
She continued: "The court challenges the administration's unprecedented, blanket defiance of Congress's oversight."
7:21 p.m. ET, October 25, 2019
Rudy Giuliani talks money and Bidens in dual accidental phone calls to reporter
Rudy Giuliani, President Trump's personal lawyer, left two apparently unintended voicemails on a reporter's phone this fall in which he discussed his need for hundreds of thousands of dollars and disparaged the Biden family, NBC reported on today.
The unwitting calls and messages from Giuliani, colloquially called "buttdials," come as sources tell CNN that Giuliani has been approaching defense attorneys for possible representation following escalating reports regarding a federal investigation into his dealings in Ukraine.
"Tomorrow, I've got to get you on Bahrain. You've got to call," Giuliani tells an unidentified associate in an Oct. 16 voicemail posted by NBC.
"The problem is we need some money," Giuliani later adds when referencing a "Robert" who the unidentified associate said was in Turkey, pausing for several seconds before specifying, "We need a few hundred thousand."
Giuliani told CNN's Dana Bash today that the voicemail is "helpful because it shows that I don't do anything dishonest," saying it was completely unrelated to anything in Ukraine but declined to specify to what it was related.
"The $200,000 is for another project in another country," Giuliani said. He called the project a "non-legal security matter" completely unrelated to anything related to Ukraine or Trump, but declined to specify what it was related to.
Giuliani said that the call pertained to a "change in personnel on a different project" that "will require an additional charge for the client."
Giuliani has some previous ties to Bahrain, a key ally of Saudi Arabia. His former massive law firm Bracewell Giuliani previously worked on financial deals for Bahrain.
7:05 p.m. ET, October 25, 2019
Mike Pompeo endorses work of Ukraine diplomat dismissed by Trump as "never Trumper"
Secretary of State Mike Pompeo seemed to voice subdued approval of the work of the top US diplomat in Ukraine whose testimony undermined the administration claims that President Trump had not pushed for investigations into his political rivals in exchange for US aid.
Pompeo said he and Bill Taylor, the charge d'affaires in Kiev, are "in full accord" on US policy there, but did not specifically address a question about his confidence in the diplomat himself.
Pompeo, conducting interviews over a two-day visit in Kansas, has been dismissive and evasive of questions surrounding the House Democratic impeachment probe, despite his department's increasing entrenchment in that inquiry.
He sought to downplay the impeachment inquiry as Beltway "noise" in a series of interviews in Wichita, Kansas, on Thursday and Friday — just days after Taylor presented damning testimony related to a quid pro quo underlying presidential lawyer Rudy Giuliani's efforts in Ukraine.
Some background: In his closed-door deposition Tuesday, Taylor said he had been told that "everything" Ukrainian President Volodymyr Zelensky wanted, including a White House meeting and military aid to the country, would be held up until he publicly announced the launch of investigations sought by Trump.
7:05 p.m. ET, October 25, 2019
GOP challenger Mark Sanford says he supports censuring Trump
Mark Sanford, Republican presidential challenger and former South Carolina congressman, told CNN he supports censuring President Trump over impeaching him.
He went on to say that the impeachment process "is fraught with a number of different perils, both for our Republic, and debate in this republic and for the Democratic party and ultimately for what comes next in the world of politics."
Sanford said he thinks the House will likely vote to impeach Trump and the Senate will acquit the President.
"Well, what that does is it muddies the water in the November election because the President will say, see, 'I did nothing wrong and I was acquitted,'" Sanford said. "I don't think that that is good. I think that there ought to be clear condemnation of the behavior, at least of what we know of right now."
Watch the moment:
5:36 p.m. ET, October 25, 2019
Podcast: Increasingly unlikely whistleblower will be made to testify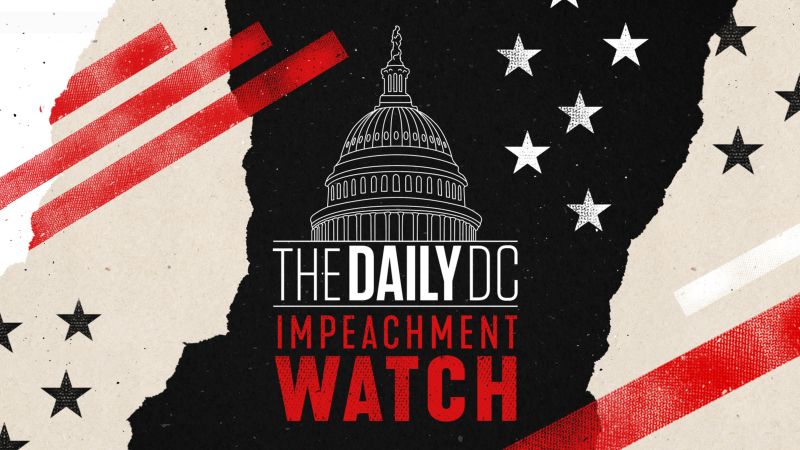 In today's latest episode of "The Daily DC: Impeachment Watch" podcast, CNN Political Director David Chalian covers:
How Attorney General William Barr's probe into the intelligence and origins of the 2016 Trump-Russia investigation is now a criminal probe
Sen. Lindsey Graham and Senate Majority Leader Mitch McConnell's proposed resolution to slam the impeachment process and the Republicans who have not supported it yet
The GOP response plan to all things impeachment
Subpoenas issued to three Trump administration officials
Chalian is joined by CNN national security reporter Jeremy Herb and Alice Stewart, a CNN political commentator and Republican strategist.
5:18 p.m. ET, October 25, 2019
Justice Department says it's reviewing court ruling on Mueller grand jury materials
The Department Justice said it is reviewing a federal court decision that it must release grand jury information redacted from the Mueller report to the House Judiciary Committee by Oct. 30.
"We are reviewing the decision," a spokesperson said.
About the decision: The ruling is a blow to the Trump administration's claims that the House is not conducting a valid impeachment inquiry since there's been no formal vote to authorize the probe.
In a lengthy opinion, Chief Judge Beryl Howell of the US District Court in Washington, DC, said the House clearly is conducting an impeachment inquiry.
"(A)n impeachment trial is an exercise of judicial power," Howell wrote. "Contrary to (the Justice Department's) position — and as historical practice, the Federalist Papers, the text of the Constitution, and Supreme Court precedent all make clear — impeachment trials are judicial in nature and constitute judicial proceedings."
5:00 p.m. ET, October 25, 2019
Catch up: 6 key developments in the impeachment inquiry today
Here are the latest developments in the House impeachment inquiry into President Trump:
Kellyanne Conway speaks: Asked about top Ukraine diplomat Bill Taylor's testimony and his laying out of a quid pro quo, Conway told reporters today, "That's one person's testimony. There's been other testimony. I believe that Ambassador Sondland… made very clear in a text to Ambassador Taylor that was not the President's intent."
Possible new hire: The White House is eyeing former Treasury Department spokesman Tony Sayegh to lead impeachment messaging efforts, three sources familiar with the discussions said. While the President has opposed a war room effort, several of his top aides are increasingly recognizing the need to bolster the White House's messaging operations as Democrats march toward impeachment. Trump has not yet signed off on Sayegh.
Trump's remarks: Asked whether he would apologize for referring to the impeachment inquiry as a "lynching," Trump pointed the finger at Democrats instead, and said the term has "been used many times" despite its association with the extrajudicial killings of African Americans.
Deposition in discussion: Lawyers for former national security adviser John Bolton have had talks with the impeachment inquiry committees about a possible deposition, according to a source familiar. Taylor, the diplomat, told Congress that Bolton had expressed concerns about a call between President Trump and Ukrainian President Volodymyr Zelensky, according to Taylor's opening statement.
Subpoenas issued: House Democratic impeachment investigators have issued subpoenas to three Trump administration officials — acting Office of Management and Budget Director Russell Vought, OMB's Associate Director of National Security Programs Michael Duffey and State Department Counselor Ulrich Brechbuhl.
A new ruling: A federal judge today ordered the Justice Department to release grand jury information redacted from the Mueller report to the House Judiciary Committee by Oct. 30. Chief Judge Beryl Howell noted that the House Judiciary Committee says "it needs the material to conduct a fair impeachment investigation based on all relevant facts." She then declared, "Impeachment based on anything less than all relevant evidence would compromise the public's faith in the process."
4:24 p.m. ET, October 25, 2019
Appeals court asks House to reply to Trump request for rehearing in tax case
A federal appeals court on Friday asked the House to respond to President Trump's request to rehear a case concerning a subpoena to his longtime accounting firm. 
The request from the DC Circuit Court of Appeals suggests a larger panel of judges on the court is at least interested in whether it should rehear the case. It also could potentially delay Supreme Court review. 
What's this all about: Trump has asked the DC Circuit Court of Appeals to rehear his attempt to stop a subpoena of his accounting firm, this time with the President asking the full appellate court to reconsider his case.
Trump lost his attempt to stop the House subpoena of accounting firm Mazars USA before a trial-level judge and 2-1 before an appellate panel. The courts so far have shot down Trump's attempts to impede Congress' subpoena power.
The subpoena of Mazars, still halted in the appeals process, is one of several attempts by the House to dig up more financial records of Trump's. This subpoena was for eight years of documents held by his accounting firm.