The latest on the Trump impeachment inquiry
7:40 p.m. ET, October 24, 2019
Pompeo dodges questions on impeachment inquiry
Secretary of State Mike Pompeo would not answer a question from KMUW Radio about whether he believed diplomat Bill Taylor was lying in his testimony when he described quid pro quo. 
"I'm not going to comment on things from the inquiry. I came to Kansas today to talk about an important project, a project where we're growing human capital," he said Thursday.
Pompeo also deflected when asked about the White House statement suggesting Taylor and other diplomats were "unelected radical bureaucrats." He accused the reporter of being "fixated" on the probe. 
7:13 p.m. ET, October 24, 2019
Democrats have begun discussing the scope and scale of potential articles of impeachment
Democrats are discussing the scope and scale of potential articles of impeachment into President Trump, lawmakers and aides tell CNN.
The explosive testimony House lawmakers have obtained in their month-old impeachment inquiry is only one aspect of the impeachment work taking place, they say. The discussion about the parameters of the articles of impeachment — the crux of any vote to indict Trump — has also begun among members.
"People are beginning to think of what it would look like," said Rep. David Cicilline of Rhode Island, a senior member of the Judiciary Committee and member of Democratic leadership. Cicilline made clear in an interview with CNN that the talks are preliminary, but both staff and members have discussed the broad shape of what the articles may look like. 
Lawmakers and aides told CNN that the work is in its early stages, and ultimately is contingent on the report filed by the committees conducting the investigation. The early work also stands to form the backbone of a complicated decision looming over House Democratic leaders — how broadly to go after the President.
"We're having discussions about what the likely articles would be, at the committee level and I think everyone is thinking about what it will be," Cicilline said. "But we're obviously going to wait until the evidence is referred to the Judiciary Committee."
Lawmakers and aides tell CNN that the focus — at the moment — is on the investigation itself with the House Intelligence, Oversight and Foreign Affairs committees taking the lead in almost-daily interviews with witnesses they hope can shed light on why nearly $400 million in military aid to Ukraine was withheld and whether Trump used his office to garner political favors from the new government there. But for members not part of those investigations, there is plenty of speculation about how to approach the next phase of the process: drafting the formal Articles of Impeachment.
6:50 p.m. ET, October 24, 2019
Here's who is scheduled to be deposed in the impeachment inquiry next week
Lawmakers will hold more closed-door depositions next week as part of the impeachment inquiry into President Trump.
According to a source familiar, here is the latest deposition schedule:
Monday: Charles Kupperman, the former deputy assistant to the President for National Security Affairs 
Tuesday: Lt. Col. Alexander Vindman, the Ukraine expert for the National Security Counsel
Wednesday: Kathryn Wheelbarger, the acting assistant secretary for International Security Affairs
Thursday: Tim Morrison, the National Security Council's senior director for Europe and Russia
5:50 p.m. ET, October 24, 2019
Pompeo will not say if he agrees with Giuliani's efforts in Ukraine
Secretary of State Mike Pompeo would not say whether he agreed with Rudy Giuliani's efforts in Ukraine in an interview with a Kansas radio station Thursday, according to a transcript released by the State Department.
"Do you support the work that Rudy Giuliani was doing in Ukraine?" Stephen Bisaha of KMUW Radio asked the top US diplomat in Wichita.
Pompeo did not answer, instead launching into a description of the State Department's "singular mission on Ukraine" — to support newly elected Ukrainian President Volodymyr Zelensky's efforts to combat corruption and to help Ukraine combat Russian aggression.
"So was Mr. Giuliani's efforts aligned, then, with the State Department?" the reporter pressed. 
Pompeo again did not answer.
"We've been working tirelessly on delivering the outcomes, right?" Pompeo said. "This is a results-based administration. This is about realism. It's about being practical. It's about delivering on real outcomes to keep the American people safe. Our interest in Ukraine has consistently been aimed at the singular focus of what's in America's best interest — that is, how do we get the outcome that keeps the American people safe. A strong, less corrupt, more secure Ukrainian people helps Ukraine, it helps Europe, and in that pushes back against the threats that are from Russia that actually pose real threats to people right here in Wichita, Kansas, the reason that I came to Kansas today."
5:33 p.m. ET, October 24, 2019
Podcast: Republicans wage war on the impeachment inquiry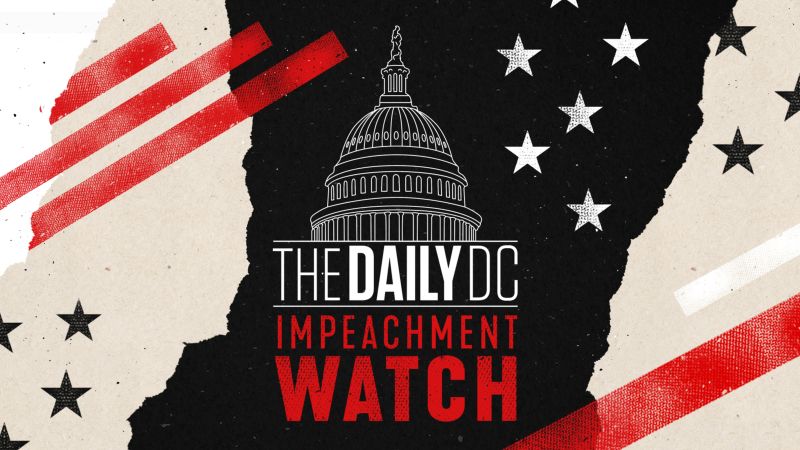 CNN's Athena Jones covers all the drama surrounding yesterday's political stunt by Republicans in the latest episode of "The Daily DC: Impeachment Watch" podcast.
Jones also looks at whether the aggressive strategy will pay off or ostracize voters.
She is joined by Harry Enten, a senior writer and analyst for CNN Politics, and CNN Legal Analyst Elie Honig. 
What happened yesterday: Roughly two-dozen House Republicans barged into a deposition and demanded they be allowed to see the closed-door proceedings where members of three committees planned to interview Deputy Assistant Defense Secretary Laura Cooper as part of the impeachment probe into President Trump.
4:47 p.m. ET, October 24, 2019
Graham, critic of House Democratic process, praised depositions in 1998 impeachment proceedings
Sen. Lindsey Graham and other congressional Republicans have slammed House Democrats for conducting their impeachment inquiry with depositions behind closed doors, but Republicans also used closed-door depositions during their impeachment inquiry of former President Bill Clinton two decades ago.
Then-Rep. Lindsey Graham, at a November 1998 press conference one day after special prosecutor Ken Starr publicly testified before the House Judiciary Committee, praised the Judiciary panel's plans to hold depositions before conducting public hearings. Graham was a key Republican on the Judiciary Committee and was one of the House impeachment managers during the Senate trial that followed.
Asked by a reporter in 1998 if he thought there would be hearings with "some of the principals," Graham said: "The depositions, I think, will determine whether or not we go forward with hearings. I think it's a very smart thing to do, to depose these people and find out what they've got to say and not drag this thing out unnecessarily. And it's going to end by the end of the year."
Why this matters: Graham's comments could provide fodder for Democrats seeking to undercut Republican attacks that the impeachment inquiry should not be conducting depositions behind closed doors, but doing everything in public.
The closed-door depositions are just one of several lines of attack Republicans have leveled, as they're also critical of Democrats for not voting to authorize the impeachment inquiry, the President's counsel not being allowed to participate and House Intelligence Chairman Adam Schiff's handling of the investigation.
4:13 p.m. ET, October 24, 2019
Graham: "I'm not here to tell you that Donald Trump's done nothing wrong"
Following a lunch at the White House, Republican Sen. Lindsey Graham says he's not sure what will ultimately happen in the House-led impeachment investigation.
"I don't know what's going to happen in terms of Ukraine. I've got my own view about the letter. I'm not here to tell you that Donald Trump's done nothing wrong. I'm not here to tell you anything other than that the way they're going about it is really dangerous for the country and we need to change course while we can in the House," she said.
Graham said President Trump feels like "from the time he's become President he's been hounded about things he didn't do."
"He feels like it never ends and that when it comes to Donald Trump nobody really cares if he has a fair day in court but a handful of Republicans," the South Carolina lawmaker said.
Graham and a group of GOP senators were invited for lunch at the White House today, and he said Trump, "was in a good mood."
"He appreciated the lunch. He would like the process to be exposed for being basically unfair. He keeps telling us he did nothing wrong. He keeps telling me that the phone call was perfect. I'm saying, Mr. President, the phone call was okay with me, he feels like it never stops," Graham said.
3:38 p.m. ET, October 24, 2019
Graham introduces resolution condemning House impeachment process
Sen. Lindsey Graham introduced a resolution today condemning the process of the House impeachment inquiry.
The resolution, co-sponsored by Senate Majority Leader Mitch McConnell, calls on the House to hold a vote to initiate the inquiry, so House Republicans can participate in proceedings and President Trump can call witnesses, Graham tweeted.
"I have introduced a resolution today with Senator McConnell and the purpose of the resolution is to let the House know that the process you're engaging in regarding the attempted impeachment of President Trump is out of bounds, is inconsistent with due process as we know it …. and is a substantial deviation from what the House has done in the past regarding impeachment of other presidents." Graham said at a press conference today on Capitol Hill. 
CNN's Lauren Fox pressed Graham on whether he is confident that the Hill and the White House are on the same page when it comes to impeachment messaging and whether the Hill is leading the messaging strategy.
Graham responded, "I talked to chief of staff Mulvaney, I think they're working on getting a messaging team together."
One thing to note: House Speaker Nancy Pelosi announced a formal impeachment inquiry last month.
3:26 p.m. ET, October 24, 2019
Sen. Lindsey Graham calls impeachment inquiry "dangerous to the future of the presidency"
Sen. Lindsey Graham called the ongoing impeachment inquiry into President Trump "dangerous to the future of the presidency" during a press conference today on Capitol Hill.
Graham used a series of slides to compare the Trump impeachment inquiry to how the inquiry into President Clinton was conducted.
Graham called the Trump inquiry a "secret proceeding" and "a rogue action."
"The process in the house today is dangerous to the future of the presidency," Graham said. "God help future presidents."
Graham buttressed his claims with a series of tweets laying out the Graham-McConnell resolution which calls for the House to vote to initiate a formal impeachment inquiry.
Some context: Democrats plan on holding public hearings with some witnesses who have been deposed as part of their plan to provide some transparency to the inquiry.  
It is possible, sources say, that public hearings could begin in mid-November. It is also possible, they could slip until after Thanksgiving.