The latest on the Trump impeachment inquiry
10:40 a.m. ET, October 21, 2019
Trump's holding a cabinet meeting today. Here's where some of the members stand in the impeachment inquiry.
President Trump will hold a meeting with his cabinet at 11:30 a.m. ET today.
Many members of the President's cabinet have been mentioned in the impeachment inquiry — which stems from a controversy over a whistleblower's allegation that Trump asked Ukrainian President Volodomyr Zelensky to investigate former vice president and 2020 Democratic presidential candidate Joe Biden and his son.
Here's a look at the cabinet members that have come under scrutiny during the inquiry:
8:48 a.m. ET, October 21, 2019
Trump calls on Schiff to be censured
President Trump continues to rail against House Intelligence Chair Adam Schiff, calling on the House to censure the congressman.
What this is all about: The President has repeatedly slammed Schiff's description of his call with the Ukrainian President.
We can't endorse Trump's claim that Schiff "lied," since Schiff introduced his comments at by saying he would be outlining "the essence of what the president communicates" — not providing "the exact transcribed version of the call." Still, Schiff's remarks did make it easy for viewers to get confused. 
You can read CNN's full fact check of what Schiff said.
 Here's Trump's latest tweet:
8:28 a.m. ET, October 21, 2019
Here's who we're expecting to testify this week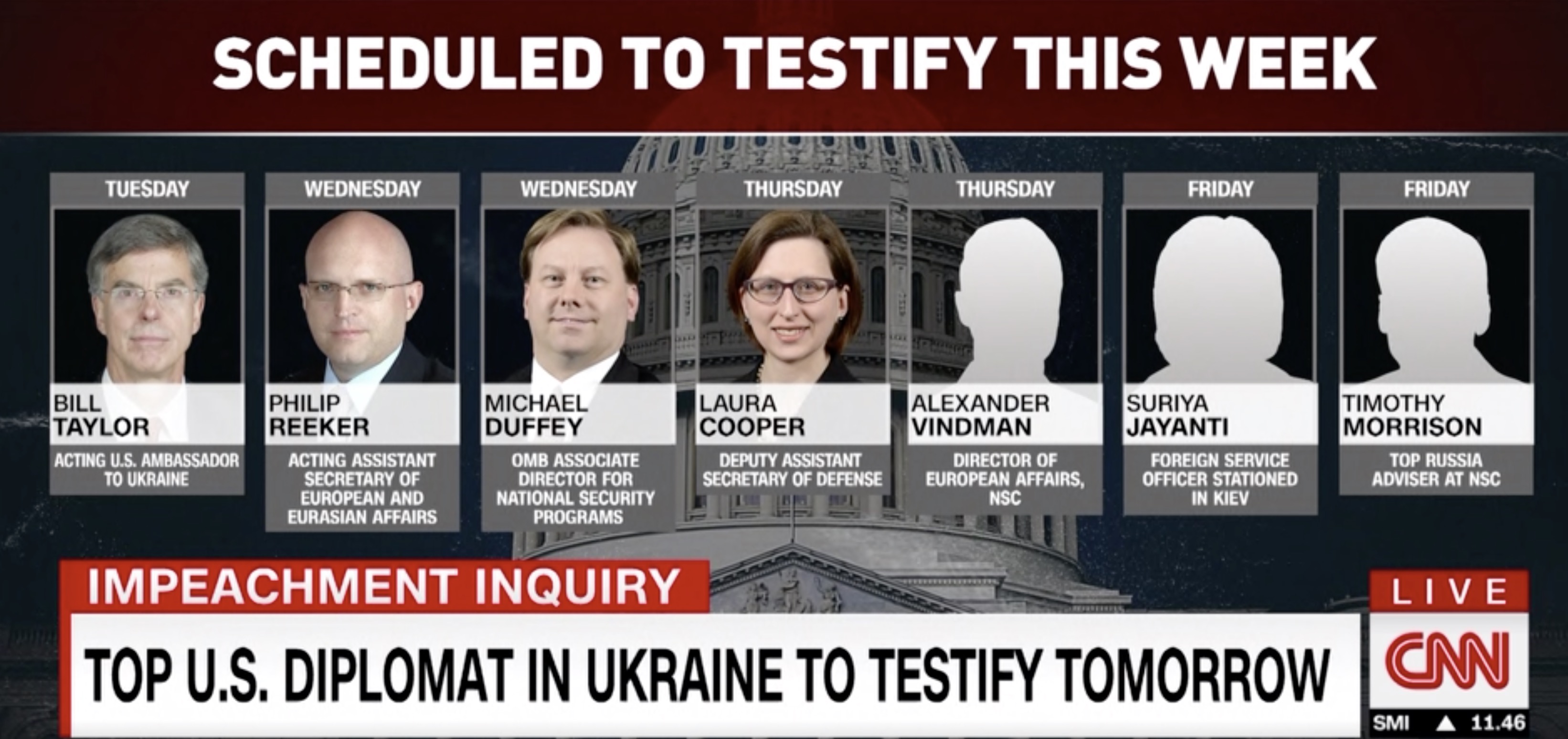 It's another busy week in the impeachment inquiry, with at least seven witnesses expected to testify before Congressional committees.
Here's a rundown of who we're expecting to testify:
Tomorrow: Bill Taylor, acting US ambassador to Ukraine
Wednesday: Philip Reeker, acting assistant secretary of European and Eurasian affairs with the State Department
Wednesday: Micheal Duffey, Office of Management and Budget associate director for national security programs
Thursday: Alexander Vindman, the director of European affairs with the National Security Council
Thursday: Laura Cooper, deputy assistant secretary of Defense
Friday: Suriya Jayanti, a foreign service officer stationed in Kiev
Friday: Timothy Morrison, a top Russia adviser at the National Security Council
8:15 a.m. ET, October 21, 2019
Test your impeachment knowledge with this quiz
Impeachment: It's the word on everyone's mind right now.
But how much do you actually know about what goes into an impeachment process? Do you know all the players? All the rules?
Test your knowledge with CNN's quiz here.
7:56 a.m. ET, October 21, 2019
The acting US ambassador to Ukraine is testifying this week
It's another big week of testimony ahead in the ongoing impeachment probe with a parade of US officials headed up to Capitol Hill.
Expected on Tuesday is Bill Taylor, acting US ambassador to Ukraine.
Who's Bill Taylor? Taylor was thrust to the center of the inquiry when he raised questions of a quid pro quo in text exchanges with former Special Envoy for Ukraine Kurt Volker and ambassador to the European Union Gordon Sondland.
Learn more about who's testifying this week in the video below:
7:40 a.m. ET, October 21, 2019
Trump must get it together to avoid another disastrous week
Donald Trump is under severe pressure after a disastrous run which saw his impeachment defense shredded by current and ex-officials and, most stunningly, by his own acting White House chief of staff.
He must also placate fellow Republicans on whom he will depend to save his presidency in any Senate trial, after triggering self-inflicted crises over Syria and the G7 summit that tested his party's tolerance for its volatile leader.
And the signs don't look great for an improvement for Trump in the week ahead, with a new battery of State Department officials expected to testify to three Democratic committees taking depositions in the impeachment inquiry about Trump's alleged abuse of power on Ukraine.
US officials expected to trek up to Capitol Hill this week include the top American diplomat in Ukraine Bill Taylor -- possibly as soon as Tuesday. The career foreign service officer was thrust into the public eye following the release of his text exchanges with former Special Envoy for Ukraine Kurt Volker and ambassador to the European Union Gordon Sondland.
In the exchanges, Taylor expressed concern about foreign policy moves being tied to political motives, writing that it was "crazy to withhold security assistance for help with a political campaign."
Read more of Collinson's analysis here.
6:39 a.m. ET, October 21, 2019
Lindsey Graham does not rule out the possibility of Trump impeachment if new evidence emerges
In another sign of the dangerous predicament facing President Donald Trump, his longtime ally Republican Sen. Lindsey Graham said in an interview that aired Sunday night that he could not rule out the possibility of impeachment if new evidence emerges.
In an interview on "Axios on HBO," Jonathan Swan asked the South Carolina senator: "Are you open minded if more to comes out that you could support impeachment?"
"Sure, I mean show me something that is a crime," Graham replied. "If you could show me that, you know, Trump actually was engaging in a quid pro quo outside the phone call, that would be very disturbing."
Swan was referencing Trump's request in a White House phone call to Ukraine's President for help investigating former Vice President Joe Biden and his son Hunter. There is no evidence of wrongdoing by either Biden.
Graham repeated his view -- voiced many times in the past few weeks -- that Trump's July phone call with Ukraine did not amount to an impeachable offense, saying according to Axios, "I've read the transcript of the Ukrainian phone call. That's not a quid pro quo to me."
5:39 a.m. ET, October 21, 2019
The court that could decide the future of Trump's presidency
The DC Circuit has long been at the center of disputes over potential White House wrongdoing -- and President Donald Trump may come to understand that more than most.
Officially known as the US Court of Appeals for the District of Columbia Circuit -- and dubbed the country's "second highest court" -- it handles a distinctive caseload testing the power of federal regulators and the executive branch.
The court's portfolio included Watergate in the Nixon years, the Iran-Contra scandal of the Reagan administration and Independent Counsel Ken Starr's investigation of President Bill Clinton.
Now, it could help determine the fate of legal issues surrounding the House Democrats' impeachment inquiry and Trump's desire to withhold personal information and limit his allies from cooperating with investigators.
5:31 a.m. ET, October 21, 2019
6 key developments in the impeachment inquiry you need to know
Here are the latest developments in the impeachment inquiry into President Trump:
Mick Mulvaney faced ouster: Acting White House chief of staff Mick Mulvaney faced internal efforts to oust him before House Democrats moved ahead with their impeachment inquiry against President Trump, multiple sources told CNN Sunday. Top aides including Trump's son-in-law and adviser Jared Kushner were in the process of reaching out to at least two potential replacements for the top West Wing job shortly before House Speaker Nancy Pelosi announced in late September that she would move ahead with an impeachment inquiry.
Testimony on Hunter Biden: Career diplomat George Kent told congressional investigators earlier last week he had voiced concerns in early 2015 about Hunter Biden working for a Ukrainian natural gas company, the Washington Post reported Friday.
Republicans blast inquiry: House GOP leader Kevin McCarthy said he expects a vote to censure Intelligence Committee Chair Rep. Adam Schiff will "come up Monday." Republican Rep. Jim Jordan slammed the House impeachment probe as "partisan" and "unfair," saying Schiff is "the new special counsel."
Mulvaney's comments: He told reporters on Thursday that the Trump administration "held up the money" for Ukraine because the President wanted to investigate "corruption" in Ukraine related to a conspiracy theory involving the whereabouts of the Democratic National Committee's computer server hacked by Russians during the last presidential campaign. On Friday, Trump was asked to clarify his acting chief of staff's remarks in the briefing room. Trump responded: "I think he clarified it." Meanwhile, House Speaker Nancy Pelosi called Mulvaney's comments a "confession" — and said it's an example of the administration trying to make "lawlessness normal and even make lawlessness a virtue." 
GOP lawmaker on impeachment: Longtime ally Republican Sen. Lindsey Graham said in an interview that aired Sunday night that he could not rule out the possibility of impeachment if new evidence emerges. Separately, Rep. Francis Rooney, a Republican from Florida, would not rule out the prospects of supporting impeaching the President. He called Mulvaney's acknowledgment about withholding Ukraine aid "troubling," saying it is "not a good thing" to do that in connection "with threatening foreign leaders." Rooney said Saturday he will not run for re-election.
Rick Perry is resigning: The Energy Secretary said his resignation "has nothing to do with Ukraine" and he's "looking to get back to Texas." He said he's leaving his post later this year.