The latest on the Trump impeachment inquiry
5:03 a.m. ET, October 18, 2019
Mick Mulvaney tried to walk back his remarks on the withheld Ukrainian aid. Here's why.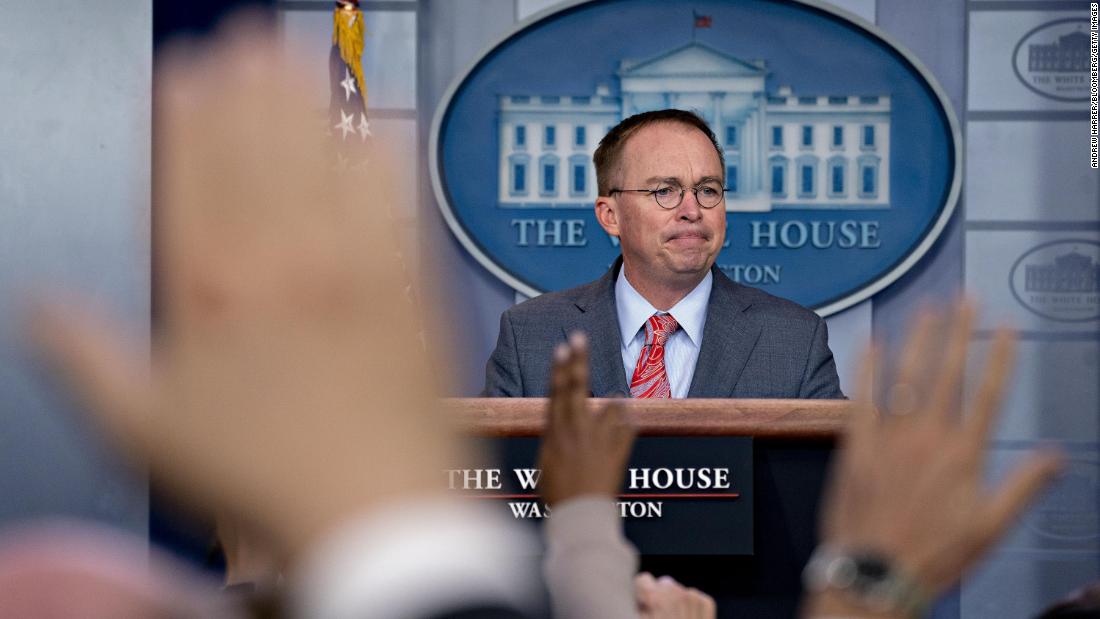 White House acting chief of staff Mick Mulvaney admitted Thursday that President Trump froze nearly $400 million in US security aid to Ukraine in part to pressure that country into investigating Democrats.
Mulvaney insisted that he only knew of a US request to investigate the handling of a Democratic National Committee server hacked in the 2016 election, but text messages between US diplomats show efforts to get Ukraine to commit to an investigation into Burisma, the company on whose board former Vice President Joe Biden's son sat. There is no evidence of wrongdoing in Ukraine by either Biden.
"That's why we held up the money," Mulvaney said after listing the 2016-related investigation and Trump's broader concerns about corruption in Ukraine.
After weeks during which Trump denied the existence of any political quid pro quo in his withholding of security aid to Ukraine, Mulvaney confirmed the existence of a quid pro quo and offered this retort: "Get over it."
Later on Thursday, Mulvaney attempted to claim that he did not admit to the quid pro quo despite clearly being asked if the Trump administration withheld funding for Ukraine for an investigation into the DNC server and answering affirmatively.
"The only reasons we were holding the money was because of concern about lack of support from other nations and concerns over corruption," Mulvaney said in a written statement, adding, "There never was any condition on the flow of the aid related to the matter of the DNC server."
In an unusual statement expressing public distance from the White House, a senior Justice Department official responded: "If the White House was withholding aid in regards to the cooperation of any investigation at the Department of Justice, that is news to us."
Trump's attorney Jay Sekulow told CNN's Jim Acosta: "The legal team was not involved in the acting chief of staff's press briefing."
5:02 a.m. ET, October 18, 2019
A US ambassador broke with Trump yesterday. Here's what he told lawmakers.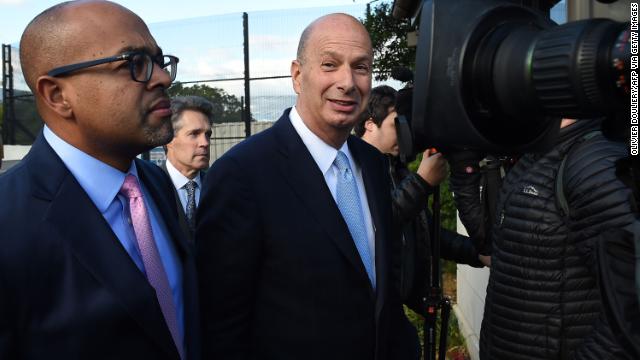 US Ambassador to the European Union Gordon Sondland was directed by President Donald Trump to work with Rudy Giuliani on Ukraine, he told Congress on Thursday.
Sondland said he wasn't aware until "much later" that Giuliani's agenda might have included an effort to "prompt the Ukrainians" to investigate former Vice President Joe Biden and his son Hunter and to involve the Ukrainians in the President's campaign, according to his opening statement, which was obtained by CNN in advance of the deposition.
Sondland's revealing testimony is a clear break with Trump over Giuliani — he said he was "disappointed" that Trump wouldn't commit to a meeting sought by Ukrainian President Volodymyr Zelensky until they spoke with Giuliani, who was pursuing an investigation into Biden, a potential political rival in Trump's reelection campaign.
"Based on the President's direction, we were faced with a choice: We could abandon the goal of a White House meeting for President Zelensky, which we all believed was crucial to strengthening US-Ukrainian ties and furthering long-held US foreign policy goals in the region; or we could do as President Trump directed and talk to Mr. Giuliani to address the President's concerns," Sondland said in his opening statement.
"We chose the latter path, which seemed to all of us — Secretary (Rick) Perry, Ambassador (Kurt) Volker, and myself — to be the better alternative," Sondland continued. "But I did not understand, until much later, that Mr. Giuliani's agenda might have also included an effort to prompt the Ukrainians to investigate Vice President Biden or his son or to involve Ukrainians, directly or indirectly, in the President's 2020 reelection campaign."
Sondland's testimony Thursday comes as he's under fire for his role in the July 25 call between Trump and Zelensky, in which Trump repeatedly urged Zelensky to open an investigation into the Bidens.