The latest on the Trump impeachment inquiry
11:27 p.m. ET, October 15, 2019
Here's what happened with the impeachment inquiry today
Today was Congress's first day back after a two-week recess, and the impeachment inquiry into President Trump is pressing forward.
Here are the key developments from today:
No impeachment vote yet: After a closed-door meeting with her caucus, House Speaker Nancy Pelosi is holding off on a full vote to authorize a formal impeachment inquiry.
Giuliani doesn't plan on complying: President Trump's personal lawyer Rudy Giuliani said he doesn't plan to comply with a subpoena issued to him for Ukraine documents.
Another witness testified: US Deputy Assistant Secretary of State for European and Eurasian Affairs George Kent testified behind closed-doors to the House committees running the impeachment inquiry. Kent was among the career officials who sought to shield former US Ambassador to Ukraine Marie "Masha" Yovanovitch from the campaign of false allegations against her in March 2019, according to internal emails turned over to Congress.
8:26 p.m. ET, October 15, 2019
Joe Biden just talked about impeachment at the Democratic debate: "My son did nothing wrong"
Former Vice President Joe Biden was just asked about his son's business ties to foreign countries.
The Bidens have been at the center of the House impeachment inquiry, which is focusing on President Trump's attempts to pressure Ukrainian President Volodymyr Zelensky to investigate the former vice president during a July 25 phone call. 
Hunter Biden has pledged to not work for any foreign-owned companies or serve on their boards should his father be elected President.
"If it's not OK for a president's family to be involved in foreign businesses, why was it okay for your son when you were vice president?" CNN's Anderson Cooper asked Biden moments ago.
"My son did nothing wrong. I did nothing wrong," Biden said.
He then shifted to the impeachment inquiry into Trump.
"What I think is important is we focus on why it's so important to remove this man from office," he said.
Remember: There has been no evidence of wrongdoing by either Joe or Hunter Biden.
8:21 p.m. ET, October 15, 2019
Republicans attack Dems over process, say they want to bring in Joe Biden
House Republicans left the George Kent deposition once again attacking Democrats over the process of the impeachment inquiry, accusing them of selectively leaking information from the depositions to suit their narratives.
Reps. Jim Jordan and Lee Zeldin specifically criticized Virginia Democratic Rep. Gerry Connolly for speaking to reporters about the deposition today (and holding up one of my tweets as evidence).
The Republican lawmakers needled Pelosi not holding a vote to formally authorize the impeachment inquiry, and argued they should be granted subpoena power.
Asked witnesses they would call, Zeldin noted he would like to speak to former Vice President Joe Biden, saying he agrees with the President that Hunter Biden's arrangement with Burisa was troubling.
8:11 p.m. ET, October 15, 2019
Meanwhile, Democratic candidates are talking about impeachment at tonight's debate
The CNN/New York Times Democratic debate just started in Ohio. The first question tonight was about impeachment. Each candidate had a different answer.
8:13 p.m. ET, October 15, 2019
Subpoena issued to Pete Sessions pertains to Giuliani indictment and arrests of his associates 
Two sources confirm to CNN that a grand jury subpoena was issued to former congressman Pete Sessions after the indictment of two associates of Rudy Giuliani was made public. 
One source confirms that the subpoena pertains to matters connected to Giuliani, Lev Parnas and Igor Fruman and their dealings with Ukraine and efforts to remove to the US ambassador to Ukraine. The three were indicted along with others last week on conspiracy and campaign finance charges. 
One source refused to rule out that Sessions himself is not a target of the grand jury investigation, saying instead that the investigation has "not reached definitive conclusions." 
A spokesman for Sessions says the former congressman "is cooperating with the US Attorney from the Southern District of New York and will be providing documents to their office related to this matter over the next couple of weeks as requested." 
The spokesman, Matt Mackowiak, declined to specifically comment on reports that Sessions had received a grand jury subpoena for documents related to Giuliani's Ukraine dealings and his communications with Giuliani, Parnas and Fruman. 
CNN reported that prosecutors allege Fruman and Parnas asked Sessions, to help get the US ambassador to Ukraine fired at the same time that they were committing to raise tens of thousands of dollars for Sessions' reelection campaign. Parnas made their request to the congressman in part at the behest of one or more Ukraine government officials, the indictment states.
A spokeswoman for the Manhattan US Attorney's office declined to comment when asked about the subpoena.
8:04 p.m. ET, October 15, 2019
Department of Defense says it's unable to comply with subpoena request
The Department of Defense sent a letter today to House impeachment investigators in response to a subpoena for documents, saying, "The Department is unable to comply with your request for documents at this time."
Robert Hood, assistant secretary of Defense for Legislative Affairs, sent the letter to the three committee chairs — Adam Schiff, Eliot Engel and Elijah Cummings — saying, "The Department understands the significance of your request for information and has taken steps to identify, preserve, and collect potentially responsive documents."
But, he went on to write, "The current subpoena, however, raises a number of legal and practical concerns that must first be addressed."
Hood argued that "none of your committees has identified any House rule or House resolution that authorized the committees to begin an inquiry pursuant to impeachment power."
"Even if the inquiry were validly authorized, much of the information sought in the subpoena appears to consist of confidential Executive Branch communications that are potentially protected by executive privilege and would require careful review to ensure that no such information is improperly disclosed," he said.
Hood wrote that it's "not feasible within the mere eight days afforded to the Department to comply with the subpoena."
7:44 p.m. ET, October 15, 2019
Schiff: We're running into "a complete effort by the administration to stonewall"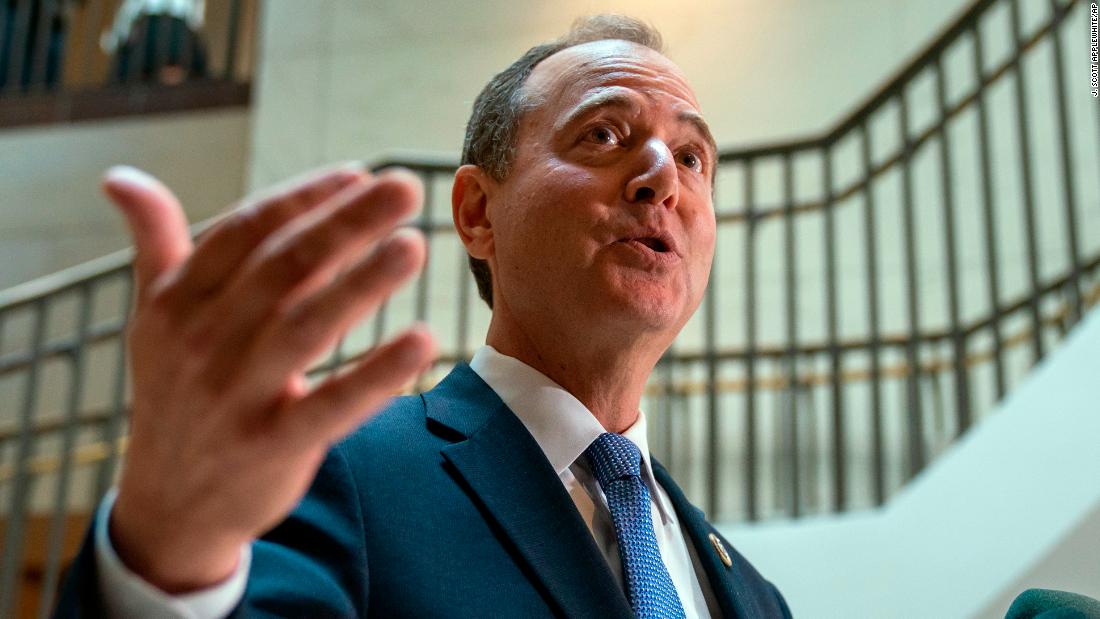 House Intelligence Chair Adam Schiff, talking about the State Department's missed deadline to turn over documents in the impeachment inquiry, said Democrats are running into "a complete effort by the administration to stonewall."
Secretary of State Mike Pompeo earlier this month failed to meet a subpoena deadline from the House to produce Ukraine-related documents.
"Today is long past due the date when the State Department was subpoenaed to provide documents," Schiff said. "The State Department has requested of those that we have contacted that instead of giving the documents to us that they give the documents to the State Department. Under the expectation, I think these witnesses have, the State Department would turn them over to Congress."
"And were it not for the fact that at least some witnesses have given us documents, we would not know that there is a paper record of efforts to condition this meeting and perhaps condition military support itself on these political investigations," he added.
7:26 p.m. ET, October 15, 2019
Schiff: There's "dramatic progress" in the impeachment inquiry
House Intelligence Committee Chair Adam Schiff says Democrats have made "dramatic progress in answering some of the questions" surrounding Trump's July 25 call with Ukraine's Zelensky after continuing the impeachment inquiry over the recess. 
He said Democrats are "learning a great deal on the issue of conditionality," for the meeting Zelensky wanted to have with Trump. Schiff says Zelensky's desire to have a good relationship with the United States "gave enormous leverage to President Trump to coerce what he wanted from the President of Ukraine."
Schiff says there is a paper record of efforts to condition this meeting, and that there are additional documents that State Department has that have not been given to Congress.
"The case for obstruction of Congress continues to build, but even as that case for obstruction continues to build we are nonetheless continuing to get good and important information from these courageous witnesses," Schiff says.
He reiterated his argument that the private depositions helps prevent witnesses from shaping their testimony around others' accounts of events.
7:29 p.m. ET, October 15, 2019
Republican congressman: Pelosi is "trying to shield her members from an actual vote"
House Minority Whip Steve Scalise emerged after the GOP impeachment meeting complaining about House Intel Chairman Adam Schiff's unfair "witch hunt."
"Pelosi won't even acknowledge if we're in an impeachment inquiry. She's trying to shield her members from an actual vote," he said.
Scalise said Democrats should release the testimony.
"The public should see all of this," he said.