The latest on the Trump impeachment inquiry
4:09 a.m. ET, October 12, 2019
2:00 a.m. ET, October 12, 2019
On camera, Trump voters struggle to talk about impeachment
CNN's Martin Savidge asks voters in Florida, a key swing state, whether the ongoing impeachment inquiry has affected their opinion of President Donald Trump.
Watch the video below:
11:42 p.m. ET, October 11, 2019
New York Times: Giuliani under investigation for Ukraine work 
From CNN's Caroline Kelly
Rudy Giuliani, President Donald Trump's personal lawyer, is facing an investigation by federal prosecutors into whether his involvement with Ukraine violated federal lobbying laws, The New York Times reported on Friday.
Citing two people familiar with the inquiry, the paper builds on CNN's previous reporting on Thursday that Giuliani's financial dealings with two associates indicted on campaign finance-related charges were under scrutiny by investigators overseeing the case. Law enforcement officials briefed on the matter told CNN that the FBI and prosecutors in Manhattan are examining Giuliani's involvement in the broader flow of money that has become the focus of alleged violations that are at the center of the charges against Lev Parnas and Igor Fruman. 
Both people familiar with the inquiry told the Times that the investigation into Giuliani was tied to that of Fruman and Parnas. One of the people told the Times that investigators are looking into Giuliani's attempts to subvert Marie Yovanovitch, the former American ambassador to Ukraine. 
A spokeswoman for Geoffrey Berman, the US attorney in Manhattan, declined to comment to the Times.
9:49 p.m. ET, October 11, 2019
Trump questions protections for whistleblower whose complaint prompted impeachment inquiry
From CNN's Jeremy Diamond
President Trump questioned why the US government is protecting the whistleblower whose complaint sparked House Democrats' impeachment inquiry.
"Why are we protecting a person that tells things that weren't true," Trump told a crowd tonight, even though many of the whistleblower's allegations have been corroborated by other evidence, including the White House transcript of Trump's call with Ukraine's president.
Trump's comment came as he once again claimed exoneration in his dealings with Ukraine, insisting that he did nothing wrong in pressing Ukraine's president to investigate former Vice President Joe Biden.
9:26 p.m. ET, October 11, 2019
Trump: An impeachment inquiry should "never be allowed to happen again" 
From CNN's Allie Malloy
In what appears to be a new campaign theme, President Trump repeated his claim that the impeachment inquiry is a response to Democrats not being able to beat him in the next election, adding "so they're pursing an illegal, invalid and unconstitutional bullshit impeachment." 
Trump's remarks drew loud applause from the crowd in Lake Charles, Louisiana. 
He went on to say the impeachment inquiry is a "con job," adding that it should "never be allowed to happen again." 
Trump then repeated his false claim that he released a transcript of his call with Ukrainian President Volodymyr Zelensky, when in fact, it is not a verbatim transcript of the document. 
9:14 p.m. ET, October 11, 2019
Trump continues attack on Bidens at Louisiana rally
From CNN's Allie Malloy
President Trump once again attacked Hunter and Joe Biden at his rally in Lake Charles, Louisiana repeating his new favorite slogan: "Where's Hunter?"
"Where's Hunter? Last night I said Where's hunter?" Trump laughed.
"It became like the hottest thing in the whole country," the President said of his remarks at his Thursday rally in Minneapolis. 
Trump then went into his same claims about Hunter Biden's foreign business dealings, saying that he "knows nothing about energy unlike the people in this room."
The President then went into a tirade against the media for repeating that claims against the Bidens are unsubstantiated — when in fact, there is no evidence of wrongdoing by either Biden. 
8:43 p.m. ET, October 11, 2019
Schiff says Yovanovitch is a "model diplomat" and "courageous example for others"
From CNN's Sunlen Serfaty, Manu Raju and Ellie Kaufman
Rep. Adam Schiff, chairman of the House Intelligence Committee, briefly spoke to reporters after ex-ambassador Marie Yovanovitch's deposition ended.
Schiff called Yovanovitch a "model diplomat" and expressed gratitude and "appreciation" for her coming to testify before members today. 
"I think she's been a model diplomat who deserves better than the shabby treatment she received from this President and Secretary of State, so I think we're all deeply in her debt for representing the country so well around the world and for so long," he said of the former US ambassador to Ukraine. "I want to express my appreciation for not just what a great champion she was for the rule of law in Ukraine, but also the respect she has for the rule of law here at home."
Schiff continued: "I think she is a courageous example for others, and I think all the members were extraordinarily impressed with her testimony today." 
"We will continue to talk to witnesses, not withstanding the administration's consistent efforts to obstruct our investigation," he added.
Schiff said any of the administration's efforts to prevent witnesses from obeying lawful congressional subpoenas will be deemed "acts of obstruction and add to a body of evidence that continues to grow that the President is violating the constitutional separation of powers."
8:38 p.m. ET, October 11, 2019
Yovanovitch detailed how Giuliani smeared her to Ukrainian officials
From CNN's Jeremy Herb, Manu Raju and Lauren Fox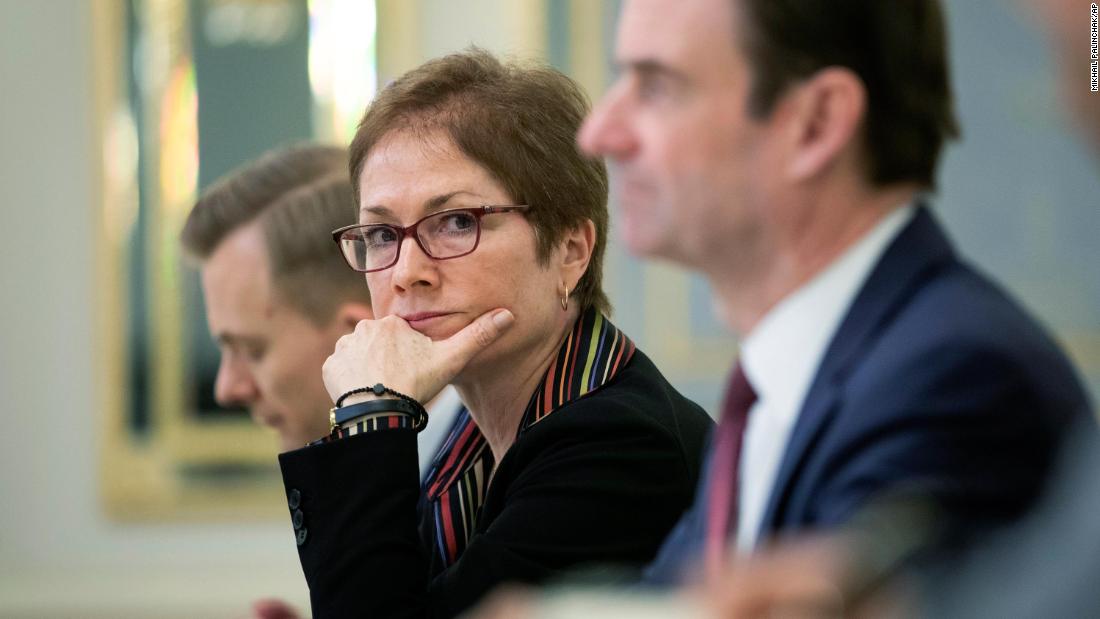 A source familiar with the testimony said that former US ambassador to Ukraine Marie Yovanovitch provided lawmakers with more details about the campaign Rudy Giuliani and his associates were orchestrating to remove her as ambassador. 
Yovanovitch told lawmakers that she heard from officials within the Ukrainian government that Giuliani was going around trashing her and making stuff up about her, according to the source. 
At the time, she didn't have a clear picture of what Giuliani was up to, the source added, but she's learned more recently about his efforts as new details have emerged.
"There were a lot of corrupt actors in Ukraine who wanted to get rid of her because she was effectively advancing the State Department's anti-corruption policies," said Rep. Tom Malinowski of New Jersey. "And at the same time there was a shadow foreign policy being run through Rudy Giuliani who also wanted to get rid of her because she was standing in the way of that shadow foreign policy and these two groups came together and found each other to be natural allies."
Multiple sources said that Yovanovitch was not familiar with details about the freezing of Ukraine aid and setting up a meeting between President Trump and Ukrainian President Volodymyr Zelensky because she had been removed before those efforts were underway.
Sources from both parties said the opening statement that was reported near the beginning of her appearance today was the most revelatory part of her testimony.
7:57 p.m. ET, October 11, 2019
Ex-ambassador Marie Yovanovitch testified for nearly 10 hours
From CNN's Manu Raju
Marie Yovanovitch, the former US ambassador to Ukraine, testified for nearly 10 hours before lawmakers at a closed-door deposition.
She would not answer when asked if the President should be impeached and she wouldn't say whether she's concerned about retaliation.