The latest on the Trump impeachment inquiry
5:07 a.m. ET, October 9, 2019
4:46 a.m. ET, October 9, 2019
CNN has corroborated 14 claims in the whistleblower complaint
From CNN's Marshall Cohen and Zachary B. Wolf
President Donald Trump is pushing back against a damning whistleblower complaint about his dealings with Ukraine by falsely claiming the complaint has been debunked.
According to a CNN analysis, however, the overwhelming majority of allegations in the complaint have been corroborated by official government documents, Trump's public statements, and news reporting.
CNN's Marshall Cohen dissects 14 corroborated claims:
Trump pressured Ukraine
Role of Giuliani and Barr
Trump's ask regarding the Bidens
Trump's ask regarding CrowdStrike
Who Trump told Zelensky to meet
Trump's comments about a top Ukrainian prosecutor
Locking down records of the call
Hiding previous call transcripts
Volker meeting with Zelensky
Volker's talks with Ukrainians
Suggestions of a quid pro quo
Ouster of a US ambassador
Withholding US aid from Ukraine
Trump's order to freeze US aid
4:46 a.m. ET, October 9, 2019
Here's the latest on the impeachment inquiry
From CNN's Zachary B. Wolf
Here are some of the latest developments in the impeachment inquiry into President Trump:
The latest:
Trump directed administration officials to work through Giuliani on Ukraine. Trump directed top officials to deal with his private attorney Rudy Giuliani when Zelensky sought to meet Trump, in a clear circumvention of official channels, according to two sources familiar with the conversation.
White House won't cooperate: In a letter to House Speaker Nancy Pelosi, the White House says it won't cooperate with the impeachment inquiry because there hasn't been a House vote authorizing the inquiry.
Pelosi is ruling out a vote anyway: Democrats won't hold a vote to authorize the impeachment inquiry because they don't think it's necessary, they don't want to put members in a tough spot and they don't want to give Republicans subpoena power.
Sondland testimony blocked: The State Department blocked Tuesday's scheduled testimony of US Ambassador to the European Union Gordon Sondland at the last minute, signaling Trump's new tactic of stonewalling the impeachment inquiry.
Trump lawyers up: He's retained former South Carolina congressman Trey Gowdy, who is most famous for his role as a Benghazi prosecutor during the Obama administration.
Giuliani could sidestep House for Senate: Trump's lawyer is not cooperating with the impeachment inquiry, but could testify before a Senate committee.
More than Ukraine: House Democrats could expand their inquiry and ready articles of impeachment that also include obstruction of justice and meddling with elections, according to their lawyer.
2:21 a.m. ET, October 9, 2019
Facebook refuses to take down a Trump campaign ad that accuses Biden of Ukraine corruption
From CNN's Sarah Mucha
Facebook denied a request from Joe Biden's campaign to take down a video ad by President Trump's reelection campaign that falsely accuses Biden of corruption in Ukraine policy under the Obama administration.
In the letter obtained by CNN, Facebook said the decision is "grounded in Facebook's fundamental belief in free expression, respect for the democratic process, and belief that in mature democracies with a free press, political speech is already arguably the most scrutinized speech there is."
Facebook added that they do not send ads to third party fact-checkers. The New York Times first reported the letter from Facebook.
The Trump campaign ad: The video accuses Biden of using his power as then-vice president to influence Ukraine in order to benefit his son, Hunter. There is no evidence of wrongdoing by Joe or Hunter Biden. CNN has refused to air the ad.
The Biden campaign responded to the Facebook letter by calling the decision "unacceptable."
Some context: Trump has repeatedly claimed that Biden had called for the firing of a Ukrainian prosecutor who was "investigating his son."
There is no evidence Hunter Biden was ever under investigation. The investigation was into the business dealings of the owner of a Ukrainian natural gas company, Burisma Holdings, where Hunter Biden sat on the board of directors.
1:48 a.m. ET, October 9, 2019
Rudy Giuliani says he "would love to testify" in the Senate
Rudy Giuliani, President Trump's personal lawyer, said Tuesday night he would "love to testify" in the Senate.
Speaking on Fox News, Giuliani said the decision to testify wasn't solely up to him.
"I have to weigh that with my client and the other lawyers involved," he said. "It's not a unitary decision. What decision I make may affect the other decisions."
"I mean, I would love to testify, and give me a half hour to point out Biden Inc. -- four decades of crime. I'd love to do it," he said.
Giuliani invited to the Hill: Giuliani's statement on Fox News comes after the chairman of the Senate Judiciary Committee, Lindsey Graham, said earlier Tuesday that he plans to invite Giuliani to speak to the committee about the allegations of corruption in Ukraine.
Why we're talking about Giuliani: Giuliani has been vocal since the Ukraine scandal broke, claiming that he has dirt on former Vice President Joe Biden and his son, Hunter Biden. Earlier this month, Giuliani first denied then admitted in an interview on CNN that he asked Ukrainian officials to investigate Joe Biden. Important to note, there is no evidence of wrongdoing by either Joe Biden or his son.
12:16 a.m. ET, October 9, 2019
Trump tweets that this is "the greatest witch hunt" in history
President Trump called the ongoing impeachment inquiry "the greatest witch hunt in the history of the USA" on Tuesday night.
He made the comment on Twitter in response to an earlier tweet by Senate Majority Leader Mitch McConnell.
"Overturning the results of an American election requires the highest level of fairness and due process, as it strikes at the core of our democratic process," McConnell had tweeted. "So far, the House has fallen far short by failing to follow the same basic procedures that it has followed for every other President in our history."
8:22 p.m. ET, October 8, 2019
White House prepares for impeachment battle to go to courts, source says
From CNN's Jim Acosta
A source familiar with impeachment deliberations said the President's legal team is prepared for the current battle to go to the courts.
"All options are on the table," the source said.
The source declined to describe its letter today as going to "war" with House Democrats. But the source agreed it's an "escalating skirmish."
About the letter: The White House sent a blistering letter to congressional Democrats today. In it, President Trump's lawyers said the President and his administration won't cooperate in an ongoing impeachment inquiry, arguing the proceedings amount to an illegitimate effort to overturn the 2016 election results.
8:18 p.m. ET, October 8, 2019
GOP challenger: Trump "should trust the American people to see the truth if there is nothing to hide"
From CNN's Rebecca Buck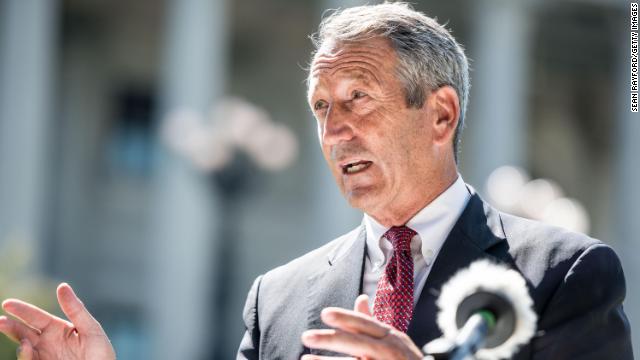 Republican presidential candidate and former South Carolina Rep. Mark Sanford reacted tonight to a letter the White House sent to House Democrats.
"Whether one likes it or not, the Legislative Branch has oversight power on the Executive Branch," the South Carolina Republican tweeted. "@realDonaldTrump should trust the American people to see the truth if there is nothing to hide..."
In the letter to the House, the White House claims Trump's due process rights have been circumvented without a vote, and that Trump has no choice but to not cooperate. The letter also makes clear the administration will continue to reject requests from Democrats if the proceedings continue in their current fashion.
7:59 p.m. ET, October 8, 2019
Trump told Perry and State Department officials to talk to Giuliani about Ukraine as early as May
From CNN's Katelyn Polantz, Gloria Borger and Kylie Atwood
President Trump directed Secretary of Energy Rick Perry and two top State Department officials to deal with his private attorney Rudy Giuliani when the Ukrainian president sought to meet Trump in a clear circumvention of official channels, according to two sources familiar with the conversation.
Trump believed the country was still rampantly corrupt and said that if Ukrainian President Volodymyr Zelensky wanted to meet with him, Giuliani would have to be convinced first, one source said.
"If they can satisfy Rudy, they can satisfy the President," a person familiar with the meeting said.
Trump's push to have Giuliani — his personal attorney — as gatekeeper is more direct than what was previously disclosed by one of the meeting's participants in his statement to the House last week. It also further demonstrates how significant Giuliani was in brokering access to the President regarding Ukraine policy and in passing messages to other administration officials.
A key accusation in the whistleblower's complaint that has prompted the impeachment probe into the President's dealings with Ukraine is that Giuliani, a private citizen, had been presenting to Ukraine a US policy different than that from US diplomats.
At the May 23 meeting, Perry, US Ambassador to the European Union Gordon Sondland and Kurt Volker, the State Department's special representative to Ukraine, were reporting back to Trump after they returned from Zelensky's inauguration.
Their goal was to tell Trump that they had a favorable impression of Zelensky and his government, and that he was a reformer who Trump should trust and engage with, according to three sources familiar with the meeting.