The latest on the Trump impeachment inquiry
1:16 a.m. ET, October 8, 2019
Trump's personal lawyer said calls for impeachment are "absurd"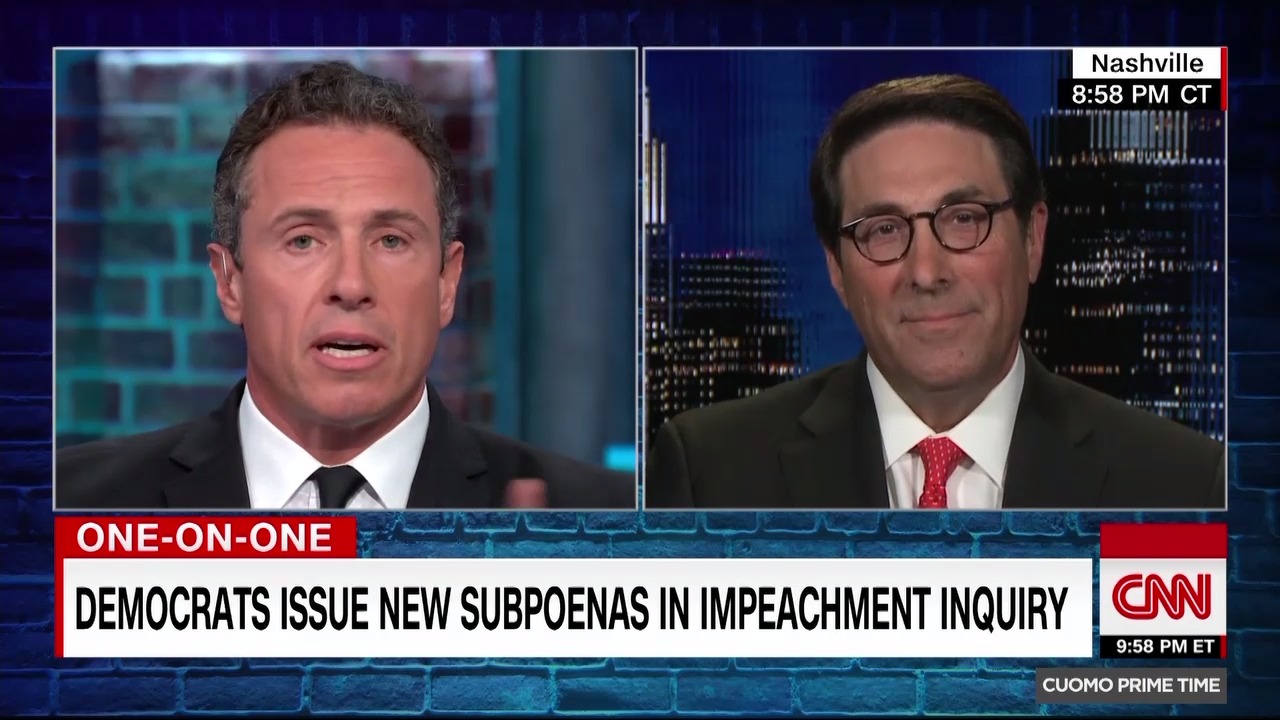 Jay Sekulow, President Trump's personal lawyer, said Monday night that it was "absurd" to say the phone call between Trump and Ukrainian President Volodymyr Zelensky was an impeachable offense.
"How can you look at what he did there and not say it was wrong? I'm not saying illegal, I'm not saying impeachable, but wrong?" asked CNN's Chris Cuomo In a contentious on-air interview.
"I look at the transcript, and I say, is there anything in that transcript that rises to the level of an impeachable offense? And if you look at the entire transcript and even look at the conversation about my colleague, Rudy Giuliani, or Vice President Biden or his son, it is about five lines of a supposedly a 30-minute conversation ... to make that an impeachable offense is absurd," Sekulow responded.
He added that the Constitution defines impeachable offenses as "high crimes and misdemeanors."
"Here's what it means. It means that a conversation from a head of state to another head of state, that is exactly what that transcript shows, never could reach the idea of a high crime or misdemeanor. What is the high crime or misdemeanor involved in there?" Sekulow said.
9:08 p.m. ET, October 7, 2019
4 key developments in the impeachment inquiry
House Democrats expanded their impeachment inquiry into President Trump today.
They subpoenaed the Pentagon and Office of Management and Budget regarding the decision to hold up foreign aid to Ukraine. They are demanding the agencies turn over documents by Oct. 15.
If you're just tuning in, here's what else you need to know today:
6:59 p.m. ET, October 7, 2019
Trump says he's "not at all" concerned by a second whistleblower
President Trump told reporters today he is "not at all" concerned about a second whistleblower, once again claiming his call with Ukrainian President Volodymyr Zelensky was a "perfect call" despite evidence to the contrary. 
"Not at all because the call was a perfect call," Trump said. "You had stenographers. You had people that took it down exactly. It was a perfect call. It's just a scam. This is a scam by the Democrats to win an election that they're not going to win in 2020." 
The President also ignored multiple questions on whether he was serious about asking China to investigate former Vice President Joe Biden and his son. 
Trump made the comments during a meeting with senior military advisers.
6:27 p.m. ET, October 7, 2019
Podcast: CNN's political director looks at the GOP's response to the impeachment inquiry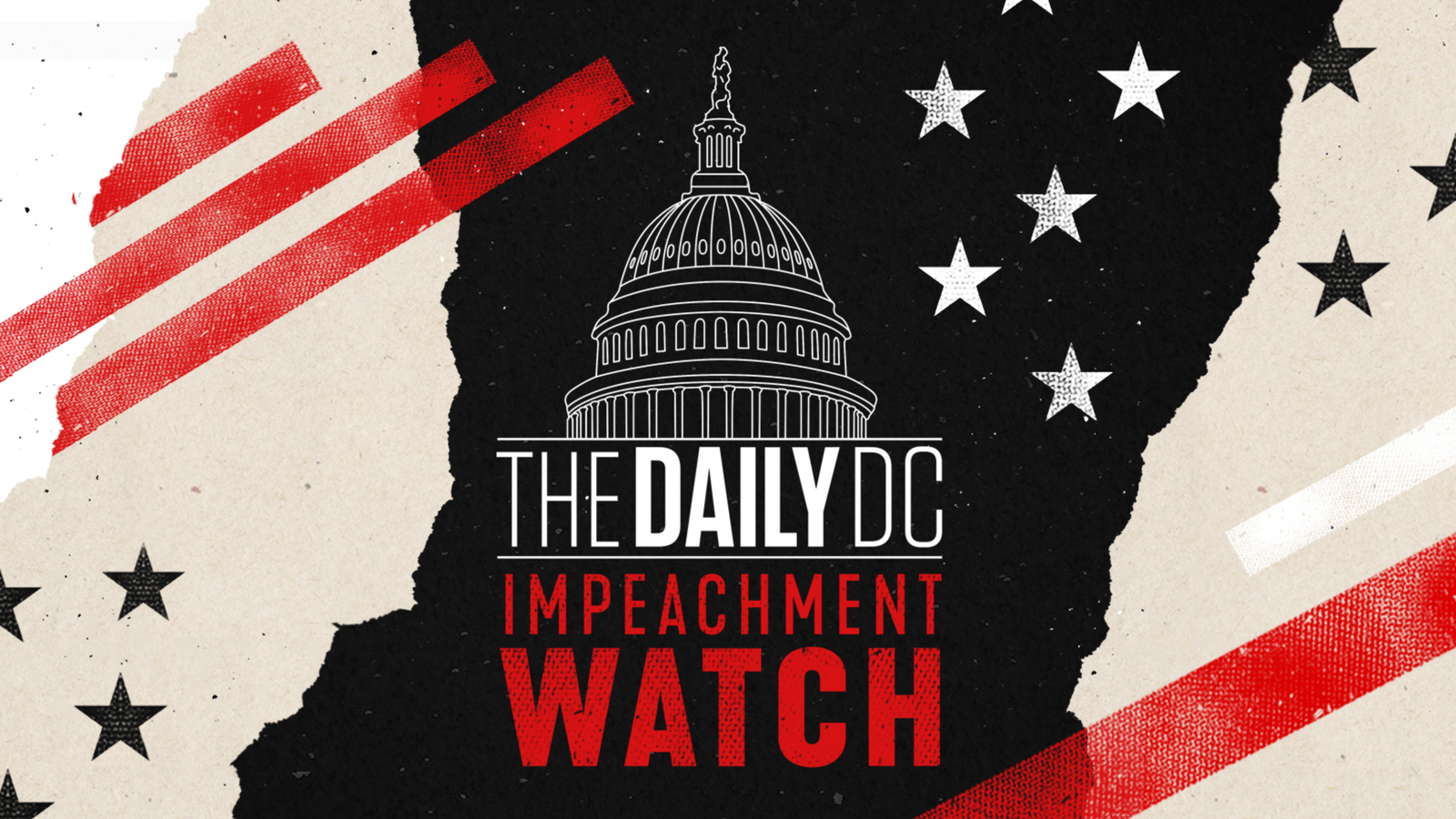 CNN Political Director David Chalian talks about the GOP's response to the impeachment inquiry and what it means for Republicans in today's episode of "The Daily DC: Impeachment Watch" podcast.
Here's a look at the other topics covered:
Joe Biden and the pushback plan
The second whistleblower
National security concerns
Chalian is joined by CNN National Correspondent Athena Jones and Samantha Vinograd, a CNN national security analyst who served on President Barack Obama's National Security Council and at the Treasury Department under President George W. Bush.
5:13 p.m. ET, October 7, 2019
Trump: The impeachment inquiry "makes it harder to do my job"
President Trump continued his criticism of the House impeachment inquiry today, calling it a "scam."
Trump went on to say House Speaker Nancy Pelosi and House Intel Committee Chairman Adam Schiff "should really be looked at really strongly."
"You can't impeach a president for doing a great job," the President told reporters.
Trump said the inquiry "makes it harder to do my job."
"It's lucky that I'm the President ... very few people could handle it. I sort of thrive on it," he said.
4:42 p.m. ET, October 7, 2019
Extreme measures being considered to protect the whistleblower's identity
The House Intelligence Committee and lawyers for the whistleblower, who filed a complaint about President Trump's conduct, are discussing extreme measures to protect the individual's identity amid growing concerns about his or her safety, according to several sources familiar with the process.
It's still unclear when the whistleblower might ultimately talk with the committee. But talks are underway looking at several options to attempt to prevent the whistleblower from being identified or to have his or her name leaked to the press.
Here are some of the measures being discussed:
The possibility of using an off-site location, limiting Hill staff and members who would be present and even disguising the individual's image and voice, the sources said.
Any secure facility, known as a Sensitive Compartmented Information Facility (SCIF), could be used for the meeting, potentially the facilities located at Langley or Fort Meade.
There are also ways to bring the whistleblower up to Capitol Hill without being seen by the press, including what one source described as the "Petraeus treatment," referring to the former CIA Director and commander of US Central Command David Petraeus' private testimony from years back.
Sources familiar with the situation have told CNN that the lawyers for the whistleblower are still working on obtaining the appropriate security clearances so they can accompany their client to the meeting with lawmakers and/or Hill staff and that process appears to be ongoing.
3:34 p.m. ET, October 7, 2019
Trump's re-election campaign pushes forward as White House struggles with impeachment strategy
As the White House struggles to form a clear message and effective strategy to the fast-moving impeachment inquiry, President Trump's re-election effort attempted to take the lead today.
Alongside the Republican National Committee, the campaign held a conference call where officials forcefully reiterated White House talking points, discredited national polling on impeachment and touted ad buys and new donors as proof Democrats are going down the wrong path.
Representatives from the campaign and RNC declared this a "great partnership" of "efforts to hold Democrats accountable."
While some of their claims were misleading or wrong, it was the strongest, most concerted effort to defend Trump thus far. There has been internal grumbling inside the White House that there is no real strategy to counter Democrats, complaints that officials said were validated when not a single White House official appeared on television Sunday. 
The White House has also not held any calls or briefings with reporters to discuss impeachment. 
During the campaign's call, Trump campaign communications director Tim Murtaugh railed against Democrats' "never-ending fishing expedition," calling the latest news regarding the President's call to Ukrainian President Volodymyr Zelensky and resulting questions the latest "excuse" to "tear down President Trump."
Murtaugh said House Speaker Nancy Pelosi and the Democrats are "putting politics before facts," claiming that there is "no evidence or any facts on their side" and, that's why they are not holding a formal vote.
Not all Murtaugh's claims were accurate. He said that the initial whistleblower had not witnessed anything firsthand, though the intelligence community inspector general says that's not so — the anonymous official did have some firsthand information. Murtaugh also asserted that the second whistleblower's account "means absolutely nothing."
"Democrats have decided to pursue impeachment with no evidence or facts on their side," Murtaugh claimed.
3:06 p.m. ET, October 7, 2019
Republican senator: Trump should not have asked Ukraine or China to investigate Biden
Sen. Rob Portman, a Republican from Ohio, told the Columbus Dispatch he believes President Trump should not have asked Ukraine or China for help investigating former Vice President Joe Biden.
This comes as many congressional Republicans remain silent on the President's plea to foreign governments.
The senator said he did not think Congress should pursue impeachment, but he did concede that a bipartisan group, such as the Senate Intelligence Committee, could investigate the allegations against the President.
Portman also told the Dispatch he, along with a bipartisan group of senators, sought reform in the Ukrainian prosecutor general's office in 2016 because they thought he wasn't doing enough to stop corruption, contradicting Trump's accusation that chief prosecutor Viktor Shokin was fired because he was looking into a Ukrainian gas company associated with Hunter Biden.
There is no evidence of wrongdoing by either Biden in Ukraine.
About Shokin: Trump has claimed Biden pressured Ukraine to take Shokin "off the case." Biden pressured Ukrainian leaders to fire Shokin— the Obama administration, US allies and Ukrainian anti-corruption activists saw Shokin as unwilling to prosecute elite corruption — but there is no public evidence that Biden sought to get Shokin removed from any particular case.
3:00 p.m. ET, October 7, 2019
GOP leaders talked about new polling on impeachment in a call today
GOP leaders discussed new polling on impeachment on a call today for members.
The topic of the call this afternoon among Republicans was for leadership to share some polling numbers from swing districts, according to one Republican source.
The takeaway, according to one GOP source familiar with the call, is the national poll numbers that have been discussed in the media are driven by more Democratic base voters growing to support impeachment.
But, the source said Republicans were briefed on impeachment polling from 31 Trump districts — currently held by Democrats — that showed opposition to impeachment was greater than support for it.