The latest on the Trump impeachment inquiry
5:24 p.m. ET, October 4, 2019
Biden reacts to Trump comments: "He's indicted himself by his own statements"
Democratic presidential candidate Joe Biden reacted to President Trump's recent comments regarding him and his son Hunter's alleged overseas dealings.
"He's indicted himself by his own statements, this is not about me it's not about my son," Biden said while speaking today at an SEIU forum in Los Angeles.
Some context: Trump has repeatedly claimed that Hunter Biden has engaged in nefarious behavior overseas.
"Biden is corrupt, his son is corrupt," Trump said today. "His son takes out billions of dollars, billions, and he has no experience."
Trump has repeatedly accused both Bidens of corruption involving China and Ukraine. There is no evidence of wrongdoing by the Bidens.
5:18 p.m. ET, October 4, 2019
Kurt Volker is still executive director of McCain Institute, official says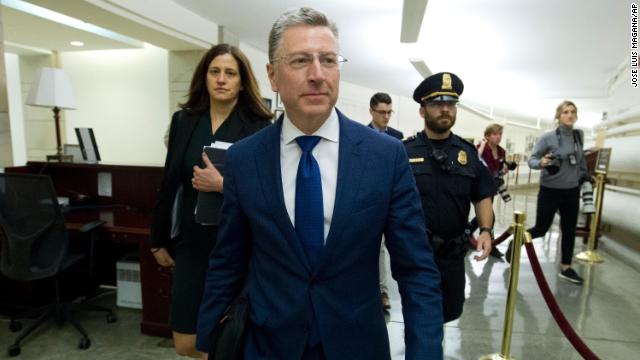 A spokesperson for Arizona State University tells CNN this afternoon that Kurt Volker is still the executive director of the McCain Institute and that there is nothing to announce. 
Volker met with staff of the institute this afternoon and two sources familiar with the meeting tell CNN that Volker did not resign in a staff meeting and said he has no imminent plans to resign.
CNN reported earlier today that Volker was planning to resign, according to a source familiar with the matter. 
One of the sources who was in the room for the staff meeting at the McCain Institute said that Volker told staff he had seen the reports about his resignation, but the source said Volker said that they were premature or presumptuous and that he had had no immediate plans to resign. Volker wanted to keep doing the job, but recognized that there were conversations going on with people he reports to and that he might have to step away from the role. Volker said it was whatever is best for the McCain Institute, the source said.
The source said that Volker had opened up the meeting with a short summary of what he'd been up to the past few days. The source said there was a general feeling that the staff wanted him to stay, and staff didn't express concerns during the meeting about the events of the past two weeks affecting the institute's work.
About Volker: He was the first witness to appear before three congressional committees and to be deposed on the whistleblower complaint, which alleges that President Trump tried to pressure Ukraine to investigate his Democratic rival Joe Biden.
5:13 p.m. ET, October 4, 2019
White House letter regarding request for information may come Monday
The White House letter regarding House Democrats' request for information related to the impeachment inquiry may come Monday, a source familiar said.
The source said there's some internal debate over whether to release it now.
Some background: Earlier this week, Democrats told the White House to expect subpoenas related to the Ukraine matter. 
House Speaker Nancy Pelosi has not yet held a full vote in the House approving of the impeachment inquiry. Trump's allies have argued that means the process has not formally begun. 
Pelosi said in a letter Thursday to House GOP leader Kevin McCarthy there "is no requirement under the Constitution, under House Rules, or House precedent that the whole House vote before proceeding with an impeachment inquiry."
5:13 p.m. ET, October 4, 2019
Mike Pence's office criticizes request for documents related to impeachment inquiry
Vice President Mike Pence's office criticized a letter it received today calling for documents relating to the ongoing impeachment inquiry.
His press secretary Katie Waldman said the letter "does not appear to be a serious request but just another attempt by the do nothing Democrats to call attention to their partisan impeachment."
Read Waldman's full statement below:
"The Office of the Vice President received the letter after it was released to the media and it has been forwarded to Counsel's Office for a response. Given the scope, it does not appear to be a serious request but just another attempt by the do nothing Democrats to call attention to their partisan impeachment. Despite their efforts to distract and obstruct our agenda, this administration will stay focused on creating jobs, securing the border, rebuilding our military, negotiating better trade deals, and the issues most important to the American people." 
Some background: When President Trump was asked if the White House would comply with subpoenas for information related to the impeachment inquiry, he said "that's up to the lawyers." Democrats have have warned the White House and Trump administration against interfering with the probe.
4:18 p.m. ET, October 4, 2019
Soon: Trump speaks at Young Black Leadership Summit
President Trump will be speak at Turning Point USA's Young Black Leadership Summit this afternoon at 4:30 p.m. ET, according to the White House schedule.
It's unclear if President Trump will address the impeachment inquiry during his remarks.
According to the summit's website, attendees of the three-day event "will hear from some of the nation's most well-known conservative leaders and activists, receive first-class professional development and leadership training, and network with other attendees and organizations from all across the country."
Turning Point USA is a conservative advocacy group.
4:56 p.m. ET, October 4, 2019
House committees ask Pence to turn over Ukraine documents 
The chairmen of the House Intelligence, Oversight and Foreign Affairs committees have written to Vice President Mike Pence asking that he turn over Ukraine-related documents by Oct. 15.
"Recently, public reports have raised questions about any role you may have played in conveying or reinforcing the President's stark message to the Ukrainian President," the Chairmen wrote to Pence.
The chairmen said in the letter that the recent reports about Pence include: "Specific references to a member of your staff who may have participated directly in the July 25, 2019, call, documents you may have obtained or reviewed, including the record of the call, and your September 1, 2019, meeting with the Ukrainian president in Warsaw, during which you reportedly discussed the administration's hold on US security assistance to Ukraine."
What is this about: CNN reported this week that Pence was told about the July 25 call between President Trump and Ukrainian President Volodymyr Zelensky the day after the call happened.
However, the sources would not say whether in that conversation Pence was told what Trump said about former Vice President Joe Biden and his son. A third source said the vice president was not briefed on Biden, but did say information about the call was made available to him.
The three sources familiar confirm Pence was provided a transcript of Trump's call with Zelensky in his briefing book the day after the call.
6:08 p.m. ET, October 4, 2019
5 things happening with the impeachment inquiry
News regarding President Trump and the Ukraine controversy continues to trickle out, with the President claiming his efforts are intended to end corruption, "even if that means requesting the help of a foreign country."
If you're just tuning in, here are the key developments:
Subpoenas shrouded in uncertainty: When asked if the White House would comply with subpoenas for information pertaining to the impeachment inquiry, President Trump said "that's up to the lawyers." Democrats have have warned the White House and Trump administration against interfering with the probe.
The text messages: A series of text messages between US diplomats and a senior Ukrainian aide were released last night. They show how a potential Ukrainian investigation into the 2016 election was linked to a desired meeting between Ukrainian President Volodymyr Zelensky and Trump.
Lawmaker calls for impeachment vote: Sen. Lindsey Graham, a Republican from South Carolina, said he wants House Speaker Nancy Pelosi to call a vote on impeachment.
Romney speaks out: Sen. Mitt Romney, a Republican from Utah, tweeted today that Trump's appeals to Ukraine and China to investigate Joe Biden were "wrong and appalling."
Kurt Volker is expected to resign: The former US special envoy to Ukraine is expected to resign today as the executive director of the McCain Institute, according to a source. The resignation is an effort to make sure that the institute is not effected by all to the Ukraine controversy, the source added.
To follow all the daily twists and turns, sign up for CNN's Impeachment Tracker newsletter here.
2:52 p.m. ET, October 4, 2019
Inspector general provides documents showing efforts to corroborate whistleblower complaint
The intelligence community inspector general provided documents to the House Intelligence Committee showing how he attempted to corroborate the whistleblower's complaint alleging President Trump solicited foreign interference to dig up dirt on his political opponent, according to two sources familiar with the matter.
Intelligence community Inspector General Michael Atkinson briefed the House Intelligence panel behind closed doors today about the whistleblower complaint, two weeks after he had appeared before the same committee before the complaint was released.
The sources added that Atkinson's testimony mostly covered the process of corroborating the complaint.
A House intelligence spokesman declined to comment.
2:38 p.m. ET, October 4, 2019
How Fox News covered Trump's remarks on the Ukraine controversy
Fox News continues to cover President Trump's Ukraine (and now China) scandal in different ways than reputable news organizations.
A perfect example occurred today as Trump was answering questions from reporters on the South Lawn of the White House.
CNN's chyron read, "Trump Speaks After Damning Texts Reveal Administration's Efforts to Pressure Ukraine."
But Fox's chyron, however, was much more favorable to the President, peddling one of his talking points. It read, "Trump: We Are Looking For Corruption."
It's only one small example of how the network has pushed the White House's messaging as Trump finds himself ensnared in controversy.
See the moment: