Two key impeachment witnesses testify
4:11 p.m. ET, November 21, 2019
Hill says Sondland's testimony that he didn't know Burisma meant Biden "not credible at all"
Former White House adviser Fiona Hill said she found Ambassador Gordon Sondland's testimony "not credible" when he claimed that it took him many months to connect the Ukrainian energy company Burisma to former Vice President Joe Biden.
"It is not credible to me at all that he was oblivious to this," Hill said.
The comment came during a discussion of President Trump's requests for Ukraine to investigate the Bidens. Trump mentioned Biden in his call with the Ukrainian president, but Sondland was not on that call. He claimed he only heard about a desire for investigations into Burisma, which had its own corruption issues. Biden's son was on the board of Burisma. 
Why this matters: Hill's reaction to Sondland's testimony is significant. She's saying his testimony is not credible, and could help Democrats make the case that Sondland was less than truthful, and that the saga was all political – about Biden.
Watch more:
3:42 p.m. ET, November 21, 2019
Holmes said he told some friends about the Trump-Sondland call. Here's what we know.
Rep. Mike Conaway pressed US diplomat David Holmes on who he told about the July 26 call he overheard between President Trump and US Ambassador to the EU Gordon Sondland.
In the call, Sondland said Ukraine's president "loves your ass" to Trump and was ready to cave to demands for an investigation of the Bidens, he testified.
This built on testimony from Holmes' private deposition, where he said he told some friends about the call. But he insisted that he never told them any of the details of what was discussed. 
About that previous testimony: According to his closed-door deposition, Holmes went on a vacation shortly after the July 26 call between Trump and Sondland at the restaurant. He was with six friends during the trip, he testified, and he mentioned the "extraordinary" call to some of them, but did not go into detail.
"I met with up with a number of friends of mine for a trip, and I do recall telling them that I was just part of this lunch where someone called the President, and it was, like, a really extraordinary thing, it doesn't happen very often," Holmes said in the closed-door session. "I didn't go into any level of detail because they don't know this stuff."
Rep. Jim Jordan seized on that, and pressed Holmes with a follow-up question during the closed session: "You told friends you were sitting by an ambassador who was talking on his cell phone with the President of the United States, you told your buddies about that?"
"Yeah," Holmes replied. 
Watch more:
3:25 p.m. ET, November 21, 2019
Holmes and Hill agree that asking a foreign country to investigate political rivals sets "very bad precedent"
Fiona Hill and David Holmes both said that a US president asking a foreign government to investigate a political rival would set a "very bad precedent."
Rep. Joaquin Castro, a Democrat from Texas, asked them "if the Congress allows a President of the United States now or later to ask a foreign government, head of state, to investigate a political rival, what precedent does the that set for American diplomacy, for the safety of Americans overseas, and for the future of our country?"
Hill responded, "It's a very bad precedent."
Holmes followed Hill, saying it's a "very bad precedent, and going forward, if that were ever the case, I would raise objections."
Watch more:
3:32 p.m. ET, November 21, 2019
This Republican says he hasn't heard evidence of bribery. Here's why it matters.
GOP Rep. Will Hurd entered the impeachment proceedings viewed as a potential defector. He is relatively moderate, comes from a national security background and is retiring at the end of his term.
But during his time to question witnesses today, the former CIA officer made clear he wasn't voting for impeachment — at least based on the current evidence.
"I have not heard evidence proving the President committed bribery or extortion," Hurd said.
It perhaps wasn't surprising: Hurd has held the Republican line during his questioning over the course of the hearings.
Today, he indicated the evidence presented so far isn't a clear enough presentation of wrongdoing. And he said the matter of Hunter Biden and Burisma is worthy of exploration.
Watch more:
3:09 p.m. ET, November 21, 2019
Republicans avoid asking the witnesses questions after Hill undercuts their points
Rep. Chris Stewart, as he started his round of questioning, appeared to acknowledge a reality: Republicans aren't really asking Fiona Hill or David Holmes any questions.
"I actually have no questions for you that haven't already been asked," he said before spending five minutes delivering his view of the impeachment inquiry generally (he views it negatively).
In truth, the past several Republicans have barely asked a question of the witnesses, choosing instead to deliver statements and describe their views of the proceedings.
The shift came after Hill undercut several Republican talking points, including during the Republican questioning time.
She defended Lt. Col. Alexander Vindman, a previous witness, despite testimony from her successor at the National Security Council that she'd raised concerned about him.
Hill explained why Republican claims that Ukraine meddled in the 2016 election didn't match reality and played into Russian claims.
And she downplayed the idea that Ukraine was trying to take down President Trump during the election, saying she heard a lot of countries say hurtful thing about Trump but that it didn't impact his views of those places.
Republicans did resume asking questions with Rep. Elise Stefanik, who has emerged in the hearings as one of the sharpest questioners.
But her colleagues appeared to acknowledge that going up against Hill was a losing proposition.
That was perhaps most evident for Rep. Brad Wenstrup, who used his time to recall his military service and question Hill's assertions that some Republicans are trying to downplay Russia's meddling efforts.
She delivered a lengthy response, praising him for speaking "very eloquently" and saying she was simply worried that Russian election interference was being clouded out by claims of Ukrainian meddling.
3:09 p.m. ET, November 21, 2019
Republicans just changed their "Schiff followed the rules" sign that's behind lawmakers
The "0 days since Schiff followed House rules" sign that once sat behind committee members during the impeachment inquiry has been swapped today with one that's titled "Witnesses Schiff has refused to call."
The sign includes the following names:
The "whistleblower
Hunter Biden
Devon Archer
Alexandra Chalupa
Nellie Ohr
Individuals relied upon by the "whistleblower" in drafting the complaint
The signs from the GOP have been a fixture during the impeachment inquiry hearings this week.
Check out the sign as it is now: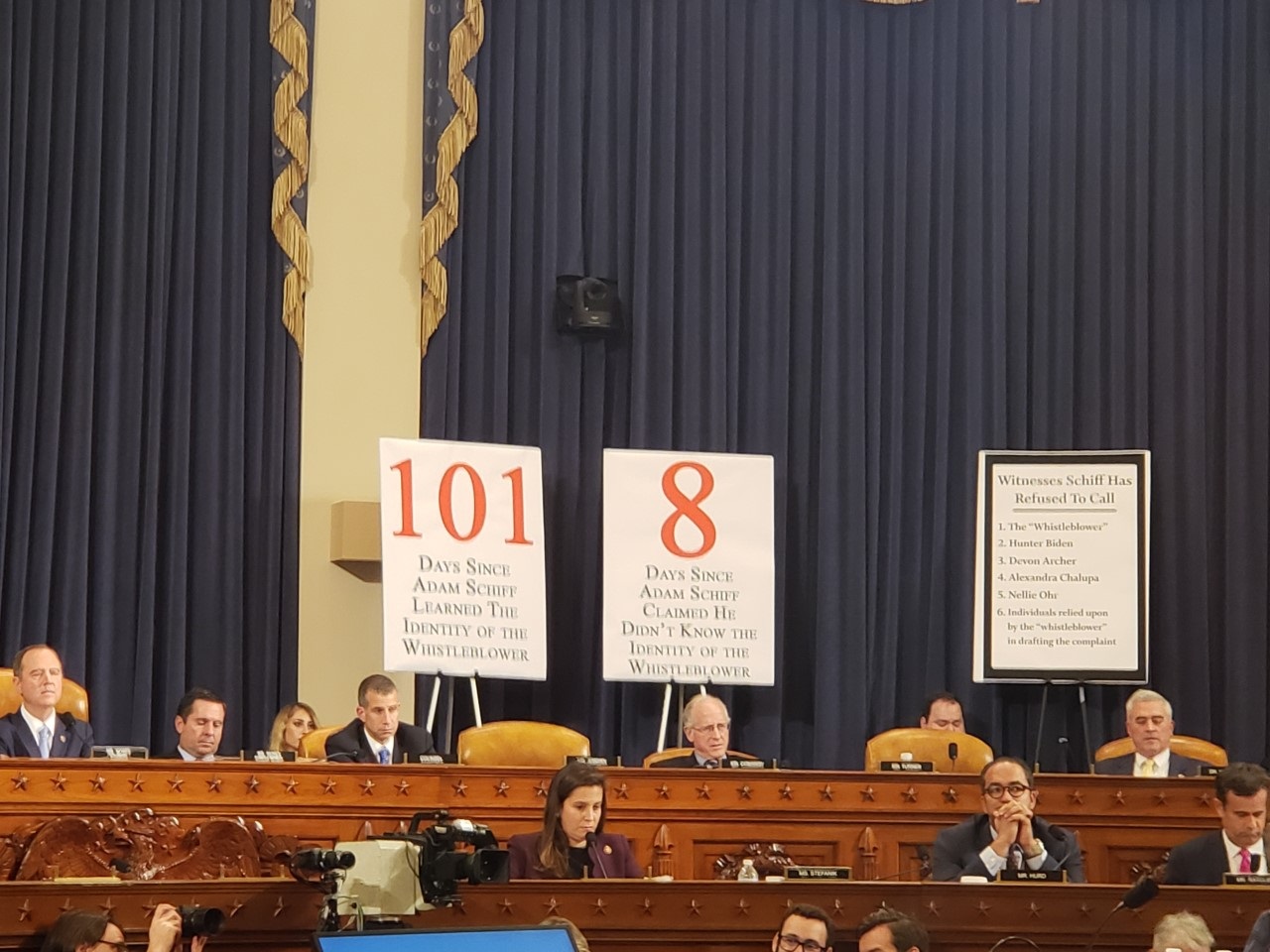 Here was the sign before it was swapped out: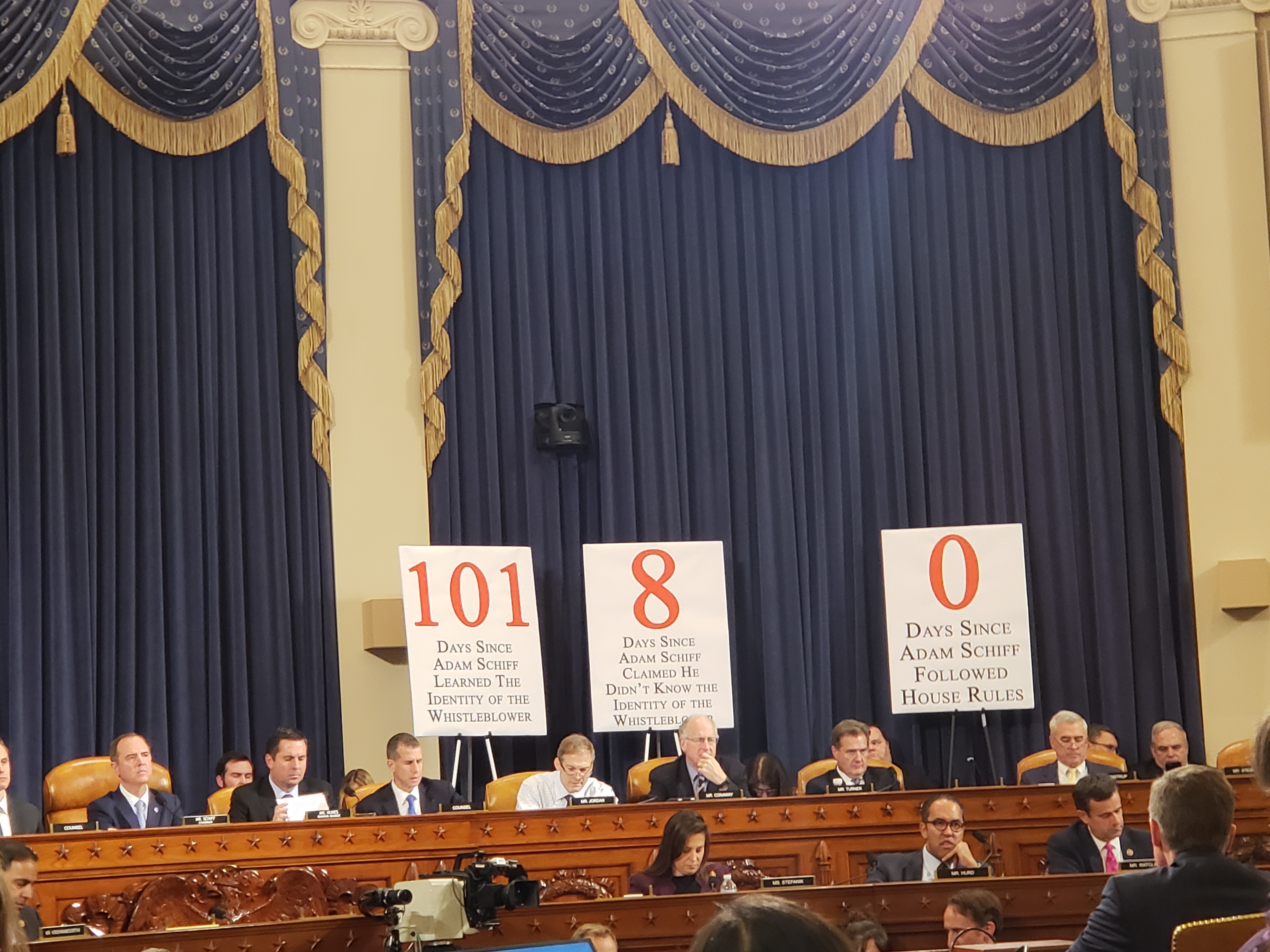 3:02 p.m. ET, November 21, 2019
GOP senators say impeachment came up at their lunch with Trump
A number of the GOP senators who had lunch with the President today told reporters that impeachment, along with other issues, came up at the meeting.
Sen.Susan Collins said, "It was a very good lunch. We spent a lot of time discussing prescription drug prices and vaping, those were the two major topics," adding that impeachment came up "very briefly at the beginning." Collins said the President "seemed to be in a good mood."
Sen. Mitt Romney, returning from the White House, said repeatedly that when it came to impeachment, President Trump "didn't say anything about that that he hasn't already said on TV, many times, there was no insider discussion. Instead, just the same comments he's made on TV and neither I nor anyone else weighed in on that at all."
Sen. Rand Paul said "it was very productive. We had quite a good discussion on trying to come up with ways to bring down drug prices. That was probably the main topic, talked some about trade as well."
Asked if impeachment was raised, Paul said, "very little actually. There was a brief discussion of it but not really much." A reporter asked if Trump expressed frustration with an inability to defend himself and Paul replied, "No, I didn't really get any frustration."
3:12 p.m. ET, November 21, 2019
A schoolboy set Fiona Hill's hair on fire when she was a child. Here's why that story just came up.
The House Intelligence Committee got another glimpse of Fiona Hill's life today, when she confirmed a story from her childhood.
Rep. Jackie Speier brought up it up at the hearing and explained that a schoolboy had set Hill's pigtails on fire when she was child while she was taking a test. She said Hill then snuffed out the fire with her hands and continued finishing her test.
"I was a bit surprised to see that pop up today," the White House's former top Russia expert. "It's one of the stories I occasionally tell because it had some very unfortunate consequences afterward. My mother gave me a bowl haircut. So for the school photograph later in that week I looked like Richard the third..."
Speier interjected to say the story underscores "the fact that you speak truth."
"That you are steely, and I truly respect that," the California Democrat said.
Watch the moment:
2:56 p.m. ET, November 21, 2019
This is one of the most standout moments from Fiona Hill's testimony so far
After several GOP members failed to ask her or David Holmes any questions, Fiona Hill jumped in at the conclusion of Republican Rep. Brad Wenstrup's time and asked to address the committee.
"We came as fact witnesses," Hill said.
On the topic of election interference, she continued, "I don't believe there should be any interference of any kind in our election."
Hill added that she thought it was "unfair" of some people to attack Trump in the lead-up to the 2016 election. "And I know that this has put a huge cloud over this presidency and also over our whole democratic system," Hill said.
"We need to be together again in 2020 so the American people can make a choice about the future and ... make their vote in a presidential election without any fear that this is being interfered in ... from any quarter whatsoever."