Immigration crisis at the US border
4:34 p.m. ET, July 2, 2019
Our live coverage has ended. Scroll through the posts below to read more about the US border crisis and today's protests or follow CNN Politics.
4:00 p.m. ET, July 2, 2019
Sharp increase in Americans who view the situation at the border as a crisis, poll shows
Nearly three-quarters of Americans say the situation at the border with Mexico is a crisis (74%), up from less than half who felt that way in January (45%), according to a new CNN poll conducted by SSRS.
Here are the other key takeaways from the poll:
The steep increase comes most sharply among Democrats, though there are increases across party lines:
Back in January, just 23% of Democrats called it a crisis as President Trump took that line in an effort to build support for funding to build a wall along the border. Now, 70% see it as a crisis.
Among independents, the share who see a crisis has climbed from 47% to 72%
Among Republicans, it's up 11 points to 82%.
Trump's approval rating stays the same:
The same poll finds little movement in Trump's approval rating over that time for handling immigration (42% approve now, 41% did in January). Trump's overall approval numbers hold steady in the new poll at 43% approving and 52% disapproving.
There is disagreement across party lines about the cause of the crisis at the border:
A majority of Democrats consider it a crisis because of the treatment migrants are receiving as they attempt to cross the border (54%).
While most Republicans say they think it's a crisis because of the number of migrants attempting to enter the country (63%).
Among independents, slightly more say it's a crisis due to the number of migrants attempting to cross (35%) than because of the treatment migrants are receiving (28%).
About six in 10 Americans (62%) say they disapprove of the treatment migrants are receiving at the border, but there's a steep partisan divide here as well:
Democrats are near-unanimous in their disapproval (93% disapprove), and a majority of independents feel the same (60%).
But most Republicans (62%) say they approve of the way migrants attempting to cross the US border are being treated by the government.
There is a similarly large partisan divide over whether refugees from Central American countries should be able to seek asylum in the US. While a majority of Americans (60%) say yes, that stands at 85% among Democrats, 60% among independents and just 31% among Republicans. 
But majorities across parties say that the government's top priority in dealing with immigrants already living in the US illegally ought to be developing a plan to allow some people doing so to become legal residents (80% overall say so, including 96% of Democrats, 81% of independents and 63% of Republicans).
Just 15% overall — and only 32% of Republicans — say the nation should prioritize deporting all people living in the US illegally over developing such a plan.
4:06 p.m. ET, July 2, 2019
Here's a look at the protests happening around at the country
Protesters around the country voiced their thoughts about the conditions at the border.
This is what the protests looked like:
New York City
Minneapolis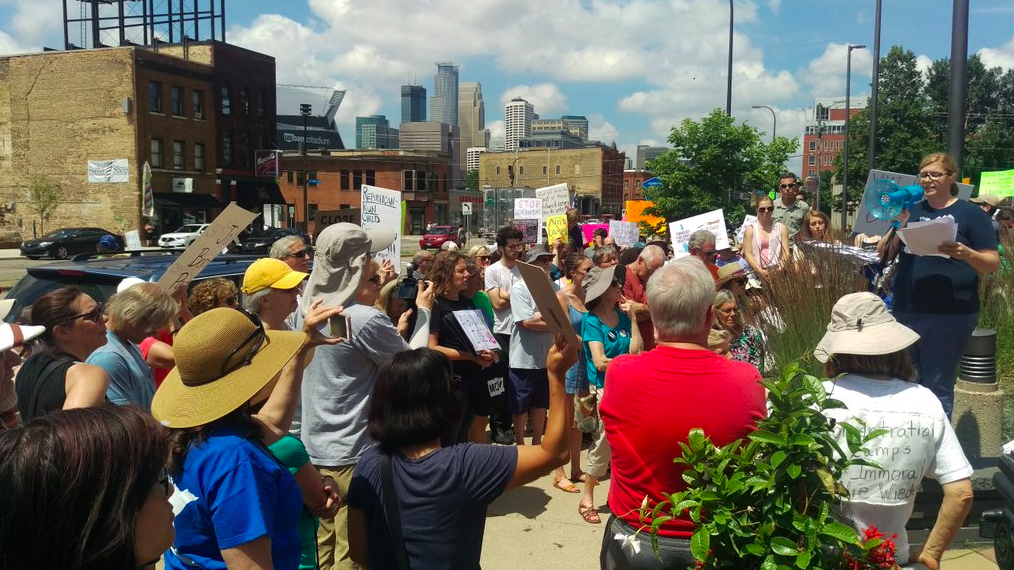 Philadelphia
Raleigh
3:45 p.m. ET, July 2, 2019
Inspector general report shows spike in border apprehensions
A new inspector general report shows an increase in the number of people apprehended while crossing into the United States on the southwest border.
The report said the number of apprehensions of unaccompanied children, families and single adults all increased from October 2017 through May 2018, compared to October 2018 through May 2019.
According to the report, facilities are struggling to keep up with the number of migrants. Overcrowding is a concern because of the increase of people, specifically at the Rio Grande Valley portion of the border.
"We are concerned that overcrowding and prolonged detention represent an immediate risk to the health and safety of DHS agents and officers, and to those detained," the report said.
3:38 p.m. ET, July 2, 2019
Democratic congresswoman vows to stay at Florida facility until she sees the girls being held there
Rep. Frederica Wilson toured a facility housing unaccompanied migrant children in Homestead, Florida, today and said she is not prepared to leave facility until she sees the migrant girls being held at there.
Wilson vowed to spend the night.
She said she did not see girls on her tour and wants to make sure the girls are being taken care of and getting the products they need.
Wilson was a member of the congressional delegation that toured the Homestead facility.
3:22 p.m. ET, July 2, 2019
Inspector general report warns of dangerous overcrowding at border detention facilities
A new inspector general report warns of the "urgent" issue that needs to be addressed because of overcrowding witnessed during unannounced inspections in early June. 
Investigators found that, according to border patrol custody data, roughly 30% of minors at the inspected facilities in the Rio Grand Valley in Texas were being held longer than the 72 hours permitted, including some children under seven who had been held for more than two weeks awaiting transfer.
The report includes photos of what the inspector general says are "dangerous" conditions. (Read the full report here.)
3:07 p.m. ET, July 2, 2019
Doctors describe how they were prevented from establishing "continuity of care" to migrants
Pediatricians in El Paso, Texas, said on Tuesday they are walled off from any contact with "whoever is providing the medical care to these individuals" in US Customs and Border Protection facilities.
"That is not medical care. That's malpractice," said pediatrician Dr. Carlos Gutierrez, who has helped treat families received by Annunciation House, an organization of temporary residential centers that receives migrants released by US Immigration and Customs Enforcement or border patrol.
Doctors told reporters how they were prevented from establishing "continuity of care," which can have serious effects. For example, Gutierrez said immigration officials often take medications away from migrants, and doctors outside the facility won't know patients' medical histories or what medications they were on.
Dr. Jose Manuel De la Rosa, a pediatrician, said a simple phone call could help doctors prepare to treat any child who starts showing signs of infection or other illness — and hopefully prevent the spread to others.
"To this day, we are not allowed any contact with whoever's providing the medical care over there," Gutierrez said.
One doctor suggested that, with periodic overcrowding in some CBP facilities, it's possible to miss these illnesses altogether. Dr. Blanca Garcia described seeing a boy with a high fever about two months ago who was eventually hospitalized. "How could nobody have noticed that this child was so sick?" she asked. "When you have so many people in custody, I'm sure that it's easy to miss something like that.
"Unfortunately, that's how tragedies happen."
2:22 p.m. ET, July 2, 2019
Protesters set up a campsite and wave signs at migrant children in Florida
Protesters outside a facility housing unaccompanied migrant children in Homestead, Florida, greeted lawmakers Tuesday with signs saying "Free the Children." 
"They have to use their privilege and power to shut this place down," said Tina Marie Davidson, a protester wearing a "Be A Hero" T-shirt.  
The facility houses more than 2,300 immigrant children, according to Department of Health and Human Services. 
"None of this is right. This is not a place for children," said Charlie Fomby while holding a sign that read "Families belong together." 
The small group protesters say they call their tents across the street from the facility their "Camp." A protest camp of sorts.
It is the place where protesters said they have gathered daily for the past 142 days. They stand up on ladders and wave their signs at the migrant children. It's a way, they say, to show the children that Americans think and care about them. The protesters said they have seen politicians come and go but so far nothing has changed.
Fomby said she would tell the delegation touring the facility today to "Fight harder. Don't forget. Don't give in."
The protesters have a phone number scribbled on their arm with black sharpie in case they are arrested, protester Stacy Delerking said. She said protesters have filled out information cards with family contact information and instructions on what to do about their pets and medications in the case of an arrest. 
The camp's phone number is answered by the group's leader, who is also instructed to call an attorney if a protester is arrested. 
Davidson said that the measure was adopted after two demonstrators were handcuffed and questioned in the back of a police car earlier this year. 
1:55 p.m. ET, July 2, 2019
"We can't look away": Protesters in Indiana demand lawmakers close migrant detention centers
Demonstrators in Indiana gathered outside Republican Sen. Todd Young's office and demanded lawmakers close migrant detention facilities.
"We can't look away," one demonstrator told the crowd.
About the protests: Advocacy group MoveOn, which is uniting the protests under the #closethecamps hashtag, is encouraging protesters to gather outside the offices of various US senators and representatives to demand they close the detention facilities, withhold funds for detaining and deporting migrants, and "bear witness and reunite families," a news release says.