America's immigration crisis
9:08 p.m. ET, June 25, 2018
Commander of Texas facility for migrant children says family separation is an "incredibly dumb stupid decision"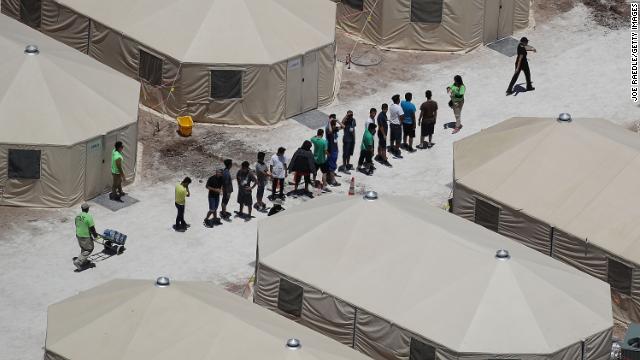 An incident commander of a tent city for migrant children in Tornillo, Texas, called the Trump administration's practice of separating children and parents at the border "an incredibly dumb stupid decision."
"Look, this operation would not be here if it weren't for the separation," said the commander, who did not want to identified.
"I'm totally against the separation policy. It's an incredibly dumb stupid decision made by our leadership. It should have never happened."
The facility houses 326 children, 26 of them were separated from their parents at the border under the administration's "zero-tolerance" policy. Three children have been reunited with their family.
The commander, who works for BCFS Health and Human Services, a nonprofit that operates the facility, oversees operations at the tent facility. He said he thinks the facility will likely close by July 13 because the numbers of children are going down daily.
The administration opened the temporary shelter in June on federal land to accommodate the influx of children. The shelter consists of what an HHS spokesman called "soft-sided structures" resembling tents equipped with air-conditioning to withstand the high temperatures.
6:45 p.m. ET, June 25, 2018
Homeland Security seeking to house thousands of unaccompanied children and families on 2 Texas bases
The Department of Homeland Security will ask the Pentagon this week to approve proposed plans to potentially house more than 7,000 unaccompanied children at Goodfellow Air Force Base and 4,000 additional migrant family members at Fort Bliss in Texas, according to an administration official.
The plan must be signed off by Defense Secretary James Mattis. The official emphasized these are planning numbers, and it's not yet clear those numbers of people will actually need to be housed.
Mattis confirmed earlier Monday that Fort Bliss and Goodfellow Air Force base in Texas will be used to house migrants. Mattis would not offer any specifics and said that the military is not involved in the political aspect of the matter, saying "for us, it is a logistics support effort."
After Mattis approves the DHS plan, the Pentagon will hire contractors to build temporary structures, including some that could be tents. Bliss is expected to be all tents, and Goodfellow may have a combination of tents and hardened structures.
The official noted it could be another four to six weeks before either base would have facilities built and have contractors on site to handles services such as food, and medical care. There is still significant discussion inside the administration about how to house such large numbers of migrants, including children the official said.
If unaccompanied children are housed on the installations, the Department of Health and Human Services would control those operations.
5:32 p.m. ET, June 25, 2018
New lawsuit challenges family separations in Washington
An immigrant rights group in Seattle has filed a new lawsuit against the Trump administration seeking to reunite three parents with their children and represent a class of those in similar situations.
The complaint says that the parents entered the US seeking asylum with their children, ages 5, 8, and 6, and were separated in May 2018. The parents were then transferred to an immigration detention in Washington, and have not been allowed to visit their children since that time, according to the complaint. 
The group asked the judge for an order that would force Trump administration officials to immediately reunite the parents with their children in a facility, where they may remain together. They are also seeking interviews for their asylum claims.
5:48 p.m. ET, June 25, 2018
New York governor pledges to help migrant children who are sent to his state
New York Gov. Andrew Cuomo pledged Monday to support unaccompanied and undocumented children who are sent to his state.
Cuomo says he is requesting that the Department Health and Human Services notify the state when it sends children so they can offer assistance. He said the Department of Health and Human Services told him that 1,292 unaccompanied minors are currently being cared for in New York. 
However, Cuomo went on to say that this information is "not comprehensive and remains unverified," according to a news release from his office.
Cuomo said the state will provide public safety and other resources to families.
State departments will also help foster care agencies with children until they can be reunited with their parents, he said.
5:11 p.m. ET, June 25, 2018
In one group of 32 parents separated from their children, just 3 have spoken to them
The Annunciation House, which hosts undocumented immigrants in El Paso, Texas, received 32 parents on Sunday who were originally detained for trying to enter the country illegally.
According to data provided to the Annunciation House by the parents, who are from El Salvador, Guatemala and Honduras, the average child's age is 10, and just three of them have spoken with their child personally since they were separated.
The max days of detention is 40 days — that is a father who has been separated from his 5-year-old daughter for 40 days, per Annunciation House. 
The children are currently spread out across 12 states -- from California to New York.
"The government currently is not making any sort of efforts to ensure that either the parent or child knows where each other is," Melissa Lopez, executive director of the Diocesan Migrant and Refugee Services told CNN affiliate KTSM.
Lopez says the current system that's in place right now for parents' finding their children is a 1-800 number. "The mechanism that the government has created for parents to find their kids, the telephone number they set up, is not working," Lopez explained.
Parents who choose to stay in the US will still have to wait for their case to be heard by an immigration judge.
Reporting from CNN's Dianne Gallagher
4:49 p.m. ET, June 25, 2018
Chuck Schumer: Calling for the harassment of political opponents is "not American"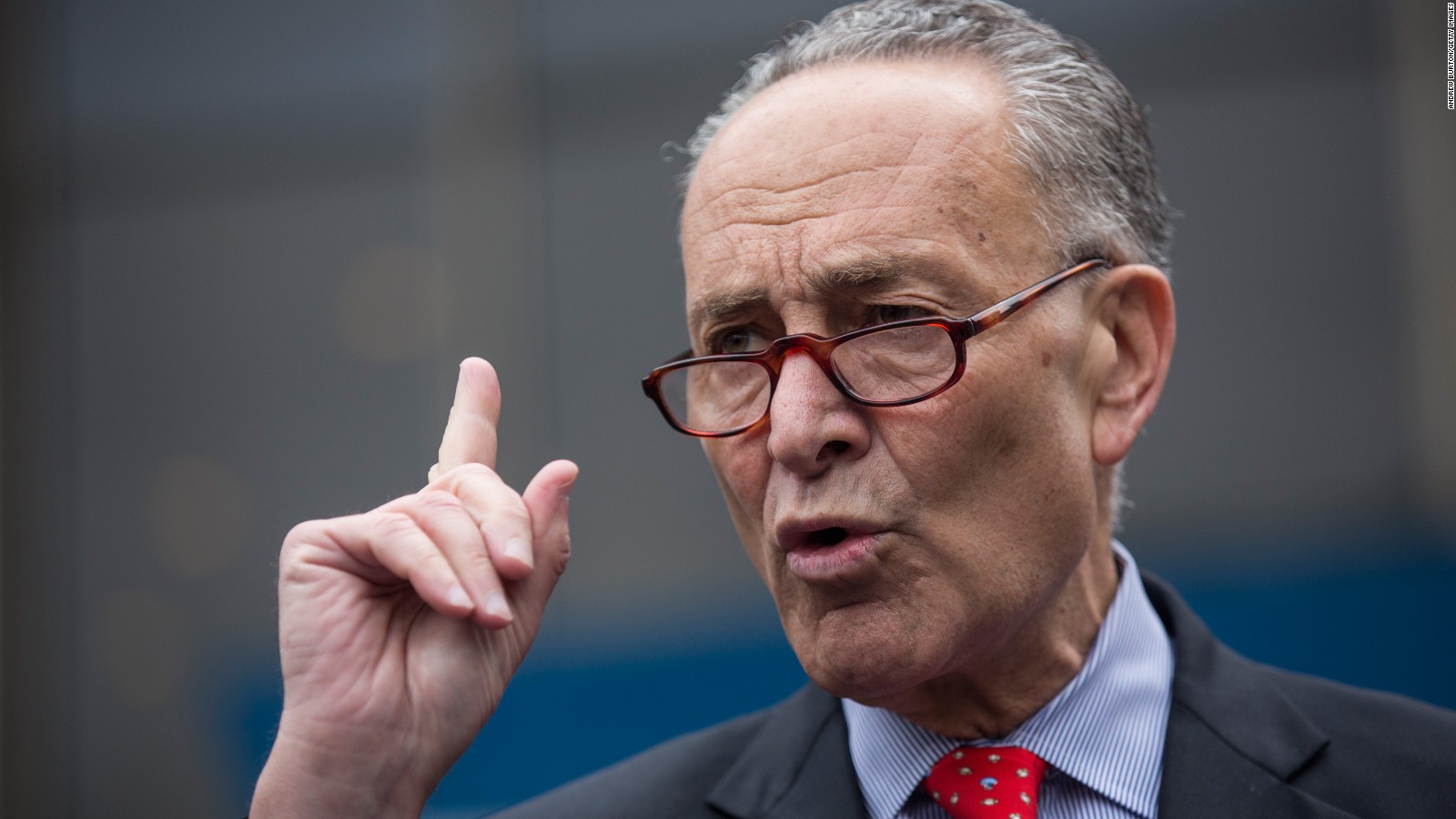 Senator Minority Leader Chuck Schumer, strongly disagreeing with the public statements of Rep. Maxine Waters, went on the Senate floor and declared "no one should call for the harassment of political opponents."
"That's not right," he said, "that's not American."
He added: "I strongly disagree with those who advocate harassing folks if they don't agree with you. If you disagree with someone or something, stand up, make your voice heard, explain why you think they're wrong, and why you're right."
What Maxine Waters said: Rep. Maxine Waters called on her supporters on Saturday to publicly confront and harass members of the Trump administration in response to the "zero-tolerance" policy that led to the separation of families at the border. "Let's make sure we show up wherever we have to show up. And if you see anybody from that Cabinet in a restaurant, in a department store, at a gasoline station, you get out and you create a crowd. And you push back on them. And you tell them they're not welcome anymore, anywhere. We've got to get the children connected to their parents," Waters said.
Watch more:
4:15 p.m. ET, June 25, 2018
White House: "Just because you don't see a judge doesn't mean you aren't receiving due process"
The White House on Monday sought to explain President Trump's weekend tweet suggesting undocumented immigrants not be granted due process.
"Just because you don't see a judge doesn't mean you aren't receiving due process," press secretary Sarah Sanders said during her briefing.
She said "virtually all Americans" agree that drawn-out court proceedings don't make sense for migrants that enter the country illegally.
She said the President wants "secure borders and a very legal and easy immigration process." She also said Trump "would certainly like to see more expedited removal."
Watch: