America's immigration crisis
10:44 a.m. ET, June 29, 2018
Here's the moment a mother was reunited with her 7-year-son after a month-long separation
A woman from El Salvador and her 7-year-old son were just reunited at Dulles International Airport more than a month after they were separated at the US border.
Brenda Ramirez-Garcia was fleeing a domestic violence situation when she and her son crossed the border into Arizona on May 26, her attorney said. Her son was taken from her on May 27 and placed in a facility in Miami.
Ramirez-Garcia was detained in Arizona for 10 days then transferred to a facility in Colorado. She was granted bond on June 21.
Her attorney says Ramirez-Garcia wasn't able to speak with her son on the phone until she was granted bond last week.
Ramirez-Garcia has family in Maryland, so her lawyer is trying to move both her and her son's case to the Baltimore immigration court. 
Here's the moment the two were reunited:
10:12 a.m. ET, June 29, 2018
"Abolish ICE" protesters block the door of a Philadelphia Immigration and Customs Enforcement office
Erika Almirón, executive director for Latinx immigrant rights organization Juntos, tells CNN the group had been protesting outside Immigration and Customs Enforcement office in Philadelphia since 7:00 a.m. ET.
Protesters from Juntos blocked the entrance into the ICE office, preventing it from opening at its usual 8:00 a.m. ET.
"The protest was an Abolish ICE protest," Almirón said. It also aimed to push Pennsylvania governor Tom Wolf to shut down the Berks Detention facility, and to have Philadelphia Mayor Jim Kenney "end all connections to ICE in the city of Philadelphia."  
Here's video of the scene:
9:02 a.m. ET, June 29, 2018
The clock is ticking for the Trump administration to start family reunifications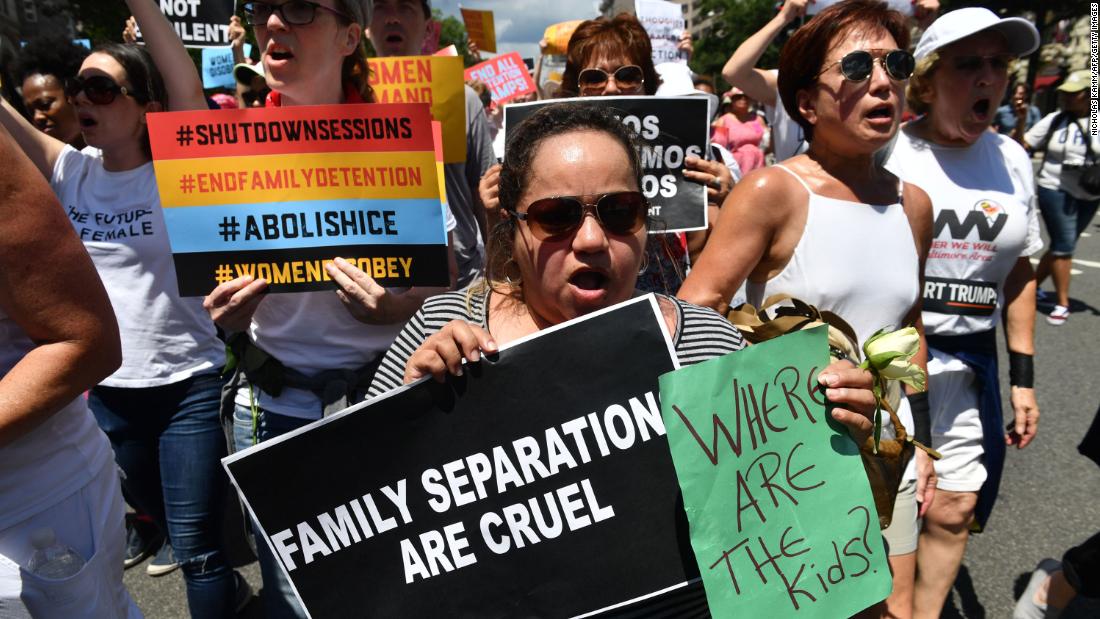 As of Monday, 2,047 immigrant children who had been separated from their parents remained in government custody, according to the latest figures released by the Department of Health & Human Services.
An agency spokesman declined to provide an updated figure on Thursday, saying officials would only provide the total number of immigrant children in custody. That figure, 11,869, includes both children who crossed the border alone and kids who were separated from their parents.
On Tuesday, HHS officials told reporters they were working on reunifying children and parents as soon as practicable.
"We have always known where the children are," said Commander Jonathan White, assistant secretary of preparedness and response. Officials are working on facilitating communication between parents and kids, he said, and linking records between different government systems.
A judge's ruling Tuesday laid out a series of deadlines the government must meet:
Within 10 days (by July 6), officials must make sure every separated parent has a way to contact their child.
Within 14 days (by July 10), children under 5 must be reunited with their parents
Within 30 days (by July 26), all children must be reunited with their parents.
"The United States government has more than enough resources to get this job done as long as it treats it as an urgent priority," said Lee Gelernt, deputy director of the ACLU's immigrant rights' project.
And in most cases, Gelernt said, the reunifications should be able to happen before the deadline.
9:00 a.m. ET, June 29, 2018
What you should know about this weekend's protests against Trump's immigration policy
Demonstrators are expected to gather in cities across the United States on Saturday to protest the White House's "zero tolerance" immigration policy that has prompted the separations and detentions of migrant families.
Here's what you need to know about the Families Belong Together rallies.
5:35 p.m. ET, June 28, 2018
Melania Trump visits small children and babies at facility
At Southwest Key Campbell children's facility, Melania Trump visited with staff and then spent time with children and babies in three different rooms.
Of the 121 children at this shelter, 81 have been separated from their parents at the border. The rest of the children were unaccompanied minors or brought into the US by other people. 
Trump entered the first classroom, which had 10 small children, split by boys and girls at two tables. "Hi! How are you?" she said, in English. Teachers in the room translated as Trump asked ages and names and what they were making — they were doing an arts and crafts project making dogs.
"Did you make friends?" Trump asked the children.
The next classroom was again approximately 10 kids, ages 5 to 7, who were doing an exercise with a teacher pointing out change. The kids here spend approximately six hours a day in classroom settings.
Trump walked in saying, "Wow! Hi!" She also asked one girl about her friends.
The final room was perhaps the most emotionally taxing — all babies and toddlers, most under 18 months old. Three of the babies were there with their mothers, who were also minors.
Trump spent about 10 minutes playing with the babies and asking questions about the facility to the workers. One baby in a crib slept through the whole thing.
5:08 p.m. ET, June 28, 2018
Here's how today's march looked from above
Ricardo Obando captured this video of protesters marching and chanting on Constitution Avenue, on their way to Capitol Hill.
This was shot around 2:30 p.m. ET, before more than 100 of the protesters were arrested.
4:26 p.m. ET, June 28, 2018
Tammy Duckworth and her infant daughter visit Senate building protesters
Sen. Tammy Duckworth, a Democrat from Illinois, visited protesters rallying against immigration policy Thursday in the middle of the Senate office building. She had her infant daughter with her, and the two received a rockstar welcome from the protesters.
She said the issue of family separations is "deeply personal" to her.
"What would it be like to have my breast-feeding child ripped away from me? she asked. "I wanted to show my support for the folks here today. I could only imagine what it would be like to have my daughter — my breastfeeding child — ripped away from me the way some of these other moms' babies have been."