America's immigration crisis
4:15 p.m. ET, June 25, 2018
White House: "Just because you don't see a judge doesn't mean you aren't receiving due process"
The White House on Monday sought to explain President Trump's weekend tweet suggesting undocumented immigrants not be granted due process.
"Just because you don't see a judge doesn't mean you aren't receiving due process," press secretary Sarah Sanders said during her briefing.
She said "virtually all Americans" agree that drawn-out court proceedings don't make sense for migrants that enter the country illegally.
She said the President wants "secure borders and a very legal and easy immigration process." She also said Trump "would certainly like to see more expedited removal."
Watch:
2:33 p.m. ET, June 25, 2018
Trump: I don't regret signing order to stop family separations
President Trump told reporters Monday that he doesn't regret signing an executive order to end the practice of separating parents and children at the border.
"No, no. The executive order was great," Trump said. "It was something that I felt we had to do. We want children staying together."
The President insisted that he wanted to sign the order.
He said a report he was complaining about signing the order was "fake news" and went on to repeat his assertion that US immigration laws are flawed.
"They're a disaster. The laws have to be changed," Trump said. "We want a system where people come in illegally they have to go out. A nice simple system that works."
Watch the moment:
2:41 p.m. ET, June 25, 2018
Federal officials went inside the Portland ICE office overnight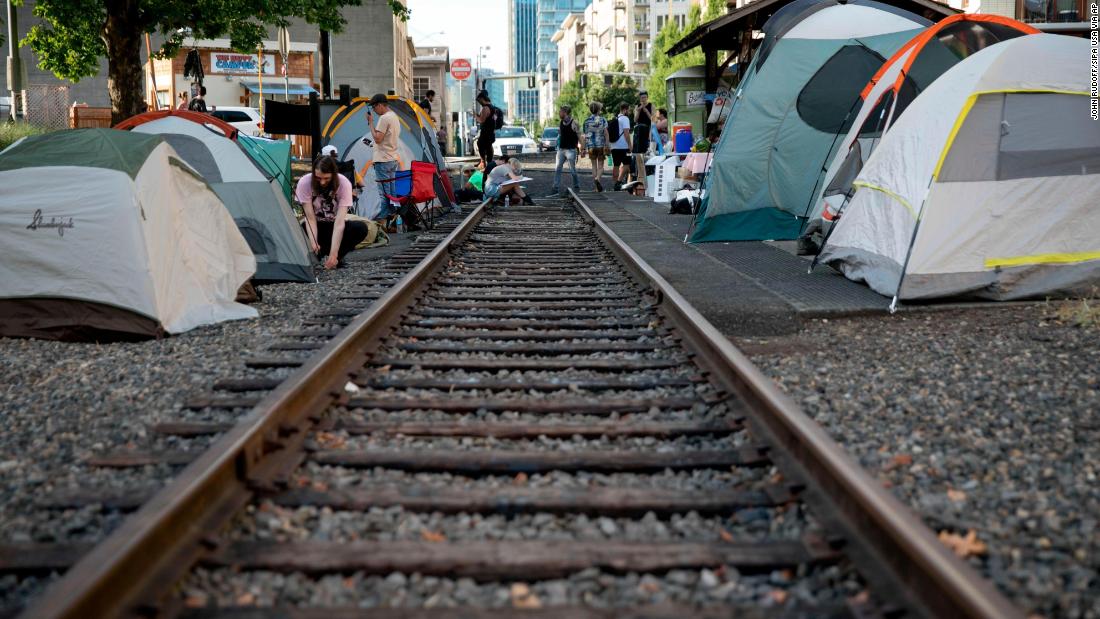 A joint Department of Homeland Security team of law enforcement officers from the Federal Protective Service (FPS) and Immigration and Customs Enforcement (ICE) entered the federal building that houses Portland's ICE field office overnight, FPS spokesperson Robert Sperling tells CNN.
The team gained access to the ICE field office at 3:30 a.m. PT to secure government equipment inside, according to Sperling.
Portland's ICE field office has been temporarily closed since last week as protesters gathered and pitched tents outside the facility.
Sperling characterized the team currently inside the office as "fairly small in number."
12:40 p.m. ET, June 25, 2018
Sessions doubles down on prosecuting people who come to the US illegally
Attorney General Jeff Sessions just doubled down on the administration's zero-tolerance immigration policy in a speech to school resource officers in Reno on Monday, while also tempering his rhetoric with a nod to the backlash over the separating of parents and children at the border.
"We're going to continue to prosecute those adults who enter here illegally," he said, before adding, "We're going to do everything in our power however to avoid separating families."
12:30 p.m. ET, June 25, 2018
Here's what it's like on the Mexico side of the border
CNN's Leyla Santiago is reporting from Tijuana, Mexico, near the port of entry into the US — the place where immigrants can legally enter the US.
Since Trump signed an executive order last week ending family separations, some families have decided to go ahead and cross into the US, Santiago reported.
I talked to quite a few people who tell me they were hesitating. They had reservations about getting back in this line. But once they heard that President Trump signed the executive order saying child separation — or family separations, rather — were no longer going to be a thing, they got back in that line. 
An important note: Before the executive order, the Trump administration repeatedly said families would not be separated if they entered through a port of entry. But the American Civil Liberties Union and other advocacy organizations said last week that they have documented cases of parents who claimed asylum at ports of entry and then had their children taken away.
11:53 a.m. ET, June 25, 2018
She was separated from her son and doesn't know where he is, so she wrote him this letter
The rainbows and stars on the mother's handwritten letter belie her agony and fear.
"I love you, my boy. Be strong and fight, don't get sad," the letter reads. "God will protect you and we will be together soon."
But the truth is, the woman doesn't know when she and her son will be reunited. She doesn't even know where he is. It's been about two weeks since the mother, who doesn't want to be identified, was separated from her 7-year-old son near the US-Mexico border, attorney Eileen Blessinger said Sunday.
See the letter: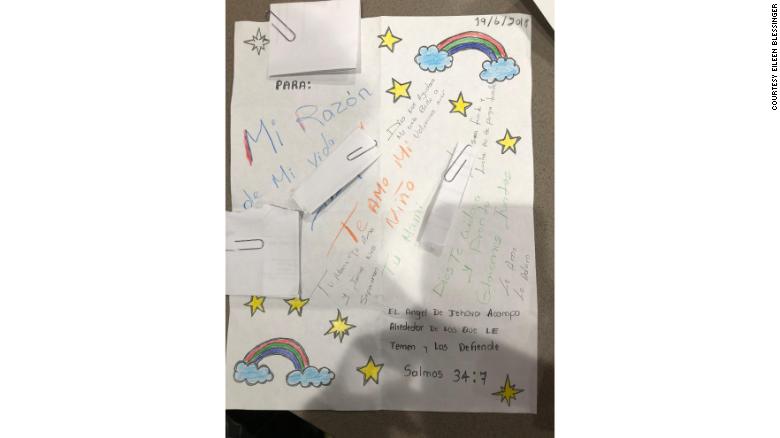 11:32 a.m. ET, June 25, 2018
Parents protest outside immigrant detention center in McAllen, Texas
A group of demonstrators are currently holding a "Parents Everywhere Care" protest outside the central processing center in McAllen, Texas.
One man is holding a "FREE THEM" sign. Another donned a jacket similar to the one Melania Trump wore while departing Washington on her visit to a shelter housing unaccompanied children, except the protester's shirt reads, "I really do care."
This is one of the two planned protests we mentioned earlier.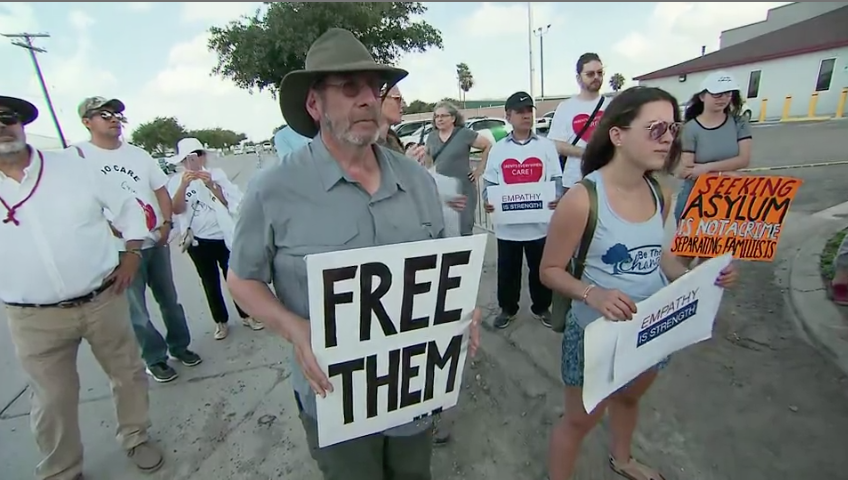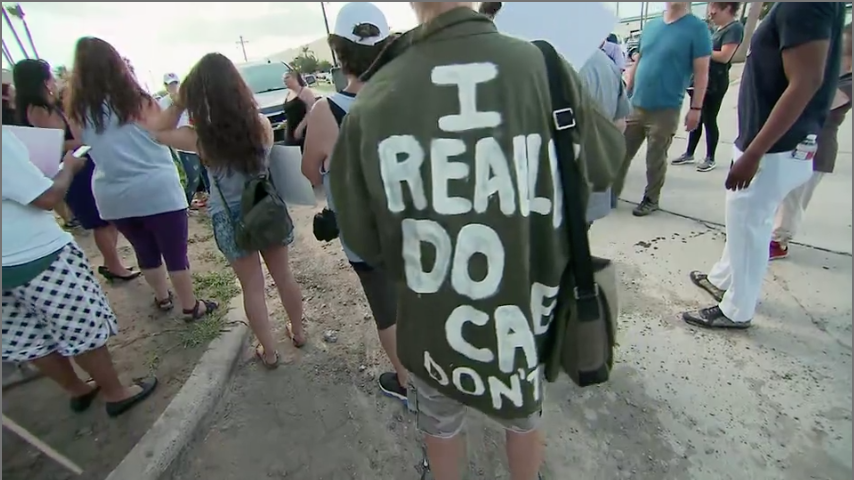 11:14 a.m. ET, June 25, 2018
Detained immigrants to Sen. Warren: "America is our last hope"
Detainees at a central processing center in McAllen, Texas, were "frightened" and told Massachusetts Democratic Sen. Elizabeth Warren that America is their "last hope," she told CNN after leaving the center on Sunday.
"We talked to mothers who just said, from Honduras in particular, who said, 'there's nothing there for us. ... America is our last hope,'" Warren said.
Warren also told CNN that she repeatedly asked detainees if they were happy to be there, and that they replied, "'yes, we are in America.'"
At the center, there "are big chain-linked cages on concrete floors and metal blankets [being] handed out to people," Warren said, adding that the detainees "are frightened."
Watch:
10:51 a.m. ET, June 25, 2018
Protesters rallied all weekend. They're not stopping today.
Crowds gathered in Texas over the weekend to protest the Trump administration's policy. Those rallies are expected to continue Monday.
Two major protests we're watching today are...
A march in the border city of Tornillo, Texas, which is the site of a US-Mexico border checkpoint and a temporary shelter for unaccompanied migrant minors.
A protest outside the Central Processing Center in McAllen, Texas.
What happened over the weekend: Protesters rallying in Tornillo were joined by Lena Dunham, Sia, Amber Heard and other stars. In McAllen, Texas, protesters briefly blocked a bus leaving a migrant detention center on Saturday.