America's immigration crisis
11:13 a.m. ET, June 28, 2018
Listen to a phone call between a distraught 7-year-old immigrant child and his mother
VICE News has obtained an exclusive recording of a phone call that happened Tuesday between a distraught 7-year-old immigrant child and his mother in Guatemala. The child crossed the border with his father almost a month ago and still hasn't spoken to him.
In the call the mother, who speaks Spanish, is trying to console her child and tells him, "Remember that God exists. Kneel and cry to God. Ask him to help you get out of there."
VICE News confirms to CNN that the child's mother granted VICE permission to use the audio.
Listen:
10:55 a.m. ET, June 28, 2018
Protesters are marching against family separations in Milwaukee during Trump visit
President Trump is at a closed door political event in Milwaukee, Wisconsin, this morning, where he's being greeted by protesters with the immigrant rights group Voces de la Frontera.
On Twitter, the group says the demonstrators are marching to "demand the abolition of ICE & the Border Patrol" as well as "to resist [President Trump and Gov. Scott Walker's] plan to put tens of thousands of immigrant families in internment camps."
CNN's Ryan Young, who's at the rally, spoke with a protester who told him that Trump "needs to pay attention to what families and the people across this nation are saying. We're united. We're one. What happens to another family is happening to my family. We're not going to let that happen."
When asked why she's protesting, she got emotional and said, "I would want people to fight for my family. It is that simple."
Watch:
9:56 a.m. ET, June 28, 2018
Women's March organizers are marching on Washington to protest family separations
Women's March organizers are holding a protest against the family separation policy in Washington, DC, today. Alexandria Ocasio-Cortez — who just won a New York Democratic Congressional primary days after visiting the border herself — is expected to attend and speak.
Here's how the protest will play out:
The rally will begin at Freedom Plaza at 10 a.m. ET.
At 11:45 a.m. ET, the protesters will march to the Justice Department before marching on to Capitol Hill.
Around 1:30 p.m. ET, the march will reach the Capitol building.
And hen around 3 p.m. ET, they will have an act of "civil disobedience" in the Hart Atrium.
3:02 p.m. ET, June 27, 2018
President Trump's message to the GOP on immigration: "Get something you want"
President Trump offered a message to Republican lawmakers working to pass an immigration bill.
"I want them to do what they want," Trump said in the Oval Office following an overwhelming defeat of an immigration bill in the House.
He continued:
"I told them a few hours ago, I said look pass something, or come back to something that would be a variation, but get something you want. The problem with that is that we need Democratic votes in the Senate and that's why I don't get overly excited with the House bill right now because it's not going to pass in the Senate, you're not going to get the Democrats to vote for anything. We can give them 100 percent of what they wanted, and double it, they still wouldn't pass it," he said.
1:59 p.m. ET, June 27, 2018
House overwhelmingly rejects Republican immigration bill
The House of Representatives failed to pass a major immigration bill on Wednesday, despite a delayed vote and a last minute push by President Donald Trump to shore up support for the bill.
The vote was 121-301. (301 voted against the bill, 121 voted for the bill) 
It was widely expected the vote would fail. With no Democrats supporting the legislation, Republicans were going to need enough of their own members to get to a majority--a tall task for any immigration bill given the long-running, intra-party GOP battle on the issue.
The bill represented House Republicans' most steadfast effort in decades to find a compromise between moderates and conservatives, legislation that provides a path to citizenship for recipients of the Deferred Action for Childhood Arrivals, as well as $25 billion for border security including the President's border wall.
A more conservative proposal known as the Goodlatte bill — named after Virginia Republican Rep. Bob Goodlatte — earned 193 votes, just a little more than 20 votes shy of passing Thursday.
1:46 p.m. ET, June 27, 2018
NOW: House votes on immigration bill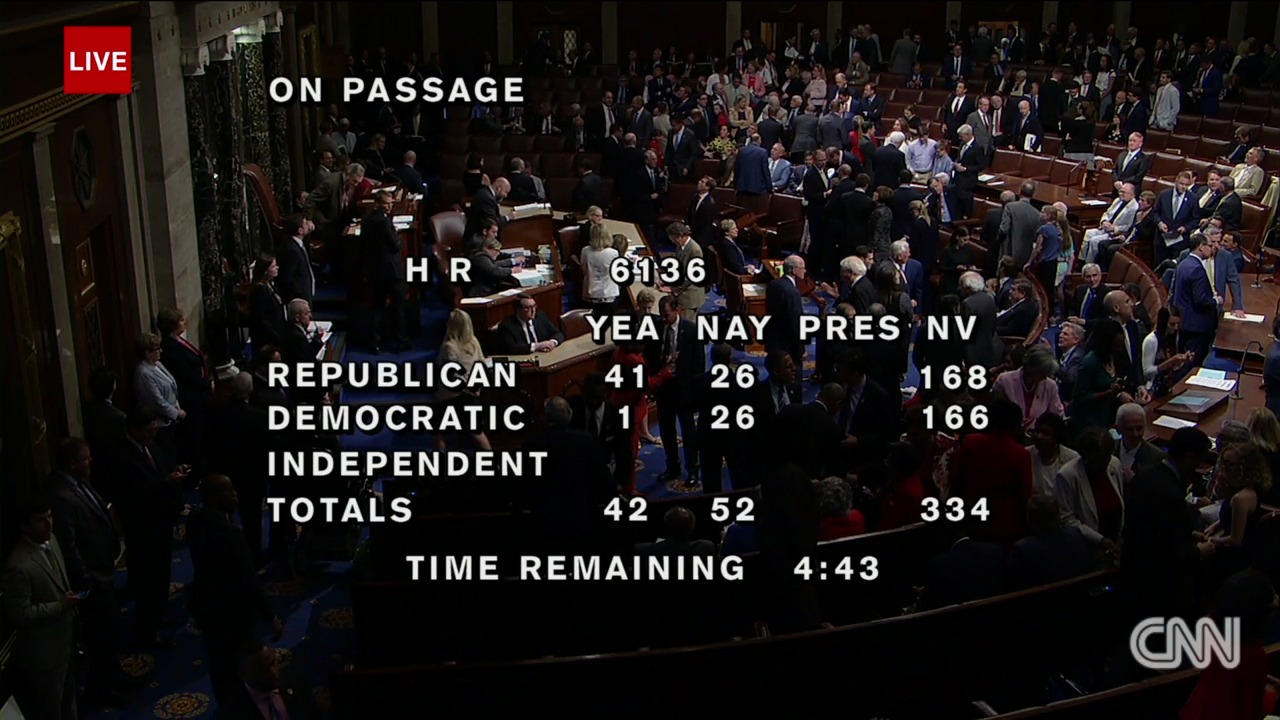 The House has begun voting on a Republican immigration bill, H.R. 6136, the Border Security and Immigration Reform Act.
We expect it to fail.
President Trump tweeted this morning — in all caps — urging congress to pass the immigration bill, although that won't likely change the outcome of the vote.
House leaders have been asking President Trump to weigh in definitively on the moderate-negotiated immigration proposal for a few weeks now. But the reality is "this would've been a whole lot more helpful a week ago," a senior GOP aide said.
Here's the tweet:
1:24 p.m. ET, June 27, 2018
Bernie Sanders: Trump's "disastrous immigration policy should be abolished"
Vermont Sen. Bernie Sanders, asked if he supported abolishing the US Immigration and Customs Enforcement agency, said the issue at hand is Trump's immigration policy — not the agency.
"I think this disastrous immigration policy should be abolished," he told CNN.
He continued: "What you have right now is an immigration policy that I think most Americans understand is not what this country is about. You don't rip little children away from the arms of their mother. You don't leave 1.8 million kids eligible for DACA subject to deportation. So whether you abolish ICE Or not is not the major issue. The major issue is having an immigration system that is effective."
Watch the moment: